(This post contains affiliate links. You can read my full disclosure here.)
Acne is a disaster for anyone. It can occur anywhere on the body and at any age and it typically affects face and back. Some factors, such as being in puberty, can't be altered, but you can take steps to avoid and prevent acne through proper natural skin care guide for acne-prone skin.
Your skin care regimen doesn't have to take a lot of time, just a few minutes twice a day. Keep yourself healthy and presentable by removing factors that contribute to acne.
Acne medications are full of chemical which can give you the instant result but it makes skin dry, irritated, red and itchy. So, we should always opt natural remedies to clear acne(except for cystic acne at the chronic stage). It takes patience to get the desired result but it will surely help you.
Let's see how natural skin care guide for acne prone skin will help you.
---
Natural Skin Care Guide For Acne Prone Skin
1. Cleanse Face Properly/Morning Cleanser
The backbone of your skin care routine has to be good cleansing. Thorough cleansing keeps the skin free of excess oil, dirt, sweat, and makeup, and leaves a nice, clean base for your acne treatment process.
You should wash your face twice a day, once in the morning and once at night before you go to bed. You should also cleanse after sweating heavily.
Do not over cleanse your face due to oiliness. Apply blotting paper to your oiliest areas such as nose and forehead. Make sure you don't scrub it. You just have to press it on the oily area for a few seconds so it can absorb the oil.
When you wash your face, wash it gently and with warm (but not hot) water. The heat will open your pores and make the cleaning process more effective. Wash your hands before you wash your face for best results.
There are many natural DIY face cleanser which will detox your skin regularly and make it hydrated. Some of the recipes are
Apply manuka honey mixed with aloe vera gel to cleanse your face in the morning. Massage skin 2-3 minutes and wipe it off with clean and wet cotton cloth. Do not wash your face again. OR
You can apply activated charcoal and aloe vera face cleanser which will help you to clear clogged pores and removes impurities from the face. It is made with aloe vera, honey, charcoal and some anti-acne facial oils which help you to get rid of acne. This cleanser is good for all skin type.
---
2. Exfoliate Your Skin Regularly
Exfoliation is an essential step in having a clear complexion and free from blackheads and acne. A good scrub will remove the top layer of dead skin cells, encouraging the production of new, healthy cells. It also unblocks clogged skin pores and removes oil and dirt.
You should only exfoliate once or twice a week, or else you may cause damage to your skin. Be gentle as you exfoliate. Soft movements are all that is needed. Vigorously rubbing or scrubbing can be harmful.
If you have active acne breakouts, you can skip the exfoliation part. Grainy face and body scrubs might not be the best exfoliating products for acne-prone skin. Scrubs can irritate the skin if you're not using them gently.
Although, there are some scrub that can be helpful at your active acne stage
Mix ground oats with honey and yogurt and apply it to your cleansed face and gently massage the face with your fingertips for about 2-3 minutes. Oatmeal is considered as the best exfoliating ingredient for acne prone as well as sensitive skin. Yogurt has alpha-hydroxy acid which clears pores deeply and honey has antibacterial properties. Or
Another is a moisturizing solution peel mask that removes dirt, clean skin pores and also acts as a natural astringent. Mix 1 teaspoon of honey and olive oil and mix it with 1/2 teaspoon of fresh lemon juice. Apply it evenly on the face with clean hands and then gently massage it the circular movement. Wash off with normal water after 4-5 minutes and clean dry with a soft towel.
For Blackheads, Whiteheads, and post-acne scars
Baking Soda Scrub is great. It also helps to prevent future acne and pimples. Or
Apply aloe vera and tea tree oil face massage gel for acne scars. It also helps to exfoliate dead cells, prevents acne and helps to generate the new cells. Apply daily as a face moisturizer or use it as a face scrub. Good for all skin type.
---
3. Apply Twice or Thrice Detox or Acne Face Mask
Apply 2-3 times a week detox face mask on your skin with clay and other effective kitchen ingredients like baking soda, aloe vera gel, cinnamon, nutmeg, neem powder, egg white etc. All these ingredients are great to heal active acne and prevent future ones. It removes excess oil and detoxes the skin from inside.
There are many acne face mask that can help you. Some of them are
Apply Egg white, baking soda, and bentonite clay face mask. It helps to minimizes pores and heals acne and removes excess oil and dirt. Or
Try neem powder face mask. Mix 1 tablespoon pure and organic neem powder with rose water and honey apply it to your cleansed face. Leave it for 20 minutes and wash it off with normal water. Or
Apply Turmeric Face Mask. Mix 1 teaspoon organic turmeric powder with 2 tablespoons fresh yogurt and 1/2 teaspoon bentonite clay. Leave it for 20 minutes and wash it off with normal water. Or
Try Activated Charcoal Face Mask to get rid of stubborn acne and pimples.
---
4. Try Oil Cleansing Method
Do not be afraid of applying oil to your face. Oil, alone, will not bring you blemishes. Pimples, cysts, zits, blackheads, whiteheads. These are a result of different factors including hormones, bacteria, dead skin cells and the buildup of these factors.
This is typically done in the evening. There should be no need for deep cleansing in the morning if you're waking up with skin cleansed the night before. In the morning, a quick wipe with a warm washcloth should suffice. There is no need to over-cleanse the skin as this will serve only to irritate and cause more oil production.
The Oil Cleansing Method
Take 1 part castor oil, 1 part olive oil and 1 part sunflower seed oil. Mix all.
Take a soft washcloth, your oil blend, and hot, running water.
Pour about 1/2 teaspoon of oil blend into your palm and rub your hands together to warm the oil and smooth it over your face.
Massage the oil into your face. This will remove sunscreen, makeup, dirt, and other impurities, so there is no need to use a makeup remover or wash your face prior to the massage. I've found that this removes even my stubborn waterproof mascara and concealer.
Using slow, circular motions across the skin, massage the oil deeply into your pores. You want the oil to work into your pores so that blackheads and impurities can be dissolved and steamed away.
Give the oil enough time to work on dissolving the impurities in your pores.
Once you're satisfied that your pores are saturated, pick up your washcloth and soak it in clean, steamy water. Water should be warm enough to further soften your pores and remove the oil.
Hold the washcloth to cover your face. Allow it to stay until it cools. Wipe the oil gently away and rinse the washcloth well in hot, running water. Hold the washcloth to your face again, allowing it to cool. Wipe gently, rinse well, and repeat two or three more times.
Avoid any temptation to scrub, as you'll find it's completely unnecessary and your skin will be soft, smooth, and free of flakes without the additional manual exfoliation and irritation that will result. Impurities, dead skin cells, and bacteria will be gently swept away.
Give your skin a few days to adjust and adapt to being clean and clear of blockages; understand that the new oil coming from your skin is actually a good sign and will balance out very shortly.
---
5. Apply Toner or Astringent
Astringents or toners can help remove excess oil, tone, and hydrate, or help fight blackheads and blemishes.
Apply toner or astringent to a cotton ball or pad and gently smooth over the cleansed face and neck to help remove any leftover makeup, cleanser residue, and oil.
Astringents are designed to remove excess oil from the skin so, obviously, they are best for oily skin types. If your skin tends to be dry, either naturally or because you're using drying acne treatments, a hydrating toner is a better choice for you.
Note: Toners and astringents aren't a necessary part of your daily skincare routine. Deciding to use an astringent, or not, depends on many factors. If your skin is sensitive, dry, or irritated from your acne treatments, toners and astringents may do more harm than good.
---
6. Never Skip Moisturizer
Many people with oily skin steer clear of moisturizers. But moisturizing is a good thing, even if you're acne-prone.
Moisturizing your skin is just as important as washing it. When you wash your face, you strip it out of oils and moisture, causing your skin to produce more oil and sebum to compensate for the dryness. Your skin needs moisture. Help it replenish that moisture by moisturizing after each wash.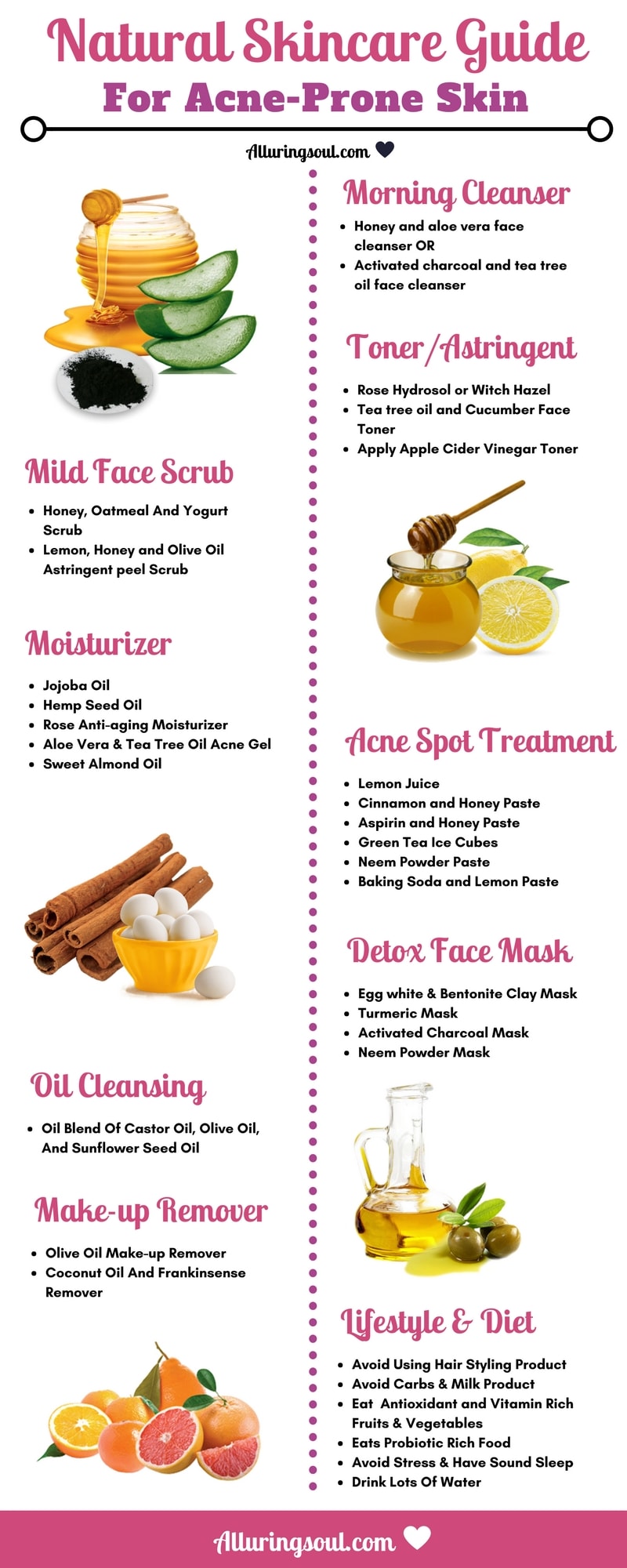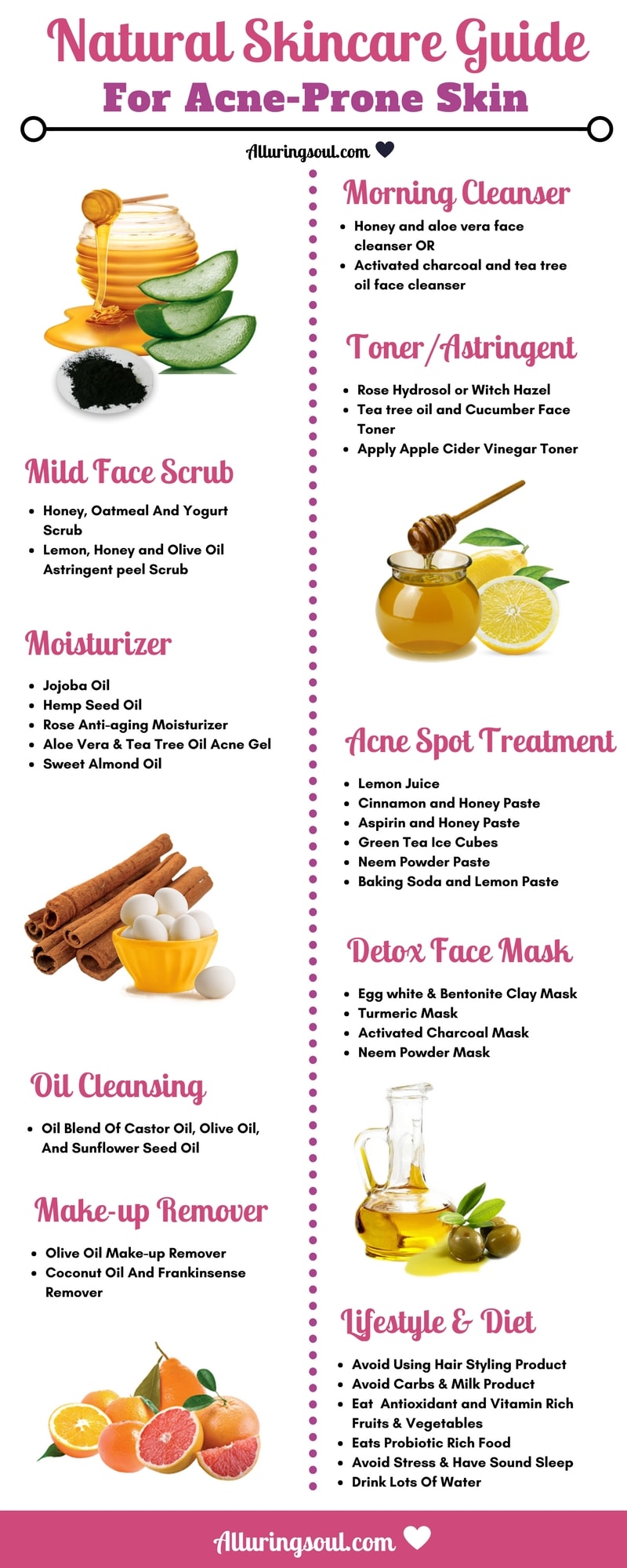 ---
7. Try Spot Treatment
Stress, hormones, and dietary factors can trigger breakouts once in a while, and since you don't usually realize they're on their way until it's too late, it's necessary to have an emergency targeted spot treatment to hand. So, why dry your whole face with acne cream, always try spot treatment.
There are plenty of spot treatment. Some of them are
Put a little lemon juice on it. The lemon juice will suck out some of the oil and shrink the blemish. Wash off before going in the sun, though, as this could bleach your face and make it more sensitive to the sun.
A paste of cinnamon and honey. Use 1/2 tsp of cinnamon and add to the honey. Mix to make a paste. Apply to the blemish and leave on for 20 minutes or overnight.
Try the Aspirin and Honey Facial Mask.  Take 1 teaspoon powdered aspirin and mix it with honey. You can apply it your whole face, or just tiny little spots.
Make ice cubes of green tea. Apply one ice cubes to the blemish area two or three times a day. Swelling will go down, the skin will be soothed, and the green tea acts as an astringent.
Use Neem. Neem powder and neem oil are two magical pimple treatments. Just dab the oil directly onto the blemish. Or, with the powder, mix with a tiny amount of water or witch hazel or rose water to form a paste and then apply it to the pimply areas. Leave on all night for extra zit-busting effectiveness.
Baking soda and lemon. Take a tablespoon of baking soda and mix it in a bowl with 1 teaspoon of lemon juice. Stir using a spoon and apply directly to the problem areas. Leave on for about 20 minutes and then wash off.
---
8. Always Remove Makeup At Night
Not removing makeup off can cause some irreversible damage to your skin because the skin repairs itself at night while you sleep, so makeup can clog your pores and not allow the skin to breathe. It can cause uneven skin tone, dryness, redness, acne, and even deepening of wrinkles.
One of the best natural makeup removers is Oil.
Extra virgin olive oil or coconut oil is definitely the best makeup remover in the world. For both eyes and face. It will take off even waterproof makeup without much rubbing.
Just take a cotton pad, wet it, squeeze the water out and pour some olive oil on it. Then wipe all the makeup off your face – it will simply melt off and then wash your face with a mild herbal or ayurvedic cleanser formulated for acne-prone skin. Also, you can make makeup remover pads at home.
---
9. Pay Attention to Your Hair Care Routine
Avoid using fragrances, wax, mousse, spray, or gels on your hair. If they get on your face, they can block your skin's pores and irritate your skin. Use a gentle shampoo and conditioner. Oily hair can add to the oil on your face, so wash your hair often, especially if you're breaking out. Long hair people should keep it pulled away from your face.
These hair products are not only harmful to hair, it also affects your health. It's better to avoid those chemical filled bottles and opt natural products.
---
10. Change Your Lifestyle
Food- Avoid some foods, including those rich in carbohydrates, such as bread, may trigger acne. The oiliness of your skin does not depend on what you eat, but if you work in a kitchen, oil can stick to your skin and block your pores.
It is a myth that greasy foods lead directly to greasy skin and acne, but it's important to have a healthy diet to promote good overall health and well-being.
Sleep- Sleep is also connected to stress, which can cause oily skin and acne. Get a good night's sleep to stay happy and healthy! A lack of sleep can also cause wrinkles, baggy eyes, and lackluster skin.
Stress- There is a strong link between mental health and skin health. Stress is a frequent cause of acne and oily skin.  Work on keeping a positive mindset by cutting out stress in your life, and your skin will thank you.
Sunscreens- Thick sunscreens can be difficult for people with oily skin, as the heavy liquid will add new oiliness to your skin and block your pores. It is, however, absolutely vital to protect your skin from the sun. When you are buying sunscreen look for "oil-free" options, and products designed especially for those with oily skin.
---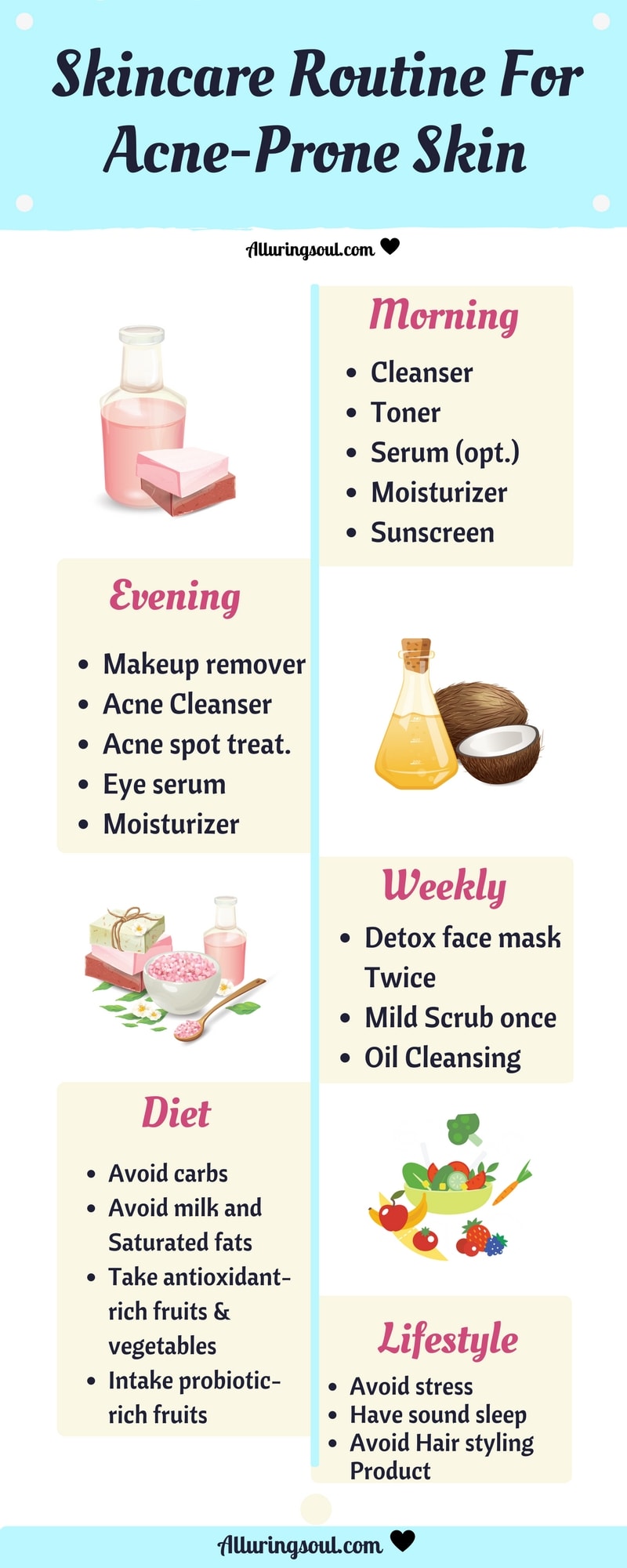 Image from freepik – Source1 Source2 Source3 Source4