As you age, your skin barrier becomes less effective, leading to the types of damage we often associate with aging.
One of the best ways to delay or prevent this is properly skin moisturizing.
Moisturizing doesn't just feel great, it can help keep your skin clear, smooth, and wrinkle-free in the future.
An anti-aging face moisturizer is required to provide the required amount of potion and also hydration to your skin.
Moisturizer helps to hydrate skin cells and provide essential moisture to produce healthy cells.
Hydration helps the skin to function properly so that skin cells can rapidly repair themselves and turnover fresh cells, which means huge anti-aging benefits down the road.
Regular moisturizing face with adequate sun protection and exfoliation helps to keep skin looking full and radiant.
Any skin woes are the absolute worst including skin dryness, wrinkles and age spots.
It also looks extremely dull.
So, an anti-aging face moisturizer
Can help prevent and treat dry skin.
Can protect sensitive skin, improve skin tone and texture, and mask imperfections.
Also, act as a temporary barrier for your skin.
Protects the outer layer of the skin from harmful effects of sun, wind and other environmental factors.
This DIY anti-aging face moisturizer is the product you required for your skin woes. Let's see what are the ingredients and their benefits.
---
What are the benefits of ingredients used in DIY Anti-aging Face Moisturizer?
Anti-aging face moisturizer is made with highly effective natural ingredients like avocado oil, rose water and rose oil, pomegranate seed oil, and other essential oils which are great for aging/mature skin benefits.
Let's have a look at the benefits of ingredients.
Avocado Oil
It is known for its ability to deeply penetrate within the outer layer of the skin.

It has very high skin penetration making it the perfect oil for deep tissue massages. The oil naturally triggers the production of collagen by the skin and shields the skins against age-related wrinkles, fine lines, and other aging signs.

This vitamin-rich oil contains Vitamin A, E and K and other monounsaturated fatty acids that help to moisturize skin deeply and lightens scars and dark spots.

It is ideal for dry, damaged, dehydrated skin and also for the rejuvenation of the skin.

This oil protects the skin against infection by forming an antimicrobial layer over the skin relieves dryness and itching accelerates the healing process.
Pomegranate Seed Oil
Pomegranate seed oil stimulates "keratinocytes", the major cell found in the outer layer of the skin. This helps to reverse skin damage, revive skin and reveal a more youthful appearance.
It has strong anti-inflammatory properties and helps to protect the skin from free radicals and to keep skin aging at bay.
It also provides protection against sun damage. It easily absorbs deeply into the skin without leaving any greasy residue behind and makes skin hydrated.
It helps with collagen production, firming the skin. It also regulates the sebaceous gland that helps to control skin oil production.
Meadowfoam Seed Oil
Meadowfoam seed oil is the perfect oil to use as the base ingredient in your homemade body scrubs and creams.
It exfoliates your skin and moisturizes it at the same time.
It's the perfect way to get smooth and soft skin, and it doesn't leave your skin feeling greasy either.
When you use the oil on your skin, it locks in moisture and it helps other ingredients penetrate deep into the skin as well.
Because of the high levels of antioxidants that it contains, and the ease with which it is absorbed, meadowfoam seed oil is very popular with older women who use it as a moisturizer.
It penetrates deep down onto the skin and the antioxidants that it contains help to fight off the signs of aging, like lines and wrinkles on the skin.
Frankincense Essential Oil
It is a powerful astringent which helps protect skin cells. It is used to help reduce acne and blemishes, the appearance of large pores, prevent wrinkles, and it even helps lift and tighten skin to naturally slow signs of aging.
It helps with wound healing and may decrease the appearance of scars. It also helps to reduce the appearance of dark spots caused by acne blemishes and eczema.
It helps to promote the growth of new cells, keep your skin elastic and firm and also helps reducing age spots.
Rose Essential Oil And Rose Water
It is very helpful in driving away depression and anxiety which is the main reason for premature aging.
Rose essential oil is one of the best essential oils for dry skin and for boosting your skin's elasticity. It helps keep your skin moist and is great to use as a moisturizer on your face and hands.
Due to its antioxidant property, it makes the scars, wrinkles, dark spots and after marks of boils, and acne on the skin fade quickly. This includes the fading of stretch marks, surgery scars, and fat cracks associated with pregnancy and delivery.
It contains vitamins, minerals, and antioxidants, and has excellent emollient properties for moisturizing dry skin. It also offers antiseptic properties to treat acne, as well as anti-inflammatory properties that help treat redness and inflammation.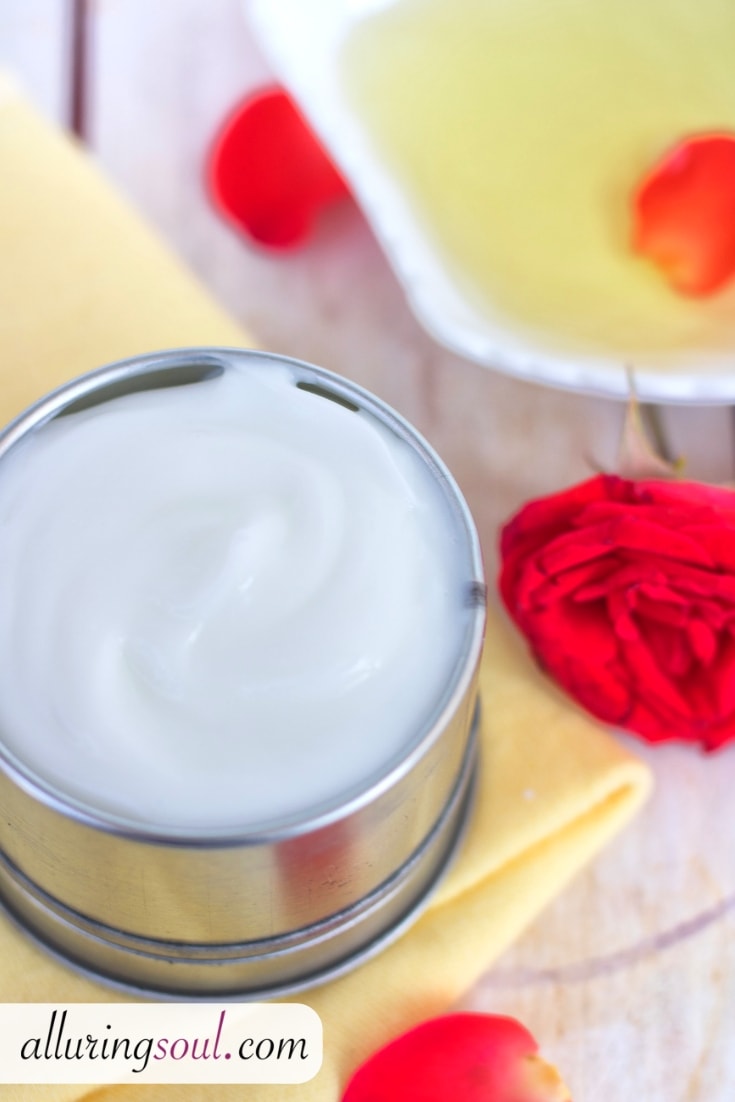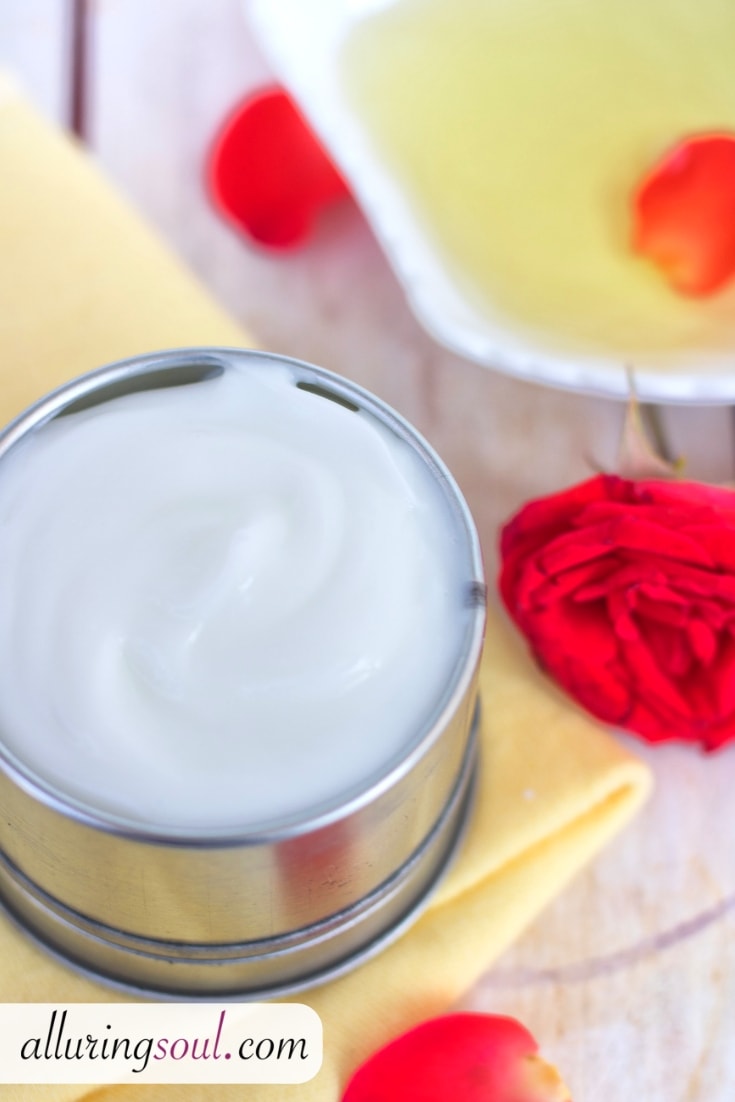 Vitamin E Oil
Vitamin E oil treats wrinkles by supporting new skin cell growth and speeding up cell regeneration. It can also work to hydrate and moisturize dry skin.
It also prevents and repairs the free radical damage. When applied topically to dark spots and scars on the skin, it helps to lighten and smooth the rough skin by lubricating cell membranes and encouraging cell regeneration.
Emulsifying Wax
Emulsifying wax is extracted from fatty acids and ester isolation from plant oils.
At room temperature, emulsifying wax is solid and it is basically odorless but it does have a slight waxy smell.
It is used in more modern times as a medium for making skin care products.
It can blend oil and water in facial creams, body lotions, moisturizers, and other skin care products.
There are no side effects in the use of products with emulsifying waxes as the main ingredient.
These products are considered non-toxic even when used regularly.
This chemical is also considered non-irritating even for people with sensitive skin.
If you experience any type of skin irritation when using these products, you must completely discontinue product use and consult a doctor at once.
About Preservatives
So, if you are making a recipe using water or milk you really need to use a preservative if you want it to last more than a month. Remember that your product will still be much healthier than any commercial option.
I prefer Saliguard PCG and is the safest preservative to use, it's paraben-free and formaldehyde-free liquid blend preservative, certified safe on a global level and compatible with most cosmetic ingredients. It's relatively inexpensive, ready-to-use and very effective against mold, yeast, and bacteria. Saliguard PCG preservative can be used in most personal care products at a dosage of between 0.5% to 1.0% (check packaging to be sure). Two other contenders are Liquid Germall Plus and Optiphen.
You can add preservative during the cool-down phase of a recipe or to the water element before heating. Most preservatives are heat sensitive so if you add the preservative to water before heating always be sure that the temperature does not exceed the recommended level usually around 65C (check the product instructions too).
Your preservative packaging should always give you a guideline of when it can be added along with a maximum temperature limit. Most good preservatives can now be added to cool down phase, this is my preferred method as it eliminates the chance of overheating and destroying it. But always check the recommended usage guide before buying and using it.
---
Procedure to Make Anti-aging Face Moisturizer
Powerful DIY Anti-Aging Face Moisturizer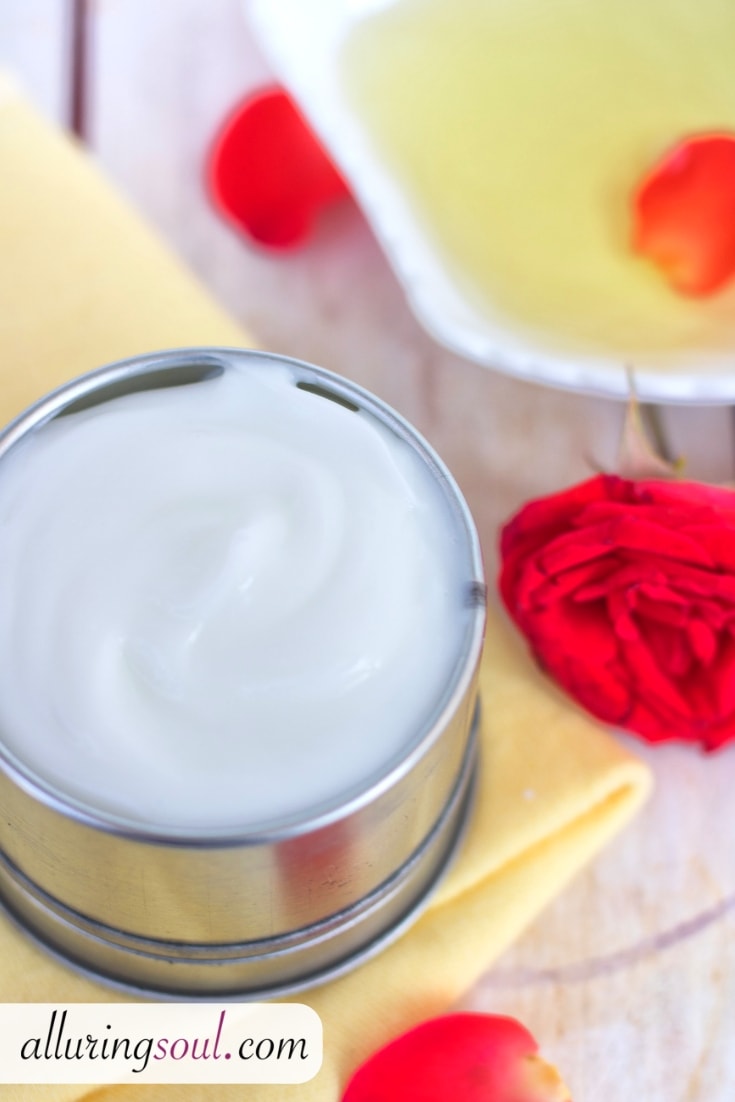 Powerful antioxidant rich DIY anti-aging Face Moisturizer will help you to keep skin hydrated, free from wrinkles, age spots, scars, and dark circles.
Recipe type:
Anti-aging Face Moisturizer
Instructions
How To Make
Fill a medium pot halfway full of water and place a glass cup or bowl in the pot.
Now, heat wax and oils except essential oils and vitamin E oil.
Heat rose water in another double boiler.
Melt the emulsifying wax and heat the rose water.
Once the oil mixture and water are the same temperature-pour the water into the oil mixture.
Take a hand blender and mix your water/oil mixture for about 40 seconds to 1 minute. Let stand for 15 minutes then mix for about 30 seconds again.
Once you notice that the water isn't separating at the bottom of your bowl after not mixing for a few minutes, you are done mixing.
Once your mixture is no longer hot, add essential oils and vitamin e oil.
If you are using Saliguard PCG preservative, now is the best time to add. Add the ¼ teaspoon preservative with a dropper or small spoon and again mix the cream for 2 minutes with a spoon.
Now, pour the face moisturizer into the container and let the container set for 24 hours. Your cream will thicken in this time.
The cream will be last for 12 months.
Keep it in a cool and dark place.
How To Apply
Apply it on cleansed face daily.
Notes
1. Never use citrus oils when going out into the sun as this can cause phototoxicity. And certain essential oils should be avoided during pregnancy, always check before using.
2. Sterilize all your beauty packaging containers, jars, glass jars, and bottles.
3. Try to Patch Test your recipe before using it liberally, simply rub a little on your neck behind the ear and leave for 24 hours. If there is no reaction after this time you are good to go.