(This post contains affiliate links. You can read my full disclosure here.)
It's always impossible for me to tangle my hair when I wake up in the morning or after the shower. But this leave-in conditioner and hair detangler solved my problems and I have included it in my hair care regime. It's non-greasy too!
It helps to make my hair smooth and manageable all day and also promotes hair growth as it contains essential oils which are proved ingredient to boost hair growth.
This hair growth-boosting hair detangle has many benefits because it's made up of all natural ingredients and also it is chemical free. Let's see what are the other benefits of hair detangler.
---
Benefits of Hair Growth Boosting Hair Detangler
Apple Cider Vinegar
It is naturally high in acetic acid and has a pH level which is close to that of human hair. Regularly applying or rinsing with this vinegar can help bring your scalp and hair to its ideal acidity, especially if you have oily hair.

It has the antimicrobial property which can kill bacteria and fungus, common underlying causes of dandruff and hair loss, making it a fantastic natural cure.
It exfoliates the scalp and helps hair to regrow effortlessly.
It is a fantastic natural detangler and effective because its natural acidity helps to smoothen down the cuticle, encouraging knots and tangles to slip out and allowing a brush to glide through more easily.
It helps to smoothen frizzy hair and adds shine to hair.
Almond Oil
It contains anti-inflammatory properties and is rich in fatty acids such as Omega-6, Omega-3, and Omega-9 fatty acids. It also contains Vitamin E, which is known for its high antioxidant activity, and magnesium.
Almond oil softens hair while adding shine. This is because of its high content of fatty acids and proteins. The nutrients penetrate deep into the scalp and hair shaft, nourishing each strand of hair, making them glossy and strong. It is also relatively non-sticky and easy to wash off.

Rosemary Essential Oil
It is the best oil for hair growth and hair thinning problem. It is one of the premier hair growth enhancing essential oils.
It is packed with antioxidants which help destroy free radicals that are responsible for graying as well as hair thinning.
It is also effective for treating dandruff, itchiness, scalp irritation and oily skin.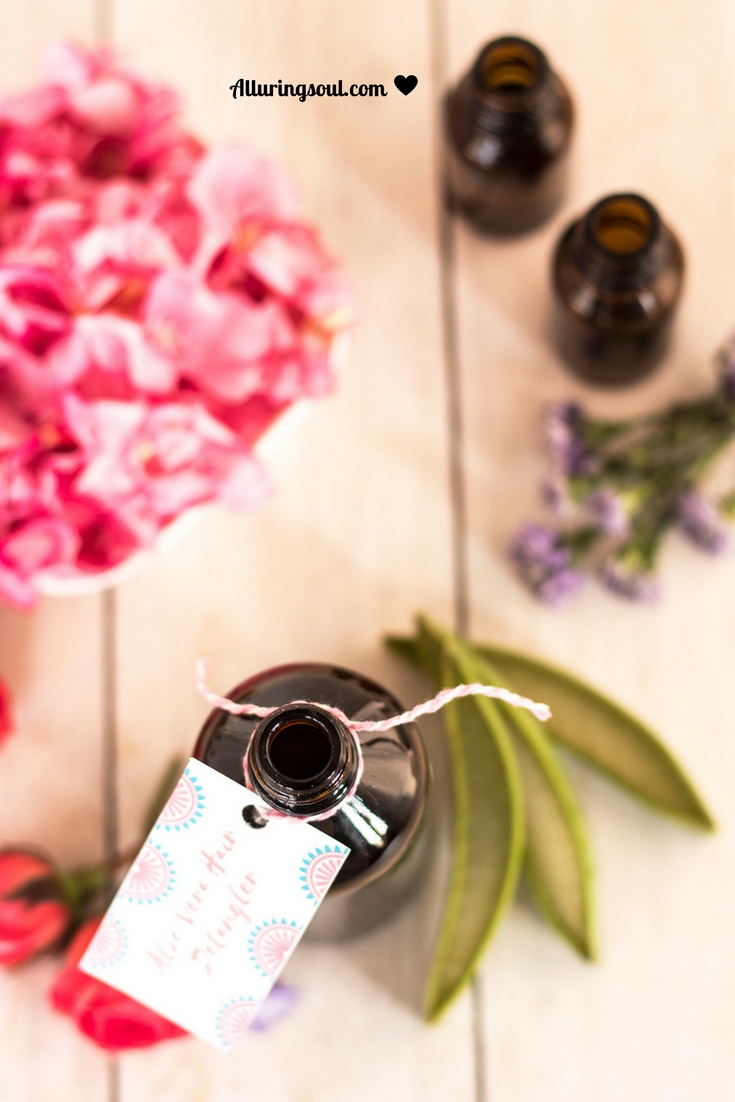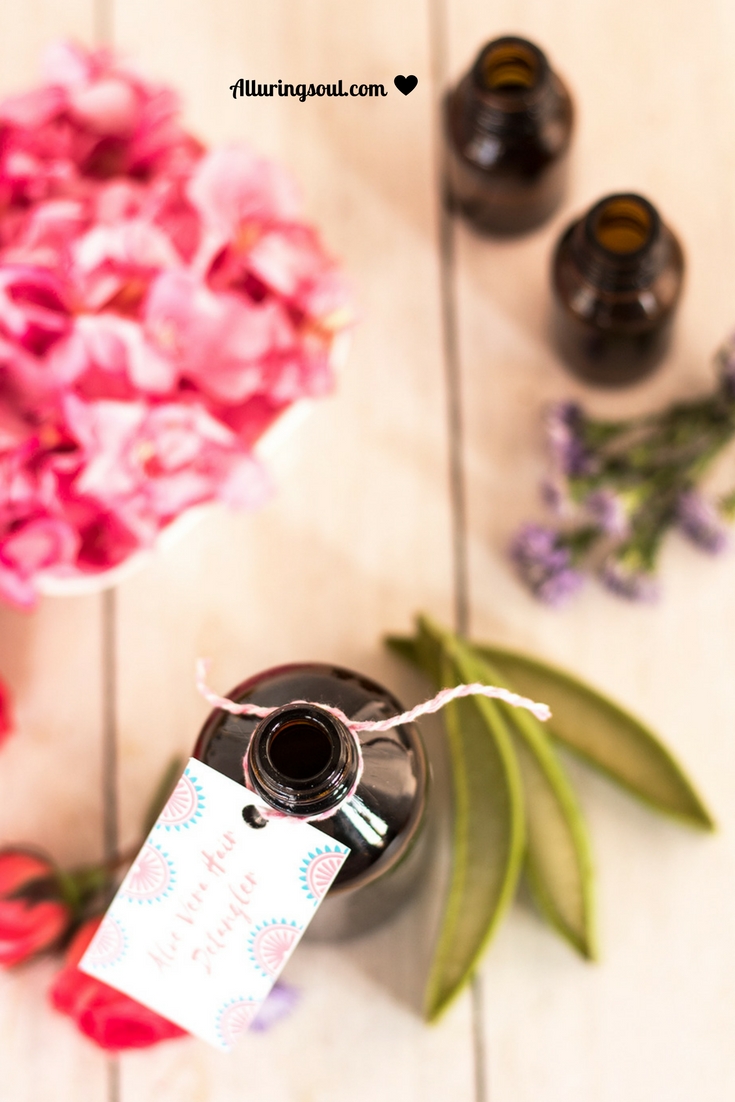 Aloe Vera
It has antioxidants which improve hair growth by helping maintain the collagen or the hair follicles' connective tissue.

It protects the cells in the blood vessels of the scalp to create healthy hair growth and stops hair fall. It also protects hairs from sun damage. It contains vitamins A, C, and E, which are antioxidants.

Vitamin E and A are the most overlooked vitamins, it's an antioxidant found in aloe vera that repairs and builds tissue, which is essential for healthy hair growth.

Vitamin C helps fight the bacteria on the scalp. It wards off dandruff and helps to get rid of the follicles' debris and encourages the growth of new hair. 
Glycerine
Glycerine returns moisture back to dry hair and improves the scalp health. It conditions the hair and prevents hair from breakage, dryness, and brittleness.
It soothes an itchy scalp. Women with frizzy and lifeless hair that are brittle and rough, will benefit from a leave-in treatment using glycerin. It gives a boost of nourishment that ensures the hair stays soft.
Using glycerine helps in strengthening the hair, leading to less formation of split ends.
---
Procedure for DIY Hair Detangler
DIY Hair Growth Stimulating Hair Detangler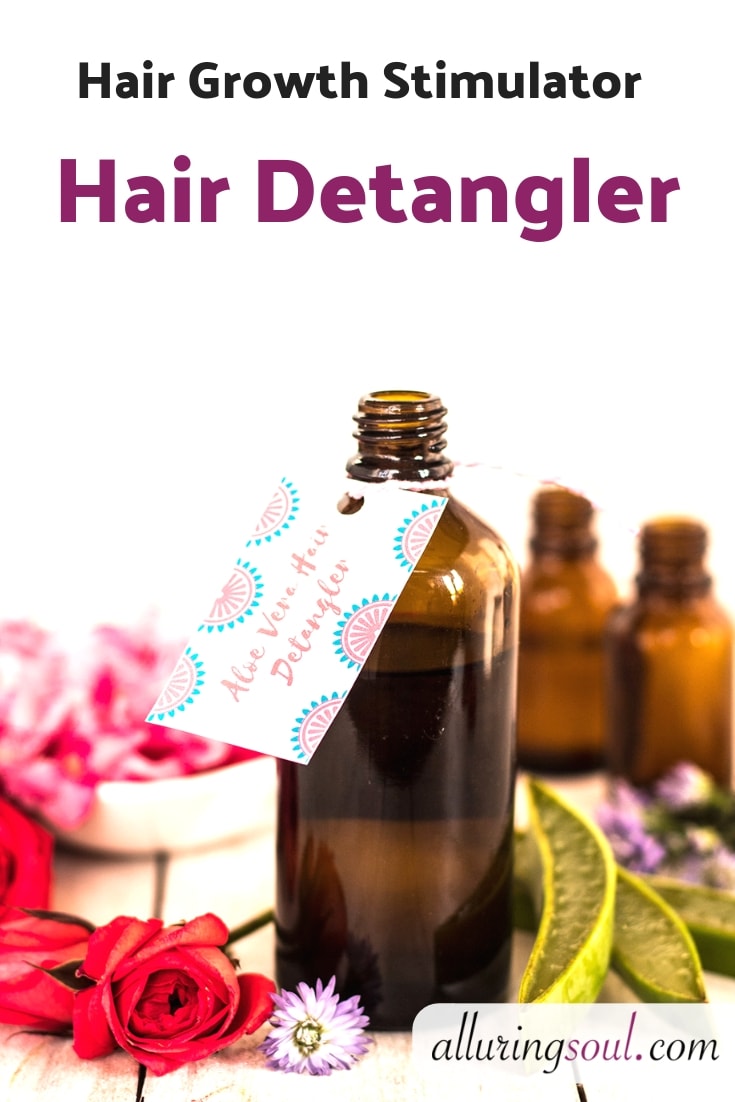 Detangles your hair easily with hair growth stimulating factor. This DIY Hair Detangler moisturizes hair, helps in hair growth and makes it shiny.
Recipe type:
Hair Detangler
Instructions
How To Make
Using your funnel, add all the ingredients in the bottle except water. Now, fill the rest of your bottle with purified water. Shake well to mix up the ingredients.
How To Apply
Whenever needed, spray the hair detangler all over your hair as a leave-in conditioner. Or use it to get knots out, while you comb your hair. You can also use it for your child, it's childproof.
Notes
1. Keep it in a dark colored glass bottle and away from light.
2. Store it in a refrigerator for up to 2 weeks.