Aging is a natural process which you can't get away with. But aging gracefully can be a boon for any type of skin.
Don't worry!  you don't have to empty pocket on expensive serum even you can achieve the flawless skin naturally.
Using essential oils on skin, provide essential nutrients and vitamin.
So, Treat your signs of aging with this anti-aging face serum which fights wrinkles, age spots, scars, and acne.
This is all in one MIRACLE SERUM.
---
Benefits Of DIY Anti-Aging Face Serum
This face serum contains highly effective oils which help you to achieve a flawless skin.
These oils have numerous benefits and help to get glowing skin. Let's take a look what are the benefits of ingredients used in anti-aging face serum.
1. Hemp Seed Oil
It is high in omega acids 3, 6, and 9, which help hydrate the skin and removes dryness.
It removes fine lines and promotes cell regeneration at the faster rate.
Hemp seed oil is rich in fatty acids which soothe inflamed skin and may even modulate skin oil production treating acne.
2. Argan Oil
Argan oil is rich in antioxidants, vitamin E, linoleic acids, and essential omega fatty acids which repairs and hydrates skin.
This oil makes an excellent moisturizer with anti-inflammatory qualities for red, reactive skin.
It is excellent oil for healing irritated or damaged skin.
It treats acne and scars.
It prevents from oxidative damage i.e free radicals and UV radiation.
3. Pomegranate Seed Oil
The regenerative properties of pomegranate oil make it an important ingredient in many anti-aging skin care products.
It contains a unique polyunsaturated oil called "punicic acid", an omega 5 fatty acid, which has strong anti-inflammatory properties.
The oil prevents from free radicals to keep skin aging at bay.
It also provides protection against sun damage just like pomegranate fruit, its oil is also prized for its antioxidant properties.
It helps with collagen production, firming the skin.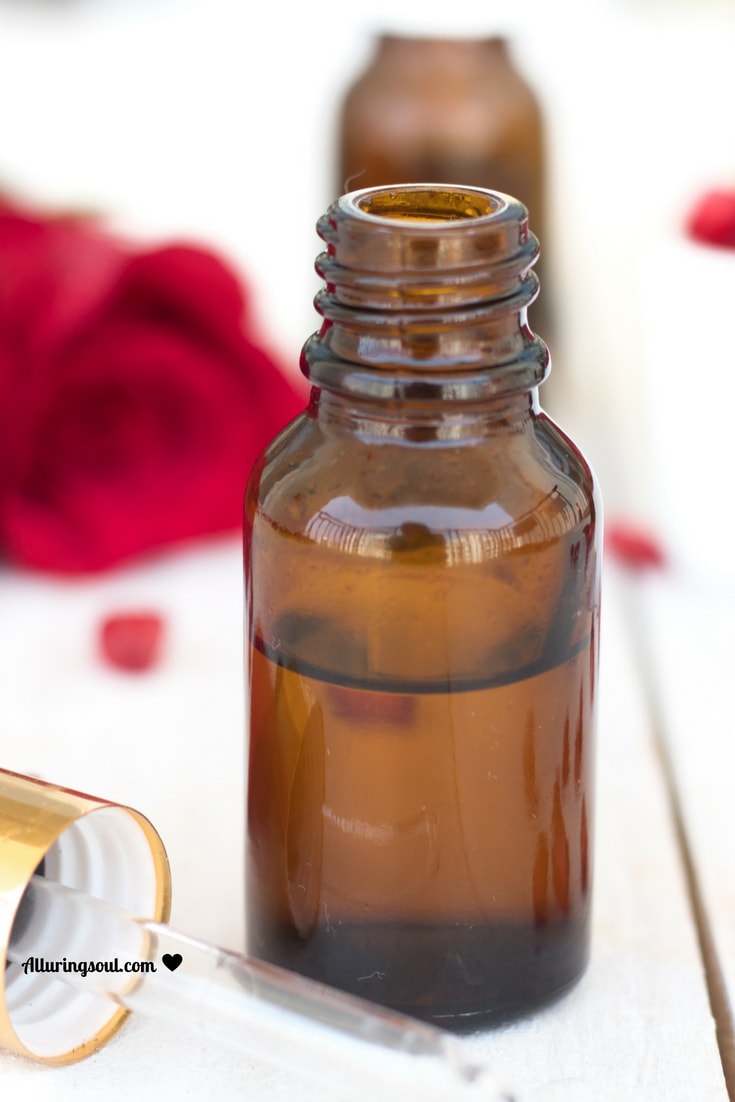 4. Geranium Essential Oil
The best thing about geranium essential oil is that it is a cicatrizant which helps fade scars gradually and make your skin flawless.
It treats and prevents acne and it has anti-inflammatory property.
It is a natural cleanser which removes dirt and pollution and exfoliates dead cells.
5. Tea Tree Essential Oil
Anti-microbial and antiseptic properties of tea tree oil kill harmful microbes and protect the skin from getting infected.
It removes acne, razor bumps, ingrown hairs, acne scars and keeps skin hydrated. (Check tea tree oil face cleanser for acne prone skin)
6. Rose Essential Oil
Rose essential oil has excellent emollient properties which moisturize dry skin and has antiseptic and astringent properties which treat acne prone skin.
It has anti-inflammatory properties that help treat redness and inflammation.
Rose oil can also help refine skin texture, controlling skin diseases such as psoriasis and atopic dermatitis.
7. Frankincense Essential Oil
Frankincense can help in fading away acne, surgery marks, stretch marks and other types of scars from the skin.
It can reduce wrinkles and fine lines by regenerating healthy skin cells.
---
Procedure To Make DIY Anti-aging Face Serum
DIY Anti-Aging Face Serum (Fight Age Spot, Wrinkle, Scar & Acne)
Get flawless skin with this DIY Anti-Aging Face Serum which not only fights wrinkles and scars but does a miracle on acne and age spots too.
Recipe type:
Anti-aging Face Serum
Instructions
How to make
Combine hemp seed oil, argan oil and pomegranate seed oil in a small dark-colored bottle using a funnel.
Now add essential oils carefully to the serum bottle.
Shake gently to combine all the ingredients.
How to use
Take 3-5 drops of face serum on your cleansed palm and apply the oil to the skin and massage gently for 2-3 minutes.
Apply in the morning on cleansed face and before using any make-up and in the evening before going to sleep on a clean face.
This recipe makes a little bit less dan 1 ounce of oil since you'll need some space in the bottle for the dropper (otherwise it will run over if you close the bottle). I would recommend using a kitchen scale to measure the ingredients.
Use within six months.
Notes
You can skip tea tree essential oil if you are not having acne prone skin

Precautions

1. Be sure to do a patch test to make sure your skin does not have an adverse reaction to the oils. The inner forearm is a great place to do a test since the skin is delicate, similar to facial skin.
2. Additionally, pregnant women, infants, and young children should avoid certain essential oils. so be sure to do your homework beforehand.
3. Keep the face oil bottle away from light.