(This post contains affiliate links. My full disclosure is very boring, but you can read it here.)
Everyone wants a gorgeous skin which should be free from wrinkles, acne, dark spots and scars. To make skin perfect there are many products in the market which claims that it will fulfill our skin requirements but they have side effects too. All natural DIY face serum for acne is the greatest thing you can ever give to your acne prone skin. It is made up of essential and carrier oils which are the main ingredient that will target our requirements without any side effects.
I have also shared my first experience with DIY face serum for acne which I made it after knowing my skin requirements. If you are a DIY person you can also make your own DIY face serum for acne depending on your face requirements and skin type. To make face serum we should know what is this all about and how can we make DIY face serum for acne.
---
What Is The Role Of Essential Oil In DIY Face Serum For Acne
DIY face serum for acne contains only two types of oils- essential oils and carrier oils. so, what is essential and carrier oils?
The essential oil is a concentrated hydrophobic liquid containing volatile aroma compounds from plants. Essential oils are also known as the oil of the plant from which they were extracted. An oil is "essential" in the sense that it contains the "essence of" the plant's fragrance—the characteristic fragrance of the plant from which it is derived.
It goes without saying that essential oils smell great. They not only help you relax but have significant benefits for the skin too. The oils hydrate and heal your skin without clogging the pores. Plus, they help deal with many skin conditions – from acne, dryness, aging to excessive oil.
A carrier oil is a vegetable oil—such as coconut oil, olive oil, or grapeseed oil—is used to dilute essential oils before they are applied to the skin in massage and aromatherapy. They are so named because they carry the essential oil onto the skin. It ensures that essential oils applied topically are comfortable to the skin. 
---
My Experience With DIY Face Serum For Acne
I usually purchase personal care products with all natural ingredients. One day I went to a store to purchase my face wash product. In the store, I noticed the alternative, the all natural products, which used essential oils.
I found these products worked just as well and marked the beginning of my love for essential oils. I got the idea on the internet that essential oils are a panacea that can replace every modern medicine, both over the counter and prescription.
Using Essential oils you have to be patient as it takes the time to show their power over your skin. I am using these oils for several years and I can see the effect on my skin. My skin has become softer and less problematic as my skin is acne prone and a combination type of skin. I  get no further breakouts and my dry parts of my face feel hydrated.
My DIY face serum for acne is also reducing dark circle around my eyes and helps me fading dark acne spots. If some essential oil is blended with other essential oils, it becomes more effective on skin because you will get many benefits from different oils in one application.
In all actuality, you just have to buy a carrier oil, to begin with, and test it on your face. See if your skin loves the base oil you choose, and then you can build on that.
Your carrier oil is the main ingredient in your facial oil blend. My two favorite carrier oils are argan oil and/or jojoba oil because they're both very healing and nourishing, they're both very light and they sink into your skin without any feeling of greasiness, and they're great for all skin types.
I use this facial serum at night to rejuvenate and heal my skin. At daytime, I use my diy aloe vera acne gel which really works for me and helps my skin to get rid of acne.
Since I have started to use the 100% pure carrier and essential oil for my skin, I think I will never turn to synthetic cosmetics that contain toxic chemicals and filler ingredients ever again.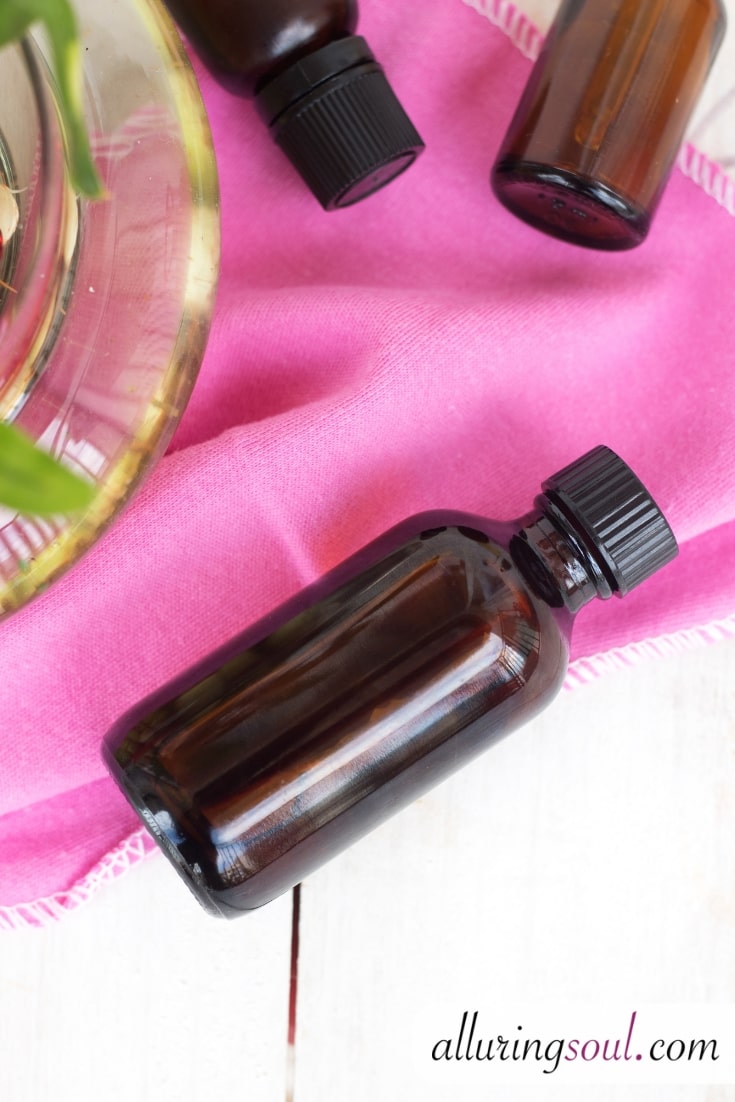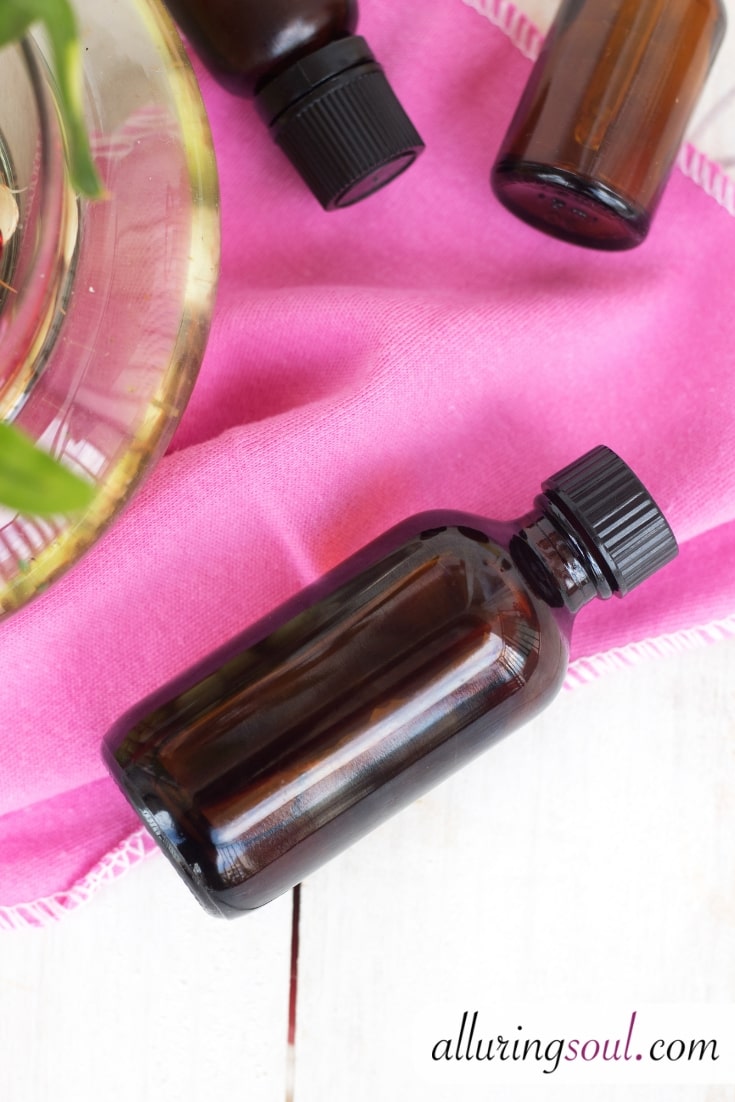 ---
List Of Carrier Oils Can Be Used To Make DIY Face Serum For Acne
(This is not an exhaustive list, but it's most of 'em):
Argan oil – 

great for dry, aging, oily, normal, or acne-prone skin

Jojoba oil – 

great for dry, aging, oily, normal, or acne-prone skin

Apricot kernel oil – 

great for normal, dry, and aging skin

Sweet almond oil

 – just an all-around great facial oil for all skin types, but it takes a bit longer to "sink in" than the first two.

Grapeseed oil – 

great for normal, oily, or acne-prone skin

Avocado oil – 

great for dry and aging skin

Hemp seed oil – 

great for any skin type, also very light
Plan on your carrier oil for at least 95-98% of your facial serum mixture (we'll talk about mixing at the end).
I am sharing the recipe of essential oils that I am using for several months (Of course with some moderation, it takes time to know your skin needs) from which I got a problem free skin. I use some of the essential oils mixed with my favorite carrier oil.
These essential oils are the oils that are a little more pricey, but with that price tag comes a beautiful kick in the pants to your troubled skin. Remember! You only need a couple of tiny drops of essential oil to get an amazing benefit for your skin. Essential oils are potent (and they last forever when you use them this way)!
---
The Benefits Of DIY Face Serum For Acne
I use these oils for my serum because it has many benefits.
Lavender oil helps regenerate skin cells and reduce scarring and sunspots. When applied to the skin, they improve blood circulation and heal burns, cuts, and bruises.
Clove oil contains a substance called eugenol, which has antibacterial properties and it is great for acne treatment.
Tea-tree essential oil is one of the most popular oils for oily and acne-prone skin. It helps regulate oil production in the skin and has antibacterial properties that help get rid of the acne-causing bacteria.
Chamomile oil removes dark circles without hampering the beauty of our eyes from the regular application. It eases the blemishes and evens the skin tone.
Frankincense oil is powerful astringent capabilities. It can help to eliminate sun spots, remove micro-wrinkles around the eyes and cheeks, and generally tone and tighten skin all over your body, while simultaneously replacing old or dying cells with new, healthy ones! And heals the scar also.
Cedarwood oil is helpful in making the sebum secretion under control. Therefore cedarwood essential oil is good for whitening of oily to combination skin.
If you love nature extracted essential oils then you should also check out how to make scalp and hair problem free. 
---
Procedure To Make DIY Face Serum For Acne
DIY Face Serum For Acne, Scars & Dark Spots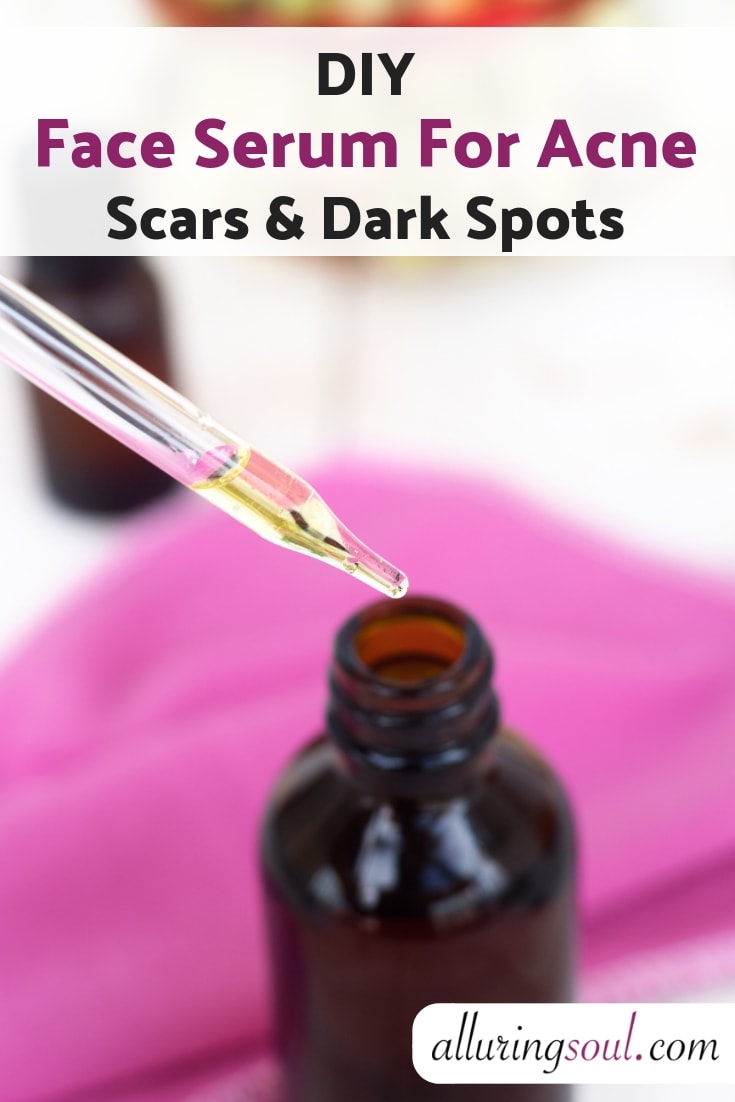 DIY Face serum for acne is the greatest thing you can ever give to your skin. It treats acne, heals scars and lightens dark spots.
Recipe type:
Anti-acne Face Serum
Instructions
How To Make
Half fill the bottle with jojoba oil
Add 1 drop of clove oil
Add 10 drops of lavender oil
Add 4 drops of tea tree oil
Add 1 drop of cedarwood oil
Add 2 drops of frankincense oil
Add 1 drop of chamomile oil
And then again fill the empty space left in the bottle with jojoba oil
Shake Well.
How To Apply
Apply it on a cleansed face daily.
Always apply sunscreen before going out in the sun.
Notes
1. Firstly dilute the essential oils in a carrier oil. Be sure to do a patch test to make sure your skin does not have an adverse reaction to the oils. The inner forearm is a great place to do a test since the skin is delicate, similar to facial skin.
2. Additionally, pregnant women, infants, and young children should avoid certain essential oils. so be sure to do your homework beforehand.
3. Keep the face serum bottle away from light.
4. The Pictures have been updated but the recipe is the same.