Why should you apply the cream at night? It is said that your skin absorbs active ingredients better at night time than it does during the day. A night cream on your face not only keeps your skin nourished but also helps to repair the damaged cells. So, why shea butter? Using Shea butter night cream on the skin is known to have lots of nourishing nutrients in it, such as, it is rich in vitamin A, E, and antioxidants which helps your skin to be healthy and soft.
Let's take a look at the benefits of shea butter night cream.
---
Benefits Of Shea Butter Night Cream
Shea Butter
Shea butter gets absorbed quickly into the skin as it melts at body temperature. Its moisturizing and healing properties prove beneficial for many skin issues. It also has anti-inflammatory and antimicrobial properties that can be utilized to treat many ailments. Shea butter has high levels of oleic, linoleic, and stearic acids which help to fight aging problems. It removes wrinkles and makes skin soft.
Shea butter aids in the skin's natural collagen production and nourish the skin to prevent drying. With long-term use, many people report skin softening and strengthening as well as wrinkle reduction.
Meadowfoam Seed Oil
Meadowfoam seed oil is a great moisturizer for your skin with its excellent emollient properties. The skin soaks it up and maintains a soft, supple and smooth look. It also has strong anti-inflammatory properties! It reduces skin inflammation and soothes blotchy red skin. The ability for meadowfoam seed oil to penetrate the skin so easily makes it especially beneficial in the fight against wrinkles, sagging skin, age spots and a whole host of other signs of aging.
Lemon Essential Oil
Lemon Essential Oil contains antiseptic properties that aid in clearing up pimples and acne from the face. Lemon oil is rich in vitamin C which tightens the skin, preventing wrinkles, and removes excess oils that clog pores and cause blackheads.
Since Lemon Essential Oil falls under the category of citrus fruits, it also contains astringent properties which can be used as an essential oil to remove dead skin cells, brighten skin complexion and reverse sun damage.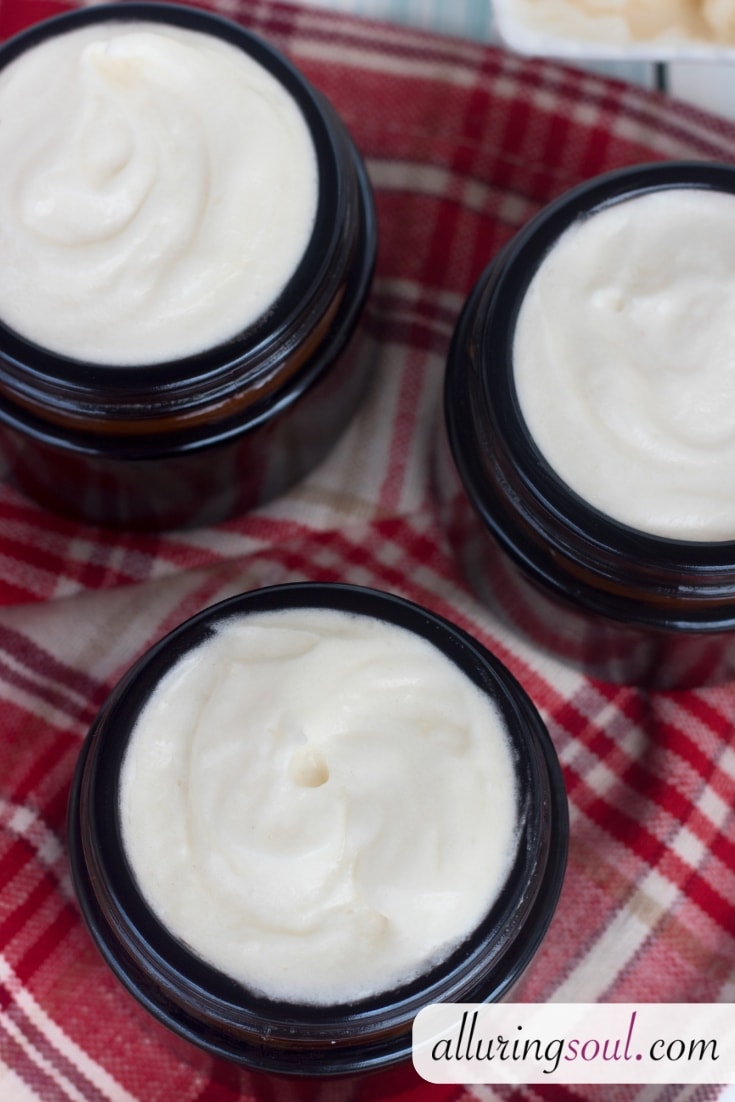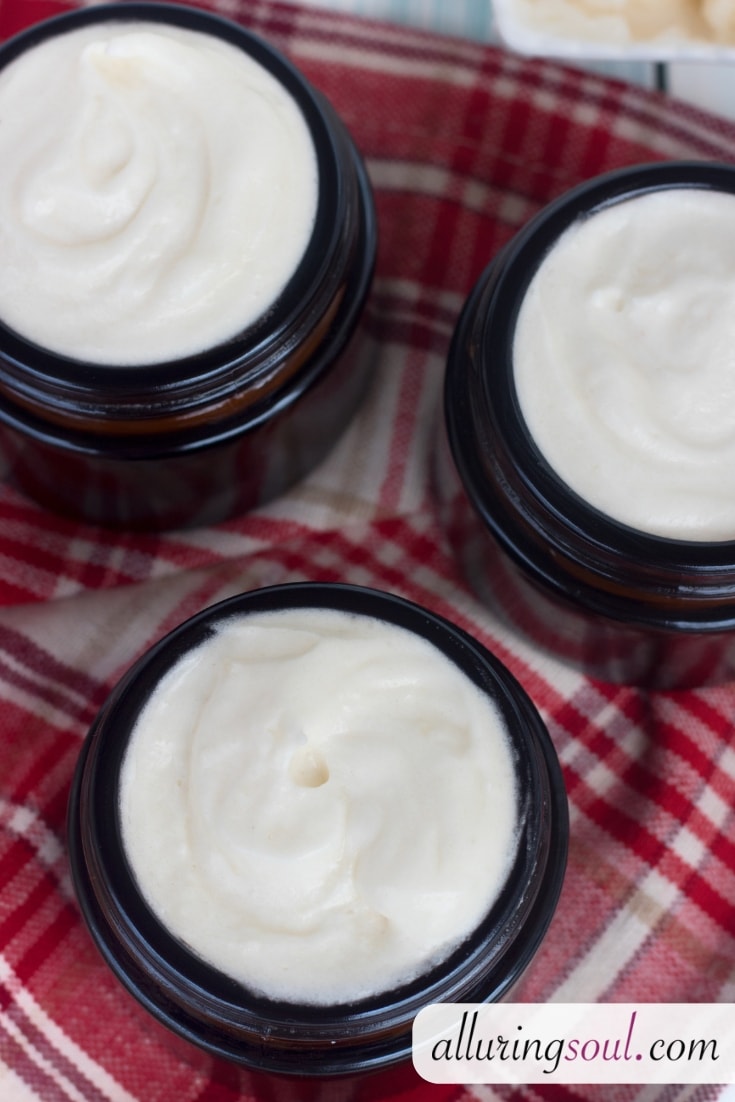 Frankincense Essential Oil
Frankincense essential oil contains so many fabulous skin beautifying properties including anti-inflammatory, anti-acne, anti-aging, antibacterial, anti-scarring and astringent properties that will make your skin look more beautiful than ever! One of the most important reasons why people use frankincense essential oil for skin is because of its powerful anti-scarring properties. It is said to help heal and fade acne scars at a faster rate due to its skin healing properties.
Sandalwood Essential Oil
Sandalwood essential oil has rich antioxidants that can help to soothe free-radicals in our body. These free-radicals are major offenders and promote aging. It helps dry and damaged skin and removes dark spots and scars.
---
Procedure For Shea Butter Night Cream
DIY Intense Healing Shea Butter Night Cream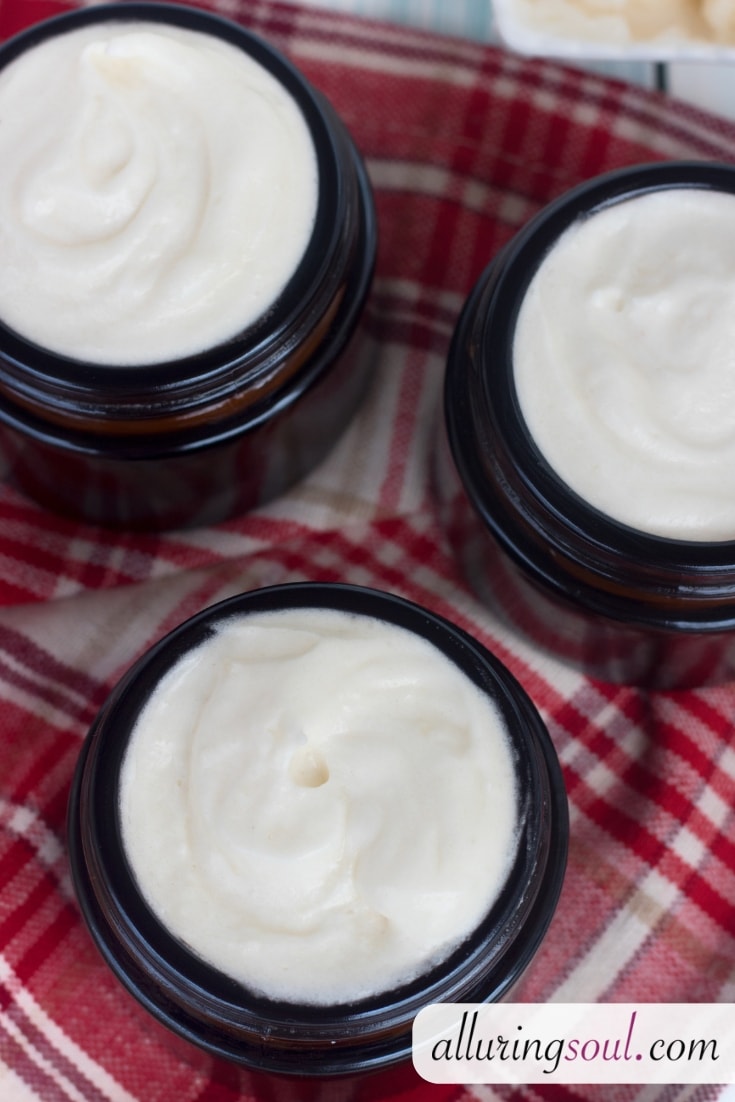 Provide nourishment to your skin with this shea butter night cream. It moisturizes skin deeply, removes wrinkles, scars and dark spots.
Recipe type:
Shea Butter Night Cream
Instructions
How To Make
Melt shea butter using a double boiler system. When the butter has melted, add meadowfoam seed oil in the melted butter and mix well.
Let this mixture cool until it's room temperature. It should look creamy, thick and opaque, but don't let it get solid.
Now, add all essential oils and vitamin e oil in the bowl and whip it on high speed until it becomes fluffy and creamy.
It will take about 5 to 10 minutes or more for everything to fully incorporate.
Now, transfer to an airtight jar. Store in a clean and dry place.
How To Apply
Apply it on a cleansed face every night.
Notes
1. It contains essential oils so do a patch test before applying it on the face.

2. Always apply this cream at night only and apply sunscreen before going out in the skin.

3. Keep it away from direct light.