(This post contains affiliate links. You can read my full disclosure here.)
Dry skin is a very common skin condition. It makes your skin look dull and unhealthy. But you got nothing to worry. This ultra-moisturizing and rejuvenating lavender body lotion will heal your dry skin. It contains super soothing lavender essential oil, geranium essential oil, avocado oil, and jojoba oil. These natural ingredients work great for moisturizing dry skin.
This lavender body lotion provides the much-needed hydration to your dry skin cells. Hence it would help revive your dry, flaky skin.  That's why you must make this easy lavender body lotion and start using it immediately.
Now before heading to the recipe let's discuss the benefits of ultra-moisturizing lavender body lotion.
---
Benefits Of Rejuvenating Lavender Body Lotion
Lavender Essential Oil
Lavender essential oil is very effective in soothing dry skin. It helps moisturize as well as hydrate your skin. This makes your skin soft and smooth. It has anti-inflammatory properties that help reduce swelling, redness, and irritation. It also works great to fading scars and gives you even skin tone. Lavender essential oil has antibacterial and antifungal properties. It kills bacteria, fungi, and other microorganisms. Hence it helps prevent skin infection and keeps it healthy. It contains powerful antioxidant properties that help reduce fine lines and wrinkles.
Avocado Oil
Avocado oil is a very effective moisturizer for dry skin. It contains potassium which replenishes moisture level in your skin. Hence makes your skin soft and supple. It is high in vitamin E which is a powerful antioxidant. Vitamin E combat free radicals to prevent cell damage. This helps reduce fine lines and wrinkles.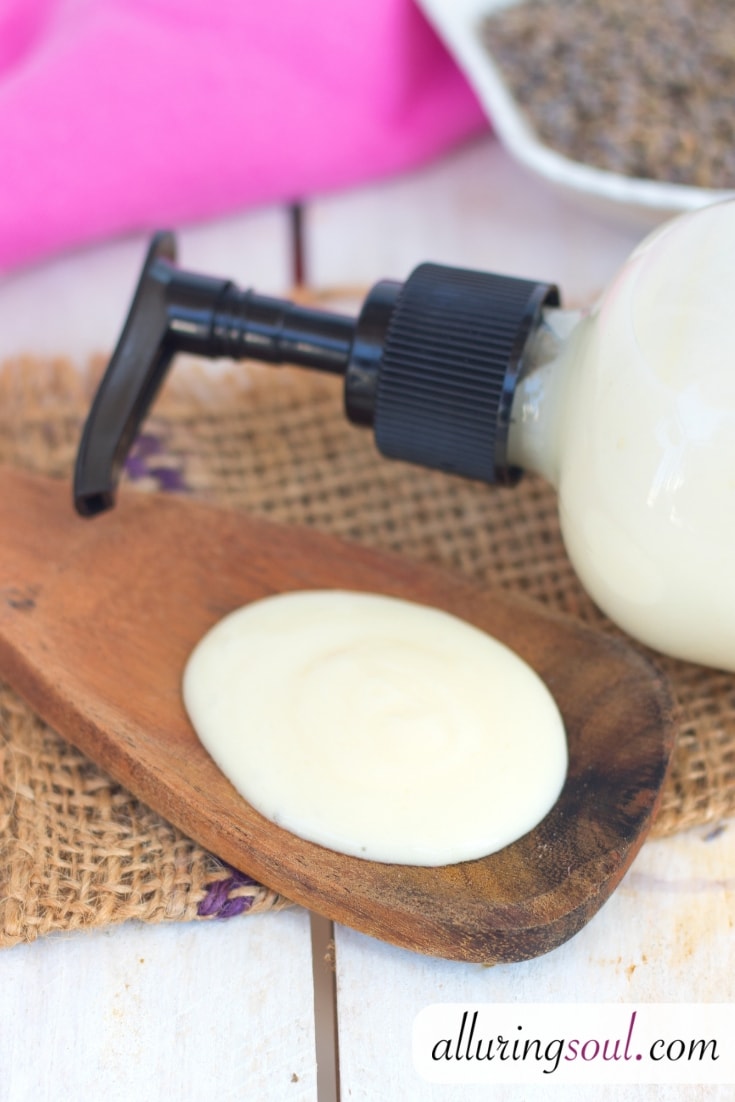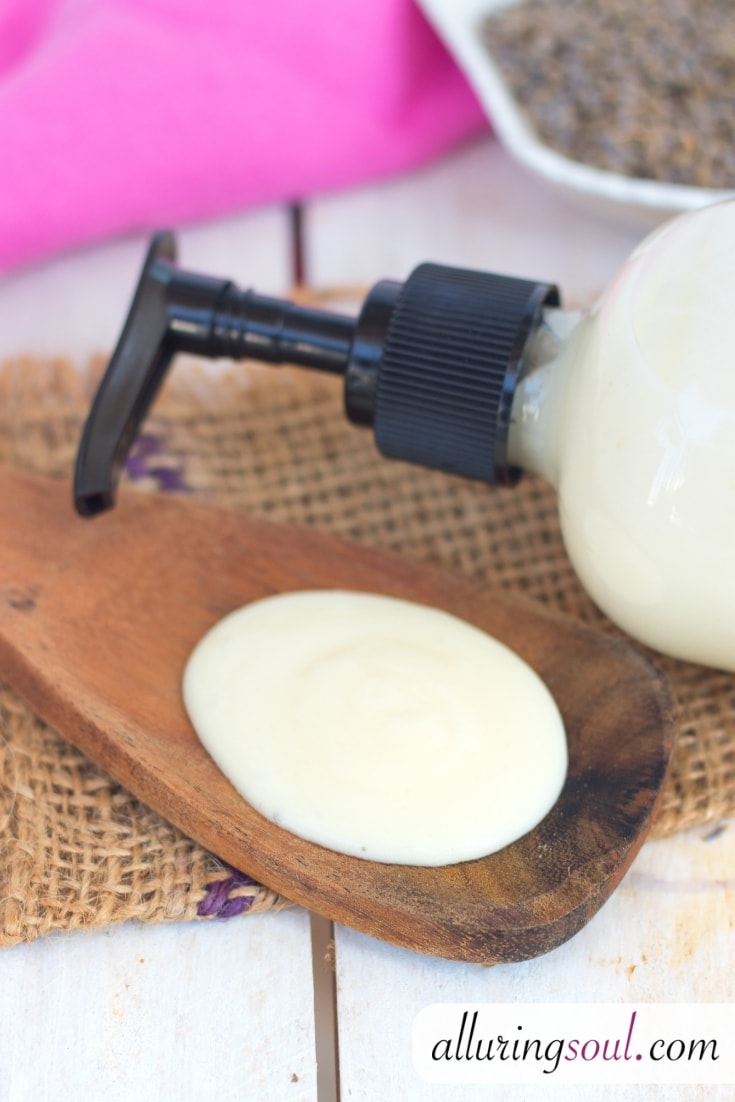 Geranium Essential Oil
Geranium essential oil is very effective in tightening skin. Its astringent properties tighten skin tissues that help smooth out wrinkles. Its powerful moisturizing properties rejuvenates your dry and dull skin. It is also great for reducing scars and age spots.
Jojoba Oil
Jojoba oil has powerful moisturizing properties. It lubricates your skin by balancing sebum(oil) production. It also hydrates your dry, dull skin cells. Hence makes your skin soft and supple.  It increases collagen production in your skin. This improves elasticity and firmness of your skin. Hence your skin will look youthful and naturally glowing.
---
Procedure For Lavender Body Lotion
DIY Rejuvenating Lavender Body Lotion For Dry Skin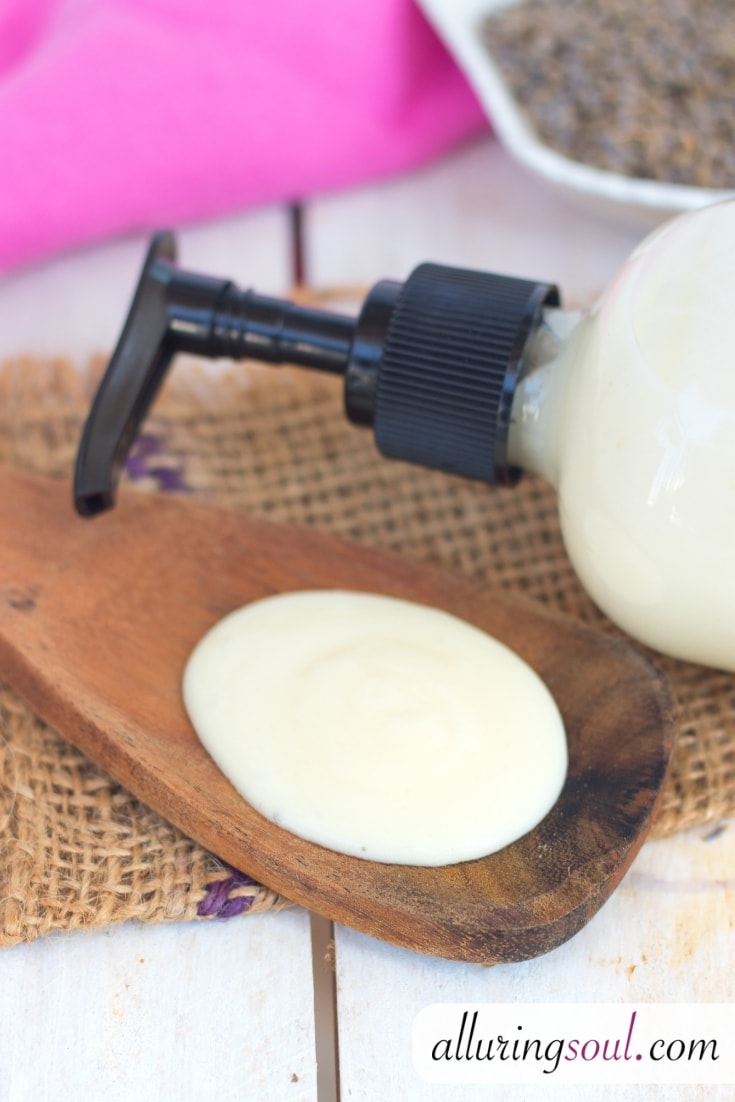 Rejuvenate your skin with this lavender body lotion. It hydrates and soothes skin. It removes skin and gives life to damaged skin.
Recipe type:
Lavender Body Lotion
Instructions
How To Make
Put some water(1-inch level) in a wide flat bottomed pan and simmer it over low to medium-low heat.
Put the distilled water into a small heat-resistant glass measuring cup and place the measuring cup in your prepared water.
Now, put avocado oil, jojoba oil, and emulsifying wax NF into a second heat-resistant glass measuring cup and place that measuring cup in the prepared water as well.
Heat both parts through for 20-30 minutes; this ensures the oil part is thoroughly melted.
After 20-30 minutes, pour the water part into the oil part. Remove both measuring cups from the water and set it on a dishtowel to insulate it from the countertop.
Using an immersion blender, blend the solution together. After a minute or two of blending, leave it to cool for 10 minutes before returning to blend it some more.
Blend the mixture a few more times until the lotion is only a bit warmer than room temperature, and then mix vitamin E, liquid germall plus, and lavender essential oil.
Transfer the lotion into a glass container.
How To Apply
Apply this lavender body lotion whenever needed.
Notes
1. Be sure to do a patch test to make sure your skin does not have an adverse reaction to the oils. The inner forearm is a great place to do a test since the skin is delicate, similar to facial skin.

2. Additionally, pregnant women, infants, and young children should avoid certain essential oils. so be sure to do your homework beforehand.

3. Keep the container away from light.