Every woman likes to have smooth, soft skin which radiates amongst others and sets them apart from the crowd. The basic skin care routines like cleansing, exfoliating, toning and moisturizing play the important role to make skin radiant and glowing. Cleansing is the most important part of skin care but there is a way we can naturally cleanse and tone our skin simultaneously. Toning is the most vital step to get rid of many skin flaws like excess oil production, blackheads, acne and clogged pores. There are many benefits of homemade face toner for toning skin like
It helps to maintain skin's pH balance.
It shrinks skin pores.
It prevents acne and blackheads.
It unclogs skin pores.
It removes dirt and helps in controlling excess sebum production.
It does not contain harsh chemicals.
It is cheaper.
---
Why is this Homemade Face Toner best?
The homemade face toner becomes more effective when it is made with powerful ingredients like green tea, apple cider vinegar, and essentials oils. Let's take a look at what are the benefits of homemade face toner made with these ingredients.
Green Tea
When it comes to skin health, drinking and applying it on skin has been found to delay aging, protect the skin from UV rays, improve skin tone, and reduce acne. It is loaded with antioxidants which can fight inflammation and bacteria. Antioxidants present in green tea help prevent free radical damage and encourage healing of cells, which fight signs of premature aging like age spots, wrinkles, and sun damage. Green tea acts as an astringent which shrink pores and helps to reduce the production of sebum. It's antimicrobial, anti-inflammatory, antioxidant, and astringent properties help to fight both acne and blackheads when applied topically and also help shrink blood vessels around the delicate eye area, alleviating swelling and puffiness.

Apple Cider Vinegar
It is a natural astringent. It naturally tightens the skin, shrink large pores and reduce inflammation due to acne. Potassium in apple cider vinegar helps skin to be hydrated and clear from zits. It unclogs skin pores and exfoliates the dead skin cells and helps to remove dark spots and scars. It has the ability to balance skin pH and also helps in controlling overproduction of sebum.
Tea Tree Oil
Its antibacterial and antiviral properties kill bacteria and virus causing acne, blackheads, and whiteheads. Anti-microbial and antiseptic properties of tea tree oil kill harmful microbes and protect wounds from getting infected. It has unique disinfecting and soothing properties and, unlike other acne treatments, tea tree oil will not strip your skin of its natural oils and cause further damage.
---

---
Procedure for Best Homemade Face Toner
Best Homemade Face Toner For Naturally Flawless Skin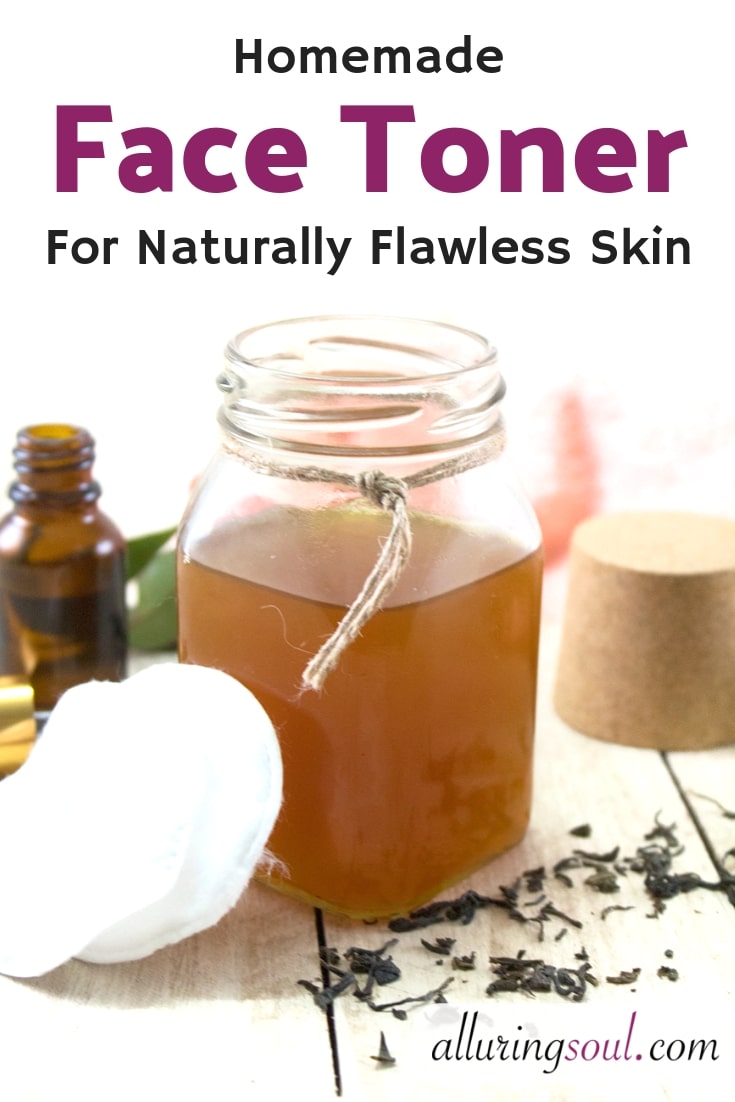 Provide nutrients to your skin with this homemade face toner which helps to remove acne, blackheads, wrinkles, dark spots and minimizes large pores.
Instructions
How to make
Boil ¾ cup of water and drop in the 2-3 green tea bag and let it sit until cool.
Remove tea bag and squeeze out excess water from the tea bag.
Now mix ¼ cup of raw apple cider vinegar to brewed ¾ cup of green tea.
Pour the mixture into a bottle and add 5 drops of tea tree essential oil into it.
Mix well.
You can use it immediately or use it for a week after storing it in a refrigerator.
How to use
Apply the toner to your freshly cleansed skin using a cotton ball or pad, avoiding the eye area.
Apply usual, daily oil-free moisturizer after the toner has dried.
You can also keep it overnight and then rinse it in the morning.
Always shake the bottle before applying toner on face. Repeat daily.
Notes
1. Apple cider vinegar does not smell great. Once the toner dries on your face, the smell almost completely dissipates, in my opinion. If the smell does bother you too much, let the toner dry on your face and then rinse if from your face quick with a splash or two of water, before applying your moisturizer.

2. This may sting on sensitive skin, any wound, and scratched pimples but if it stings more than 1-2 minutes, immediately remove the mask from the face and clean it with water and apply aloe vera or witch hazel.
Always do a patch test before applying it.
---