Hemp seed oil is being marketed in skincare products for everything from acne to wrinkles. And, why not? Hemp seed oil is reputed to refresh, revive, and strengthen the skin, even out the complexion, and gives a glowing skin. It is rich in nutrients that are great for healthy skin. So, why not make a DIY anti-aging hemp seed oil face moisturizer and get all the benefits from this oil. This moisturizer is good for all skin types and even helps to heal eczema and psoriasis prone skin.
Before jumping to the recipe, let's take a look at the benefits of anti-aging hemp seed oil face moisturizer.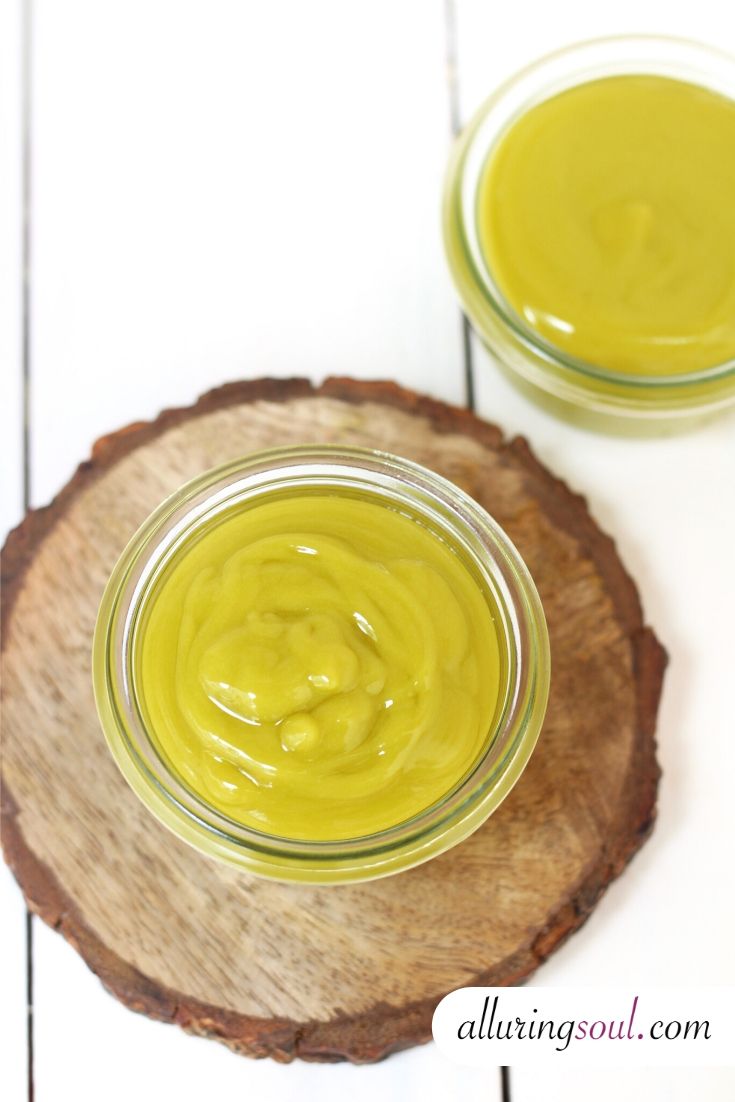 ---
Benefits Of DIY Anti-aging Hemp Seed Oil Face Moisturizer
This anti-aging hemp seed oil face moisturizer is made with effective ingredients like shea butter, hemp oil, and essential oils. This moisturizer is all-natural and non-toxic.
Hemp Seed Oil
As an incredibly nourishing oil for skin on many levels, it plumps the look of your skin, firms and tightens your skin's appearance, and provides powerful antioxidant activity to help promote beautiful skin.
One of the omega-6 fatty acids that hemp oil contains is gamma-linolenic acid (GLA), which acts as a powerful anti-inflammatory while simultaneously encouraging skin growth and new cell generation.
This can help to calm inflammation and irritation on the skin, including acne and some conditions like psoriasis, while keeping the skin nourished and moisturized.
Because hemp seed oil doesn't clog pores, it's often thought to be the ideal moisturizer for skin that has suffered from these issues. Rich in vitamins, minerals, and antioxidants Hemp Seed Oil is known to help maintain skin's clarity and brightness for a radiant complexion that looks and feels rejuvenated.
Hemp seed oil can protect against different environmental factors and can help reduce the appearance of fine lines and wrinkles.
Shea Butter
Rich in Vitamins A, E and F, Shea Butter is a natural emollient that nourishes skin to promote its clarity and health. Its moisturizing, circulation-boosting and anti-inflammatory properties make it a popular ingredient for use in products that address skin problems such as dryness, wrinkles, dark spots, discolorations, stretch marks, and blemishes. Whether skin is dry or oily, Shea Butter balances its oil production without clogging pores.
Shea butter's polyphenols (antioxidants) have anti-aging benefits and properties similar to green tea. Shea butter contains five essential fatty acids (a major amount coming from stearic and oleic acids) that includes phytosterols, vitamins E and D, allantoin (good for healing skin irritations), and vitamin A. This combination of ingredients helps neutralize free radical damage, reducing fine lines and wrinkles, and fading age spots, as well as stimulating collagen production.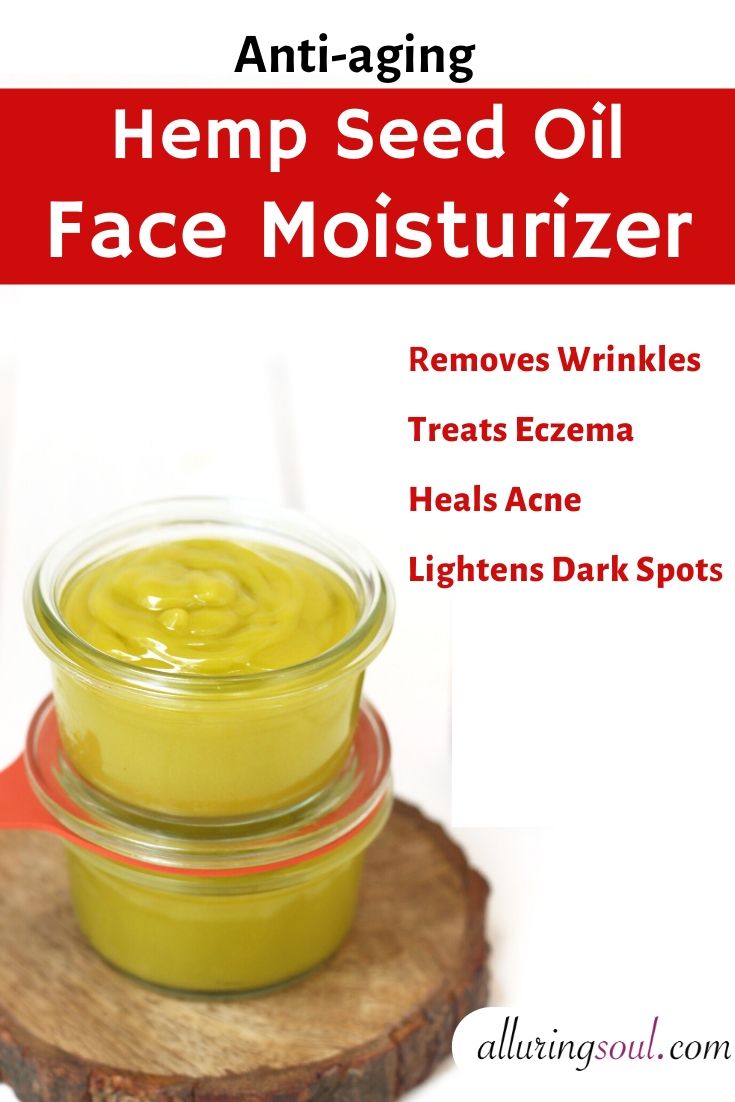 Frankincense Essential Oil
It has natural astringent properties, meaning it balances oil production while tightening the skin. Frankincense benefits include the ability to strengthen skin and improve its tone, elasticity, and defense mechanisms against bacteria or blemishes. Studies have shown frankincense to have anti-inflammatory and "tissue remodeling" properties, too.
Frankincense oil has powerful immune-boosting properties, and it can also act as an antimicrobial agent. This means that it can help prevent infections on your skin and also treats pimples and acne.
Geranium Essential oil
By increasing collagen production, Geranium Oil is known to enhance elasticity and to maintain the skin's softness and smoothness, which is especially beneficial on the skin that has been exposed to chemicals, UV radiation, or rough physical activity.
When used regularly, diluted Geranium Oil is also advantageous for strengthening loose, aging, or acne-prone skin. On scars, unwanted spots, blemishes, stretch marks, and cuts, Geranium Oil's cicatrizant property is known to accelerate healing and fading. While boosting skin's regenerative ability, it also evens out skin tone and the appearance of cellulite.
---
Procedure For Anti-aging Hemp Seed Oil Face Moisturizer
DIY Anti-aging Hemp Seed Oil Face Moisturizer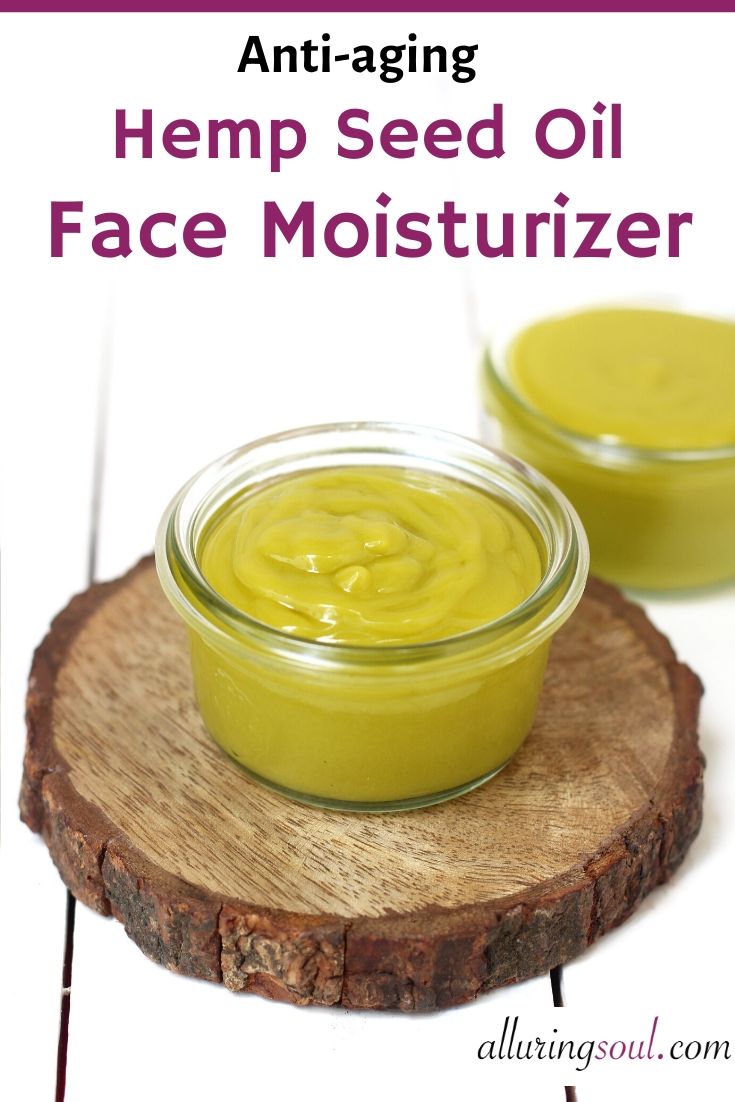 Hemp seed oil face moisturizer removes wrinkles, dark spots and brightens skin. It also treats acne & pimples due to its antibacterial property.
Recipe type:
Anti-aging Hemp Oil Face Moisturizer
Instructions
How To Make
Make sure that your blender or immersion blender, bowl, and all utensils are very clean when you make this. If they're not fully sanitized, then your anti-aging hemp seed oil face moisturizer can grow bacteria or mold. Clean everything with hot soapy water, then swab with rubbing alcohol or vinegar and let air dry.
Make a double boiler by adding a few inches of water in a large saucepan. Heat the pan on low flame.
In a glass bowl, combine the hemp seed oil, shea butter and place the glass bowl on top of a saucepan. Stir occasionally until everything is melted and combined.
Now, let this mixture cool until it's room temperature. It should look creamy, thick and opaque, but don't let it get solid. Optional: You can place the mixture bowl in the fridge for about 30-40 minutes to speed up the process.
Now, add vitamin e oil and all essential oils and whip the mixture using your blender for a couple of minutes until you get a creamy texture.
Transfer to an airtight jar. Store in a clean and dry place.
How to apply
Just apply a pea-sized amount of anti-aging hemp seed oil face moisturizer to your cleansed face daily.
Notes
1. Note: It is possible that you can get semi-liquid consistency of your product. In that case, I would recommend you to keep the product in your container at room temperature and wait for a day or two. The cream will get its solid texture and it will be smooth to apply.

2. Be sure to do a patch test to make sure your skin does not have an adverse reaction to the oils. The inner forearm is a great place to do a test since the skin is delicate, similar to facial skin.

3. Additionally, pregnant women, infants, and young children should avoid certain essential oils. so be sure to do your homework beforehand.

4. Don't use any preservative(no water is added). It will keep for about 4-5 months (or longer), provided you keep it away from water and contamination. If you keep it in the fridge, it'll last longer.

5. While shea butter is quite safe and can be beneficial for the skin and hair, you should avoid shea butter or shea butter products if you have tree nut allergies.
---