(This post contains affiliate links. You can read my full disclosure here.)
Oranges contain various vitamins and minerals that have been used in alternative health and beauty products for centuries and topical treatments can brighten skin, shrink pores, treat mild acne, and correct dark spots, fine lines and also lightens skin. Orange contains good acids and these acids can be applied to the skin in the form of masks, scrubs, toners or peels. Eating oranges more often can help you get the vitamins you need because they provide significant amounts of folate and vitamin C. Likewise, applying orange sugar scrub topically is the best way to get rid of flaws of our skin. Orange sugar scrub will perfectly fulfill the requirements of our skin.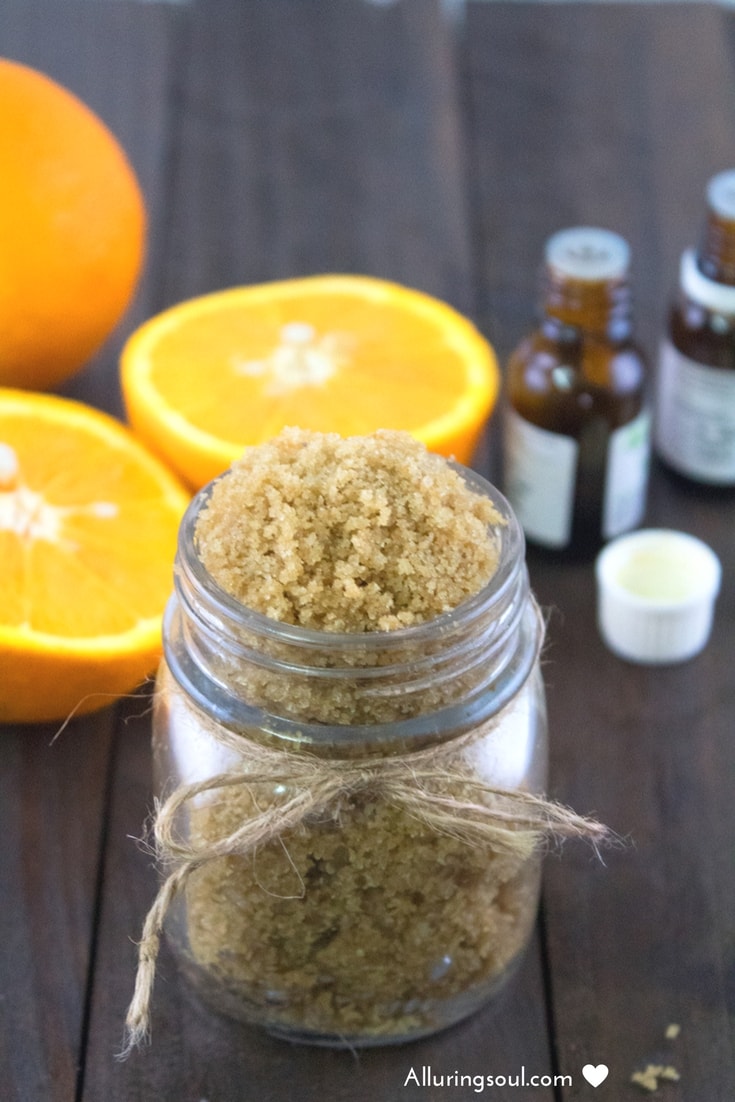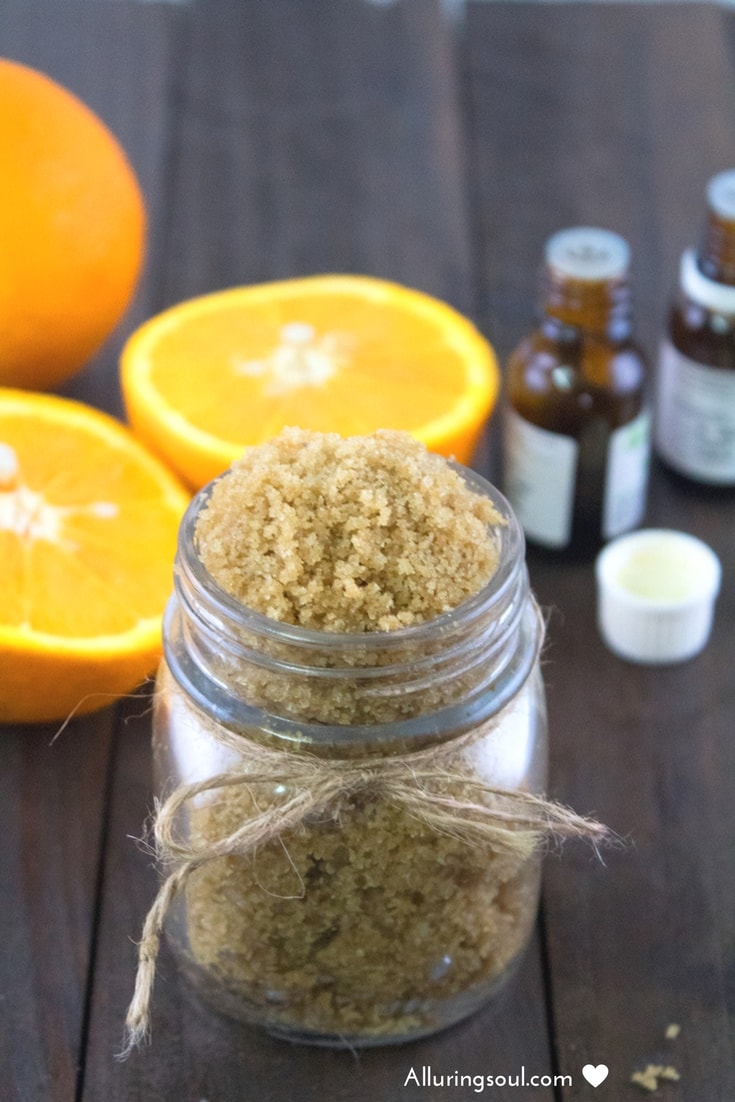 ---
What are the benefits of orange sugar scrub?
The DIY orange sugar scrub is made up of coconut oil, orange essential oil, vitamin E oil and exfoliating granules of sugar. Let's have a look what are the benefits of these ingredients for our skin.
Orange Essential Oil
Antibacterial and Antimicrobial properties of orange which fight bacteria-causing acne and avoiding future acne.

Orange has astringent properties which shrink and constrict excess oil and dirt from the pores.

Citric acid acts as a natural skin scrubber and is very effective for de-pigmenting your skin.

When applied to the skin, helps boost healthy collagen production which causes firmer skin, reduces inflammation and irritation, both of which cause a cascade of damage.

It fades post-breakout red marks by improving skin's natural healing response.

It increases the effectiveness of your sunscreens and boosts your skin's defense against UV exposure.

 It has alpha-hydroxy acid (AHA), which exfoliates the skin and as a result of which it removes dead skin cells in the pores of the skin. Getting rid of dead cells opens the pores of your skin, thus making way for the penetration of skincare products.
Sugar
Sugar is a big depository of skin -beautifying qualities if used topically on the skin as an exfoliating scrub. It can deliver excellent results in brightening and polish your skin. It has moisturizing properties that prevent the skin from drying.

Unclogs the clogged Pores.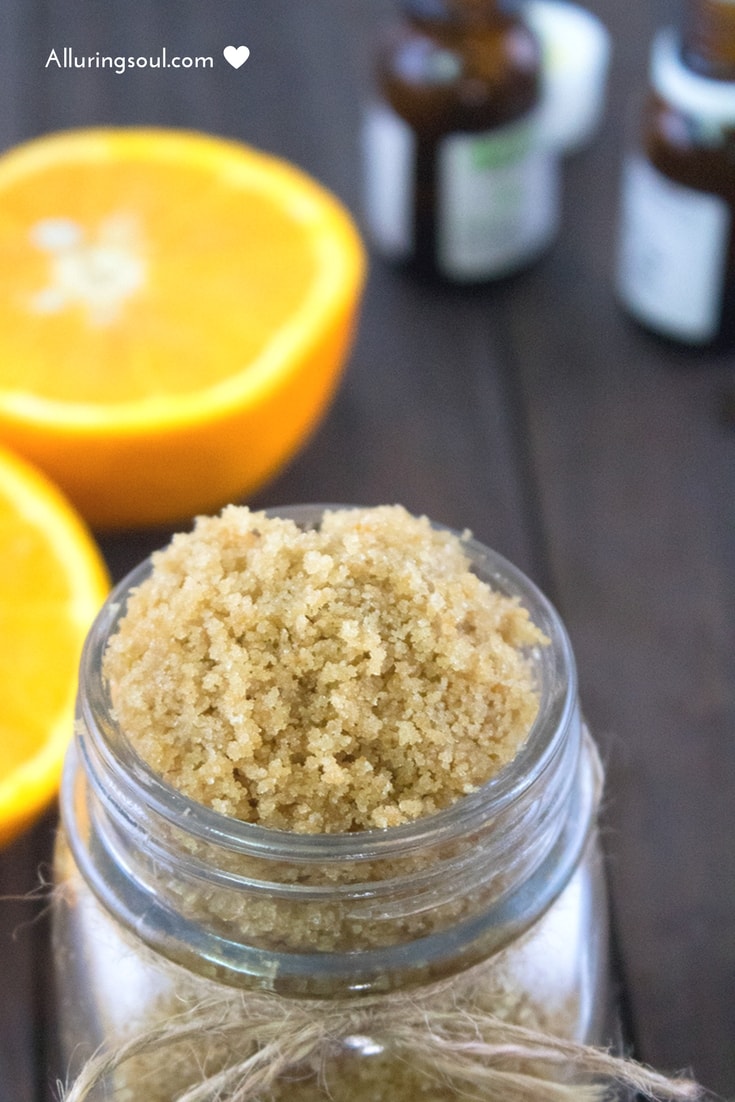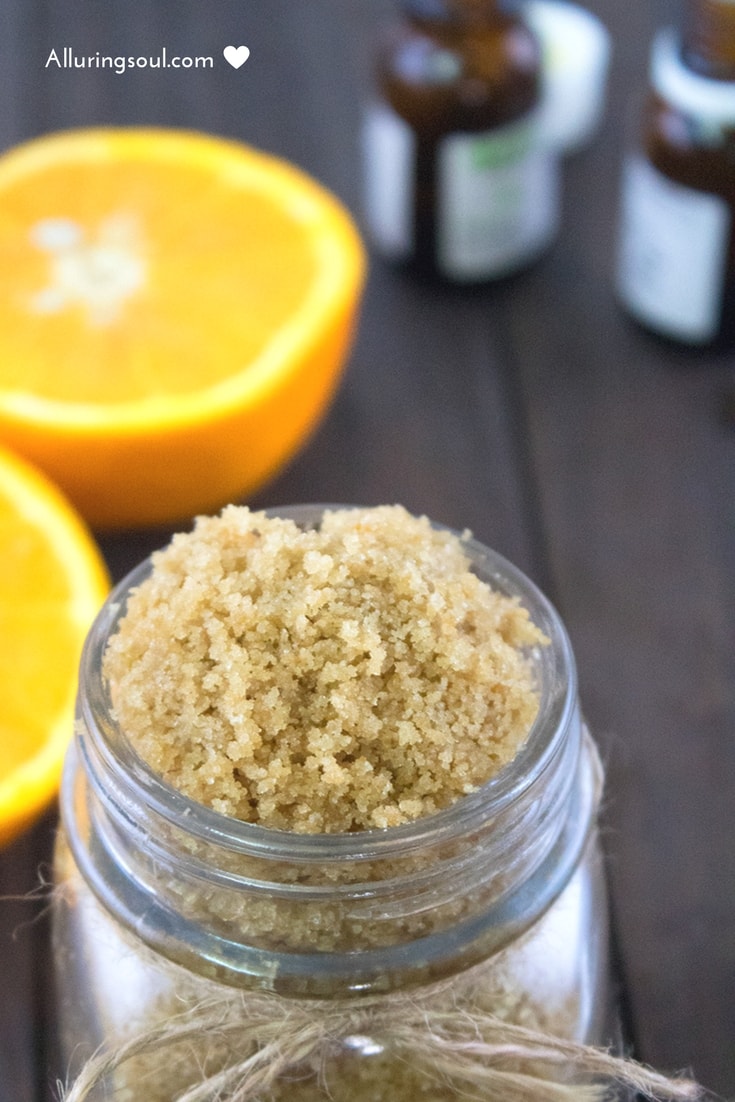 Coconut Oil
The lauric acid in the coconut oil that acts as the antibacterial agent.

It controls the comedo formation (blackheads and whiteheads) by exfoliating dead skin cells.

Due to saturated fats, it melts on the skin when it is being applied, without leaving any kind of residues. It easily seeps into the skin pores, moisturizing deeply.

It preserves the smoothness of the skin by keeping it wrinkle-free.
Vitamin E Oil
Vitamin E can help hydrate delicate facial skin.

vitamin E oil can not only give a glow to the skin but often is very helpful in diminishing the appearance of dark skin spots and discolorations.

Vitamin E is known to help the skin fight against damaging free radicals that speed the aging process hence speeding the appearance of wrinkles.
Check DIY Rose Sugar Scrub For Smooth and Flawless Skin.
---
Procedure of Orange Sugar Scrub for dark spots
Ingredients
3 tablespoon organic coconut oil (Buy From Here)
5-7 drops of orange essential oil (Buy From Here)

3 tablespoon granulated Cane/brown/white sugar 

1/2 tablespoon of vitamin E oil (Buy From Here)

you can adjust the ingredients as per requirements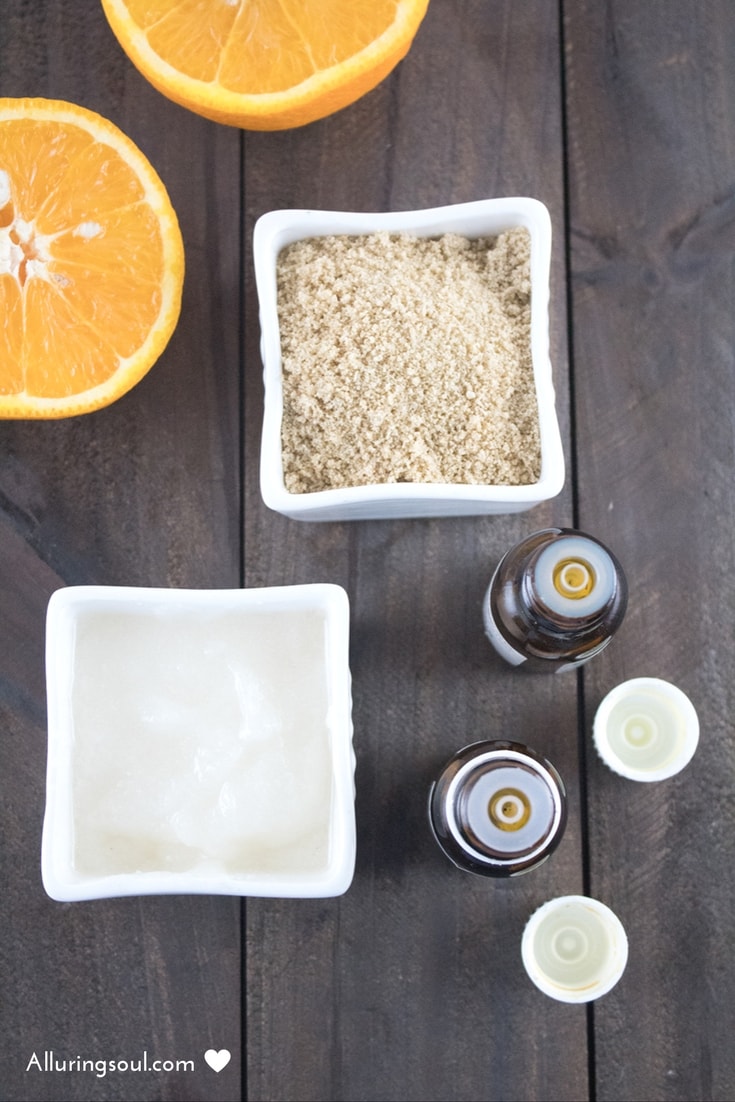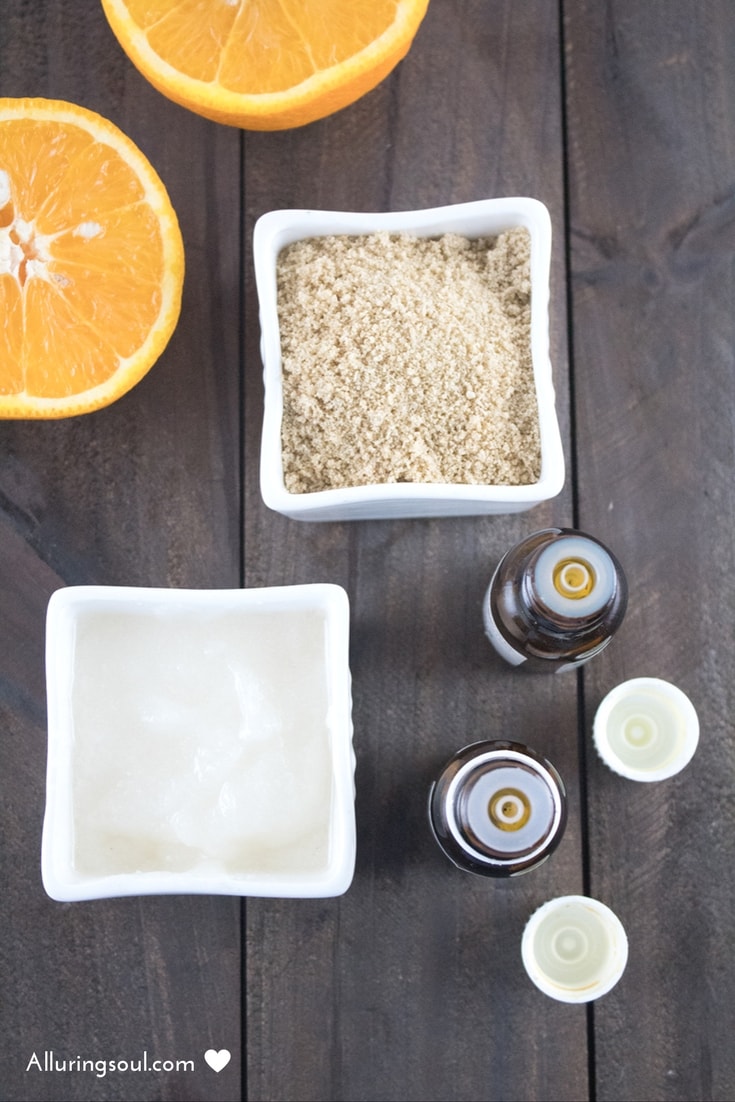 Steps
Put coconut oil, orange essential oil, vitamin e oil and sugar in a bowl and mix them well.

Store the orange scrub in an airtight container and keep the filled container under room temperature. It cannot be refrigerated because this will freeze or harden the oils.
How to use
First, wash your skin with soap or body wash and rinse it well. If possible have a hot water bath or shower. Hot water will open up your skin pores, making your skin much more susceptible to cleaning.

Apply a sufficient amount of orange sugar scrub to wet skin over your entire body or face, massaging in a circular motion for 3-5 minutes to allow the granules to remove dead skin cells. Finally, rinse it off well. This makes your skin look and feels refreshed and healthy. Repeat it for 2-3 days in a week to get the desired result.
Check Potato sugar scrub for skin whitening.
---
Notes
Be sure to do a patch test to make sure your skin does not have an adverse reaction to the oils. The inner forearm is a great place to do a test since the skin is delicate, similar to facial skin.

Additionally, pregnant women, infants, and young children should avoid certain essential oils. so be sure to do your homework beforehand.

Keep the glass container away from Sunlight.
---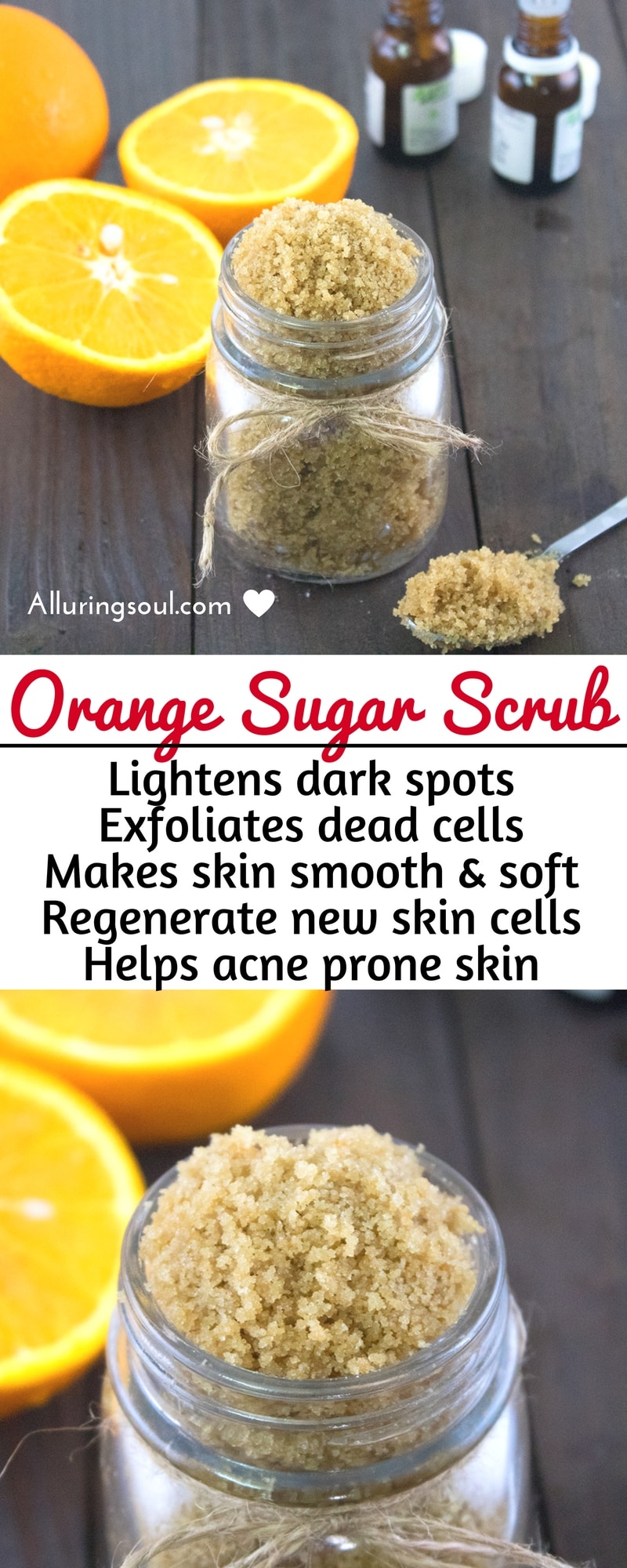 Go ahead and try these remedies and do let me know your experiences in the comments section below.