Due to its moisture-locking abilities, lanolin cream makes your skin soft and moisturized. Lanolin Cream helps to heal dry, chapped, damaged, and flaky skin and soothes irritated skin. This DIY lanolin cream for body and hand is infused with botanical herbs that help you to provide extra skin healing benefits.
Let's take a look at what is lanolin and how to make herb-infused lanolin cream for the body and hand.
---
What Is Lanolin?
Lanolin is a type of wax that is secreted by the sebaceous glands of wool-bearing animals like sheep. Lanolin works as a protective barrier for wool to keep it soft, moisturized, and protects against the outside elements. The properties of lanolin are similar to the sebum that's secreted by our skin.
Benefits Of Lanolin For Skin
The wool wax or lanolin has conditioning properties, which is why it is used widely in cosmetics and skincare products to make skin soft and hydrated.

It moisturizes the rough, dry, or flaky areas in your skin and also helps to treat skin conditions like eczema and psoriasis.

According to a study, lanolin can reduce water lost through the skin by 20 to 30 percent. It is an occlusive moisturizer and it has the ability to slow water loss from the skin.
---
What Is Herb-Infused Oil?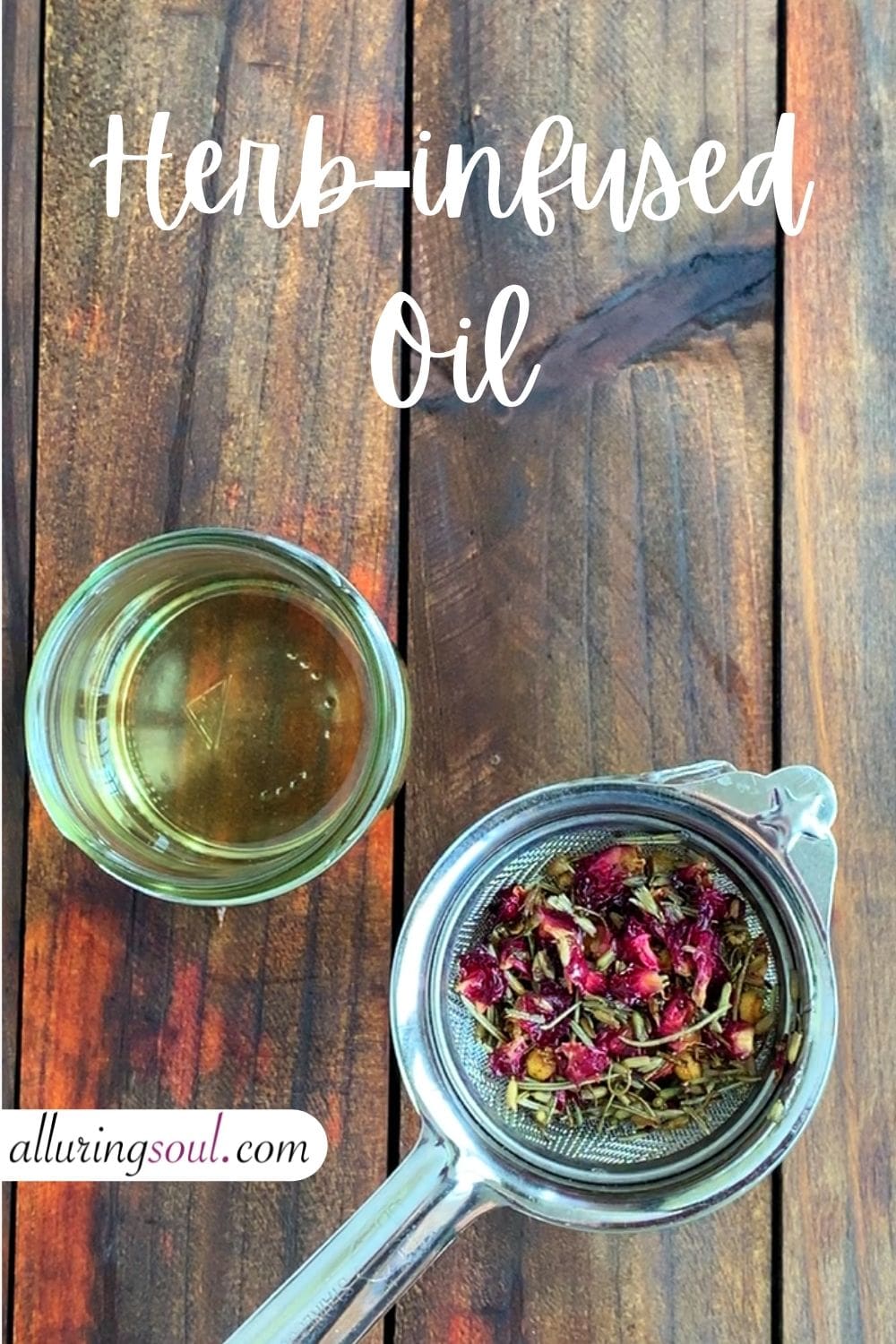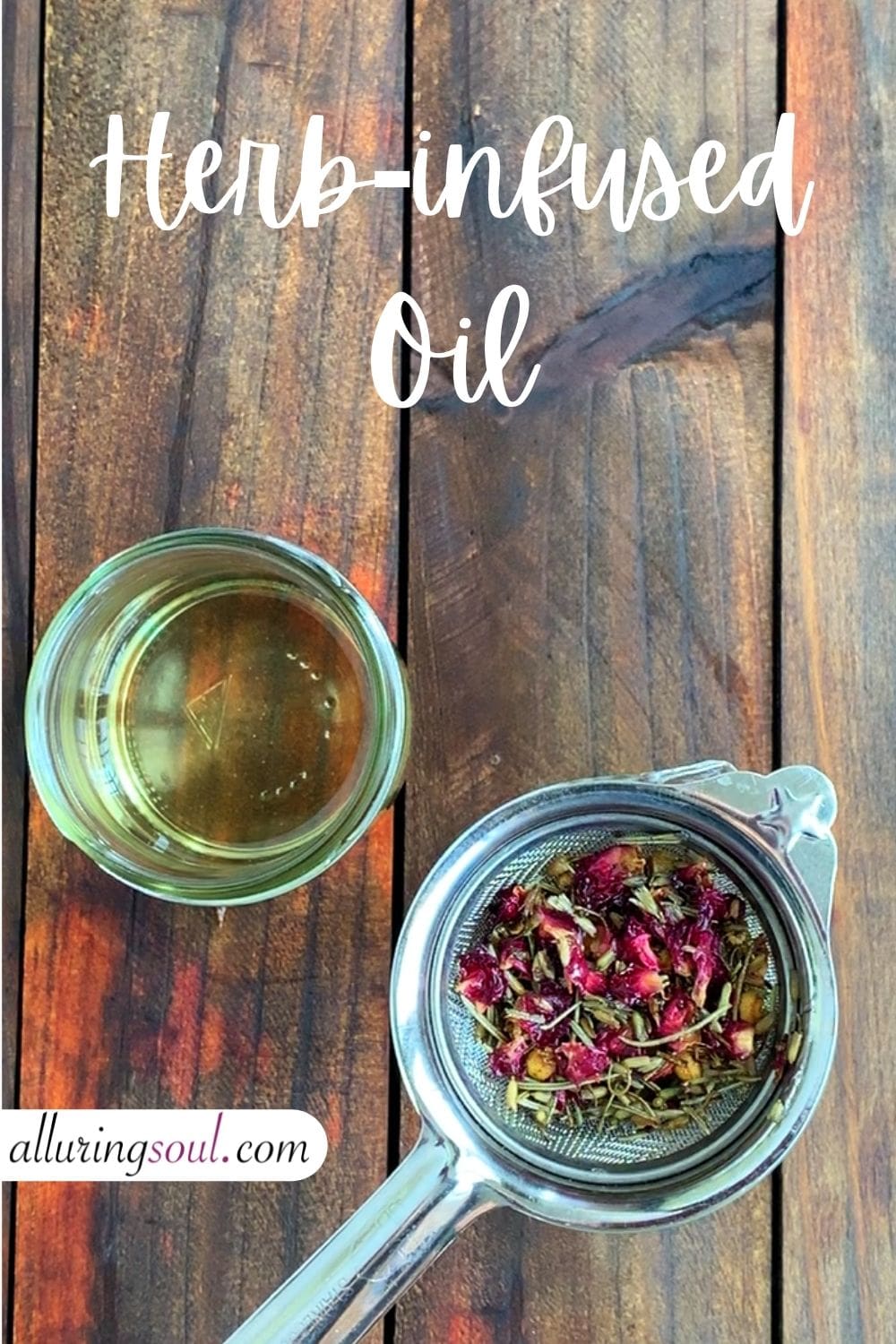 A carrier oil or any vegetable oil like olive oil, sunflower oil, coconut oil, when infused with dried herbs or flowers, i.e. letting herbs and flowers infuse into an oil for a period of time so as to extract the unique and useful properties from the plant, is called herb-infused oil.
Benefits Of Herb-Infused Oil For Skin
The infused oil contains the double benefits of the oil and the herbs infused. Oil infused with plants like calendula, chamomile, lavender flowers, rosemary leaves, etc. is able to treat symptoms of eczema, psoriasis, and deeply moisturize dry skin.
Herb-infused carrier oils contain the antimicrobial, inflammatory, and healing properties of herbs and make the oil more powerful and effective for treating various skin problems.
They can be used as moisturizers and massage oils for hands and feet. The moisturizing effect of the herbal oil will depend on the carrier oil and herb you use to make it, but generally, almost all herbal oils do the job.
---
Benefits Of Lanolin Cream For Body And Hand
The benefits of using this herbal-infused lanolin cream are derived from its ingredients. This DIY lanolin cream has the added benefits of multiple herbs, mango butter, sunflower oil, vitamin E oil, lavender essential oil, and beeswax. Let's take a look at what are the benefits of this cream –
Lanolin
It moisturizes dry, rough, and flaky skin and makes skin soft. It helps to calm the eczema-prone skin and also helps to reduce the redness of the skin.
Mango Butter
Mango butter has antimicrobial properties and has many healing benefits like softening skin, protection against sun damage. It doesn't have anything in it that can irritate the skin.
It contains several vitamins like C and E and salicylic acid and antioxidants which help to protect the skin from environmental damage. The vitamins in mango also help moisturize dry skin. It has the ability to soothe irritated skin as well as reduce the symptoms of eczema and psoriasis.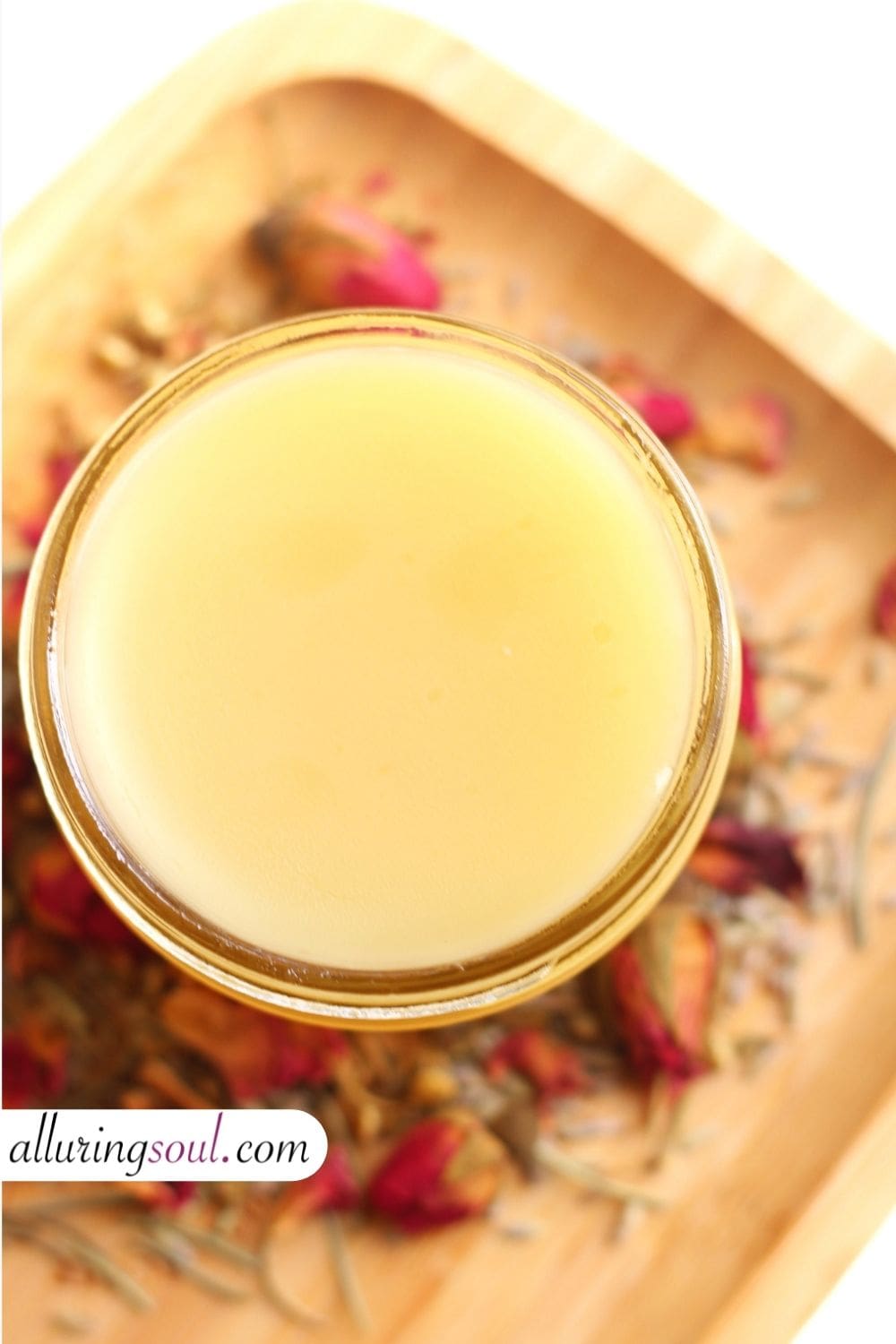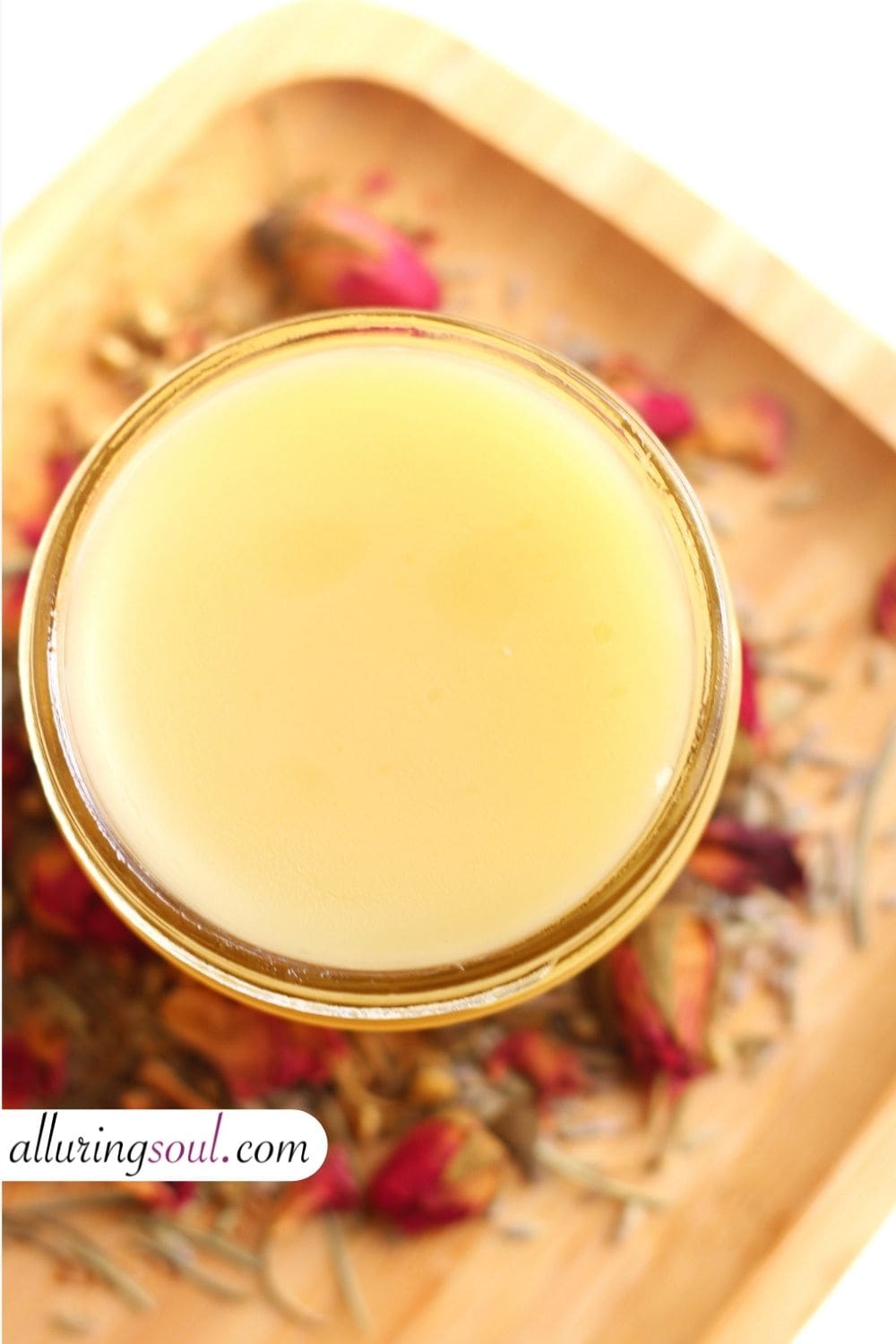 Sunflower Oil
Sunflower oil is high in vitamin E, and vitamin E is an important antioxidant for maintaining healthy skin. The vitamin E in sunflower oil also helps deal with premature aging and wrinkles and thus will help make your skin look young as well as fresh. It is non-comedogenic which means it does not clog pores and also helps to moisturize extremely dry skin and eczema-prone skin. The linoleic acid in sunflowers has antibacterial properties and helps in retaining the moisture in your skin.
Beeswax
Beeswax has anti-inflammatory, antibacterial, and antiviral properties and thus will help in calming your skin, keeping it bacteria-free, healing wounds, and fighting infections. It creates a moisture barrier on the skin if used with other moisturizing ingredients like shea butter or mango butter.
Apart from dermatitis, beeswax is also used for treating other skin conditions like psoriasis and can be used even on sensitive skin. Beeswax has lubricating, softening activities and reduces transepidermal water loss from the skin.
Lavender Essential Oil
Lavender oil has antiseptic, antibacterial, antifungal, and anti-inflammatory properties. It helps to exfoliate dead skin cells and calms irritated, red & itchy skin caused by eczema and psoriasis. It moisturizes the dry and flaky skin and regenerates new skin cells. The antioxidants in the oil also help fend off free radicals that are responsible for speeding up aging and many other skin conditions.
Vitamin E Oil
The antioxidants in Vitamin E help fight free radicals that cause many skin conditions and defects like premature aging. Vitamin E is used to moisturize dry and flaky skin.
---
Recipe For DIY Lanolin Cream For Body And Hand
DIY Lanolin Cream For Body And Hand (Herb-Infused)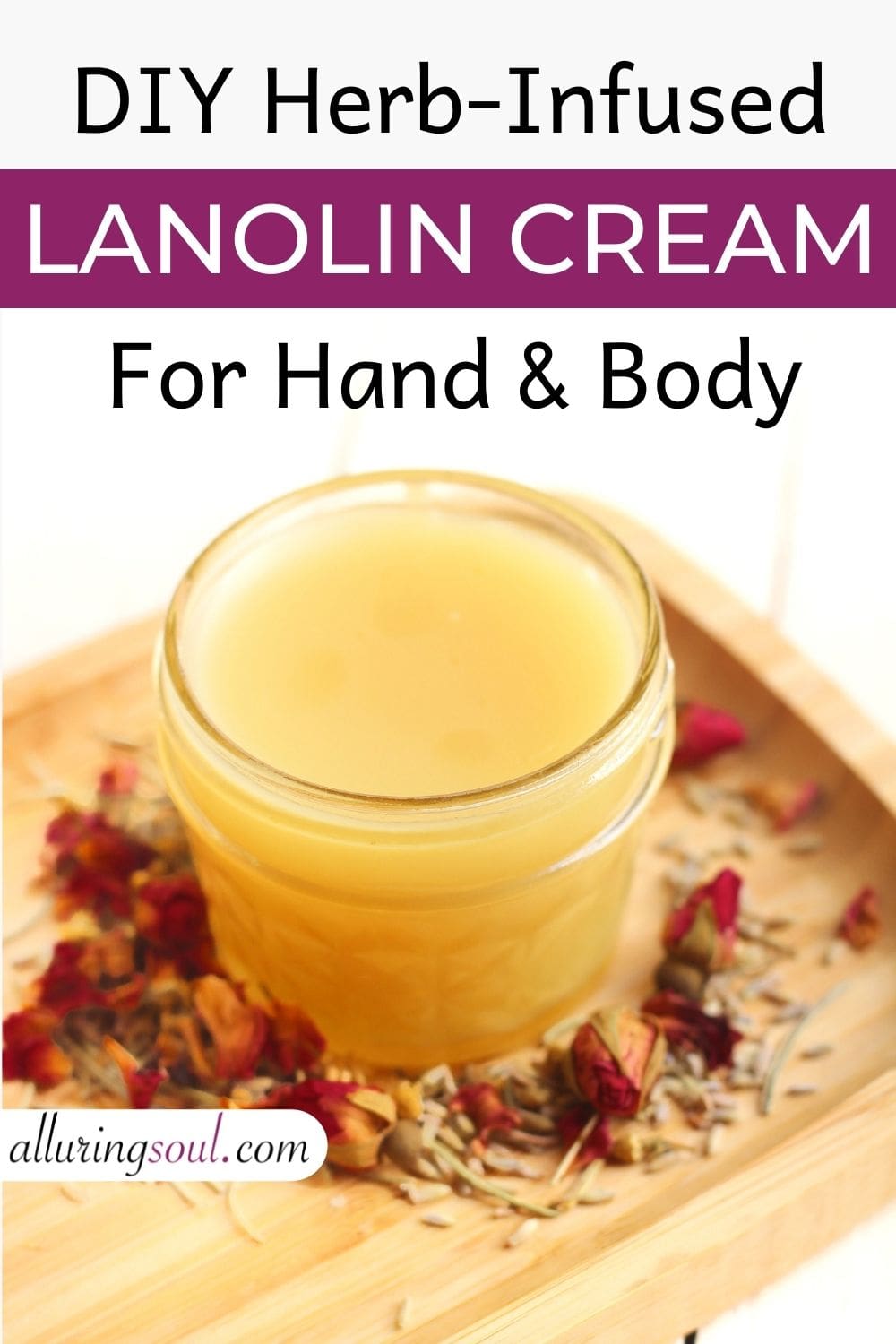 Lanolin cream is very moisturizing and heals dry, damaged, and flaky skin. This herb-infused cream has antibacterial and anti-inflammatory properties and helps to soften rough, irritated skin.
Recipe type:
Body And Hand Cream
Ingredients
For Herb-infused Oil
50g Sunflower Oil
1 Tablespoon Dried Chamomile Flower
1 Tablespoon Dried Rose Petals
1 Tablespoon Dried Lavender Buds
1 Tablespoon Dried Rosemary Leaves
For Lanolin Cream
40g Mango Butter
20g Lanolin
33g Herb-infused Sunflower Oil
5g Beeswax
2g Vitamin E Oil
20 Drops Lavender Essential Oil
TOTAL = 100 Grams
Instructions
For Making Herb-infused Sunflower Oil
Create a double boiler by filling a medium-sized pan ⅓ way full with water.
Add the sunflower oil and dried flowers and herbs to a glass container.
Now, place the glass container in the pan and place the pan on the stovetop. Turn stovetop on low.
Heat for about one hour and then remove the glass container from the stovetop.
Now, strain the oil with a cheesecloth or a wire strainer in a glass jar and allow to cool the infused oil overnight.
For Making Lanolin Cream
Add beeswax, mango butter, and lanolin to a glass container.
Using a double boiler system, melt the beeswax, mango butter, and lanolin and mix everything well in the container.
Once everything has melted completely, remove it from the heat.
Add essential oil, vitamin e oil, and herb-infused sunflower oil.
Then, mix everything well and immediately pour the mixture into a glass container that has a lid.
Allow the lanolin cream to cool at room temperature.
Apply it whenever needed on your body or hands. You can also use this lanolin cream for eczema-prone skin.
Notes
1. Be sure to do a patch test to make sure your skin does not have an adverse reaction to the oils.

2. Additionally, pregnant women, infants, and young children should avoid certain essential oils. So be sure to do your homework beforehand.

3. Keep the container away from light.
---