Potatoes are the No. 1 vegetable for most of us and it's being used in almost every type of Indian dishes. Potatoes are often thought of as a comfort food — richly mashed with butter or crisply fried in vegetable oil with other vegetables. Potatoes are stuffed with phytonutrients, which are organic components of plants that are thought to promote health. But do you know these healthy potatoes are not only good for health but also for skin when it is applied to it. Potato helps in treating many skin problems like eczema, acne, dark circles under eyes, discolouration etc. It has many benefits for skin and the property of potato for skin whitening  or depigmentation does wonder on skin. Potato for skin whitening could be a great option as it is a natural bleach for skin.
Scrubbing is an essential step for wholesome skin care because it not only sheds the dead cells but also improves penetration of other creams and face packs. So, potato sugar scrub for depigmentation can give you the desired result. It removes dead skin cells and gives you a bright and glowing skin. Let's explore what are the benefits of sugar scrub with potato for skin whitening.
---
Benefits of sugar scrub with potato for skin whitening or Depigmentation
It is made up of  5 powerful and effective ingredients which make skin free from dark spots, make skin smooth, bright and other skin related issues. Let's take a look at what are the benefits of these ingredients.
Potato contains vitamin c which reduces the appearance of dark spots or patches and other types of sun damage. It has an astringent property which helps to minimize large skin pores and maintains skin pH. It helps boost healthy collagen production which causes firmer skin and reduces inflammation and irritation, both of which cause a cascade of damage. It helps to fade post-breakout red marks, scars, age spots by improving skin's natural healing response and increases the effectiveness of your sunscreens and boosts your skin's defense against UV exposure. If you are suffering with chronic skin issues, or even if you are just sick of dealing with a dull and lackluster complexion, the simple answer may be in a vitamin B deficiency. Vitamin B6 present in potatoes exfoliate the dead skin cells and improves complexion. Potassium keeps the skin cells hydrated and moisturized.
Green tea is rich in antioxidants and protects skin against free radicals, which are associated with disease and aging. Aside from this, researchers also found out that green tea is capable of reviving dry skin cells and eventually nourish your skin. Green tea extract when applied before sun exposure can reduce your chances of getting sunburn.  
Sugar is a big depository of skin -beautifying qualities if used topically on the skin as an exfoliating scrub. It can deliver excellent results in brightening and polishing your skin. It has moisturizing properties that prevents the skin from drying.
Coconut Oil has the saturated fats that help the skin stay moisturized, with the fat preventing moisture loss through the skin's pores. These fats give the skin a healthy, smooth and even tone. It's naturally antibacterial and antifungal, coconut oil for skin is an excellent moisturizer, it can penetrate hair better than other oils. Coconut oil can also help soothe inflamed skin, reduce redness and rehydrate skin.
Rice is a natural anti-aging and oil-absorbing properties make them good for acne-prone and dull mature skin. It's also a good anti-inflammatory and skin whitening agent that soothes sunburned skin and makes skin smooth and fairer naturally.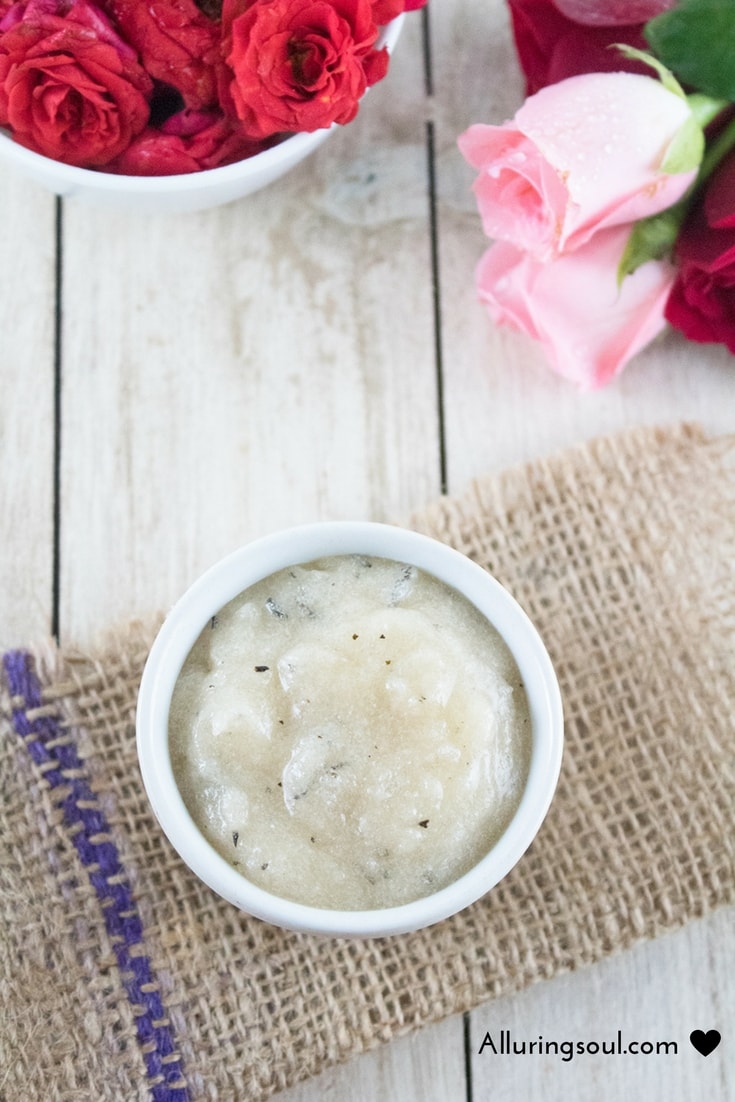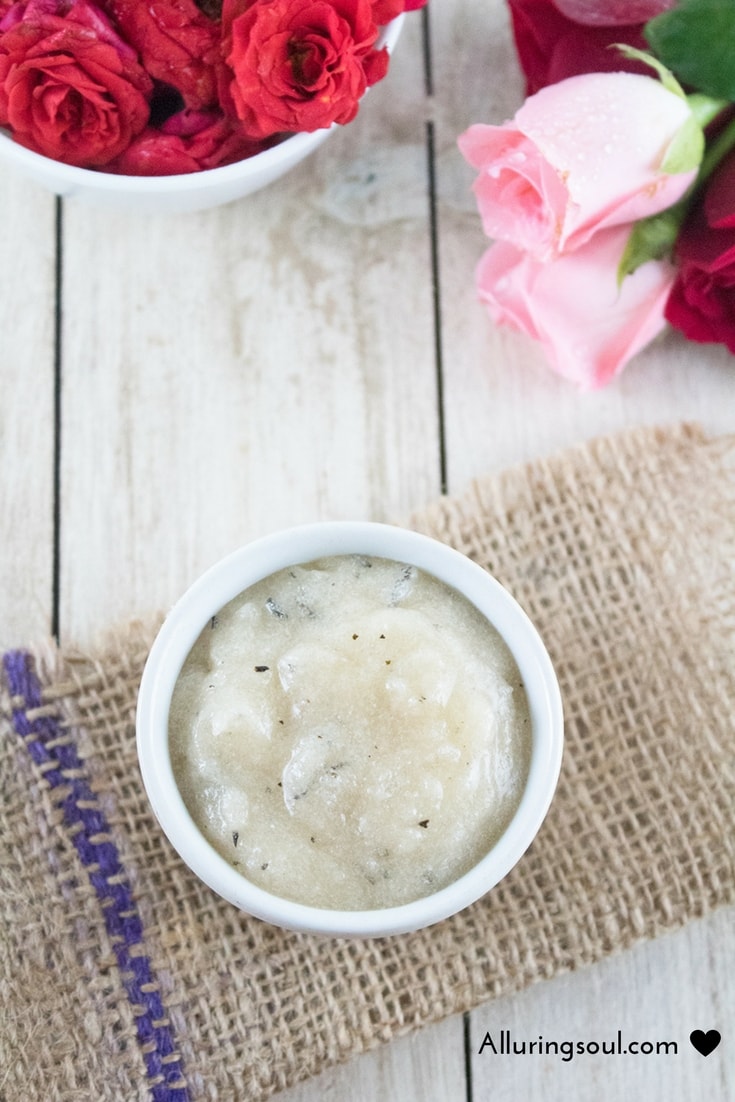 ---
Procedure for making sugar scrub with potato for skin whitening or depigmentation
This scrub is made in two steps, first is to infuse green tea leaves in coconut oil and then use this green tea infused oil to make the scrub in the second step. Let's take a look at how green tea and potato scrub can be made.
1. Green Tea Infused Oil
Ingredients
3 tablespoon coconut oil
2 green tea bags
Directions
Make a double boiler by adding a few inches of water in a large saucepan. Heat the pan on low flame. In a heat safe glass bowl, add coconut oil and green tea leaves and place the glass bowl on top of a saucepan. Stir occasionally until coconut oil is melted.
Now, remove the glass bowl from the top of the large saucepan and keep it aside for 10-15 minutes, so that green tea leaves get properly infused with coconut oil.
Using a cheesecloth, strain the infused oil into another jar or a clean bowl when it cools down. Squeeze as much of the oil out as you can. You can keep this green tea infused oil for a year in an airtight jar.
2. To make Scrub
Ingredients
1 medium sized potato
2 tablespoon rice powder
2 tablespoon sugar
3 tablespoon green tea infused oil
some extra green tea leaves(optional)
Directions
Peel the potato and wash it properly and remove all the dirt from potato. Now, cut the potato into small cubes.

Put the cut potato pieces in a blender and blend them into a fine paste.

Now, combine the green tea leaves, potato paste, green tea infused oil, sugar and rice powder. Mix well and make a smooth exfoliating scrub.
How to apply
Apply the potato sugar scrub on cleansed skin. Gently massage the skin for 3-5 minutes and keep it for 10-15 minutes. Wash it off with normal water and apply moisturizer. Repeat this regularly for fast and desired result.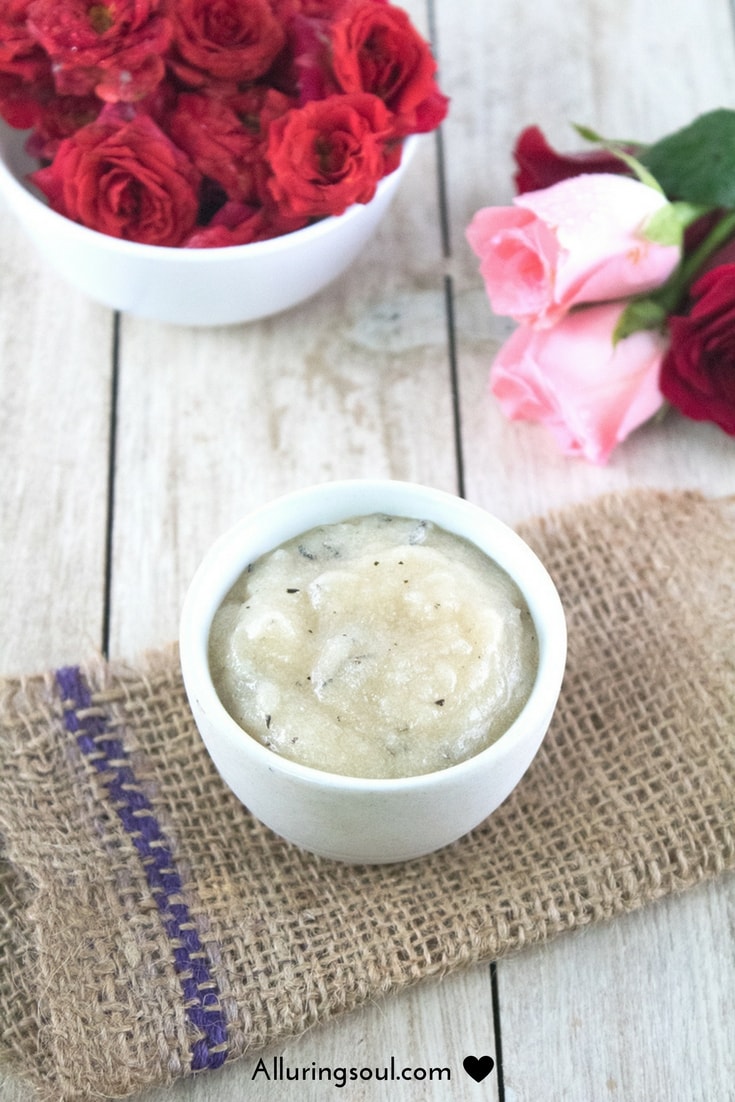 Homemade sugar scrub prevents acne, whiteheads, blackheads, breakouts and other skin blemishes. Excess oil, dirt and dead skin cells clog the pores. This becomes a good feeding ground for bacteria which develops skin issues. Skin exfoliation using homemade sugar scrub removes dead skin cells, dirt and excess oil without drying the skin.
Go ahead and try these remedies and do let me know your experiences in the comments section below.
---