Rosehip oil is one of the best oils to reduce fine lines and wrinkles. Rosehip oil has several benefits for the skin and also helps to provide essential nutrients to the skin.
It is a great option to reduce eye wrinkles, dark spots, and puffy eyes with faster results.
So, why not make a rosehip oil eye cream at home which are non-toxic and easy to make. Let's see how this eye cream is helpful to the skin.
---
Why Is DIY Eye Cream Better Than The Commercial One?
1. First and foremost, DIY eye cream is made up of natural ingredients, which have almost zero side effects. There are no harsh chemicals used which can harm the skin in the long run.
2. The essential oils used have proven anti-aging benefits. Apart from that, they also have antimicrobial, wound healing, and astringent like properties.
3. The DIY eye cream can be made easily at home, and you can change the ingredients so that it properly suits your skin type.
---
Benefits Of DIY Rosehip Oil Eye Cream For Wrinkles & Dark Circles
Rosehip Oil
Rosehip oil is known to have anti-aging effects. It improves cell longevity and obstructs skin aging.
It is rich in carotenoid pigments and is a strong antioxidant, which can inhibit the synthesis of MMP-1, an enzyme responsible for the breakdown of collagen.
Thus rosehip oil is an excellent ingredient for anti-aging creams. It reduces the appearance of wrinkles. (source)
An extract derived from rosehip known as methanolic has been shown to be an inhibitor of melanogenesis; which means that rosehip oil works against skin pigmentation.
It reduces dark spots.
Shea Butter
Shea butter has a high percentage of unsaponifiable compounds (e.g., triterpenes, tocopherol, phenols, and sterols), which possess potent anti-inflammatory and antioxidant properties (source).
These properties make it a good ingredient to be used in anti-aging formulations. Shea butter deeply moisturizes the skin, making it soft and supple.
Its skin-nourishing properties and high content of vitamin E and A also make it ideal to be used in an eye cream for reducing the appearance of wrinkles.
Beeswax
Beeswax works as a humectant, which means it attracts moisture from outside and keeps it locked in, preventing the skin from drying out.
It forms a protective layer around the skin, protecting it from environmental factors such as direct sunlight and pollution; which are triggering factors for skin aging.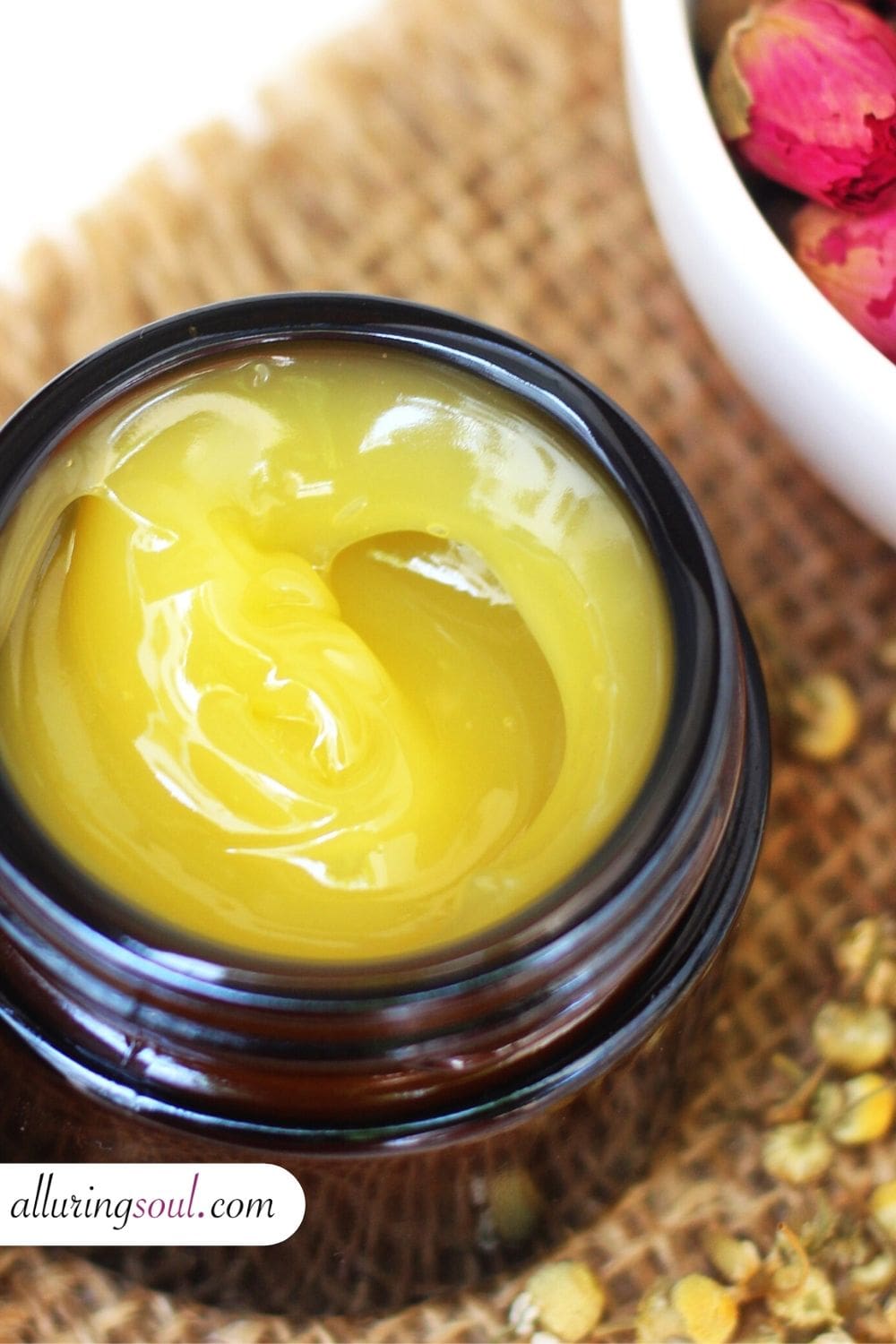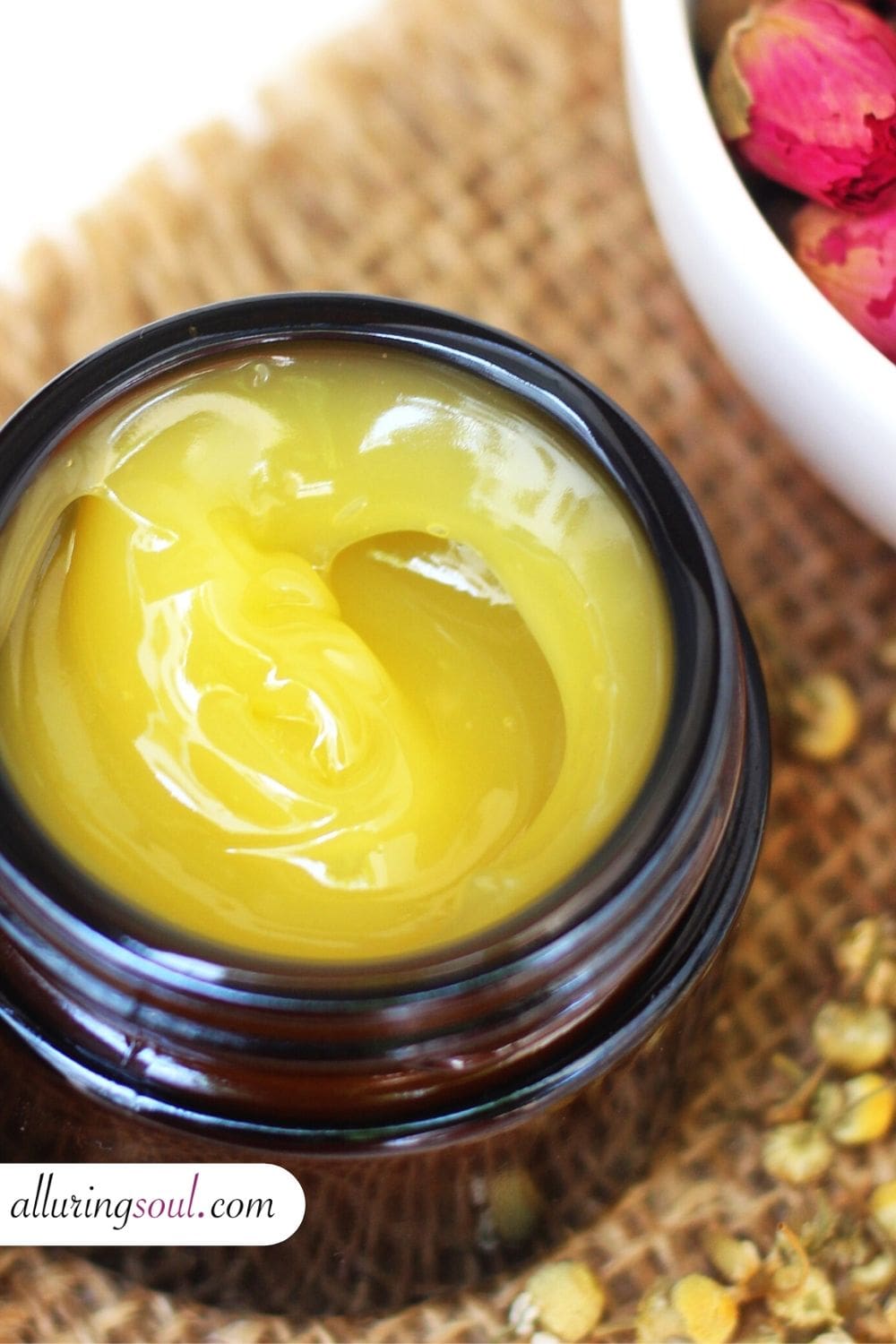 Frankincense Essential Oil
Frankincense essential oil is said to be beneficial for oily and acne-prone skin and has anti-aging properties too. It stimulates cell regeneration and also protects older cells from free radical damage.
The astringent properties of the oil help to soothe the skin, tighten skin pores and gives the skin an even tone. It's also beneficial in softening fine lines and wrinkles.
Frankincense essential oil is, therefore, an important ingredient in many anti-aging creams and serums.
Rose Essential Oil
Rose essential oil has the ability to deeply nourish the skin to make it supple and glowing.
It also helps to heal the skin and protect it from damage, therefore combating the signs of aging.
It reduces skin inflammations such as redness and itching due to its anti-inflammatory properties. 
Vitamin E Oil
Vitamin E is a naturally occurring antioxidant, which protects the skin from the adverse effects of oxidative stress including photoaging (source).
---
Procedure For DIY Rosehip Oil Eye Cream For Wrinkles & Dark Circles
DIY Anti-aging Rosehip Oil Eye Cream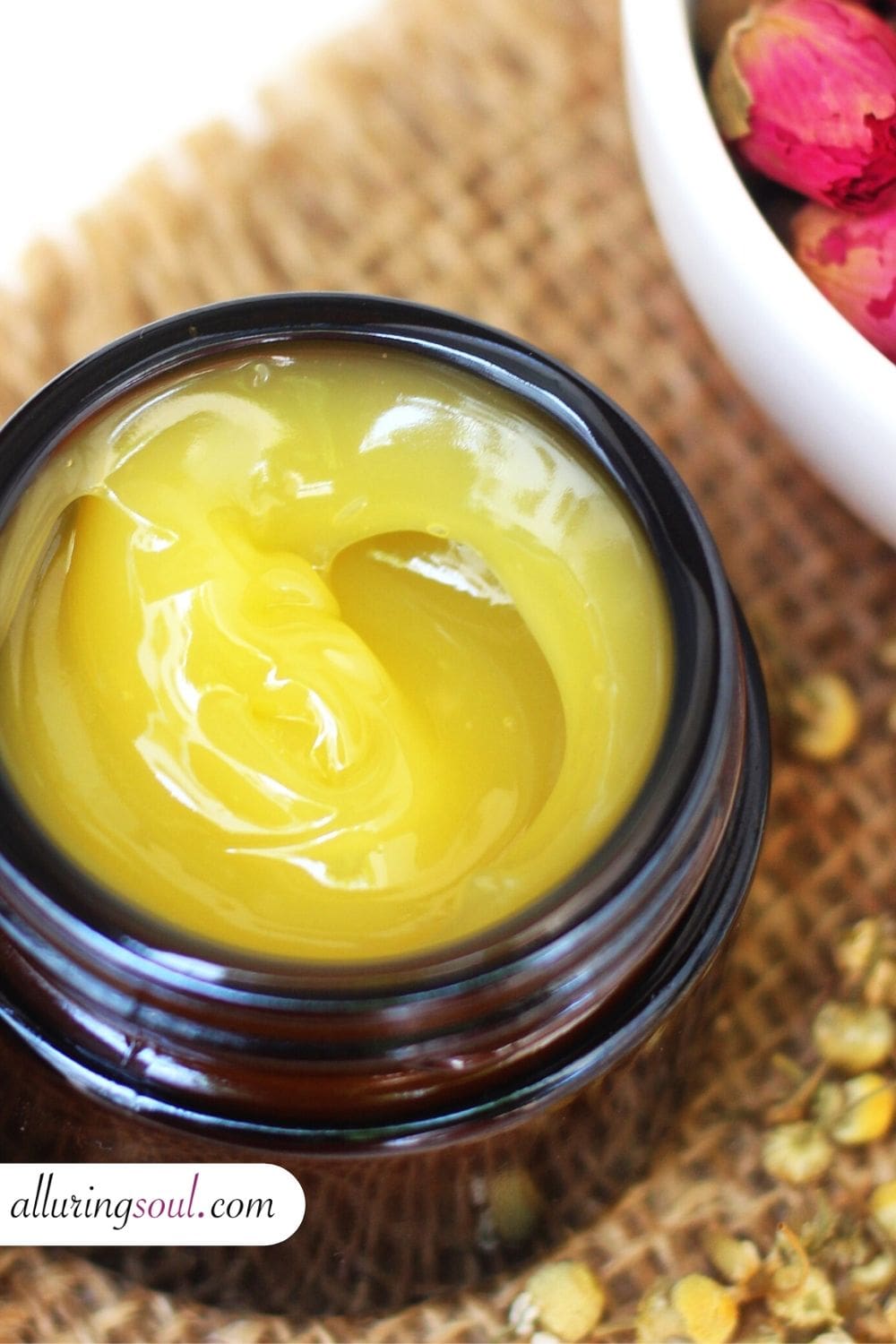 Rosehip oil eye cream is full of nutrients that nourish the delicate under-eye area. It helps to reduce wrinkles, age spots, dark circles, boost collagen, and firms skin.
Recipe type:
Under Eye Cream
Instructions
In a heat-safe glass bowl, combine the beeswax, shea butter, and sweet almond oil. And melt everything using a double boiler system.
Stir gently until everything is melted.
Let it cool for a few minutes, then stir in rosehip seed oil, vitamin E, and essential oils.
Pour the mixture in a glass or tin container.
Leave the mixture for a couple of hours to get thickened.
You can store this cream for 3-4 months.
It contains essential oils so do a patch test before applying it.
Cleanse your face using a cleanser of choice and pat dry. Use fingertips to gently massage a small amount of this eye cream under your eye area. Apply daily.
Notes
1. It contains essential oils so do a patch test before applying it.


---
Free Recipe PDF