(This post contains affiliate links. You can read my full disclosure here.)
History shows various uses for peppermint as an essential oil, which has been used for over 200 years. It is considered the oldest medicine for curing diseases and skin imperfections. It has a very minty aroma that is cooling and refreshing. (In India it is known as pudina ka tel). According to the findings, peppermint oil exhibits antiviral, antimicrobial, antifungal, antioxidant properties plus many more vitamins and minerals. When this miraculous oil will be combined with other ingredients like sugar or lemon essential oil, it can be the best combination for correcting many skin imperfections. Lemon and sugar both are the life-giving ingredients for your skin. Let's take a look at what are the benefits of lemon and peppermint sugar scrub.
---
Benefits of Lemon and Peppermint Sugar Scrub
Sugar
Sugar is a big depository of skin -beautifying qualities if used topically on the skin as an

exfoliating scrub

. It can deliver excellent results in brightening and polish your skin. It has moisturizing properties that prevent the skin from drying.
Sugar is slightly abrasive, so it works well for

scrubbing off the dead and dry skin

on the face. When combined with a moisturizing agent like honey, you'll not only remove the gunk from your skin but also hydrate your skin in the process.

Sugar is a natural source of glycolic acid, an alpha-hydroxy acid (AHA) that penetrates the skin and breaks down the bonds of dead skin cells, encouraging cell turnover and generating fresh skin layer.
Peppermint Oil
Peppermint has Omega-3s which support a healthy skin inflammatory response which is greatly a positive aspect for clearer skin. Fatty acids can act as natural moisturizers that revitalize dry skin.

It contains iron, potassium, calcium, magnesium etc which highly beneficial for our healthy skin and improves our skin complexion.

It has antibacterial and anti-fungal properties which cure us of acne or heals inflamed acne or small pimples.

Vitamin C and Vitamin A removes the dark spots and prevent the skin from aging.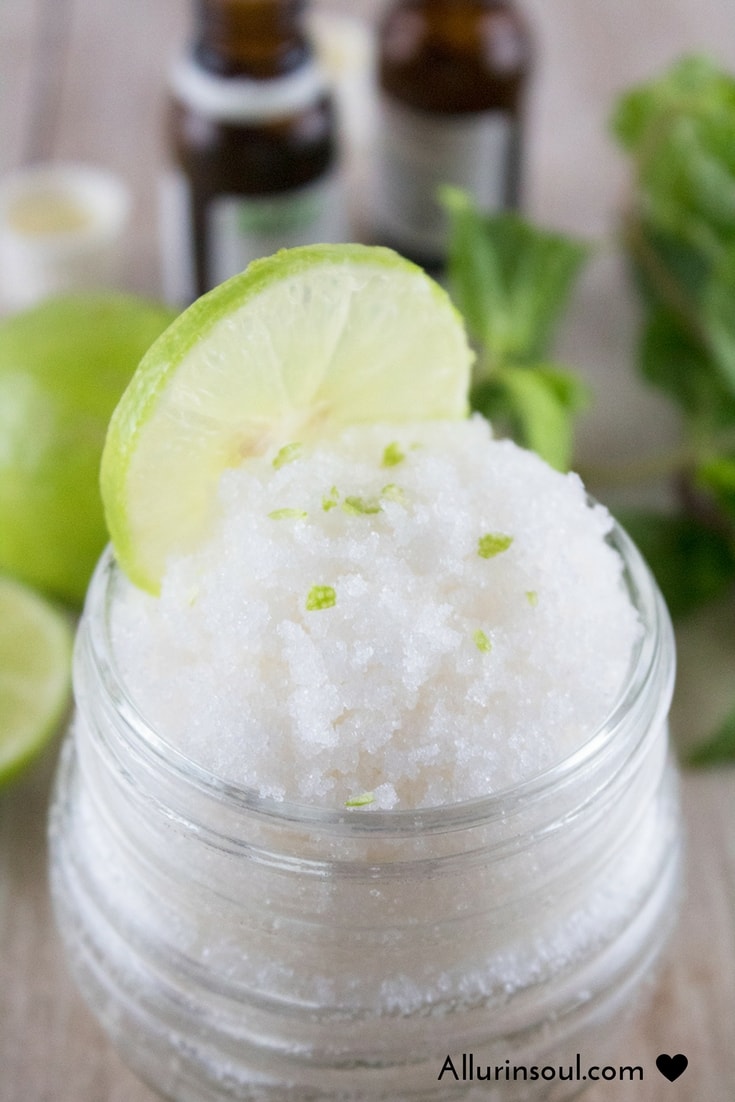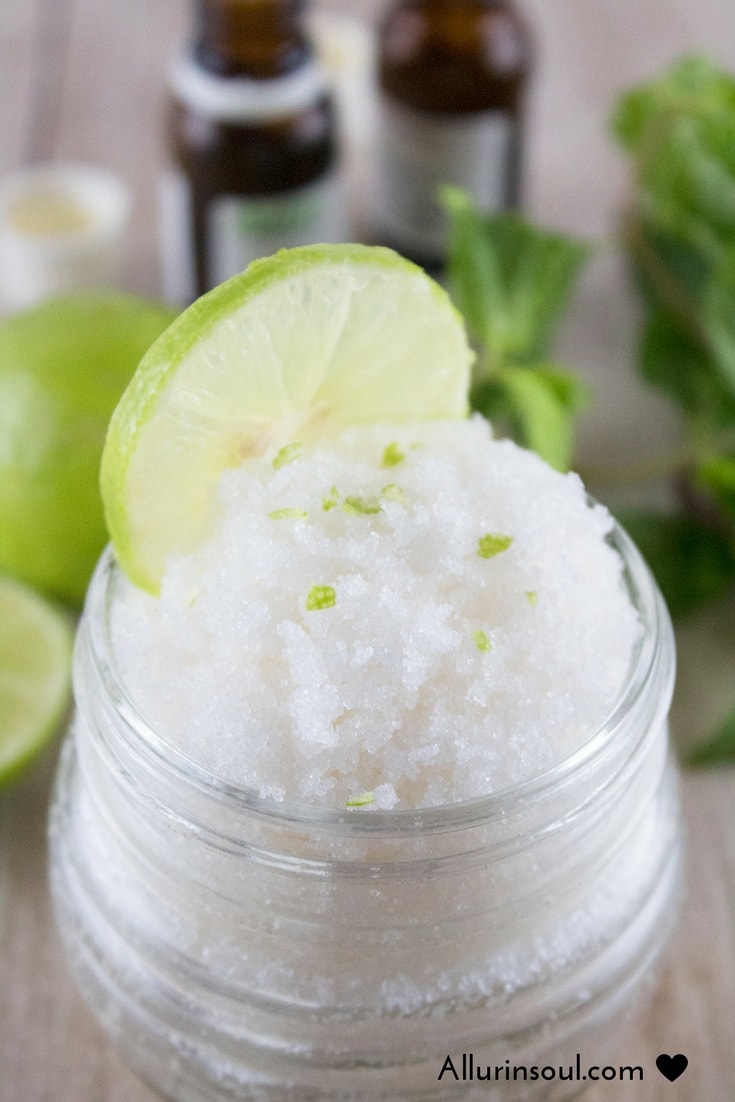 Lemon
Antibacterial and Antimicrobial properties which fight bacteria-causing

acne

and avoiding future acne.

Astringent properties which shrink and constrict excess oil and dirt from the pores.

Vitamin C  which reduces the appearance of

dark spots

and other types of sun damage. It helps to f

ade post-breakout red marks by improving skin's natural healing response.

Citric Acid which a

cts as a chemical exfoliant which removes the dead cells and 

has an acidic property that eliminates excess oil.

Potassium keeps the skin cells hydrated and moisturized.
Coconut Oil
The lauric acid in the coconut oil that acts as the antibacterial agent.

It exfoliates the dead skin cells.

Due to saturated fats, it melts on the skin when it is being applied and it easily seeps into the skin pores, moisturizing deeply.

It preserves the smoothness of the skin by keeping it wrinkle-free.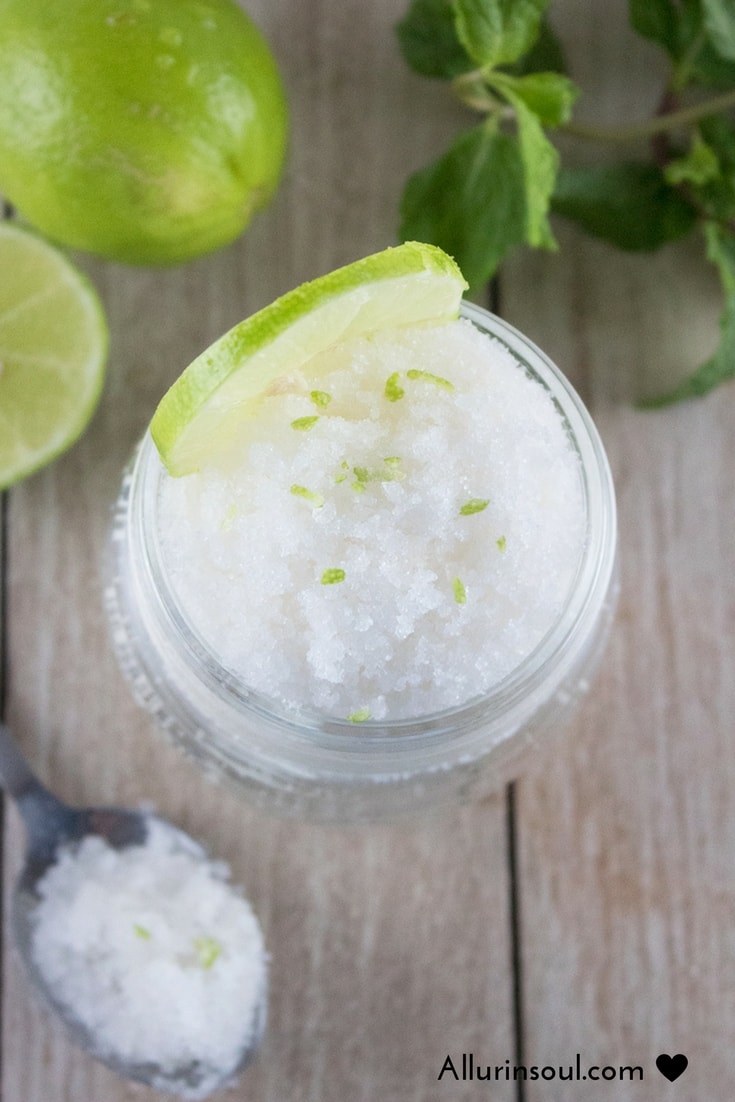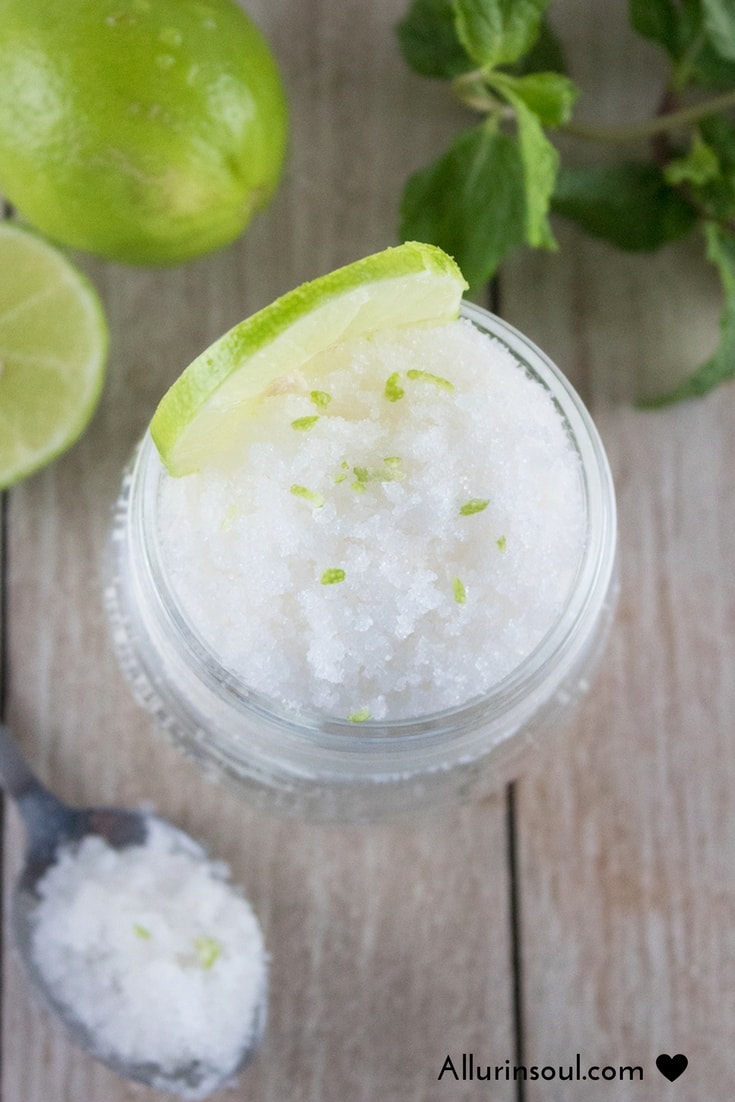 ---
Procedure of Lemon and Peppermint Sugar Scrub
Ingredients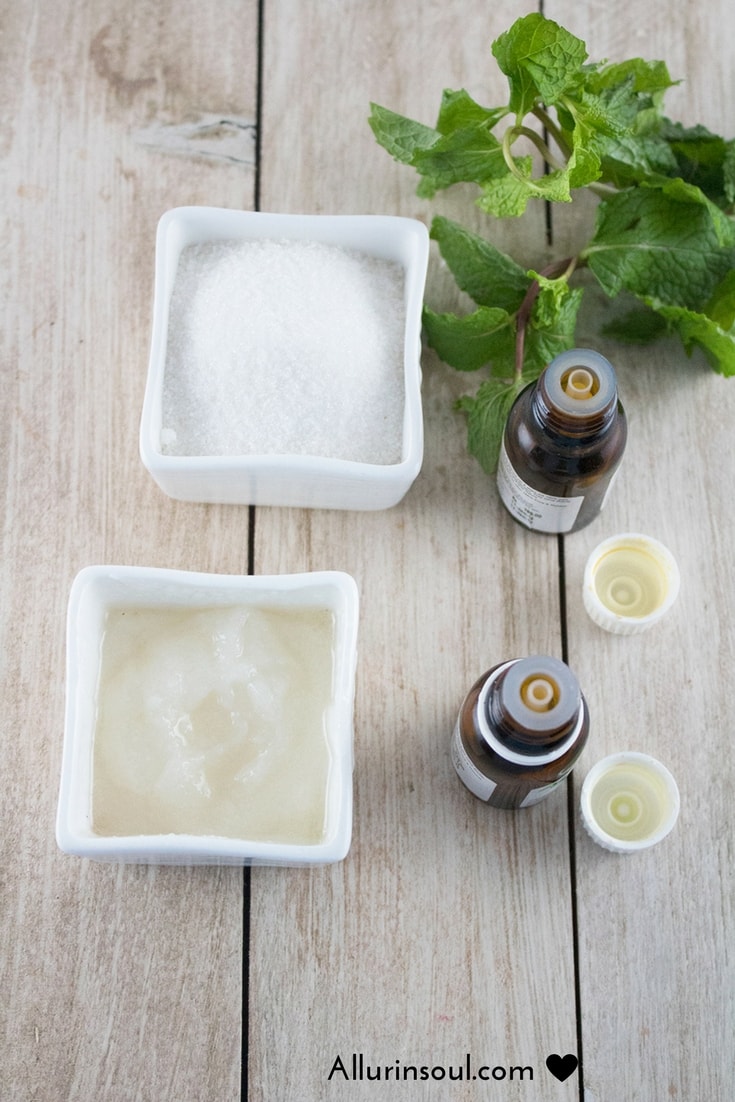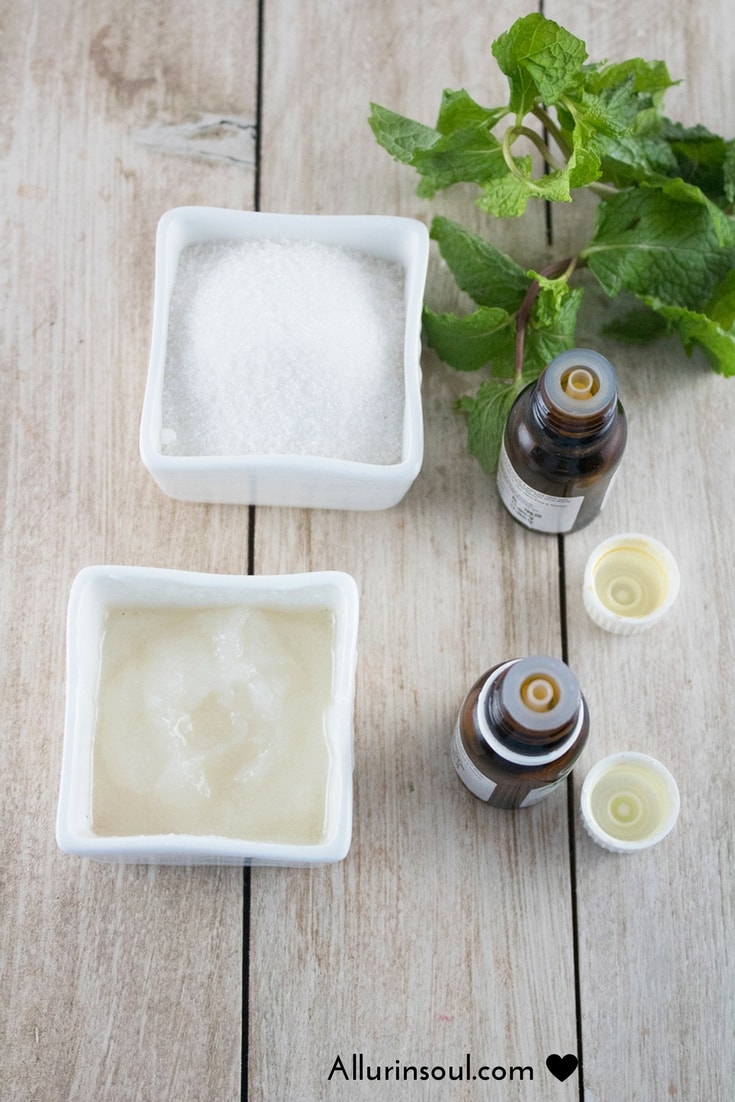 Steps
Put all the ingredients in a bowl and mix well. If you are adding fresh mint leaves then keep it aside for 15-20 minutes so that the nutrients of mint leaves can mix it up with other ingredients and if not then your scrub is ready for use.
How to apply
First, wash your skin with soap or body wash and rinse it well. If possible have a hot water bath or shower. Hot water will open up your pores, making your skin much more susceptible to cleaning.

Apply a sufficient amount of peppermint sugar scrub to wet skin over your entire body, massaging in a circular motion for 3-5 minutes to allow the granules to remove dead skin cells. Finally, rinse it off well. This makes your skin look and feels refreshed and healthy.

Store the lemon and peppermint sugar scrub in an airtight container for 10-15 days and keep the filled container under room temperature. It cannot be refrigerated because this will freeze or harden the oils.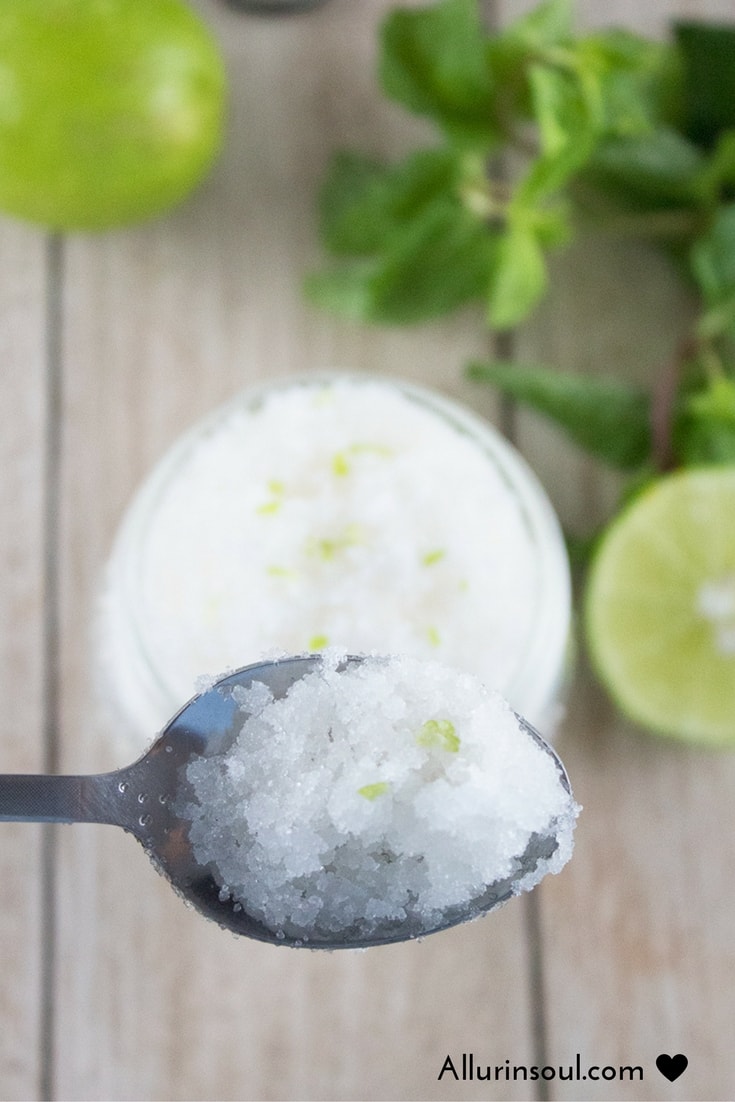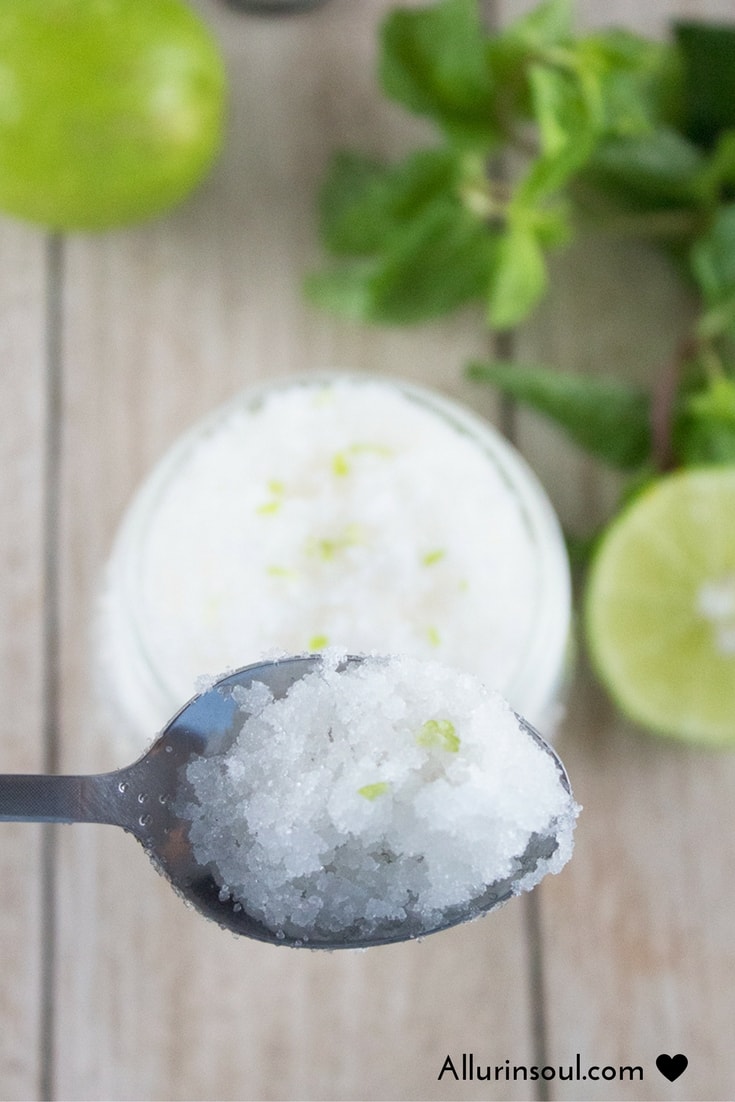 Notes
Be sure to do a patch test to make sure your skin does not have an adverse reaction to the oils. The inner forearm is a great place to do a test since the skin is delicate, similar to facial skin.

Additionally, pregnant women, infants, and young children should avoid certain essential oils. so be sure to do your homework beforehand.

keep the container away from light.
---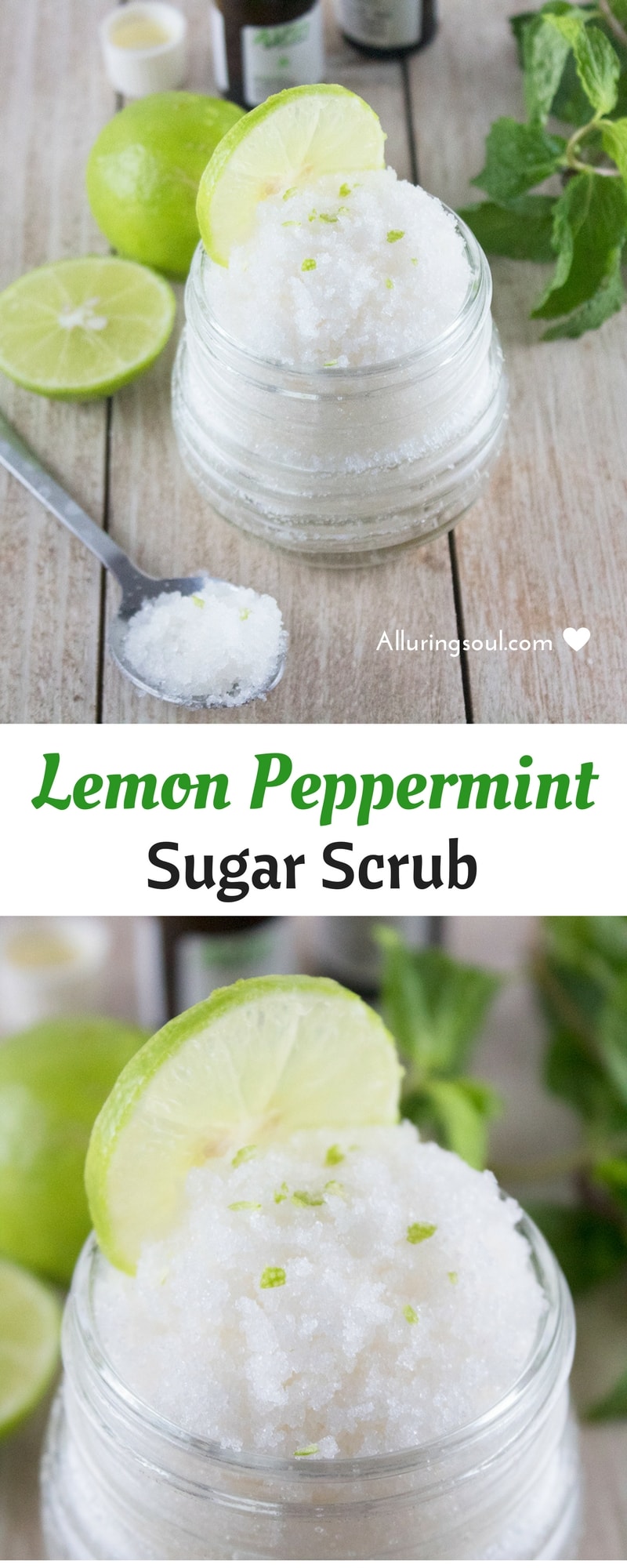 ---