Saying that lemons are a superfood is an understatement. Not only do they add abundant flavor to a variety of dishes, but they also boast a ton of health and skin benefits. The flavonoids within the juice are said to contain antioxidants, which is why lemon face mask is useful in treating so many skin problems.
Citrus fruit is rich in vitamin C. That is why they are recommended for all the skin related problem. But in fact, these wonderful and delicious fruit are not only rich in vitamins. Knowing all the properties of citrus fruit we understand how lemons become a treatment of our skin problems.
Benefits of lemon face mask
Lemon has
Antibacterial and Antimicrobial properties

which fight bacteria-causing acne and

avoiding future acne

.

Astringent properties

which shrink and constrict excess oil and dirt from the pores.

Vitamin C

 which

Reduces the appearance of brown spots and other types of sun damage.

Helps boost healthy collagen production which causes firmer skin.

Reduces inflammation and irritation, both of which cause a cascade of damage.

Fades post-breakout red marks by improving skin's natural healing response.

Increases the effectiveness of your sunscreens and boosts your skin's defense against UV exposure.

Citric Acid

which

Acts as a chemical exfoliant which removes the dead cells.

Acts as a natural chemical peel to rid acne.

has an acidic property that eliminates excess oil.

Potassium

 keeps the skin cells hydrated and moisturized.

Vitamin B6

helps in treating a number of skin problems, including eczema, acne, and dry skin.

Folic Acid

provides the skin a natural glow.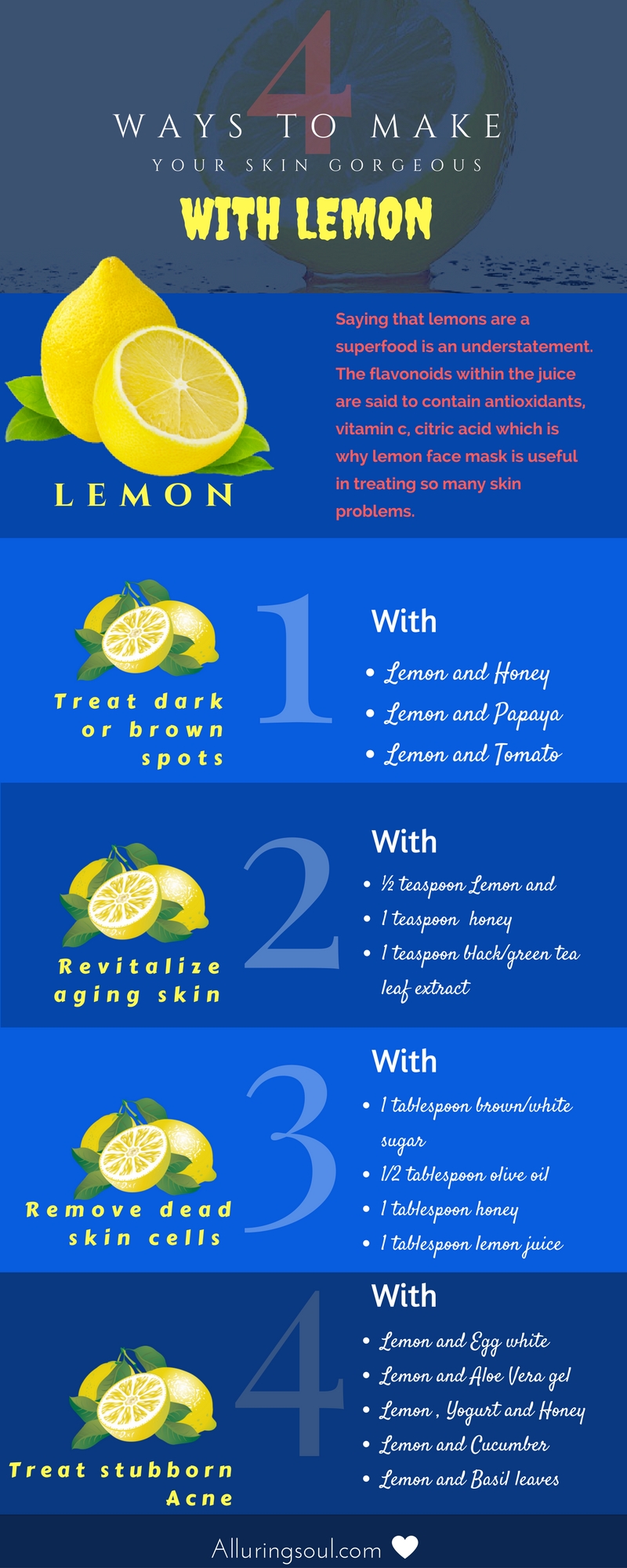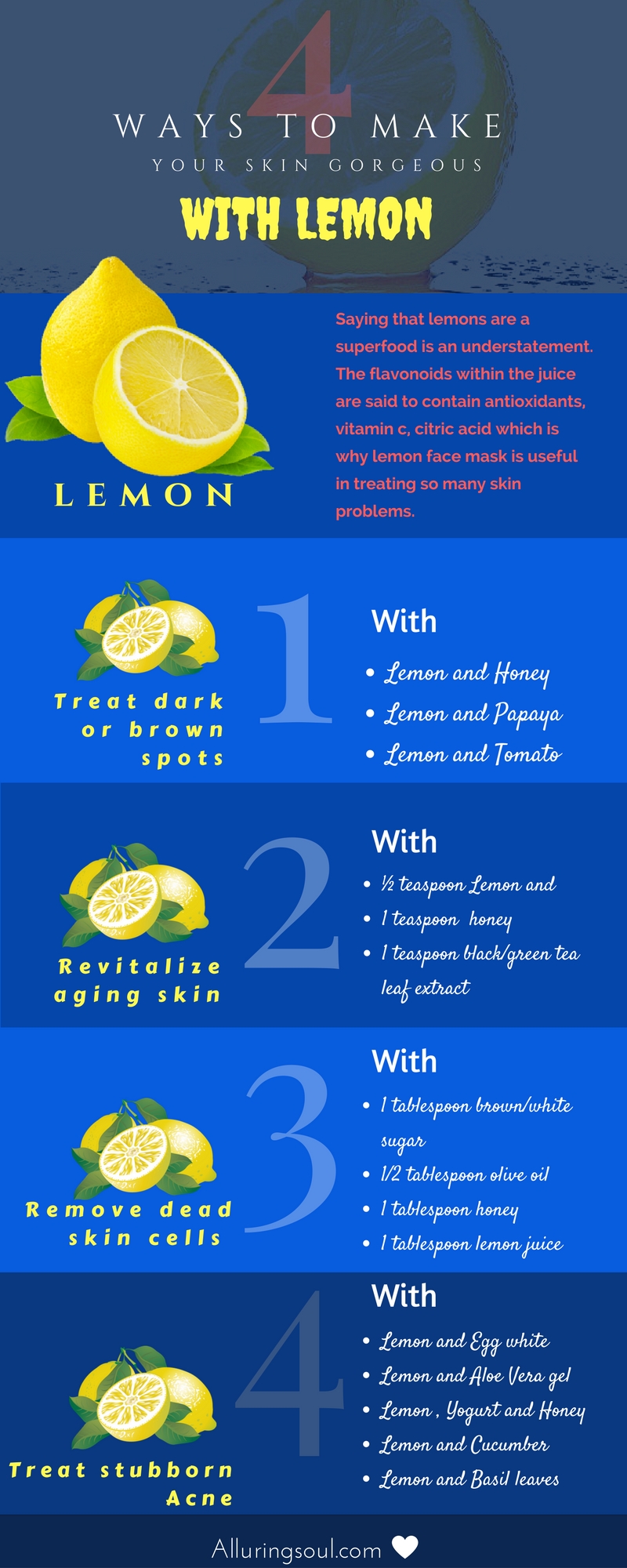 Lemon face mask with Honey 

Mix one tablespoon of organic raw honey and half a squeezed lemon into a bowl and apply all over your face, avoiding the eye area. Now, let your skin soak up all this goodness for 15-30 minutes (depending on how sensitive your skin is). Wash away with normal water and follow up with your favorite moisturizer/serum. Honey is a natural humectant, which attracts moisture and makes your skin soft and supple.
Lemon face mask with Papaya
Papaya contains papain, an enzyme that exfoliates the skin, encouraging production of new, fresher-looking skin. Promotes skin regeneration. Papaya lightens skin tones and decreases pigmentation. Acts as a skin softener that smoothen out rough skin and clears acne. Blend or mash up the soft ripe papaya into a lump-free puree. Add ½ teaspoon lemon juice and mix well. Apply the face mask onto your clean face and let it dry for 15-30 minutes. Wash away with normal water.
Lemon face mask with Tomato juice

 
Tomato is a natural astringent that assists to clean your skin pores. Tomatoes are furthermore very rich in antioxidants and help your skin look young and new for long. A combination of 1 small mashed tomatoes and half a lemon juice extract helps in reducing sun tan and dark spot keeps the skin soft and supple for long. Apply this mixture all over your face and neck and allow it to dry. Then dab some water on scrub it for a while before washing it.
2. Lemon face mask for revitalizing aging skin
½ teaspoon Lemon and
1 teaspoon  honey

1 teaspoon black/green tea leaf extract
Black tea accelerates skin regeneration, prevent pimples, and soothes irritated skin. It improves firmness and elasticity, visibly tightening saggy areas, and diminishing the appearance of fine lines and wrinkles.The caffeine in tea also helps with puffiness under the eyes. Add 1 tea bag or 2 tbsp. (30 ml) loose tea leaves into 1 cup (236 ml) of boiling water. Allow the tea to steep for 3 to 5 minutes. Remove the teabag and pour the liquid into an air-tight container. If you are using loose tea leaves, pour the tea through a strainer or coffee filter into an airtight container. Store in the refrigerator for up to approximately 3-5 days. now, mix all the ingredients and Apply the face mask onto your clean face and let it dry for 15-30 minutes. Wash away with normal water.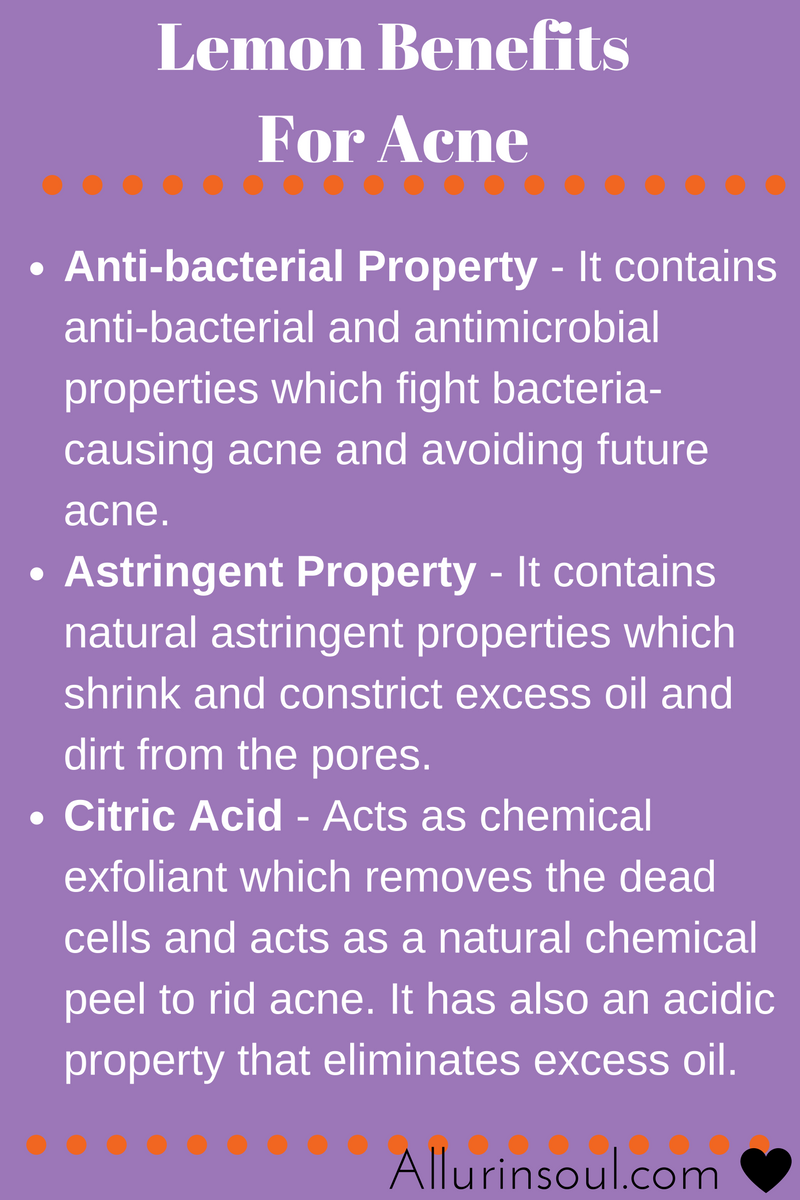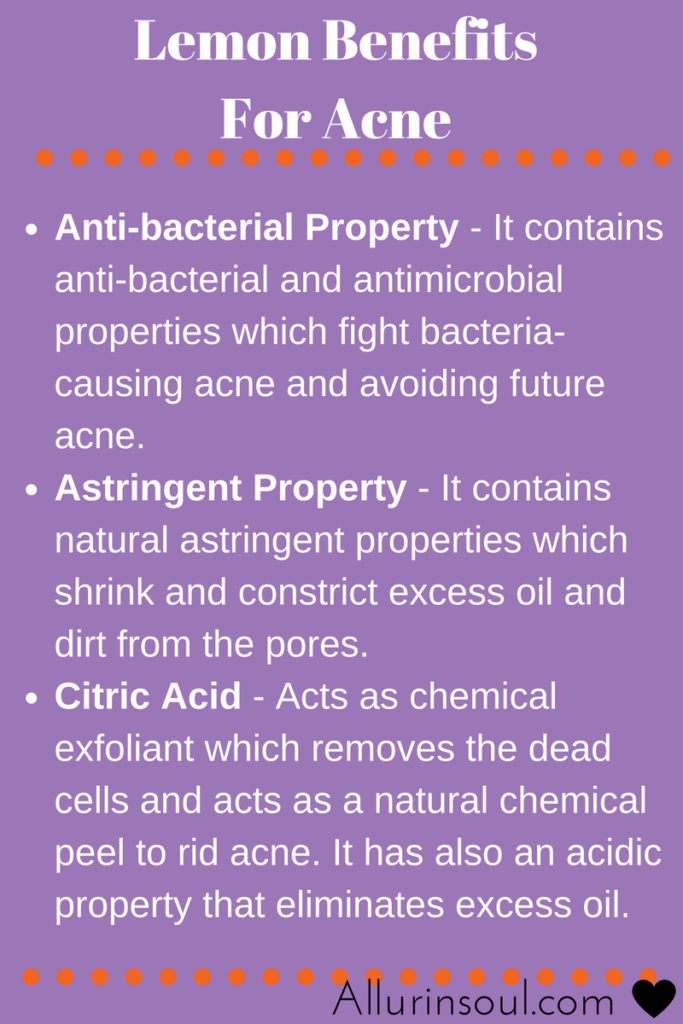 Lemon face mask for oily skin
A combination of Lemon and Egg white is a wonder for oily skin. Egg white removes toxins from pores and tightens them, leaving skin clean and smooth. In a blender, mix 1 tablespoon fresh lemon juice with 1 egg white until smooth. Use fingertips to massage mixture into skin. Let dry it for 15-20 minutes and leave on overnight if possible. Rinse with lukewarm water and pat dry. Repeat daily.
Lemon face mask for sensitive skin
Aloe vera gel is a natural skin soother. It reduces pain and inflammation due to acne. It has anti-microbial properties making it ideal to treat acne and pimples. Apply a paste of 1 teaspoon aloe vera gel and ½ teaspoon lemon juice on the affected area. Leave it on for 20 mins and wash it off.
Alternatively, you can also make a mixture of the same and apply the mix with help of a cotton ball on the affected areas only to treat the acne/pimples.
Lemon face mask for dry skin
Mix 1 teaspoon of curd/yogurt, 1 teaspoon of honey and ½ teaspoon of lemon and form a smooth paste.Use fingertips to massage mixture into skin. Let dry it for 15-20 minutes and rinse with normal water.  The lactic acid in yogurt soothes, softens and tightens the skin and refines the pores. Its high nutrient content and natural antibacterial and antifungal properties also get rid of germs and other bacteria. And honey moisturizes the skin.
Lemon face mask with basil
Basil nourishes skin and protects against the toxins that cause acne. Mix 1 teaspoon of fresh lemon juice, 1 teaspoon of raw honey, and 5-10 fresh basil leaves juice/paste until smooth. Apply this mixture to clean skin. Leave it for 30 minutes. Rinse with water and pat dry. Repeat thrice a week.
           Note: Basil juice can be replaced with fresh mint juice.
Lemon face mask with cucumber juice
Cucumber juice lightens scars and dark spots, and it tightens pores to make skin smoother. Peel and chop one cucumber. Put cucumber pieces in a blender and mix on high until smooth. Mix 1 teaspoon of fresh lemon juice with 1 teaspoon of fresh cucumber juice. Use a cotton ball to apply to clean skin. Leave on 20 minutes. Rinse with cool water and pat dry. Repeat daily.
4. Lemon face mask cum exfoliating scrub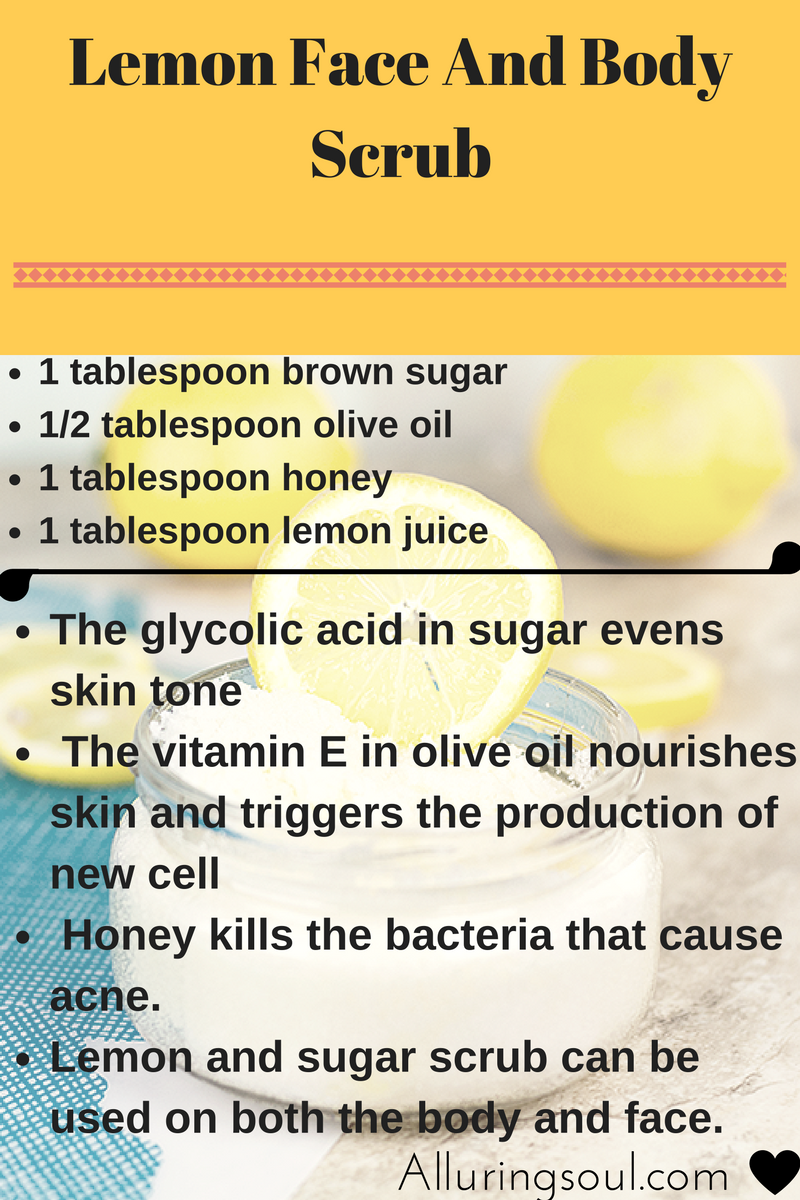 1 tablespoon brown/white sugar
1/2 tablespoon olive oil
1 tablespoon honey
1 tablespoon lemon juice
The glycolic acid in sugar evens skin tone, the vitamin E in olive oil nourishes skin and triggers the production of new cells, and honey kills the bacteria that cause acne. Lemon and sugar scrub can be used on both the body and face. A lemon and sugar exfoliation that leaves skin soft and insanely smooth. Add lemon juice and olive oil into a bowl and mix them together. Add the honey and whisk or stir quickly until the ingredients bind together into a medium-to-thick consistency. Combine the sugar and mix. If you sense that there isn't enough sugar to get the scrubbing done, add a bit more.

Lemon face mask as a body scrub: Apply to body, paying extra close attention to elbows, knees, feet and hands (nails and cuticles especially), and rub in circular motions for 3 to 5 minutes. Rinse. Enjoy the silky softness of your impossibly smooth skin.

Lemon face mask as a face scrub: The lemon and sugar scrub is also great for the face, but use with gentle circular motions. Apply this to clean face in gentle, circular motions. Be cautious of using on open wounds, as lemon has a tendency to sting. Leave on for 7-10 minutes and rinse with cool water. You can store this mixture in an airtight container and make a new batch every 2-3 weeks, to ensure that ingredients work as effectively as possible.
Go ahead and try these remedies and do let me know your experiences in the comments section below. Also spread the word by sharing this post to Facebook, Twitter, and Pinterest by clicking the share button.
#HappyHomeRemeding