Since time immemorial, Turmeric is very popular in cosmetic use. Turmeric (Haldi) is one of the most popular and oldest spices known for its medicinal properties. Application of turmeric on bleeding or open wounds reduces pain. Multiple studies — most originating in India, Europe, and Australia — show that turmeric, and especially its color-rich constituent of curcumin, can help prevent or treat a wide spectrum of diseases as well as skin issues. It has also secured its place in cosmetic also. For more than 1000 years its being used for treating and healing wounds and women use it as a skin tone enhancer and for other skin benefits.
The journal Life Sciences recommends applying curcumin as an optimized formula to best work on skin wounds. The antioxidant and anti-inflammatory qualities of turmeric may help your psoriasis by controlling flares and other symptoms. The National Psoriasis Foundation states that you can use it as a supplement or by adding it to food. Before you try it, the foundation recommends discussing proper dosage with a professional. (Source)

A study from Ehime University in Japan suggests that turmeric extract protects skin health from ultraviolet B radiation damage. (Source)
Turmeric contains more than 300 antioxidants, which makes turmeric a powerful healer. But turmeric not just heals you from inside; it also makes you more beautiful! Let's take a look at what are the benefits of turmeric for the skin.
---
How is turmeric helpful for healthy skin?
It removes excess oil and open clogged pores which cause acne and pimples.  Its anti-inflammatory property reduces acne inflammation and anti-bacterial property kills acne-causing bacteria.
Vitamin C present in turmeric lightens the dark spots and patches and maintains the skin firmness and tautness by building up collagen.
M.D. Anderson Cancer Center review of curcumin research, in the journal Phytotherapy Research in 2014, study found that curcumin (Component of turmeric) exhibits "antioxidant, anti-inflammatory, antiviral, antibacterial, antifungal, and anticancer activities". (Source)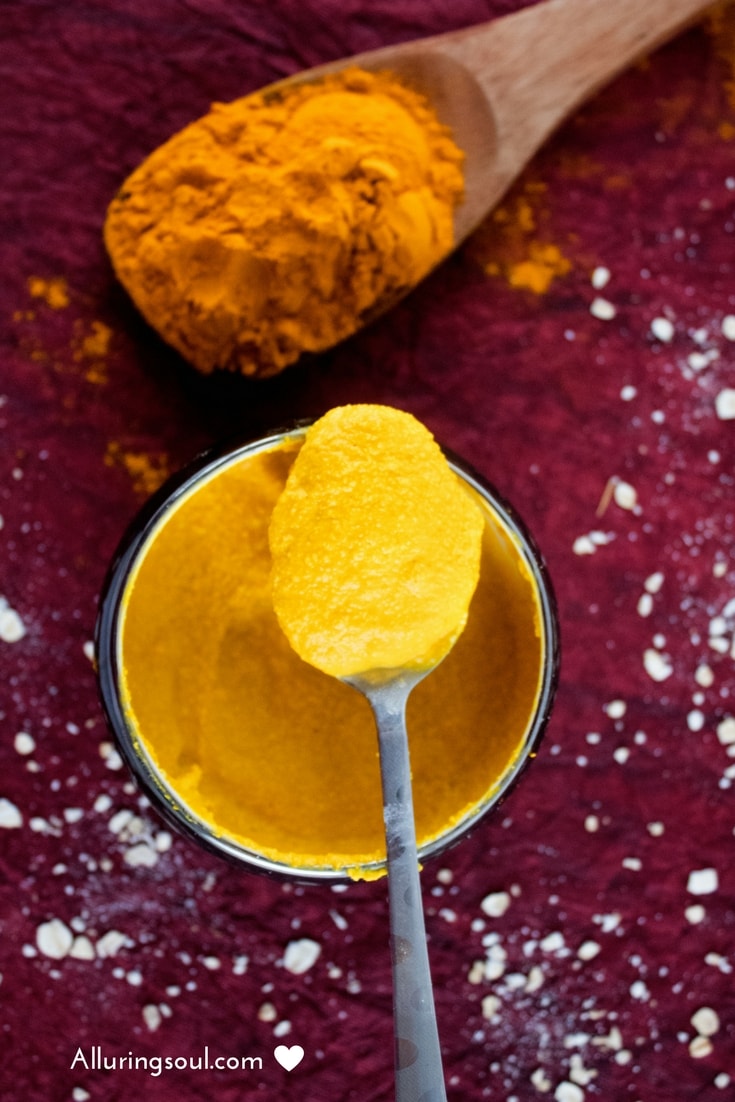 The anti-oxidant property helps fight signs of aging like wrinkles. Also, it has vitamin B6 necessary for new skin cell formation i.e. it regenerates skin cells fast and has magnesium for youthful radiant skin which also contributes to slowing down the aging process of the skin.
Turmeric mask is also helpful in treating dry skin as well as oily skin. It moisturizes and softens the skin. It contains potassium that solves dry skin issue by moisturizing and hydrating skin cells and also it controls oil, removes dirt and clears clogged pores, which in turn it helps oily skin too.
---
Procedure of DIY Skin Brightening Turmeric Face Mask
1. Deep Pore Cleansing Kaolin Clay + Turmeric Face Mask
Ingredients
1 tablespoon organic turmeric powder
1 tablespoon kaolin clay
2 tablespoon rose water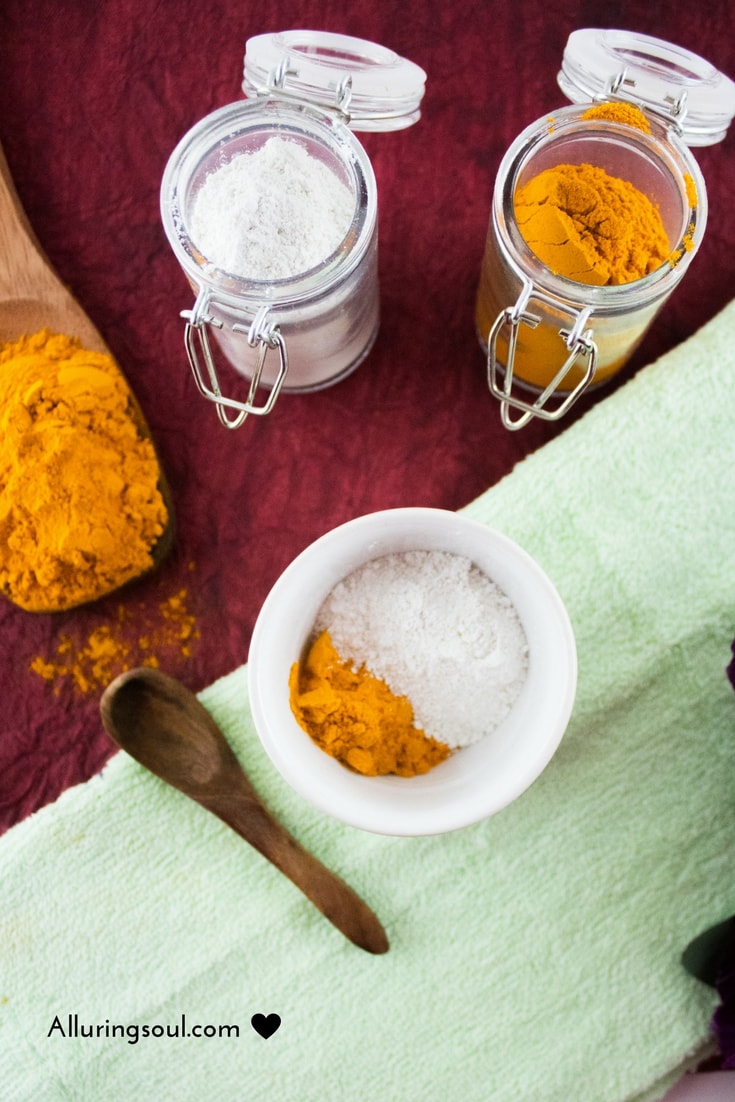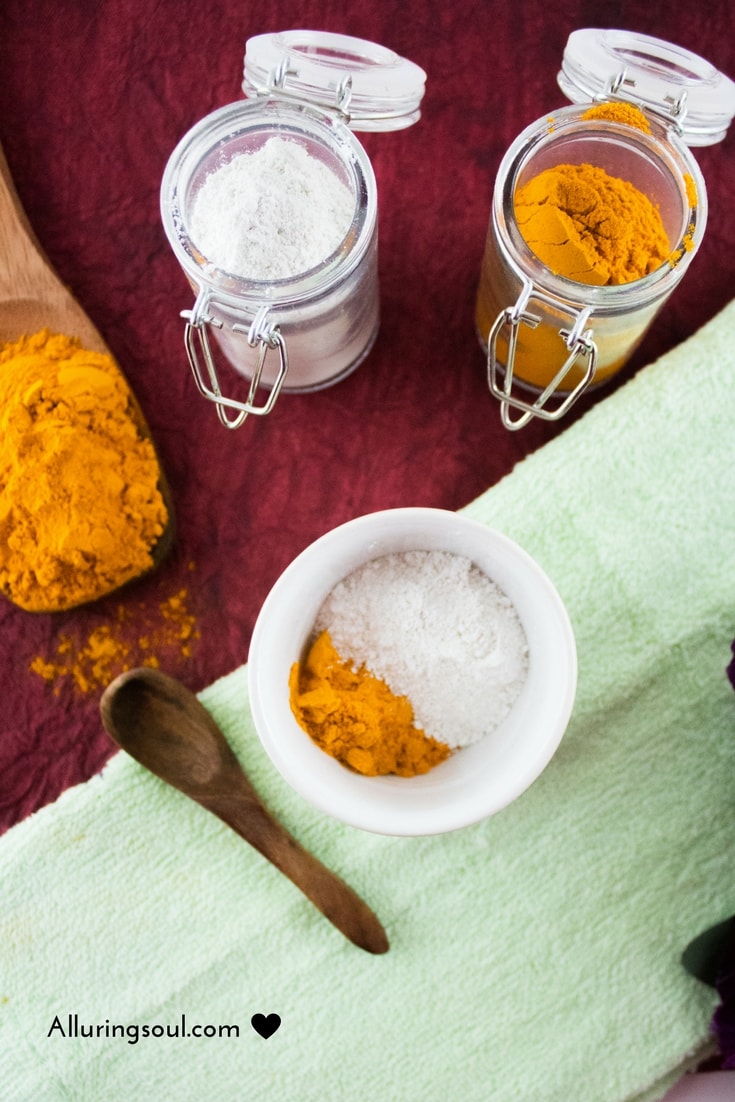 Combine all the ingredients in a bowl and apply this mask on your cleansed face. Keep it for 20-30 minutes and rinse it off with normal water. Apply Moisturizer. Repeat it 2-3 times in a week for the desired result.
Note: You can use coconut oil in place of rose water and keep it in an airtight glass jar for further use. Also, feel free to add your favorite essential oils to give more nutrition to your skin.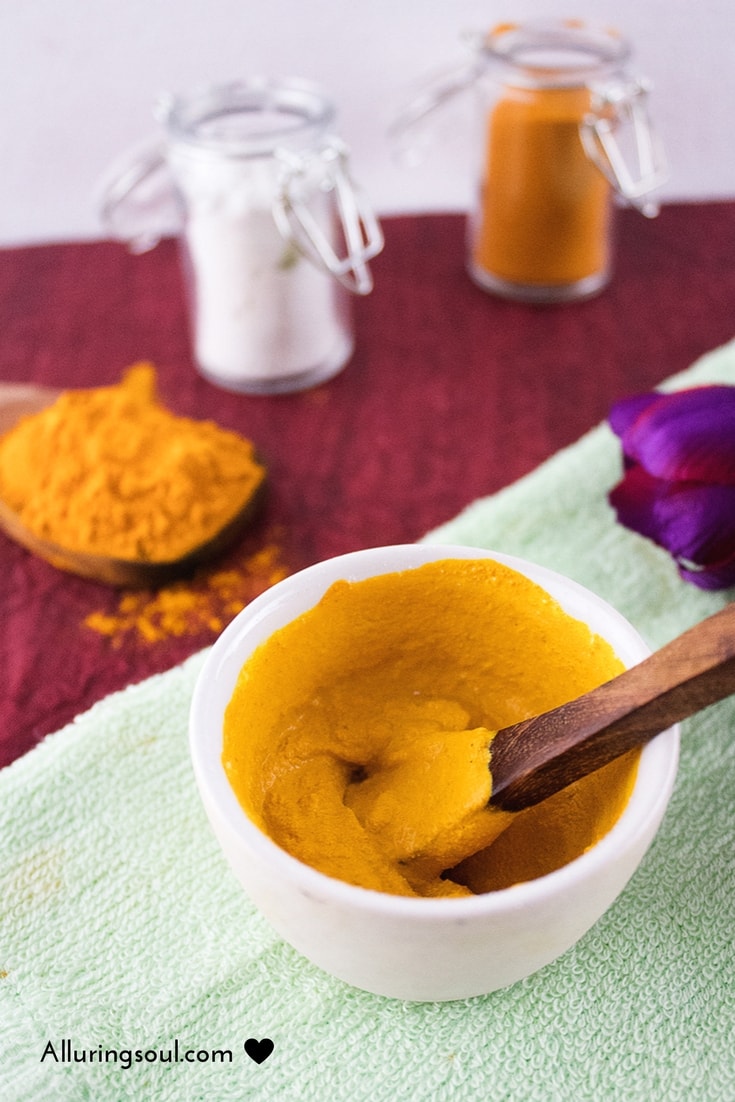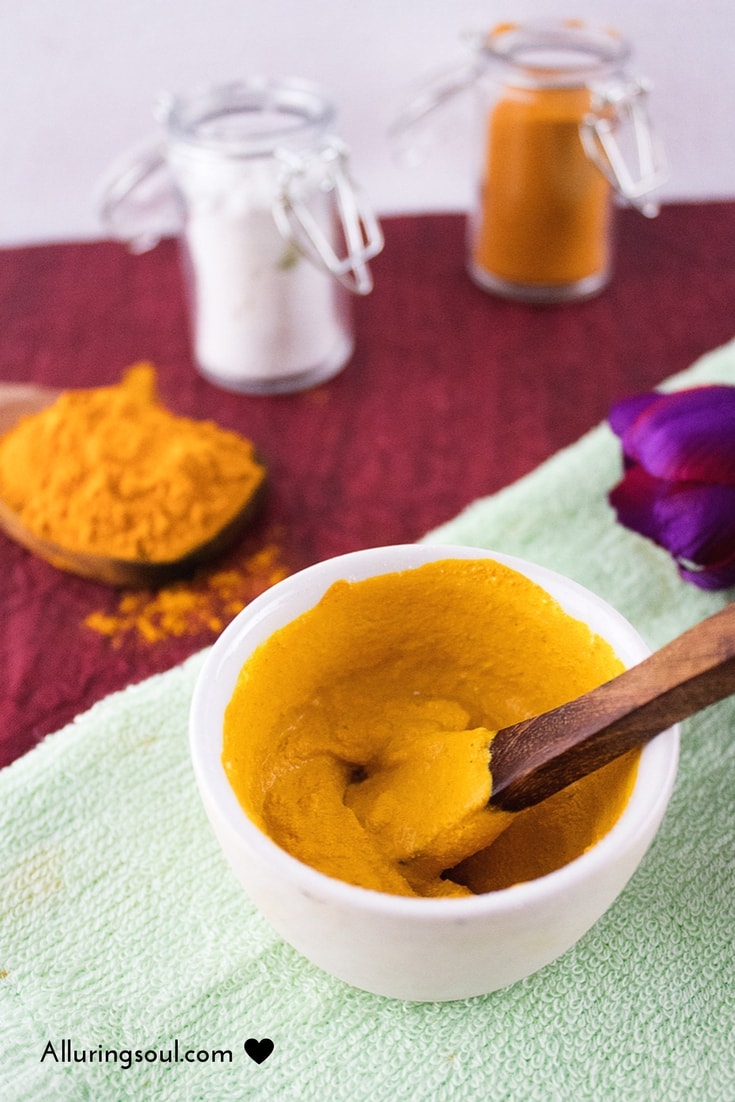 Kaolin clay has been traditionally used in caring, nourishing, and soothing different skin types. It helps to absorb excess oil and unclogs the blocked skin pores. The clay contains a high content of silica that helps in removing the dead skin and makes it regenerate. This also purifies and detoxes the skin and makes it moist.
Rose water provides moisturizing benefits to dry skin as well as it can work as a toner to help calm over-productive oil glands. It can help to repair aging or damaged skin and soothe irritated or sensitive skin. Finally, it can provide antiseptic and anti-bacterial properties for people who suffer from acne or other bacterial skin infections. The antioxidant properties of rose water help to strengthen skin cells and regenerate skin tissues which ultimately helps to fade dark spots and make skin glowing.
This face mask is perfect to remove the dirt and makeup buildup on the skin and will give you bright and glowing skin. When applied regularly it can enhance your skin tone and turmeric has the ability to inhibit melanin production and give your clear skin.
---
2. Nourishing Oats + Turmeric Face Mask
Ingredients
1 tablespoon organic turmeric powder
1 tablespoon ground oats
1 tablespoon organic honey
1-2 tablespoon plain yogurt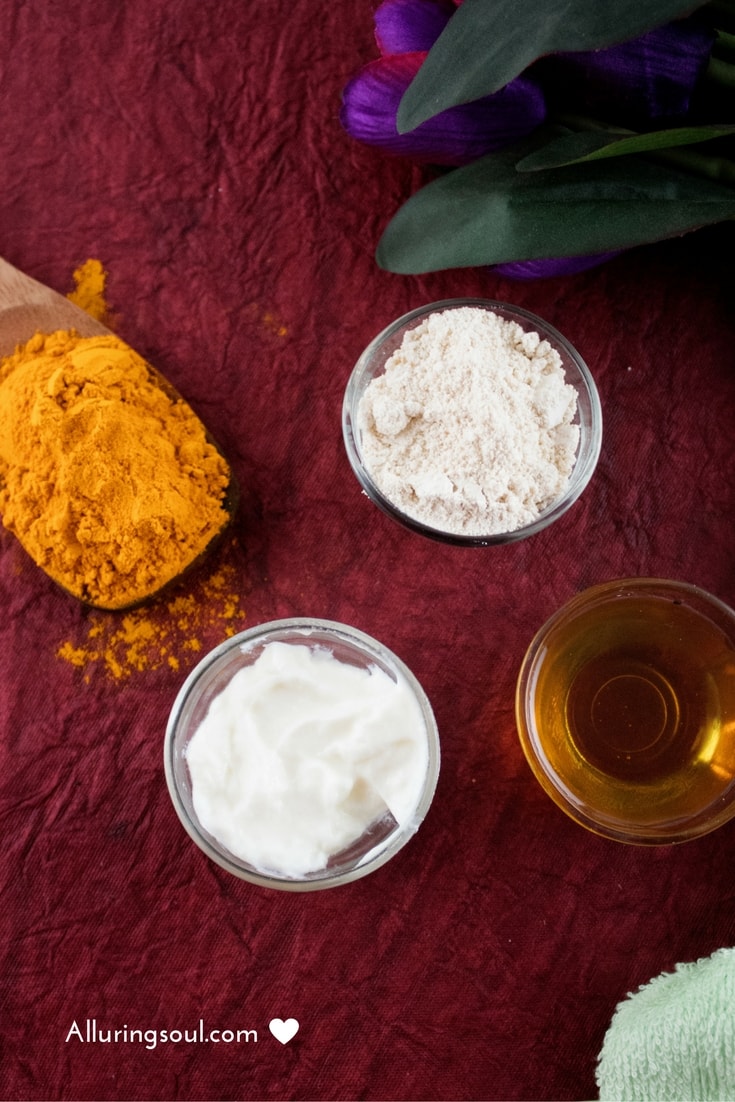 Firstly, take old fashioned oats or rolled oats and blend it to make a fine powder with a blender. Now, combine all the ingredients in a bowl and apply this mask on your cleansed face.  Give a gentle massage of 5 minutes and keep it for 20-30 minutes and rinse it off with normal water. Apply Moisturizer. Repeat it 2-3 times in a week for the desired result.
Oat is suitable for all skin types, and even for the most sensitive skin because of its anti-inflammatory properties. It soothes irritation and treats inflammations. Oats contain saponin, that makes it a great natural skin cleanser. Not to mention, it is a great moisturizer. It has anti-oxidant properties and helps undo the damage done to your skin by pollution, UV rays, and chemicals. It has natural exfoliant properties, so it can be used as a homemade scrub and also can be used by the most sensitive skin. Oatmeal scrub yields excellent results—including the removal of blackheads and dead cells, leading to a brighter complexion.
Organic raw honey helps to clarify, hydrate and nourish skin and keep pores clear and clean. Plus, the antibacterial and anti-fungal properties of honey prevent bacterial buildup that can lead to breakouts. Honey is said to lighten skin, and its anti-inflammatory and antibacterial compounds help to decrease the appearances of scars and increase healing and tissue regeneration. It also hydrates the skin deeply.
Yogurt contains the lactic acid that moisturizes and nourishes dry skin. Zinc component present in yogurt slows down the aging process and reduces wrinkles and fine lines. It helps to heal dry and flaky skin and also brightens the dull skin. It reduces dark spots and acne scars and lightens the skin discoloration. It contains vitamin B2 which encourages new and healthy cell growth.
Provide nourishment to your skin with this face mask because the turmeric which is the main ingredient full of 300 antioxidants help your skin to get clear bright and glowing skin.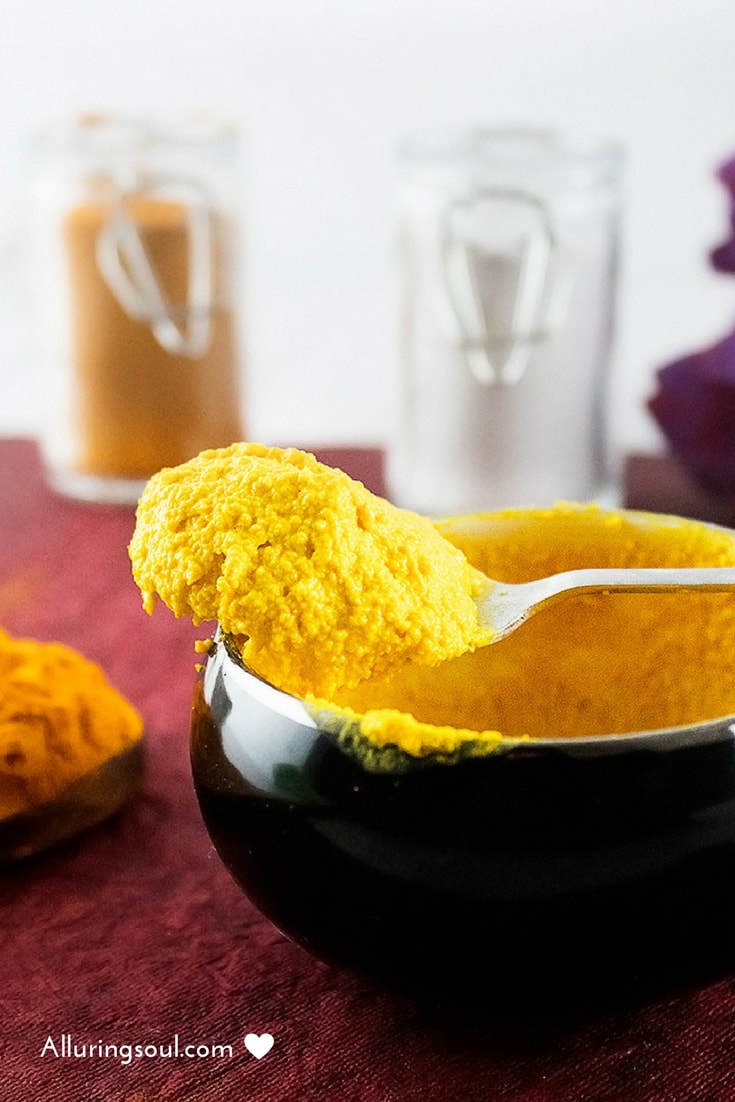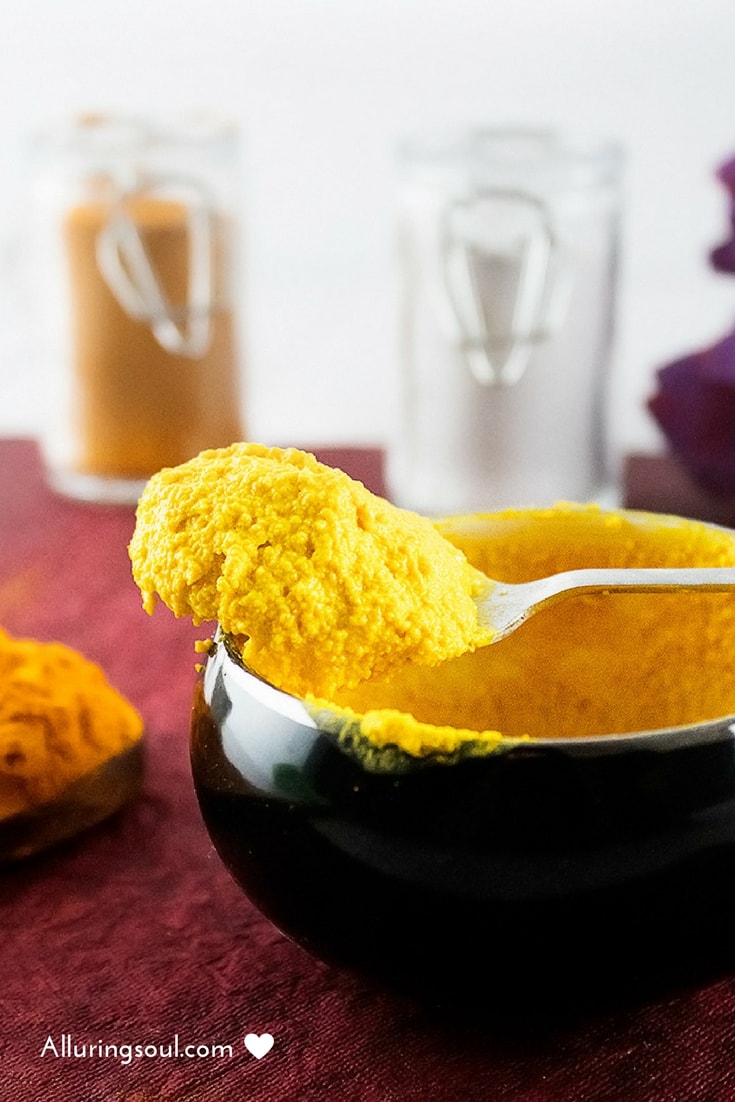 ---
Will it stain my face?
Lots of folks worried that the turmeric will stain their face, so I want to assure you that this won't turn your face yellow or orange. But I definitely recommend a thin layer – the more you pile on the greater your chances of staining, especially on your neck where the skin is thinner. I noticed some staining on my hands but it came off easily. Make sure you are using pure organic turmeric powder.
It is hard to clean the sink, mixing bowl, spoons, all the things get to turn into yellow or orange. When you apply a turmeric mask, use wait-time on the mask to immediately clean any staining before it sets. Any multi-purpose cleaner will work if you spray it directly on the spots. I've learned the best place to wash my turmeric face mask off is in the kitchen.
Worrying that your face is orange or yellow is a real struggle, after many hasty wash-offs?  There is no doubt that turmeric is staining. Staining of the face with turmeric depends on additional ingredients and purity of your turmeric. The problem is that you don't want to overdo it by scrubbing your face and causing irritation to remove the turmeric completely from your face. The trick is to rinse thoroughly with your hands and then take a warm cloth and gently wipe your face and repeat until you are satisfied that no one knows your face was just completely orange.
---