Looks like your ordinary or typical fried rice? I know everyone's favorite is restaurant style fried rice but I bet you can make healthier fried rice without grains (rice). Thinking about fried rice without rice?! Exactly, this entire recipe is nothing but veggies and you honestly wouldn't know the difference.  I must admit that it was dubious for me at first….I mean how could cauliflower taste like rice?!  But when this healthy and low carb cauliflower rice tricked my taste bud it was soft, tender and grainy just like rice, the flavors were all fabulous.
So, I thought I must share this recipe with those who are weight conscious like me or like to eat healthily with the same taste as ordinary restaurant style fried rice. How can I forget to share the best part?? A normal serving of fried rice from your favorite restaurant can run you over 600 calories, but you can enjoy this tasty and healthy "rice" for only 152 calories.
If you're not familiar with cauliflower rice, it's simply cauliflower that's been chopped into fine pieces that resemble grains of rice. Many stores sell bags of riced cauliflower in the produce section. If you can't find it in your store, simply place some cauliflower florets in a food processor and pulse until finely chopped. But if you don't have one on hand you can always use a cheese grater or even chop it yourself into fine little pieces, but I'm all about recipes that are quick, easy and save you time!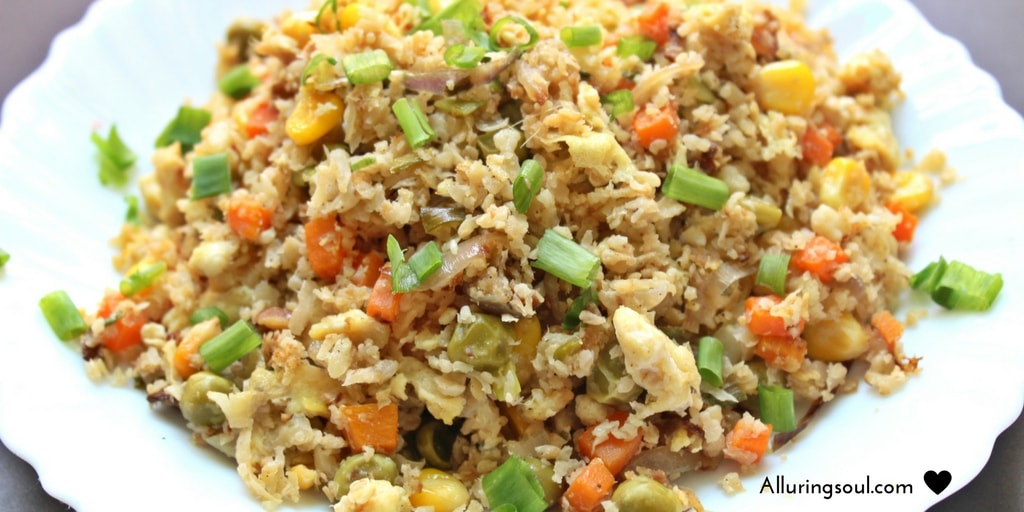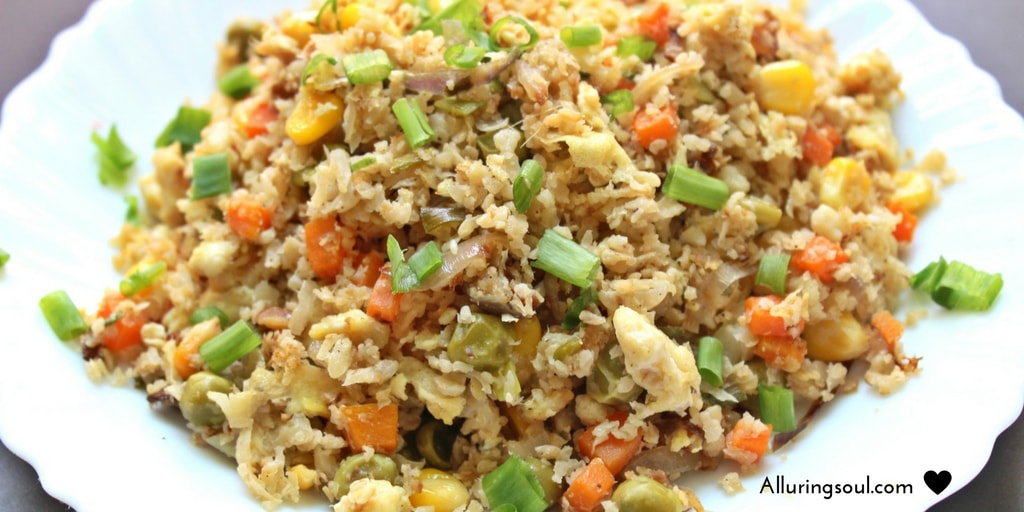 Cauliflower rice is cooked with mixed veggies and scrambled egg and it is a low carb, gluten free, delicious and easy dish. This takes only 20 minutes to prepare and it will be a hit with your family!
Firstly, cut the big head of cauliflower into a few big chunks and remove the thick middle stem-like part(Stalk). Now put the pieces or florets into the food processor and pulse it until it starts to resemble rice or small grainy like size. Then heat a pan and add 1 tablespoon sesame oil. Then add chopped garlic and ginger and stir-fry until it starts to give you a nice aroma of garlic ginger. (10-20 Seconds)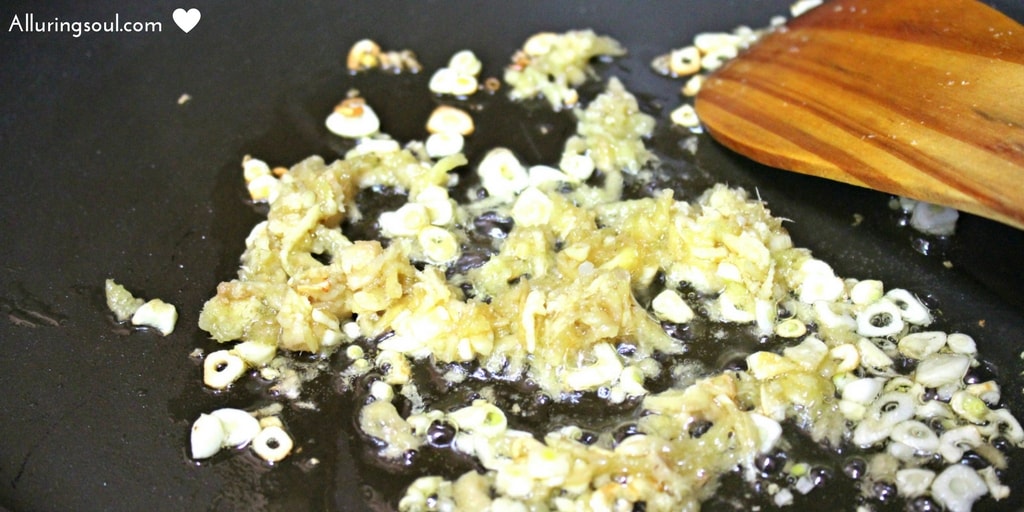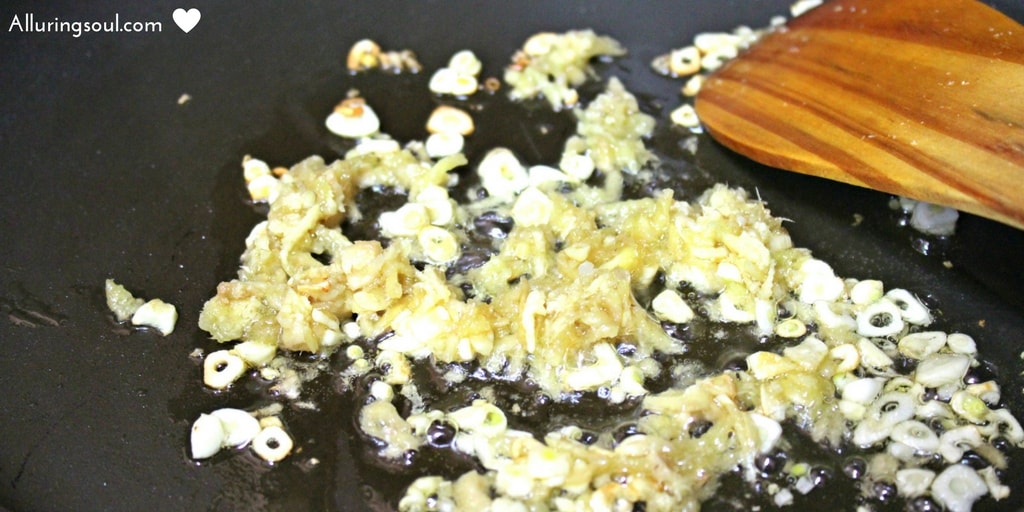 Now, add mixed vegetables and onions to the garlic-ginger mixture and stir-fry for 2-3 minutes.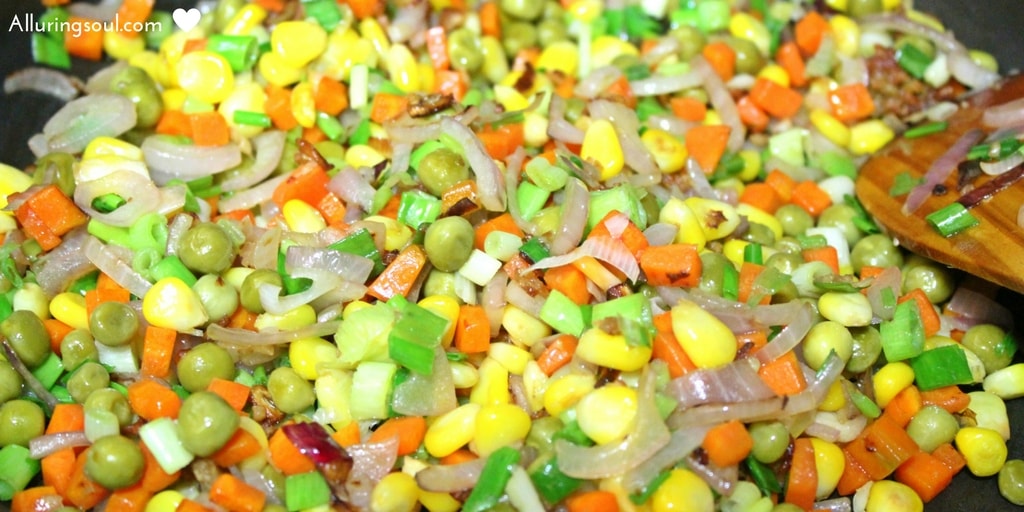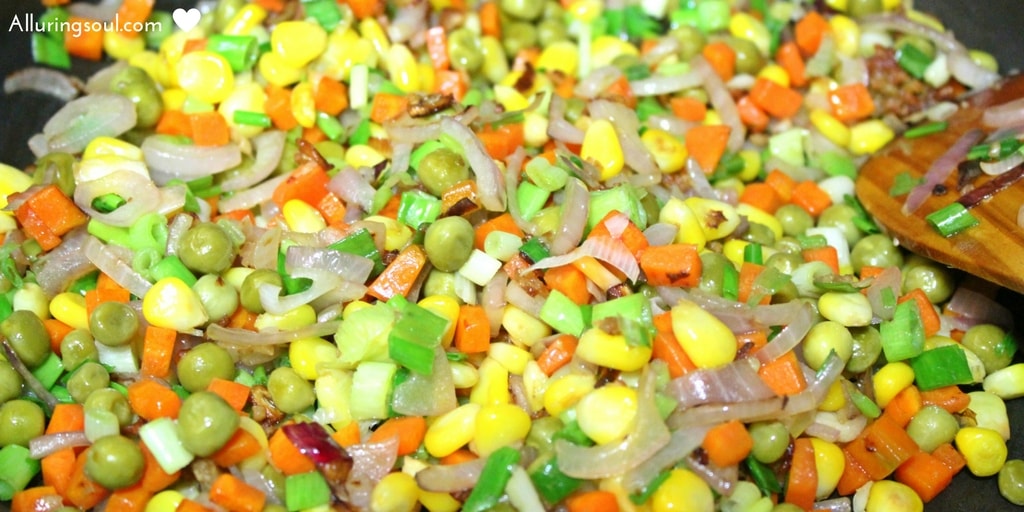 After that add cauliflower and mix the whole thing until the cauliflower gets tender, 3-4 minutes, then add black pepper powder and salt. If you season too early in the stir fry process the cauliflower will release its moisture causing it to steam and it will not good to taste. Stir-fry for another 1/2 minute. Now, place the whole cauliflower mixture on one side of the pan and add the 2 whisked egg with a little salt on another side. Let it sit until set on the bottom then scramble and then toss to combine.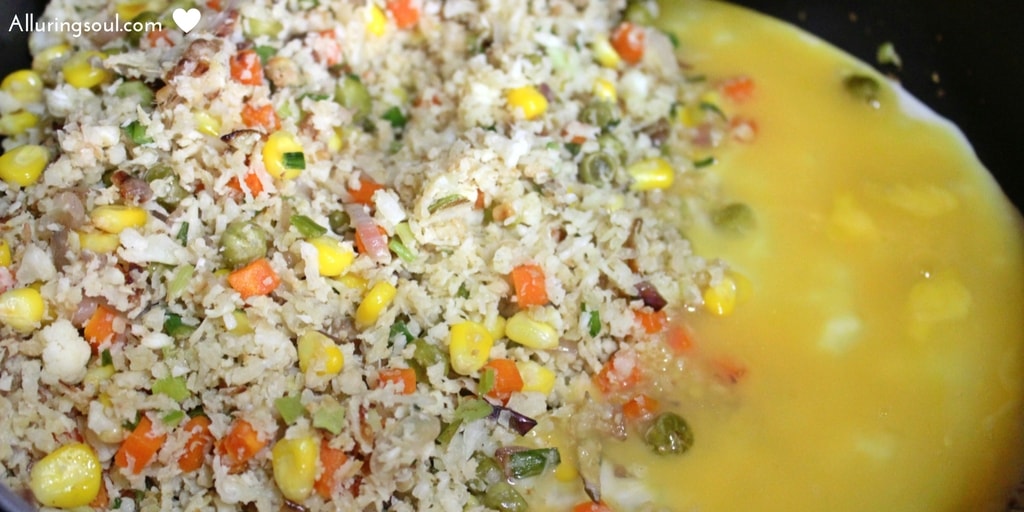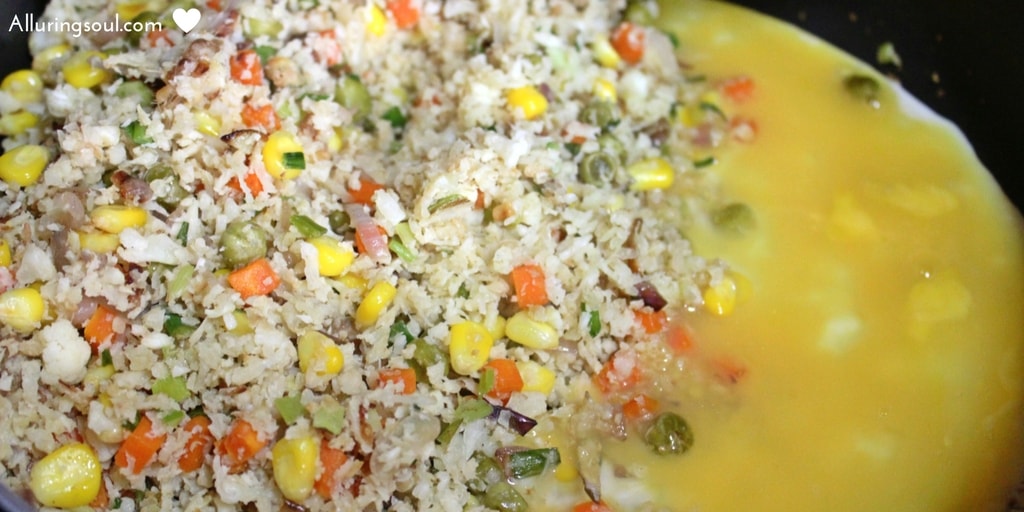 The last step is to drizzle in 2 Tablespoons gluten-free tamari or soy sauce (dish will not be GF if using soy sauce) then toss to combine.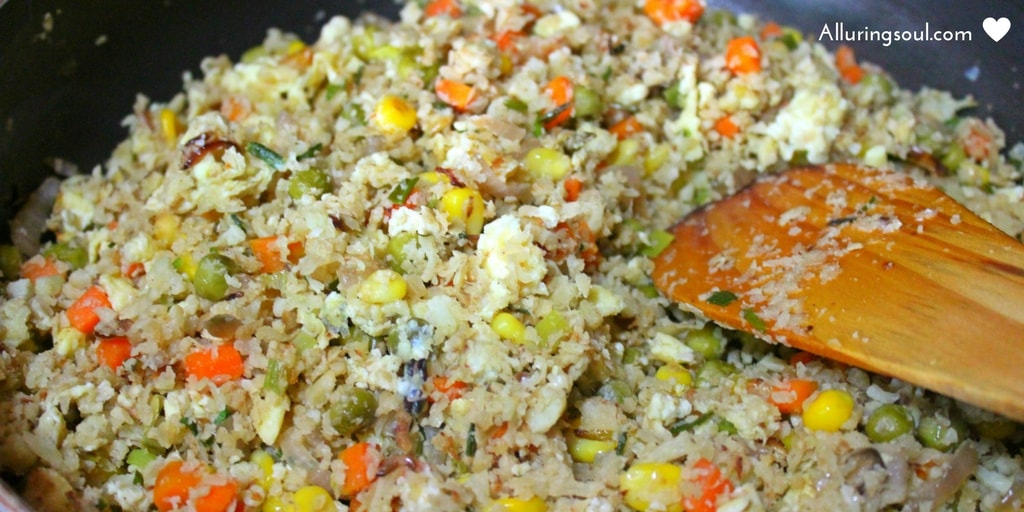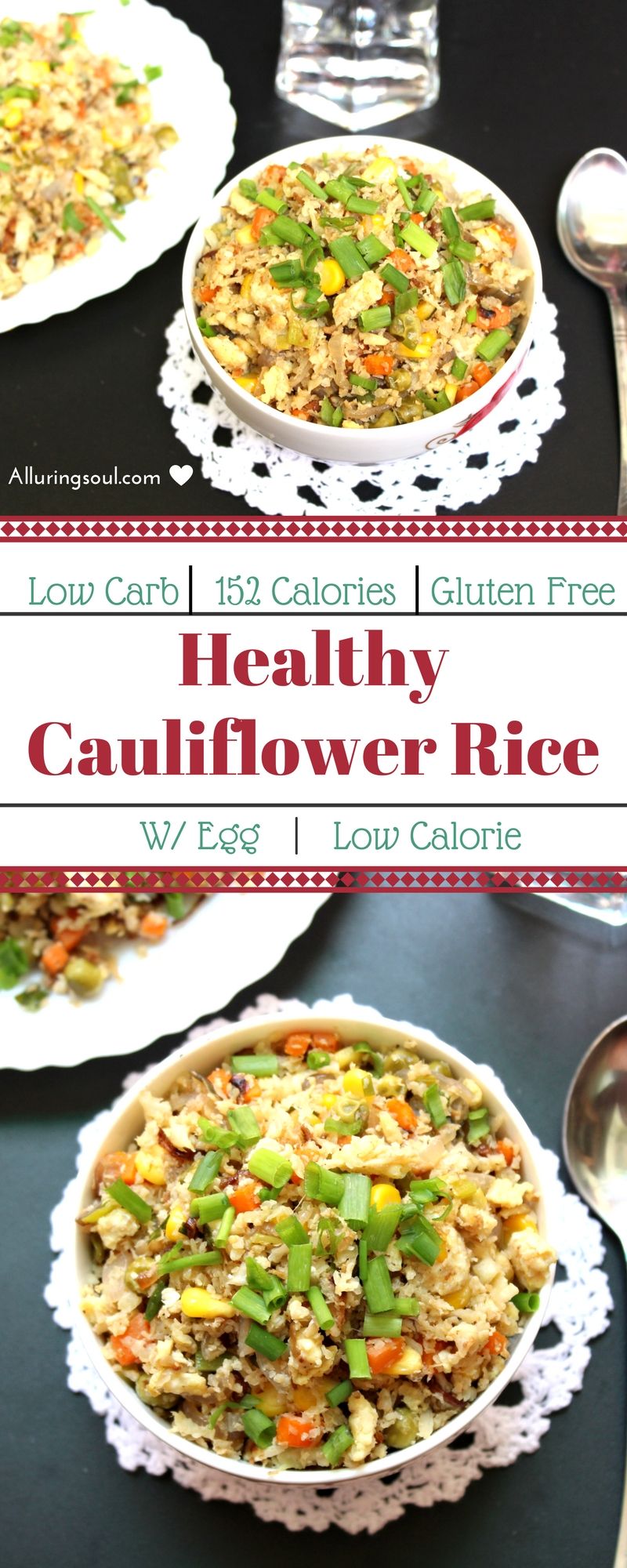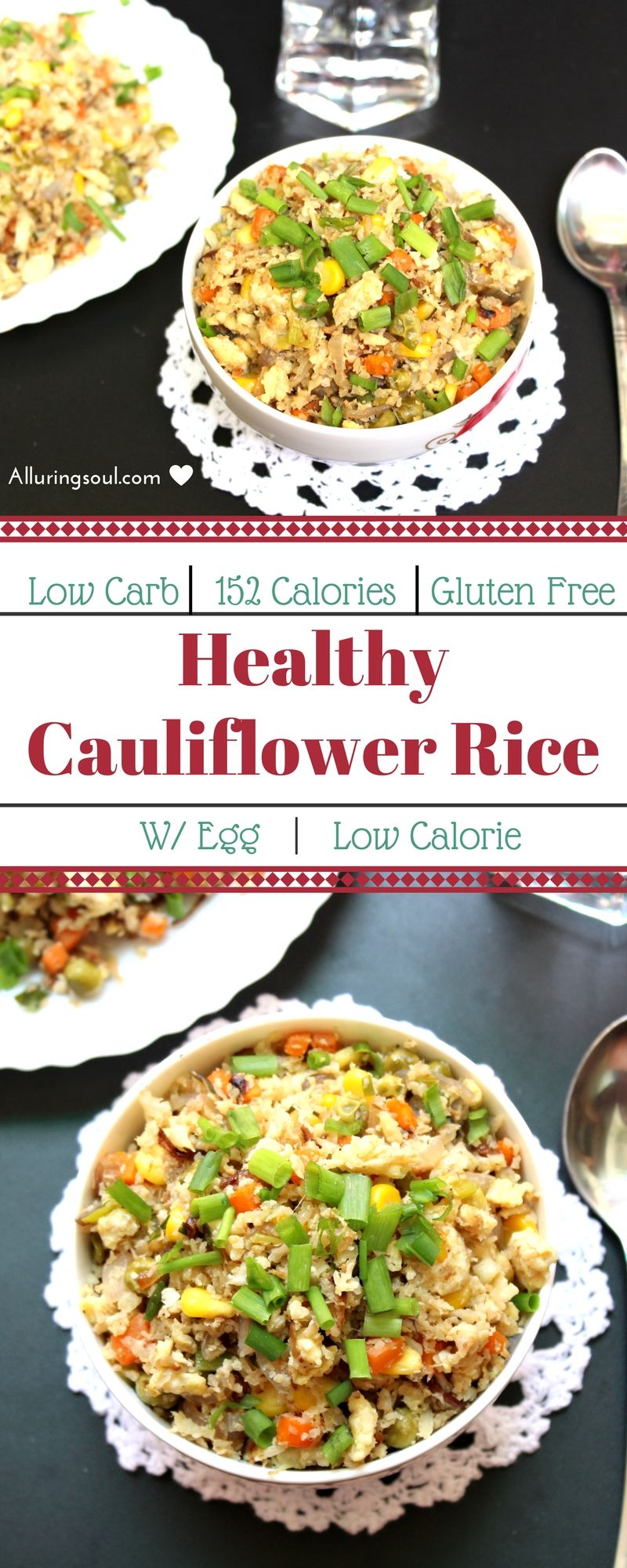 Healthy Cauliflower Rice - Low Carb, Low Calorie & Gluten Free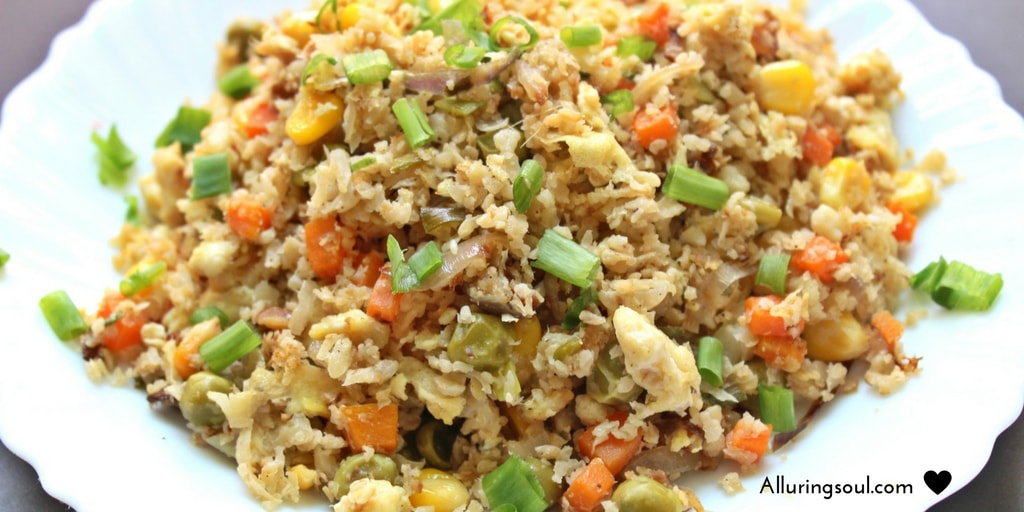 This healthy cauliflower rice will trick your taste bud and will definitely be liked by your family. It's low in carb and it's a good option to manage your weight i.e. low in calorie too (152 calories).
Ingredients
3½ cups riced cauliflower
1 tablespoon sesame oil
½ cup finely chopped onion
½ cup chopped carrots
½ cup frozen peas
½ cup frozen corn
1 teaspoon minced garlic
1 teaspoon minced ginger
2 eggs lightly beaten
2 tablespoon soy sauce Tamari or gluten free
salt as per taste
pepper as per taste
2 tablespoon sliced green onions
Instructions
Combine eggs with some salt in a bowl then whisk to combine and set aside.
Chop cauliflower head into big chunks then put it in a food processor fitted with the grating attachment. Alternatively, you could grate the cauliflower on a box grater. Measure out 3½ cups grated cauliflower then save the rest for another use.
Heat 1 Tablespoon sesame oil in a wok or large nonstick skillet over high heat. Then add chopped garlic and ginger and stir-fry until it starts to give you a nice aroma of garlic ginger(10-20 Seconds).
Add onions, all vegetables and stir-fry for 2-3 minutes and then add cauliflower into it and mix all. Stir-fry the whole thing until cauliflower is just beginning to turn tender for 3-4 minutes.
Season it with salt and pepper, and then continue to stir-fry for 30 seconds or so.
Push mixture to the sides of the wok or pan and then add the eggs and scramble. Toss mixture to combine then drizzle in gluten-free Tamari or soy sauce and mix again to combine. Serve hot.