(This post contains affiliate links. My full disclosure is very boring, but you can read it here.)
Raw Organic Apple Cider Vinegar (ACV) is very useful for our health as well as for our skin.  Beneficial ingredients in raw apple cider vinegar give it its power to make us feel better, look better, and feel energized. It is great for acne prone skin. I am going to share the benefits as well as my experience with DIY apple cider vinegar toner.
It is made from nutritious, organically grown apples and retains many beneficial components because raw apple cider vinegar is not pasteurized. ACV undergoes two fermentation processes where it produces enzymes and life giving nutrients that make apple cider vinegar the powerhouse it is. Firstly we should know about the skin benefits of apple cider vinegar.
Two separate studies published in Applied Microbiology and Biotechnology and International Journal of Cosmetic Science claim that acetic acid, lactic acid, citric and succinic acids can kill P. acnes, the bacteria that cause acne and apple cider vinegar contains all these acids. (Source1, Source2)
Skin benefits of apple cider vinegar toner
Apple has potassium which is one of the reasons why many people suffer from dry skin is due to the deficiency of potassium. Potassium keeps the skin moisturized and hydrated internally.
Apple pectin helps fight against changes to the skin structure associated with aging.
Malic acid of apple works as an exfoliant, helping to rid the skin of dead skin cells, dark spots, scars, and acne.
Apple has calcium has skin benefits include cell renewal, lipid barrier function, and antioxidant protection from DNA damage.
Apple cider vinegar contains lactic acid and there is another study which proves that lactic acid treats and prevents acne. (Source)
Ash of apple normalizes the skin pH.
Acetic acid of apple helps in exfoliation and in hydration of the skin.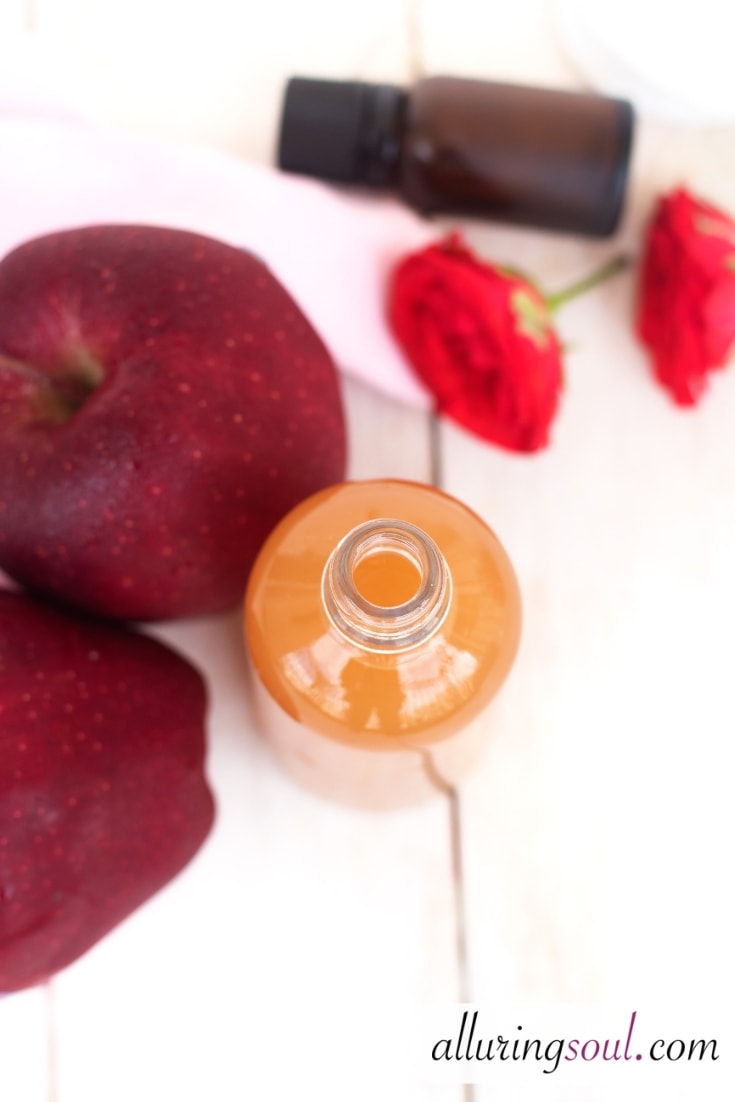 ---
My experience with homemade apple cider vinegar toner
For the past 3 months, I have been using a mixture of apple cider vinegar and water as a toner, every morning and every evening after I wash my face. I saw a noticeable change and improvement in my skin in just a couple of weeks time.
I have noticed that my skin tone has become softer and I have less dry and itchy red patches, plus less oiliness in my trouble area. I can see less visible tiny pores on my cheeks and nose that seemed to always be there. I have also noticed less everyday regular breakouts. I have observed that many of my previous breakouts were seemingly due to clogged pores and no matter how much I washed my face, I would still have that problem, this toner has seriously been the answer I was looking for.
Try Cooling cucumber face toner for acne
---
You Can Substitute Water With Other Ingredients In Apple Cider Vinegar Toner
Substitute water with red wine as it gives a refreshing glow to the skin while removing tan and blemishes. The anti-aging properties of a wine make it even more beneficial. You can also customize your toner by adding witch hazel, green tea, essential oils such as tea tree oil or lavender, etc.
You can also substitute water with cucumber juice also as it will give a cooling effect on the skin. You can also infuse the water with some fresh herbs like basil leaves, mint leaves, oregano, neem leaves etc for added benefits. Chop handful of fresh herbs, bring it to a boil with water and simmer over a low heat for 20 minutes. Strain the mixture and let the water cool before adding it in place of regular water to your toner mixture. You can keep this boiled water in an airtight container for 6-7 days in the refrigerator.
---
How to make Apple Cider Vinegar Toner
Apple Cider Vinegar Toner For Beautiful Skin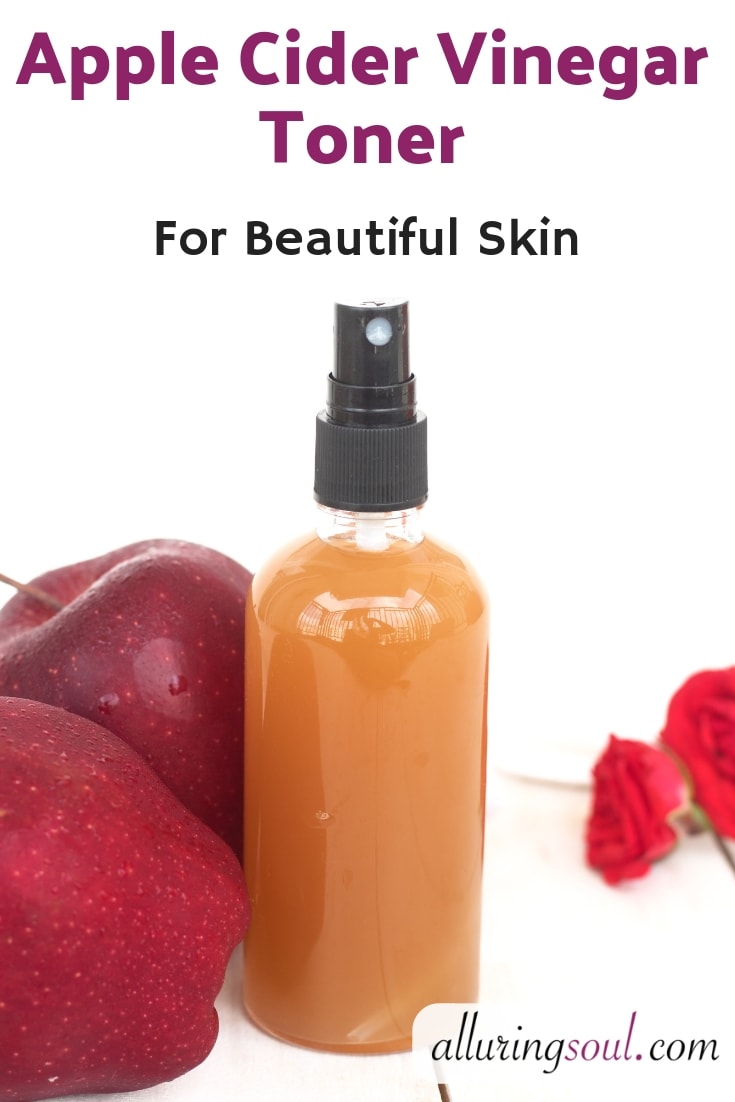 Recipe type:
Apple Cider Vinegar Face Toner
Instructions
How To Make And Use
Pour 1 part Organic Raw Apple Cider Vinegar into a glass jar, bottle or container.
Add 2 parts distilled or filtered water.
Shake the bottle to combine the mixture.
Apply the toner to your freshly cleansed skin using a cotton ball or pad, avoiding the eye area.
Apply your usual, daily moisturizer after the apple cider vinegar toner has dried.
Experiment with the ratios of ACV to water and see what your skin likes and responds to the most. You will know when you find it.
Notes
1. Be sure to use an organic raw unfiltered apple cider vinegar, preferably with the 'mother'.

2. Apple cider vinegar does smell a little bit like feet. Once the toner dries on your face, the smell almost completely dissipates, in my opinion. If the smell does bother you too much, instead of letting the mixture dry on your face and stay on there, try letting it dry a bit, then rinse your face quick with a splash or two of water, before applying your moisturizer.

3. This will sting on any open pores, scratches, pimples. Breaking out from apple cider vinegar is normal. It kills off bad yeast. Apparently, it works by purging your skin's toxins before it starts to heal. The purging can come in the form of acne.

4. ACV is highly acidic and a pH of 3.0. Using this more than twice daily can be too much for some skin types, especially if skin already has issues.

5. It does work for many, but for others, it certainly can be an issue. So carefully watch your skin to gage results.

6. New pictures have been updated but the recipe is the same.