Hair fall, dandruff, and other scalp problems are a pain. Solving hair problem is not simple. With all the remedies that claim to solve the problem, there are only a few that show real results. Vitamin E is one such remedy. Vitamin E hair serum is best to reduce hair fall, hair breakage and to promote hair growth.
Vitamin E hair serum has antioxidant properties that help repair and build tissue. When you apply vitamin E hair serum to your scalp, it helps reduce inflammation and repair damage to the follicles, and healthy follicles encourage hair growth.
I was suffering from dandruff, hair fall, and oily scalp since a teenager. I tried almost every shampoo shown in TV advertisements with temporary results and obvious side effects. My hair became half of what it was.  I heard a lot about essential oils for solving hair issues. So, I thought I should give a chance to my hair to absorb the benefits of essential oil.
After searching on the internet I came to know that the gentle power of these plant extracted oil can work wonders on your hair and scalp. Within a few months, I started seeing the results. It was slow but I could see a positive ray of light. My scalp sebum control was the first result I got. Eventually, I was able to control my hair problems to a very good extent.
Read- How I cleared my acne through the essential oil face serum
These aromatic oils penetrate deeply into hair shaft and follicles and help produce healthy, shiny hair. Essential oils can be used to:
Promote healthy 

hair growth

Strengthen hair shaft

Improve the scalp and hair condition

Help with dandruff

Soothe 

irritated scalp

Normalize the function of sebaceous gland which produces oil to our scalp
Now, I am sharing the recipe of vitamin E hair serum for dandruff, hair fall and scalp problem that I am using since a teenager (with some moderation in the recipe) from which I got a problem free scalp and a shiny frizz free hair.
I use some of the essential oils mixed with my favourite carrier oil because when some essential oil is blended with other essential oils, it becomes more effective on skin because you will get various types of benefits from different oils in one application.
If you are a DIY person you can create some very beneficial hair or skin care products for yourself and your family.
There are hundreds of essential oils to choose from, each with different wonderful properties. But here's my top favorite and I use twice a week before shampooing my hair.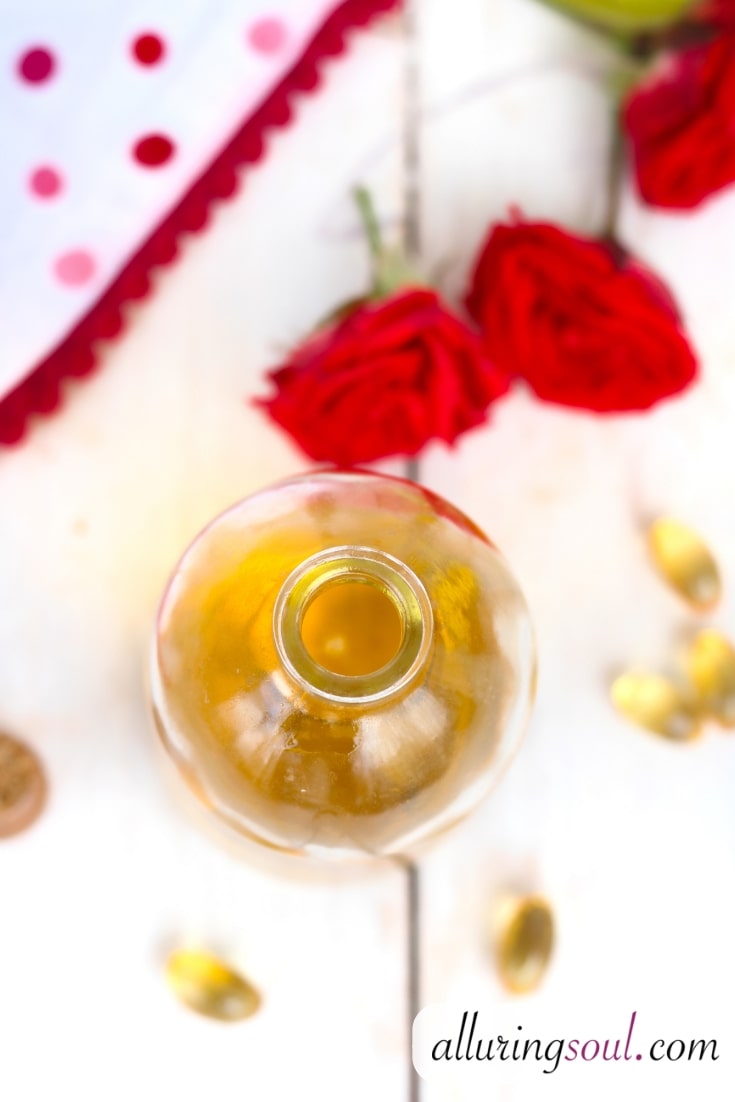 ---
Benefits Of Vitamin E Hair Serum
Vitamin E oil helps widen the blood vessels so that it is more easily carried. It also prevents blood from clotting, ensuring smooth flow.  Vitamin E's antioxidant properties repair damaged hair follicles, prevent tissue corrosion, and help build tissue. This keeps your follicles healthy and promotes healthy hair growth. It promotes blood circulation and acts as a deep moisturizer for your hair, preventing breakage and brittle hair.
A small trial from 2010 found that vitamin E supplements improved hair growth in people with hair loss. It's thought that the vitamin's antioxidant properties helped reduce oxidative stress in the scalp. Oxidative stress has been linked with hair loss.
Castor oil

 carries ricinoleic acid and omega- 6 essential fatty acids, which accelerate blood circulation to the scalp, hence increasing hair growth. It works on nourishing the scalp and strengthening the roots with the help of essential nutrients.

Argan and almond oil

 solves the problems like dry, flaky scalp or dandruff, switching to argan oil is a good idea. They are vitamin e rich oils which solve the hair fall problems and make hair strong and healthy.

Rosemary essential oil

 is one of the premier hair growth enhancing essential oils. It is packed with antioxidants which help scavenge free radicals – that are responsible for graying as well as hair thinning. it is also effective for treating dandruff, itchiness, scalp irritation and oily skin.

Rose essential oil

 balances the oil secretion of the sebaceous glands; hence, it is equally beneficial for a dry or an oily scalp. Its antiseptic action helps control bacterial and fungal problems, including dandruff. It also adds shine and protect my hair from the heat of a blow dryer.

Tea tree essential oil 

has antibacterial, antiseptic, and antioxidant properties which stimulate healthy hair growth and heal many scalp problems such as dryness and flakiness. It strengthens hair follicles which promote hair growth, treats oily hair and keeps scalp healthy.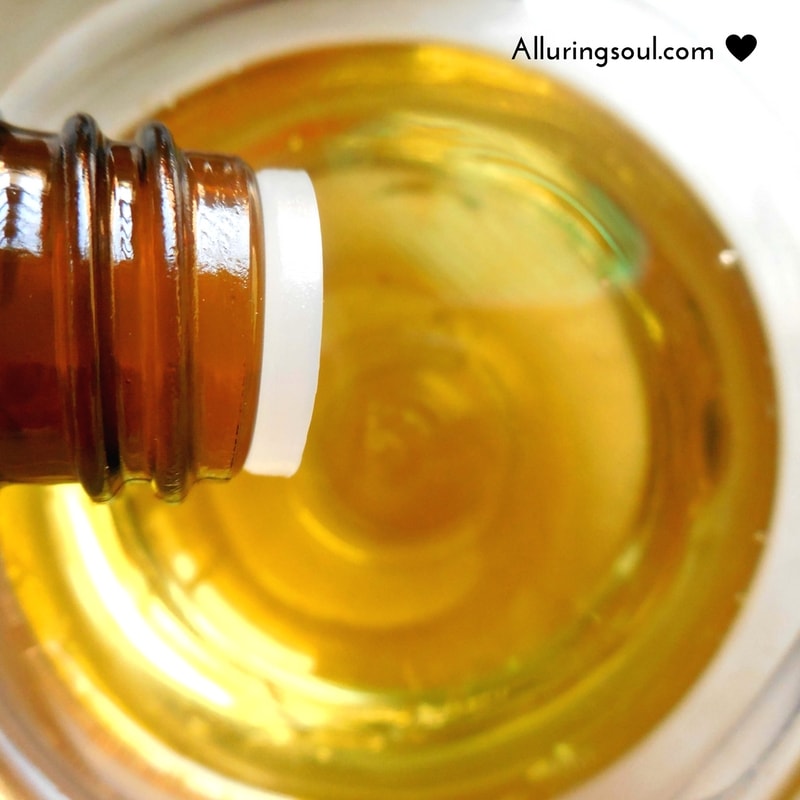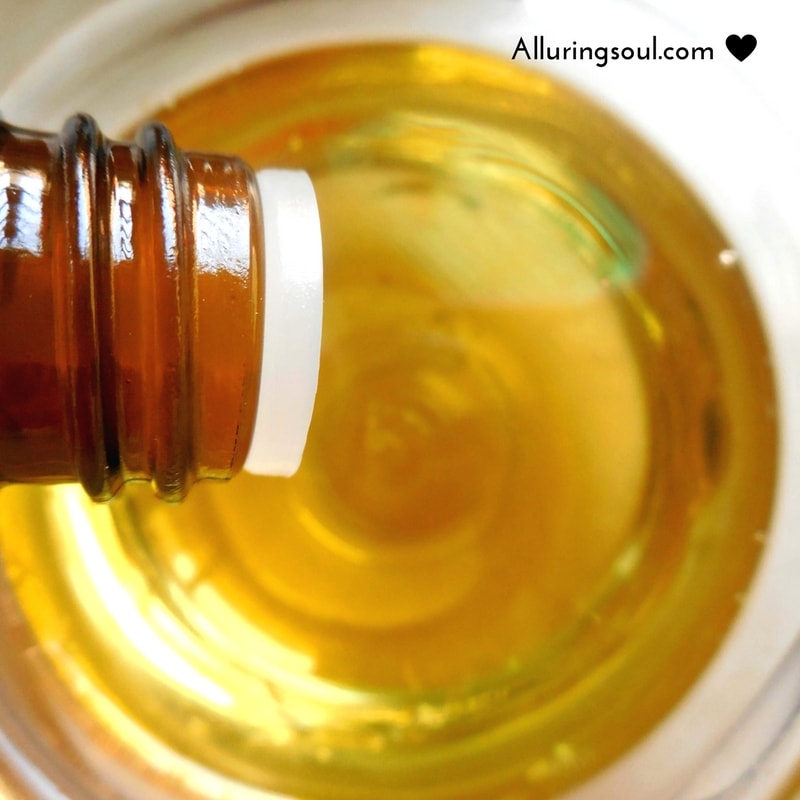 ---
Things To Remember:
I use castor oil, argan and almond oil because it is a carrier oil which is used to dilute essential oils before they are applied to the skin & scalp in massage. Essential oils should always be diluted because it may irritate your skin. Carrier oils are so named because they carry the essential oil onto the skin. It ensures that essential oils applied topically are comfortable to the skin.

Using Essential oils you have to be patient as it takes the time to show their power on your skin and scalp. 

Additionally, certain essential oils should be avoided by pregnant women, infants, and young children and Be sure to do a patch test to make sure your skin does not have an adverse reaction to the oils.
---
Procedure For Vitamin E Hair Serum
Vitamin E Hair Serum for Hair Growth & Healthy Scalp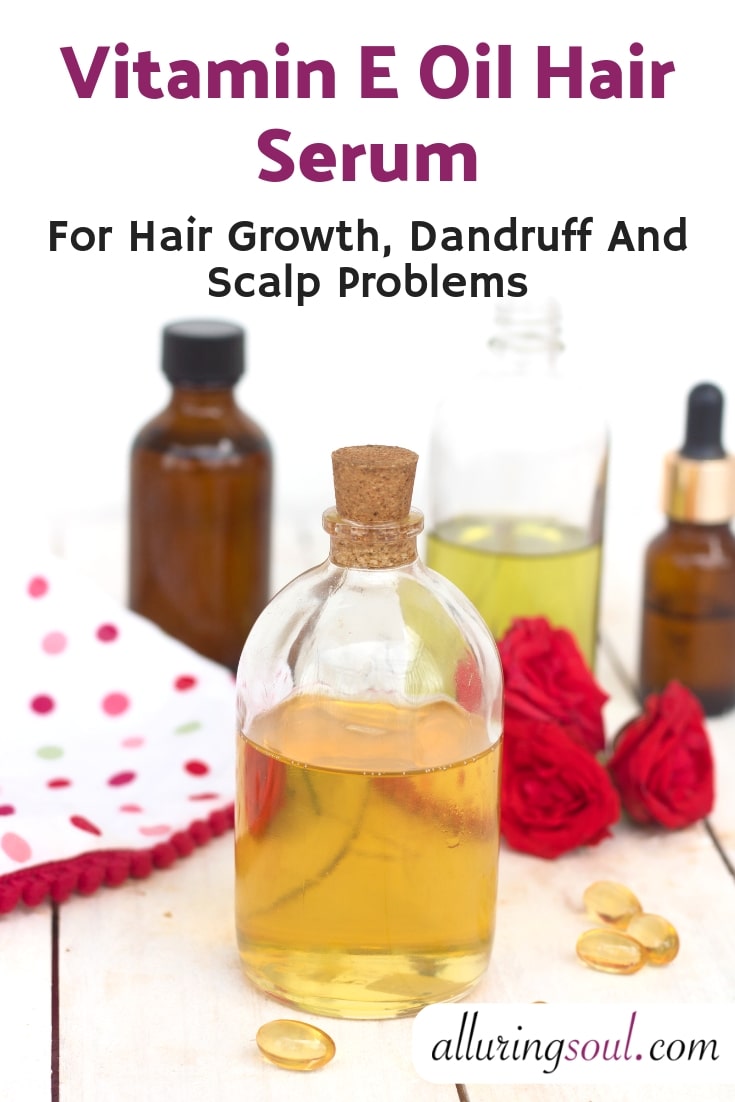 Recipe type:
Vitamin E Hair Serum
Instructions
How To Make
Take castor oil, argan oil, and almond oil in equal quantity as per your hair requirements in a small bowl. Place this bowl in a larger bowl containing hot water. This will warm the oil and warm oil will deep condition your hair and scalp.
Remove the smaller bowl from warm water when the oil gets warm. Now, add 2 drops of each rosemary, tea tree, rose essential oil to the warm oil.
Add 2 capsules or ½ teaspoon of vitamin E. Vitamin E is the staple for eradicating hair or scalp problem.
Mix well.
How To Apply
Dip fingers in the oil. Make a partition of your hair with your hand and apply the oil to the scalp.
Do not just pour oil on the head. Use oil in adequate quantity only. Using too much oil will mean you'll need to use more shampoo.
Gently massage the scalp with your fingertips. Never rub your hair with your palms as it can break. Massage is essential as it improves blood circulation in your scalp area. You should massage your hair for 5 to 10 minutes.
Leave the oil in your hair overnight. You can wash it off the next morning.
optional: Steaming your hair with a hot towel after oiling is excellent as it helps hair to absorb the oil. Just wrap a warm towel around it for 10 minutes. Make sure that the towel is not too hot as too much heat can harm the hair shaft.
Oil at least once a week, but you can go ahead and do it more frequently.