(This post contains affiliate links. You can read my full disclosure here.)
Living with frizz and dryness can be the most frustrating thing on the planet, especially when you have curly hair.
Frizzy hair is a result of a lacking hair care regimen, and that's why a little extra attention is all it takes to tackle the problem.
A perfect leave-in hair moisturizer can be a perfect solution to control brittle and dry hair.
A leave-in hair moisturizer becomes more effective when it contains natural ingredients like aloe vera juice and natural oils.
Let's take a look at what are the benefits of aloe vera leave-in hair moisturizer.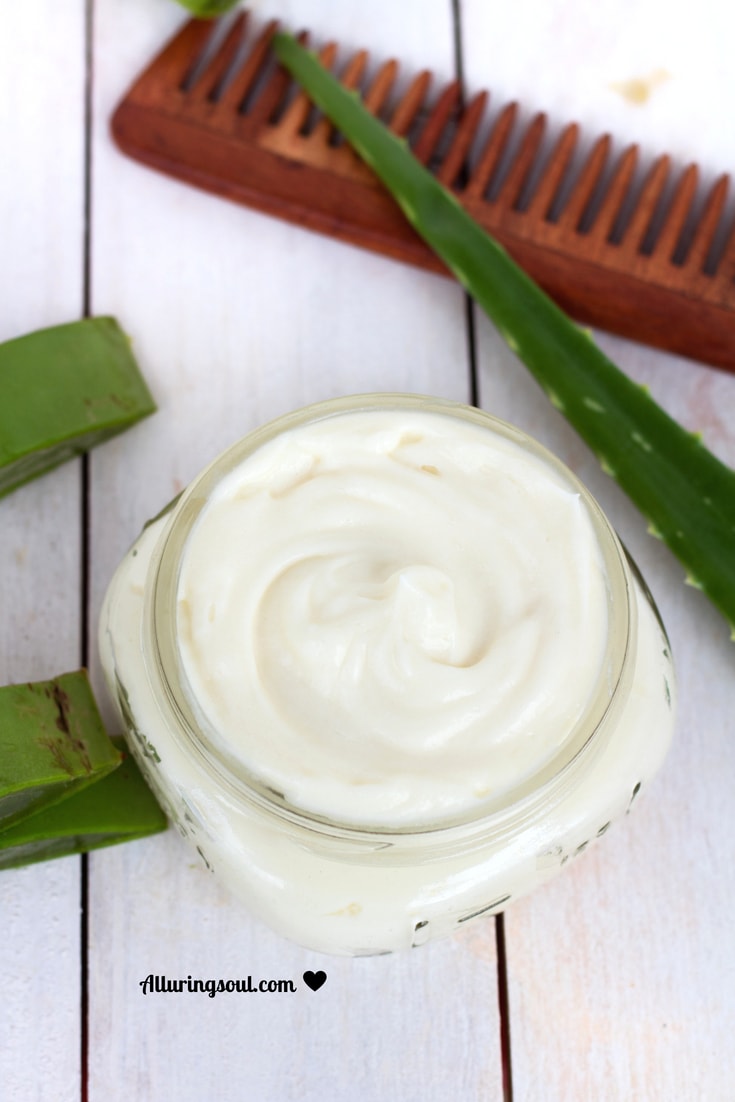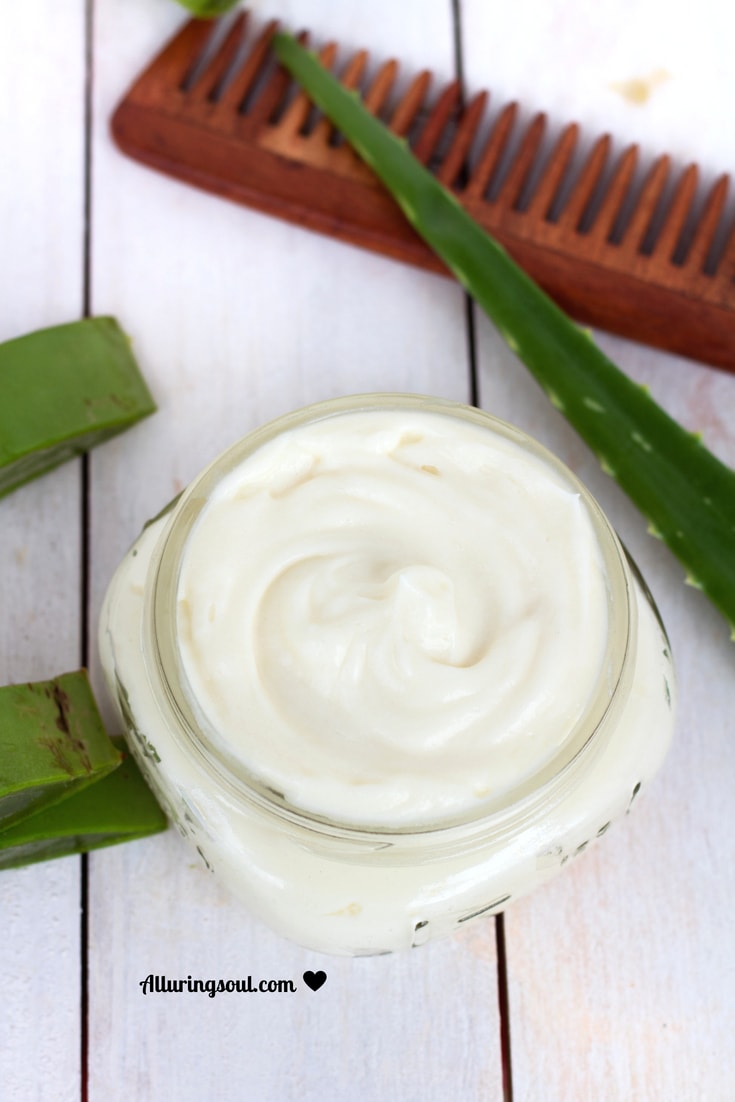 ---
Benefits Of Aloe Vera Leave-In Hair Moisturizer
Aloe Vera contains necessary vitamins and minerals which are required for proper cell growth.
It helps to produce sebum (skin oils) on the scalp, which prevents hair from drying out and breaking.
Vitamin B12 in aloe vera is important for a healthy scalp.
Because of this, it can help to boost hair regrowth. Aloe vera helps in moisturizing your scalp and hair, keeps them hydrated.
Coconut oil is high in antioxidants, which helps to prevent free radical damage to the body, including heat and environmental damage.
It is one of the best natural treatments for hair.
It brings back the softness to your hair thanks to its fatty acids.
Coconut oil nourishes the scalp because the oil is a natural antifungal, antimicrobial, antibacterial and has soothing properties.
It can also offer relief from dandruff conditions.
Shea butter prevents the hair from drying out and becoming brittle, a common problem in hot, windy conditions.
It seals in the moisture by coating each strand of hair in a thin, non-greasy layer of fat.
Since the butter can penetrate deep into the skin layers, it may help reduce the hair pores inflammation and make the scalp and hair healthy.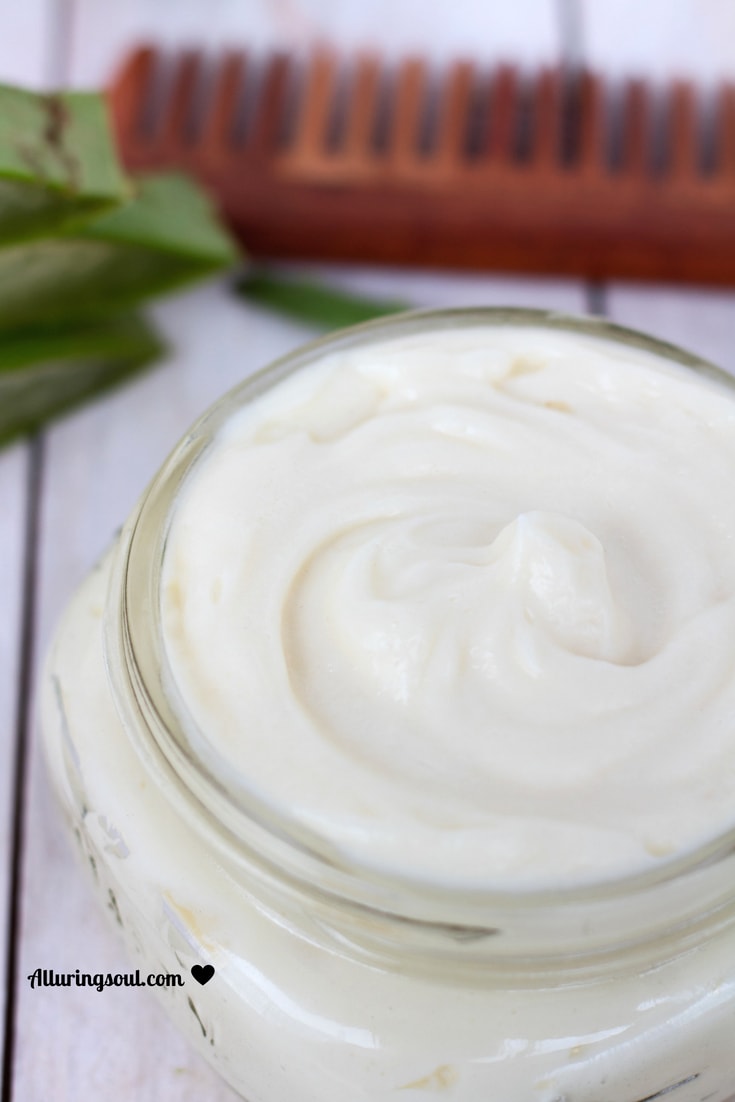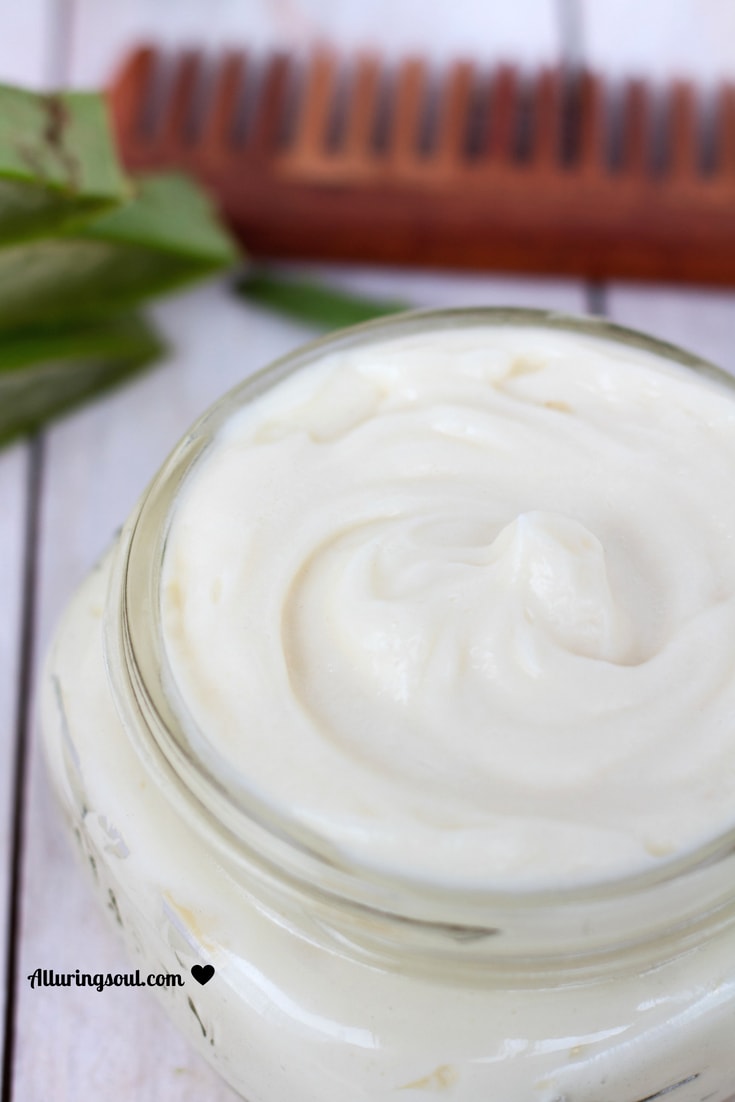 Olive oil will help you keep your hair healthy and soft.
Much like coconut oil, olive oil has healing and softening properties that will make your hair healthy and shiny.
It helps in hair growth due to its vital vitamins and nutrients contents.
Almond oil contains all kinds of healthy ingredients for hair like fatty acids, vitamin E, and magnesium.
It nourishes and strengthens the hair, and is optimal for treating hair loss and damaged hair.
It makes hair manageable and gives shine to hairs.
Cetyl Alcohol is a fatty alcohol derived from vegetable oils, which is used as a thickener in creams and lotions.
There are other thickeners too but cetyl alcohol is best for making hair conditioning products.
BTMS -50 is an emulsifying ingredient which helps to combine water and oil together.
It is a plant-based emulsifier which is derived from natural oil called rapeseed oil.
It is also a conditioning agent that conditions hair like no other emulsifier available.
This is the best emulsifier for making hair care products.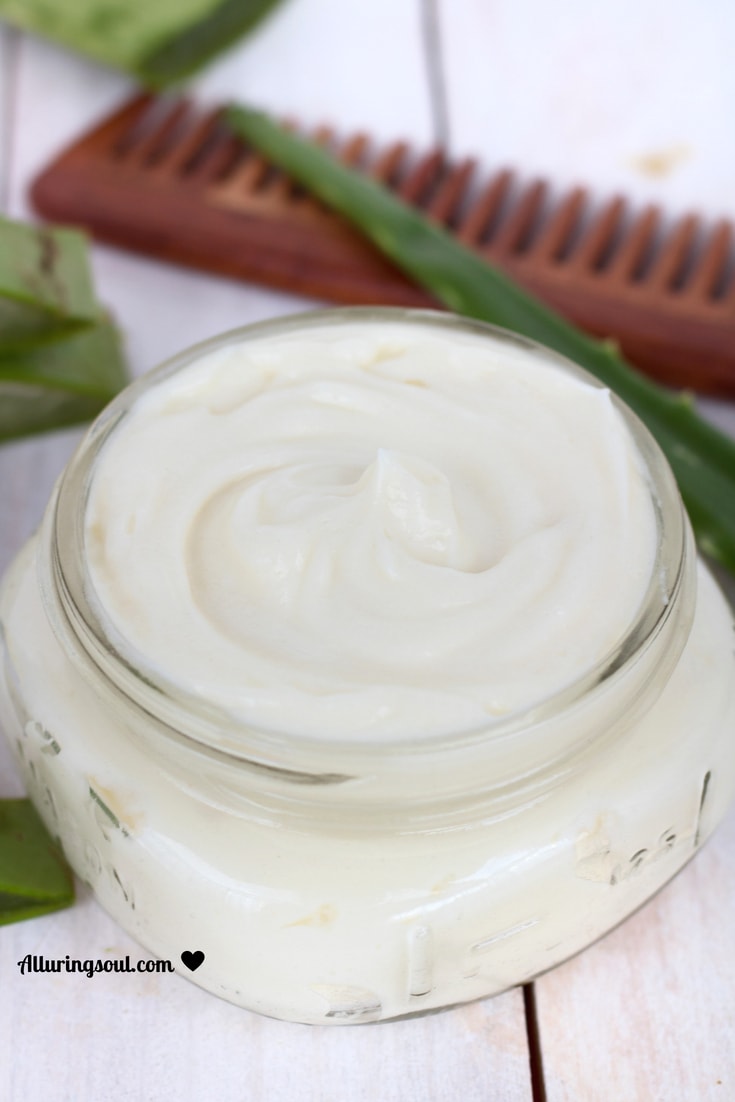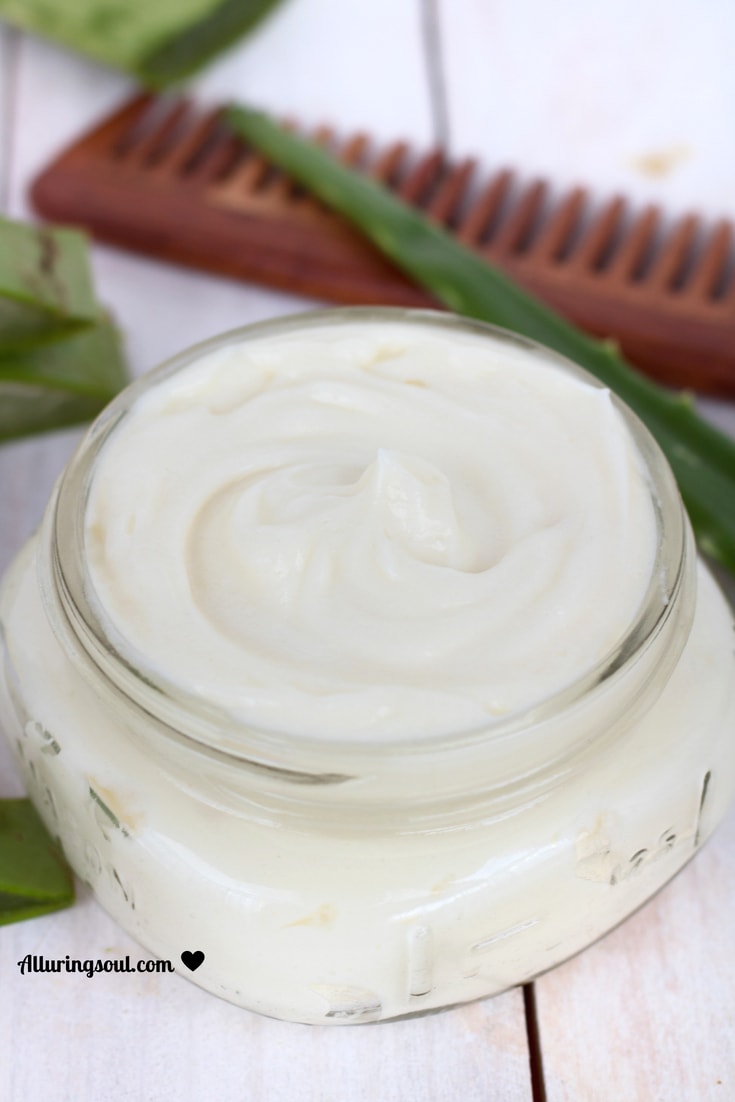 Rosemary essential oil is great to get rid of hair loss and thinning.
Rosemary treats alopecia through resolving the underlying hair loss cause as opposed to fighting hair loss symptoms itself.
Studies reveal that Rosemary essential oil achieves similar hair growth effects as minoxidil – a conventional hair growth booster.
Rosemary essential oil, however, is applauded for its fewer side effects when compared to minoxidil. This makes Rosemary a safer hair growth option. (source)
---
Procedure To Make Aloe Vera Leave-In Hair Moisturizer
DIY Aloe Vera Leave-In Hair Moisturizer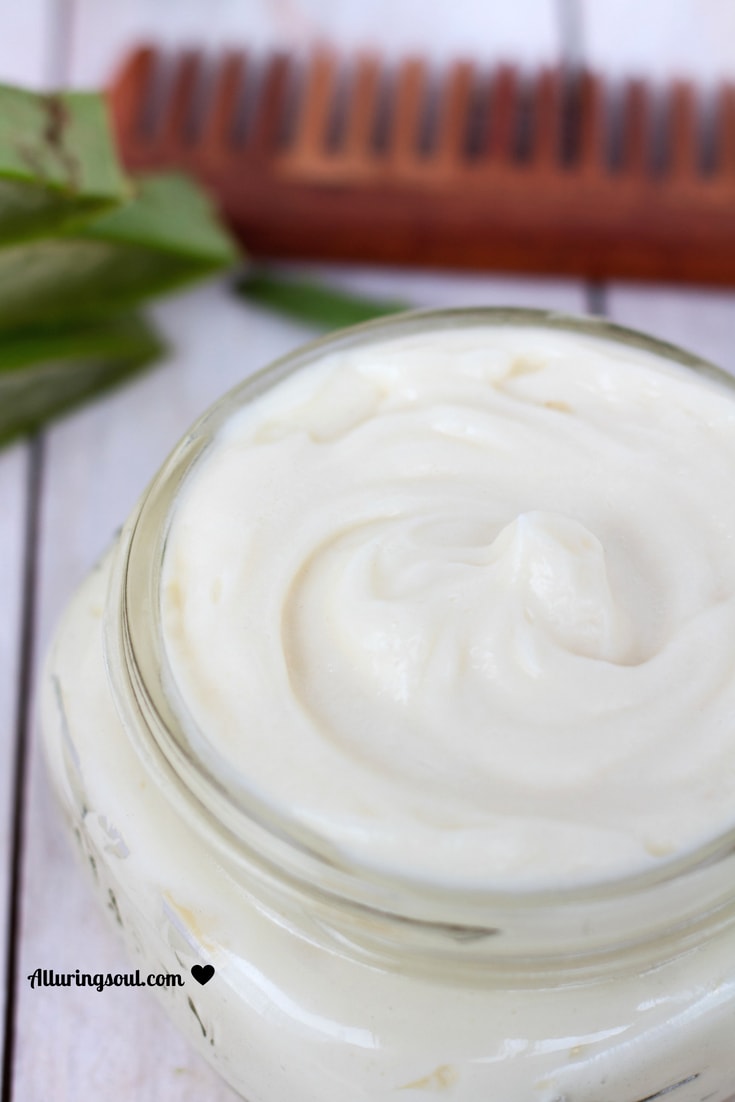 Make your hair deeply moisturized and nourished with this aloe vera leave-in hair moisturizer. It makes hair soft and manageable.
Recipe type:
Leave-In Hair Moisturizer
Ingredients
Heated Water Phase
Heated Oil Phase
Cool Down Phase
Instructions
How To Make
Prepare a double-boiler system by adding about 1 inch of water in a wide, flat-bottomed sauté pan. Put the pan on the stove and set the stove on low heat.
Weigh the water phase ingredients into a heat-resistant glass measuring cup. Cover the container with aluminum foil to avoid evaporation of water content.
Weigh the oil phase ingredients into a second heat-resistant glass measuring cup.
Place both measuring cups in your prepared double boiler system to melt everything through.
After about 20–30 minutes the oil part should be completely melted and the water part should be warmed.
Remove the double boiler pan from the heat, remove the foil and pour the oil part into the water part.
Mix the water and oil mixture with a spoon to combine them. Stir the spoon for 10-15 seconds.
Now, immediately grab your immersion blender and begin blending the lotion.
Blend for about a minute, leave to cool for ten minutes.
After 10 minutes, blend for another minute or two, and repeat this blend-cool-blend cycle until the glass measuring cup is barely warm to the touch and the lotion is thick and creamy.
When the lotion is cool it's time to incorporate cool-down phase ingredients.
Weigh down the liquid germall plus preservative and vitamin e oil and add them into the cream. Then, add essential oil to the cream.
Mix everything well and store it in an airtight jar.
Just scoop a little leave-in hair conditioner or cream with your cleaned fingers and apply to your hair. You can leave it overnight and wash the hair with shampoo or simply use it as a leave-in conditioner to control frizzy and dry hair.
Notes
1. You can use emulsifying wax NF (
Find It Here
) if you dont have BTMS-50.
2. Be sure to do a patch test to make sure your skin does not have an adverse reaction to the oils. The inner forearm is a great place to do a test since the skin is delicate, similar to facial skin.
3. Additionally, pregnant women, infants, and young children should avoid certain essential oils. so be sure to do your homework beforehand.
4. Keep the container away from light.
---