Baking soda scrub is an enemy for all the microbes and dirt that make our skin rough, irritated, dark etc.
It's the perfect ingredient for skin and I personally include in my healthy skin regime and it works well on my skin.
Baking soda scrub is one of my favorite scrub except for honey and sugar scrub.
It is the cure for all skin imperfections like acne, dark spots or patches, dullness etc as it has the potential power to treat skin as well as hair problems too.
You can also add it to your skincare routine as its the cheapest ingredient in your pantry that will satisfy your target issues.
---
What do beauty experts or dermatologists say about baking soda scrub?
Dr. David E. Bank, the director of the Center for Dermatology, Cosmetic & Laser Surgery. He said, "Baking soda we love in dermatology — it's anti-inflammatory, it's antibacterial."(Source)
According to Dr. Doris Day, a New York Dermatologist, "For the most part, I prefer canadian drug store or department store or cosmeceutical products from your dermatologist because they're actually tested on the skin and they go through certain quality control measures".
He said, "But in a pinch, there are things you can use at home. You just have to pick carefully and learn a little bit from the past. People have been using substances like olive oil, yogurt, vinegar, honey and aloe for skin care for ages, and now there are scientific studies that explain why they work. Salt and sugar are excellent exfoliants".
He also explained that "Baking soda, as well, can be used as a fine-grained exfoliant, and may have antiseptic and brightening qualities as well".
It's simple to add salt, sugar or baking soda to any cleanser you already have and make it a scrub. (Source)
Scott-Vincent Borba is a Hollywood beauty expert, and the author of three best-sellers Makeup for Dummies, Skintervention and Cooking Your Way to Gorgeous.
He Said, baking soda is a very simple, money saving and effective face wash as you will feel the difference of this all-natural exfoliating treatment after just one day. (Source)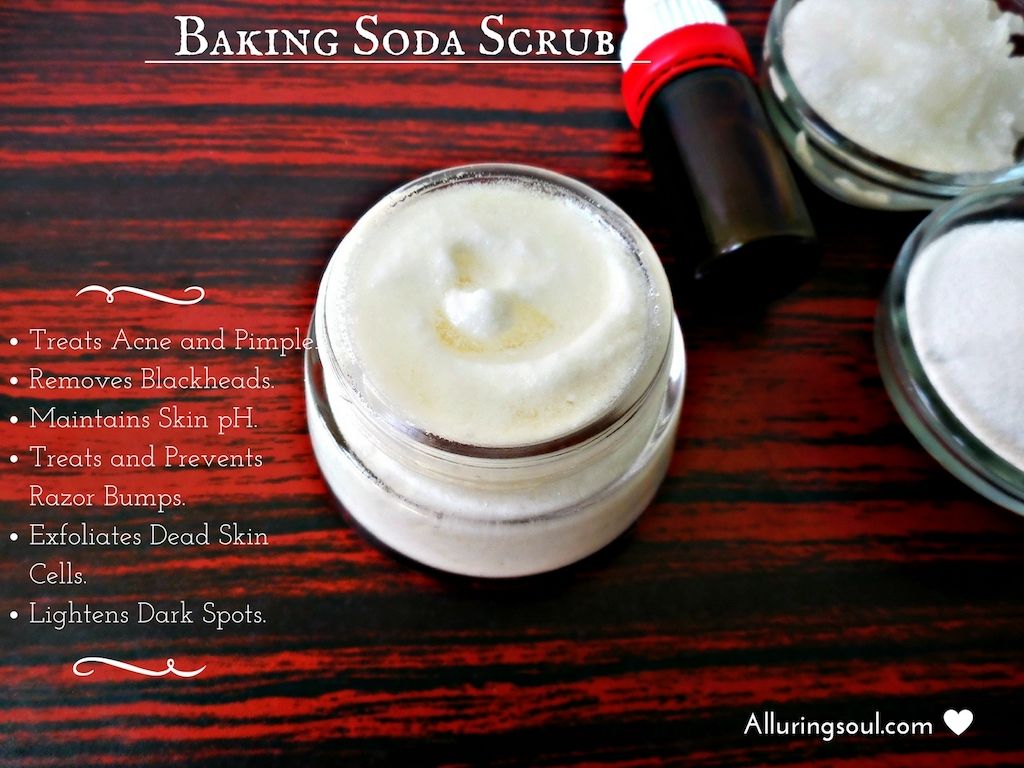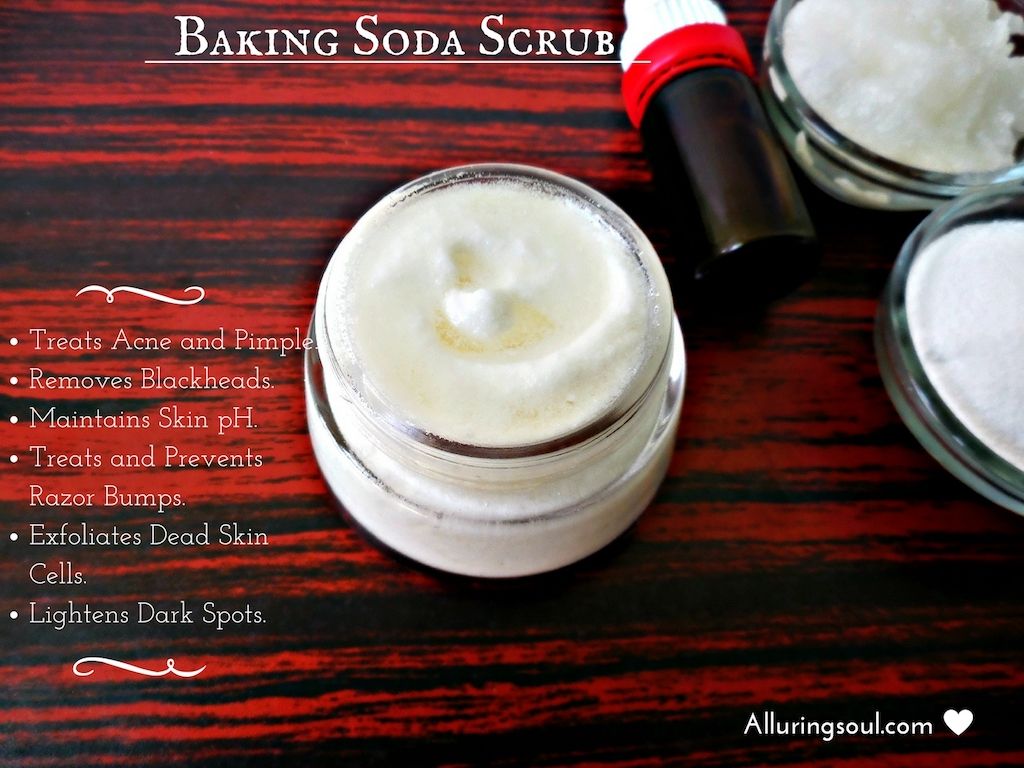 ---
How baking soda scrub is an effective remedy for all skin flaws.
Baking soda scrub is a mixture of coconut oil, tea tree oil, lemon oil and of course, baking soda. Let's take a look at the benefits of these ingredients:
Baking Soda
Coconut Oil
Lemon Oil
Tea Tree Oil
---
Indeed, Josh Peterson of The Discovery Network's Planet Green writes: 'Baking soda makes a top-notch exfoliation.
Why? Baking soda is coarse, but not too coarse.
It's the best amount of coarse for removing the top layer of dead skin cells, and if applied correctly, it won't cause your sensitive facial skin to become red and irritated.'
He recommends mixing a teaspoon of the powder to a facial cleanser and massaging the concoction into the skin. This should be repeated two to three times a week. (Source)
Now go ahead and try this awesome baking soda scrub and do let me know about your experiences in the comment below. I would more than love to hear them.
You can find more great skincare and haircare DIY recipes on my Pinterest boards. Follow me on Pinterest to get all the updates from me!
Need more inspiration for natural skincare and haircare – Checkout my list of best natural and organic products here. All my favorites in one spot.
You know you can start your own blog and make money from it. I do it. Learn how to start a WordPress blog in minutes.
---
 Procedure For Baking soda scrub
A Powerful Baking Soda Scrub For Your Every Skin Flaws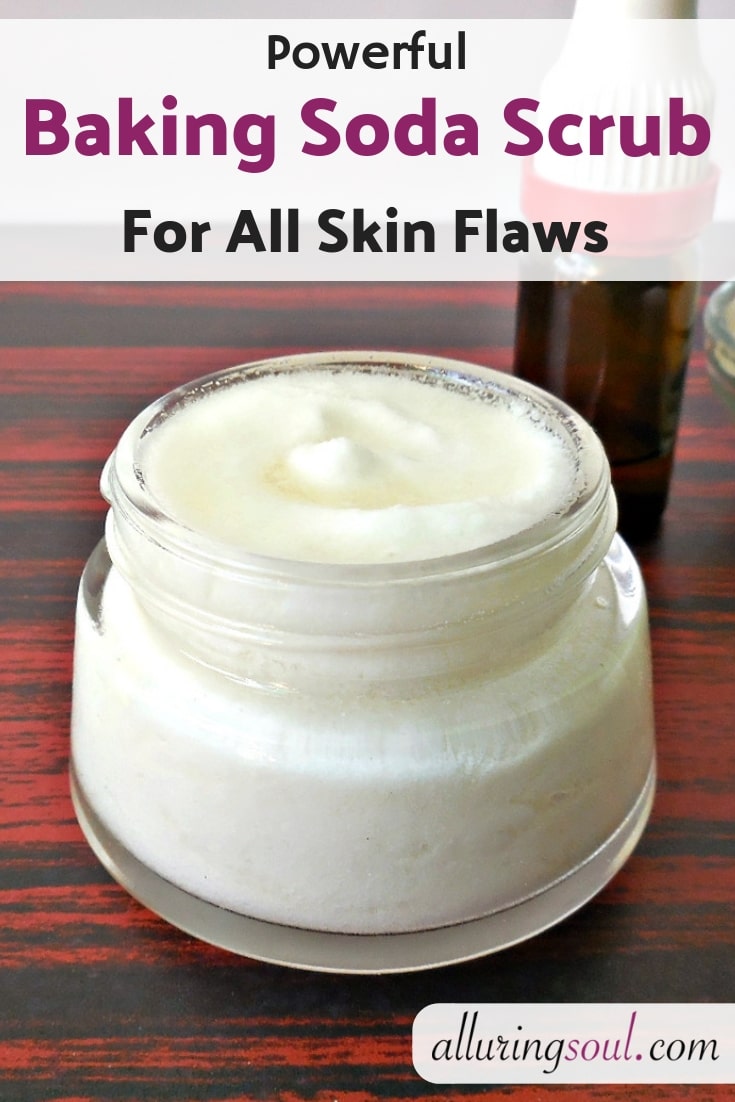 Baking soda scrub is an enemy of microbes and dirt that make our skin rough, irritated, & dark. It treats acne, razor bumps, blackheads, and hydrates skin.
Recipe type:
Baking Soda Scrub
Instructions
How To Make
Take a bowl and combine all the ingredients and mix well.
Store it in an airtight glass container for future use.
You can keep this scrub for a couple of months but do not let water to go inside the container as it can spoil the mixture.
There is no need to store it in a refrigerator as this will harden the coconut oil. It's better to keep the container at normal room temperature.
How To Apply
First, wash your skin with soap or body wash and rinse it well.
If possible have a hot water bath or shower. Hot water will open up your pores, making your skin much more susceptible to cleaning.
Apply a sufficient amount of scrub to wet skin over your entire body, massaging in a circular motion for 5-10 minutes to allow the granules to remove dead skin cells.
Finally, rinse it off well.
Notes
1. Causes of ingrown hairs can be having naturally coarse or curly hair, wearing clothing that is too tight, tugging at the skin with the razor, shaving or waxing in the wrong direction and not exfoliating regularly after hair removal. Make sure you're using a clean, sharp razor (a new one if it's disposable), shave in the direction of the hair growth, and do not pull the skin tight to try to get a closer shave (yep, this can cause ingrown hairs).

2. Be sure to do a patch test to make sure your skin does not have an adverse reaction to the oils. The inner forearm is a great place to do a test since the skin is delicate, similar to facial skin.

3. Additionally, pregnant women, infants, and young children should avoid certain essential oils. so be sure to do your homework beforehand.

4. Keep the glass container away from light.


---
Free Recipe PDF