Is your hair dry, damaged, rough or frizzy? Is your hair not growing to the length you desire?
If so, it could be because you are doing something wrong.
Yes, I was doing wrong with my hairs.
I was using a shampoo which was filled with many chemicals and also, I was not often to get oiled my hairs.
This was the curse for my beautiful hair.
Then, searching a lot on the internet, I came to know that castor oil for hair is the only remedy that everyone's trying to get stronger and healthier hair.
I have also heard about some essential oil which works great for skin(My own face serum) as well as hair.
These aromatic essential oils penetrate deeply into hair shaft and follicles and help produce healthy, shiny hair.
So, I thought to give a chance to my hairs and made my own hair oil recipe for dandruff and hair fall.
This worked great on my hairs and I am still using my own DIY hair oil. It not only targeted my concerned area, it conditions my hairs too.
So, I thought everyone should get the benefit of castor oil for hair and made some other castor oil recipes which will effectively work and will give proper nourishment to your hairs.
I have used essential oils like tea tree oil and rosemary oil along with castor oil to get more benefits in one application.
Castor Oil is the best option for healthy hair.
There is some rationale that PGD2(Hormones) might lead to hair loss in some people.
Given that ricinoleic acid – a component of castor oil – can block/inhibit PGD2, does appear to lend some evidence to its effects.
The main ingredient of castor oil is ricinoleic acid and omega fatty acids which make it a boon for hair related problems.
Let's take a look at the benefits of these miraculous components of castor oil.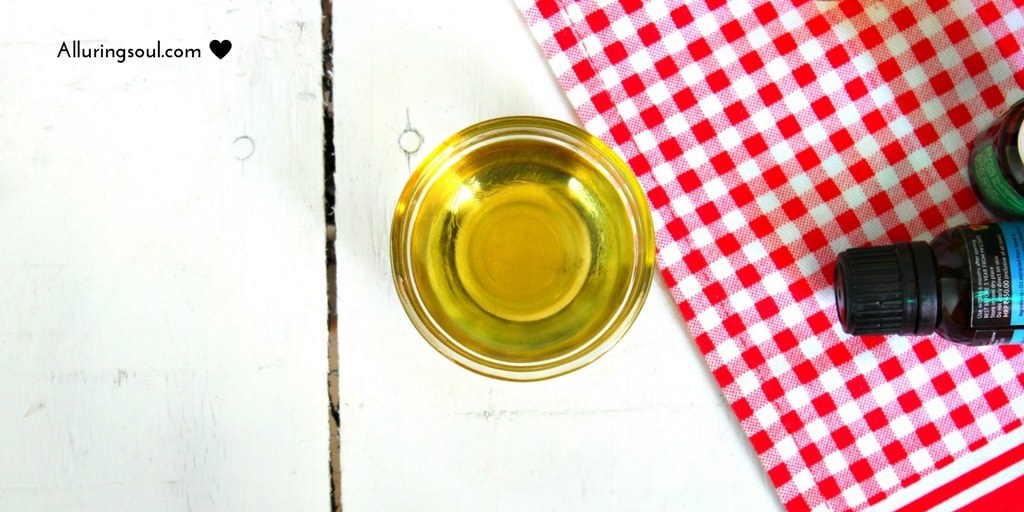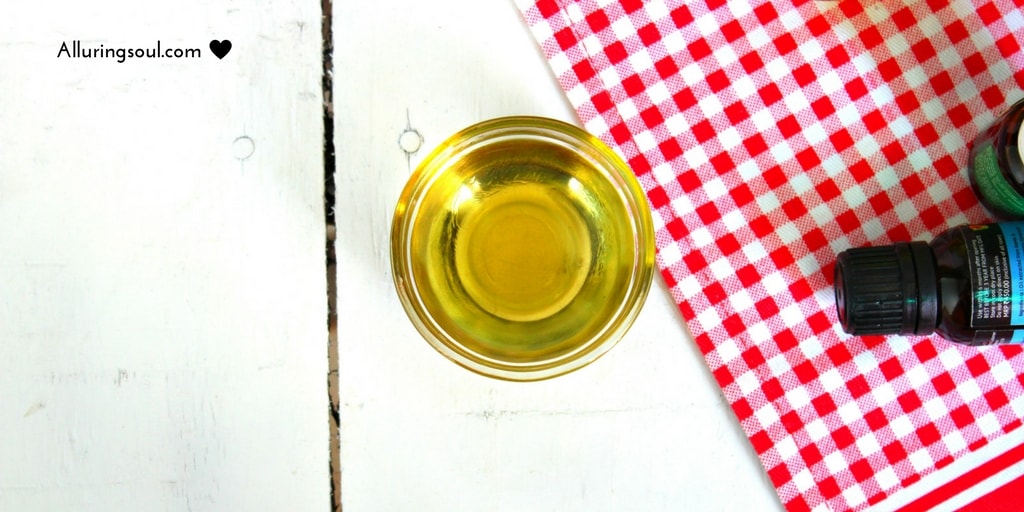 ---
Benefits of Castor Oil for Hair
The ricinoleic acid of Castor oil.
Castor oil is a thick and heavy liquid which will you not want to use it for your hair but it's a proper food for your hair. The ricinoleic acid which

accelerates 

blood circulation to the scalp, hence increasing hair growth.

It works on nourishing the scalp and strengthening the roots.

It also has antibacterial, anti-inflammatory and antifungal properties making castor oil for hair your secret weapon to treat your damaged hair.

In the study, scalp tissue with high levels of Prostaglandin E2 had healthy hair growth but in balding areas, it was found in much lower levels. Castor oil made up of 90% of fatty acid chains unclogs the block pores and helps the hair to grow.

It helps to get rid of the dry scalp which can lead to dandruff and

itchy scalp

.
Castor oil has Omega Fatty Acids.
It treats scalp infection can cause major hair problems like bald patches, itchy scalp, etc.

Castor oil is filled with essential nutrients like vitamin E, omega-6 fatty acids, etc, which will help you to treat split ends and breakage.

It helps castor oil to get penetrate deeply into the hair follicle and nourish the hair roots.

Makes hair softer and manageable and controls water loss in hair.
---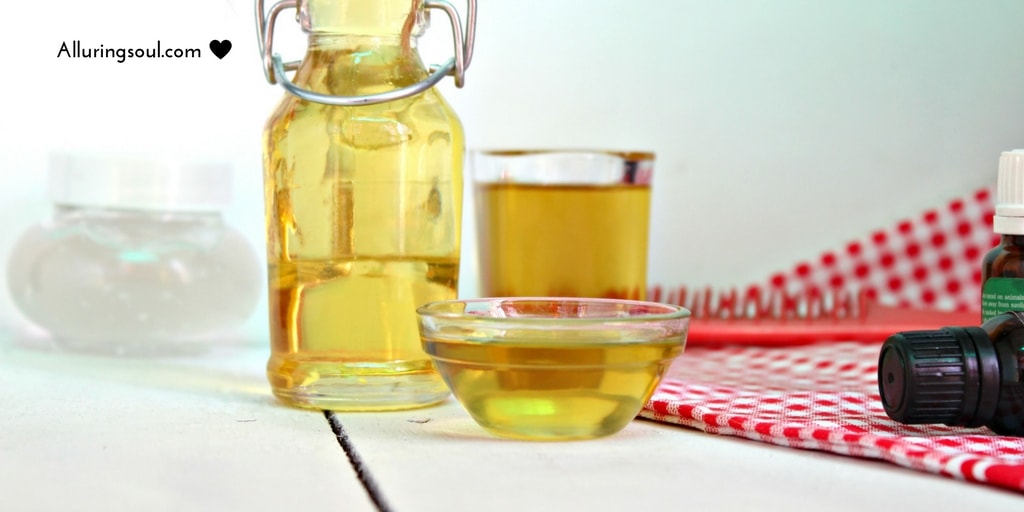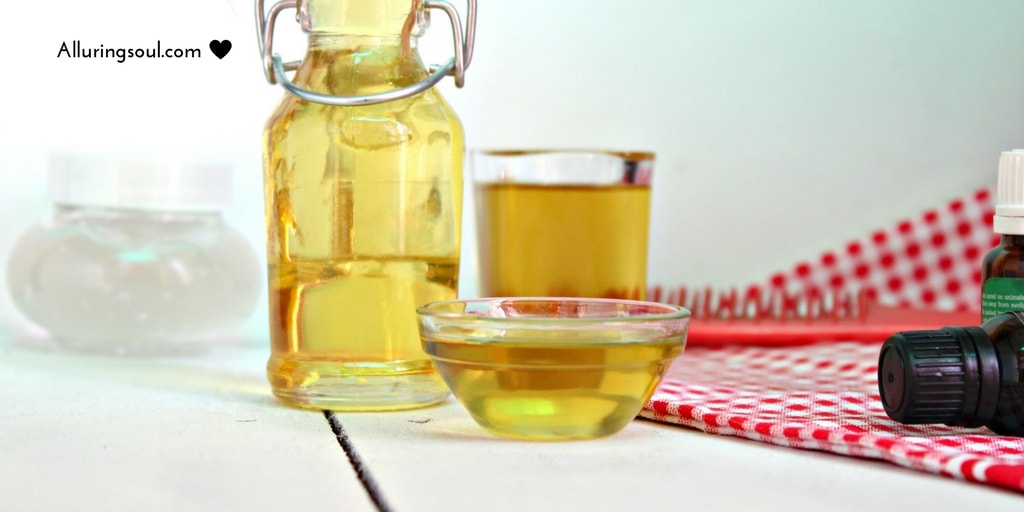 1. Castor oil for hair loss
What will you need
How to apply
Take castor oil as per your hair density or length of hair and add 1-2 tablespoons of fresh ginger juice. Mix them properly and apply to the scalp first, targeting more on affected area and then to the hairs.

Keep this mixture for 20-30 minutes and wash it off with herbal shampoo.

Repeat this for 2-3 times a week to prevent hair loss and for the regrowth of new hairs.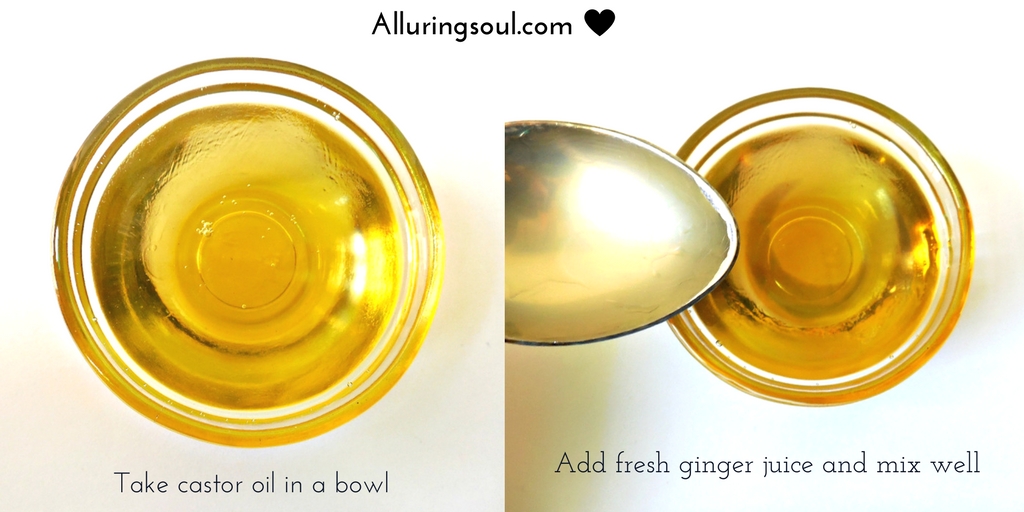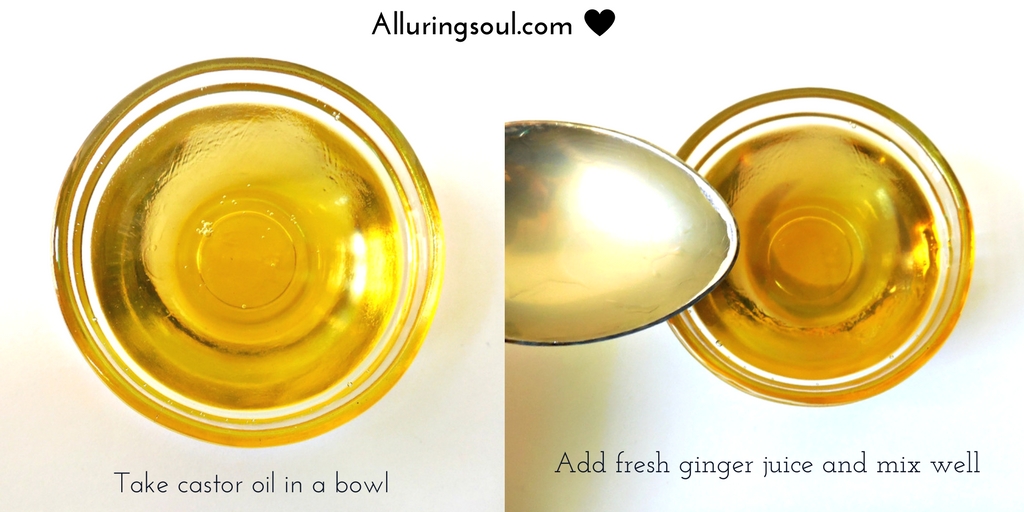 Ginger juice has the power to regrow the hairs as it stimulates the hair follicles by increasing blood circulation to the scalp.
It clears the clogged pores by removing dirt and product build-up and Castor oil will provide proper hair nourishment by conditioning hair deeply and also by providing essential nutrients necessary for preventing hair loss like vitamin E, omega fatty acids etc.
Both ingredients are the perfect for hair loss.
---
2. Castor oil for dandruff
What will u need
How to apply
Take castor oil according to your hair density and mix 2-3 tablespoons of aloe vera gel. Now, add 2-3 drops of tea tree oil into the mixture and mix well.

Apply the mixture to the scalp properly and keep it for 30-40 minutes. Wash it off with herbal shampoo. Repeat this for 3-4 times a week to get the fast result.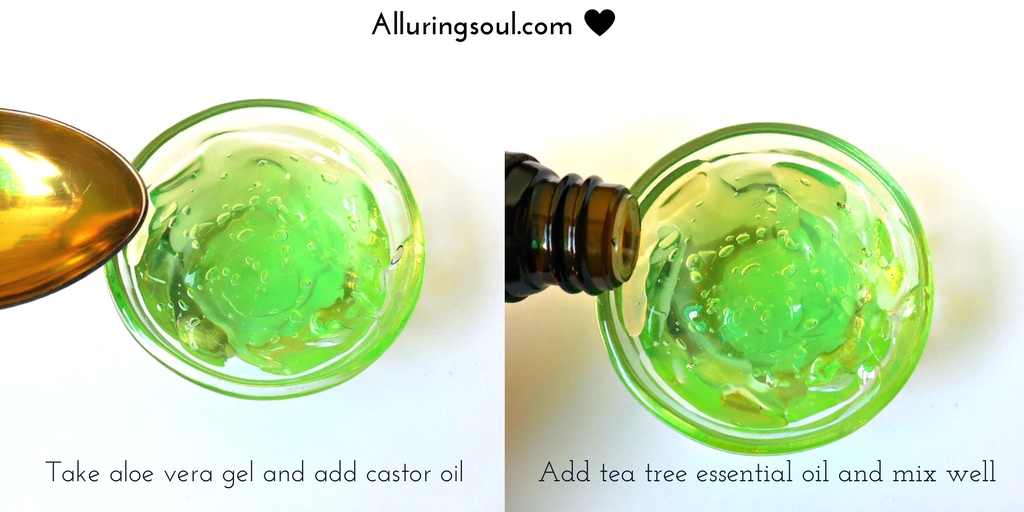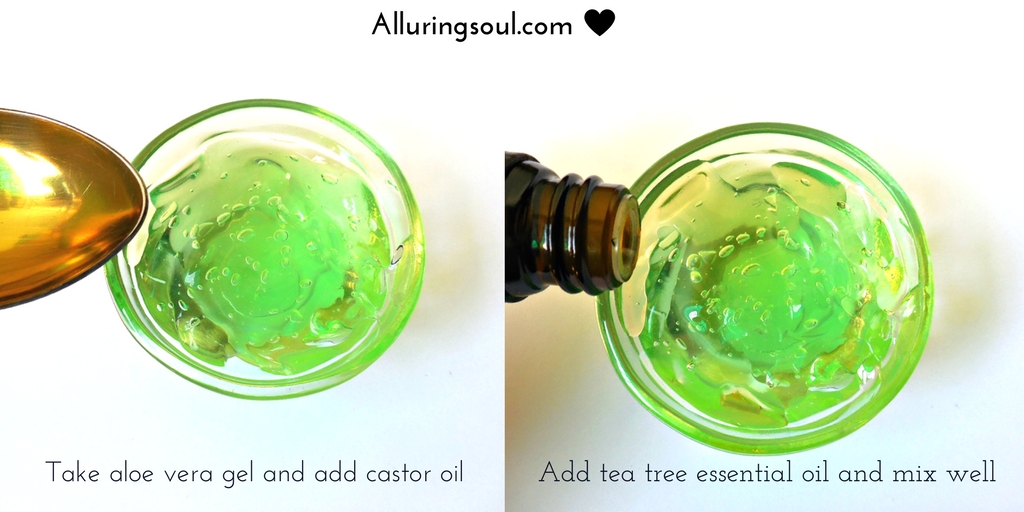 Aloe vera gel has the essential nutrients that help to regulate healthy sebum, an oily substance secreted by the scalp, which keeps hair from drying out and breaking off.
In addition, Vitamin C fights dandruff causing microbes and calms itchy scalp.
A mixture of castor oil and aloe vera gel will make your hair healthy, provide moisture to the hair strand and will remove dandruff too.
Tea tree oil has antiseptic, antiviral, and anti-fungal properties which kill the harmful microbes causing dandruff.
It also promotes hair growth and minimizes the hair fall problem.
After applying this natural remedy you will get relieved from dandruff and itchy scalp related to dryness.
---
Castor oil for Hair Growth
What will you need
How to apply
Take a small bowl and mix equal quantity of castor oil and almond oil as per hair requirement. Now, place this bowl in a larger bowl containing hot water. This will warm the oil and warm oil will deep condition your hair and scalp. Then, add 2-3 drops of rosemary oil and mix well.

Make partitions of your hair and apply the oil mixture to the scalp and hair. Keep this for 30-40 minutes or overnight and rinse it off with herbal shampoo. Repeat 3-4 times a week to promote hair growth fast.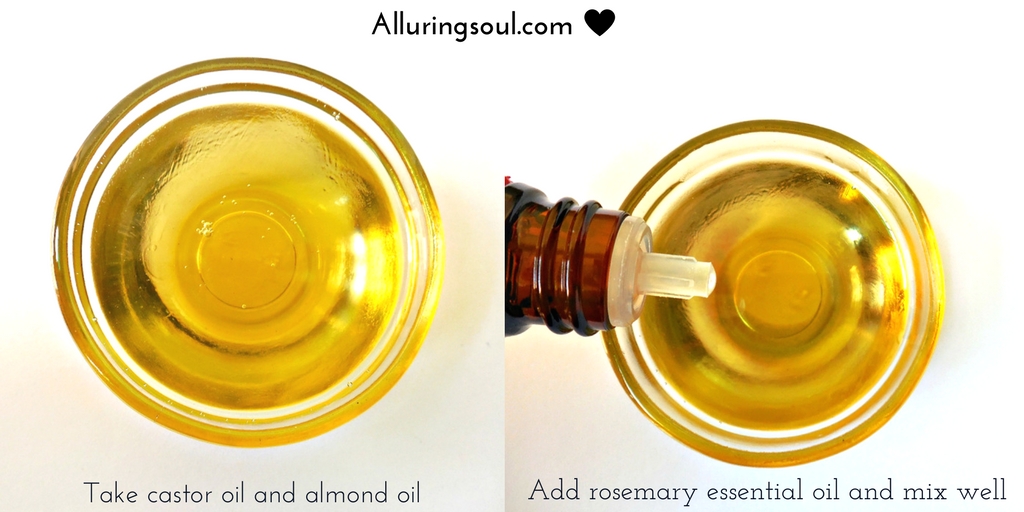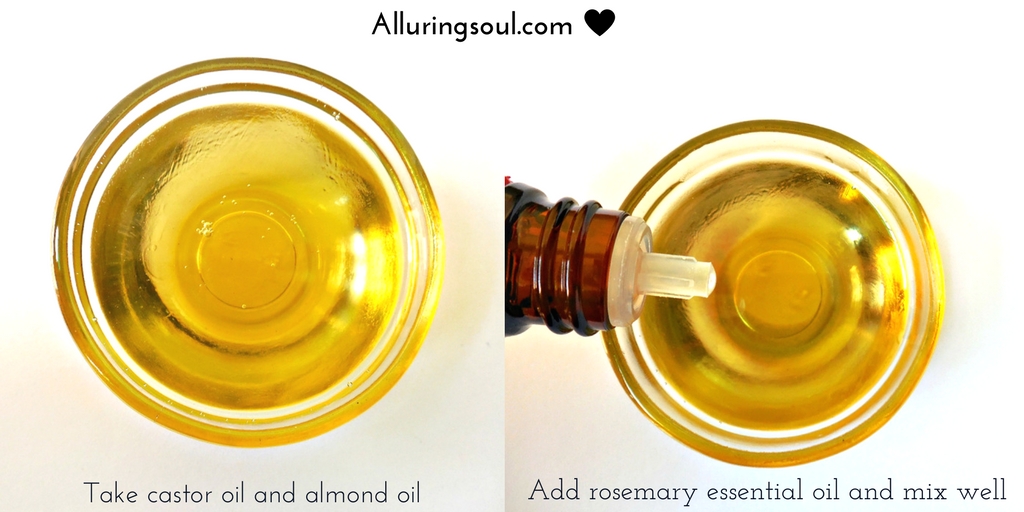 Castor oil carries ricinoleic acid and omega- 6 essential fatty acids and almond oil have vitamin A and E which accelerate blood circulation to the scalp, hence increasing hair growth.
It works on nourishing the scalp and strengthening the roots with the help of essential nutrients.
Rosemary essential oil is one of the premier hair growth enhancing essential oils.
It is packed with antioxidants which help scavenge free radicals – that are responsible for graying as well as hair thinning.
It is also effective for treating dandruff, itchiness, scalp irritation and oily skin.
---