Leave-in conditioner is a must-have hair care product in your beauty bag. It really helps your hair by locking in moisture as well as adding softness and shine.
If you want to spare your hair tresses from harsh chemicals found in store-bought products, then this DIY hair growth stimulating leave in conditioner recipe is the way to go.
You'll love the natural smooth feeling of your hair and the de-frizz effect you will get from it. It gives you the smooth and shiny texture to your hair plus it stimulates the hair growth because of effective essential oil and hair oils as the main ingredients.
Let's take a look at what are the benefits of ingredients used in making DIY growth stimulating leave-in conditioner.
---
Benefits of DIY Hair Growth Stimulating Leave-In conditioner & Its Ingredients
1. Shea Butter
Shea butter is composed of different types of fatty acids and they are great for hair products to coat, condition, and protect the hair shaft without dulling or weighing it down.
Unrefined shea butter has essential vitamin A, vitamin E, phytonutrients and healing fats to help with the health of the hair and scalp.
Shea butter can be applied to both the hair and scalp. If your scalp is dry, irritated or flaky, shea butter may provide critical moisture and help to heal a variety of skin and scalp conditions.
A healthy scalp is essential to maximize hair growth. Shea butter can also be applied to the hair to moisturize the individual strands, reducing dryness, frizz, and breakage.
Reduced breakage will result in longer and healthier hair over time. It can give easy protection from the damaging action of sun exposure and act as a barrier to the chemical pollutants in the air as well.
2. Coconut Oil
Coconut oil is rich in antioxidants and they provide a healthy nutrition to our hair. Antioxidants like Vitamin E and Vitamin K is found in coconut oil help repair and build healthy tissues.
When you apply coconut oil to scalp, it reduces inflammation and repairs damages done to hairs by chemical-filled hair products. Vitamin E and K will make hairs soft, manageable and shiny.
The caprylic acid of coconut oil is a good saturated fatty acid that has antibacterial, antiviral, antifungal and anti-inflammatory properties.
The hair protein easily binds with Lauric acid from this oil that gradually leads to the strengthening of hair strands and stops the breakage of hair due to thinning.
3. Argan Oil
Argan oil has a number of benefits when used on hair.
It can act as a moisturizer for the scalp to fight dandruff and dry scalp. It can also promote the growth of healthy, strong hair as opposed to thin, brittle hair.
It can even undo some of the damage done through chemical treatments and dyes and can be used to treat split ends.
Vitamin E  which is present in very high quantities in Argan oil promotes healthy hair growth as it contains antioxidants, which help boost cells and encourage them to produce healthy hair. It makes dry, brittle and frizzy hair manageable and soft.
4. Witch Hazel Hydrosol
Witch hazel is believed to help reduce hair fall. It enhances the blood circulation to the roots when massaged onto the hair.
This would fortify the grasp of the hair follicle into the tissues of the scalp and help control hair fall. This is one of the more popular hydrosols for hair care.
It is a hair cleansing and antibacterial tonic which soothes itchy dry and inflamed scalps. It also hydrates dry hair and conditions damaged hair ends.
It's also cooling and refreshing when used on its own as a hairspray.
5. Rosemary Essential Oil
It is the best oil for hair growth and hair thinning problem. It is known to increase the growth of new hair by 20%.
It is one of the premier hair growth enhancing essential oils.
It is packed with antioxidants which help scavenge free radicals – that are responsible for graying as well as hair thinning.
It is also effective for treating dandruff, itchiness, scalp irritation and oily skin.
6. Horsetail Extract Oil
Horsetail extract oil contains the mineral silica which works to make your hair strong and improves the sheen and texture of it as well.
Horsetail also contains selenium, a mineral that is essential for the proper growth of your hair, as it helps your body process iodine, which regulates hair growth and this active agent contributes to healthy hair follicle cells and prevent free radicals from damaging these cells.
It is astringent, therefore, it shrinks tissues and in this way reduces inflammation of any scalp hair follicles leading to hair loss. It rejuvenates the hair, adding sheen to the appearance and strength to the hair shafts.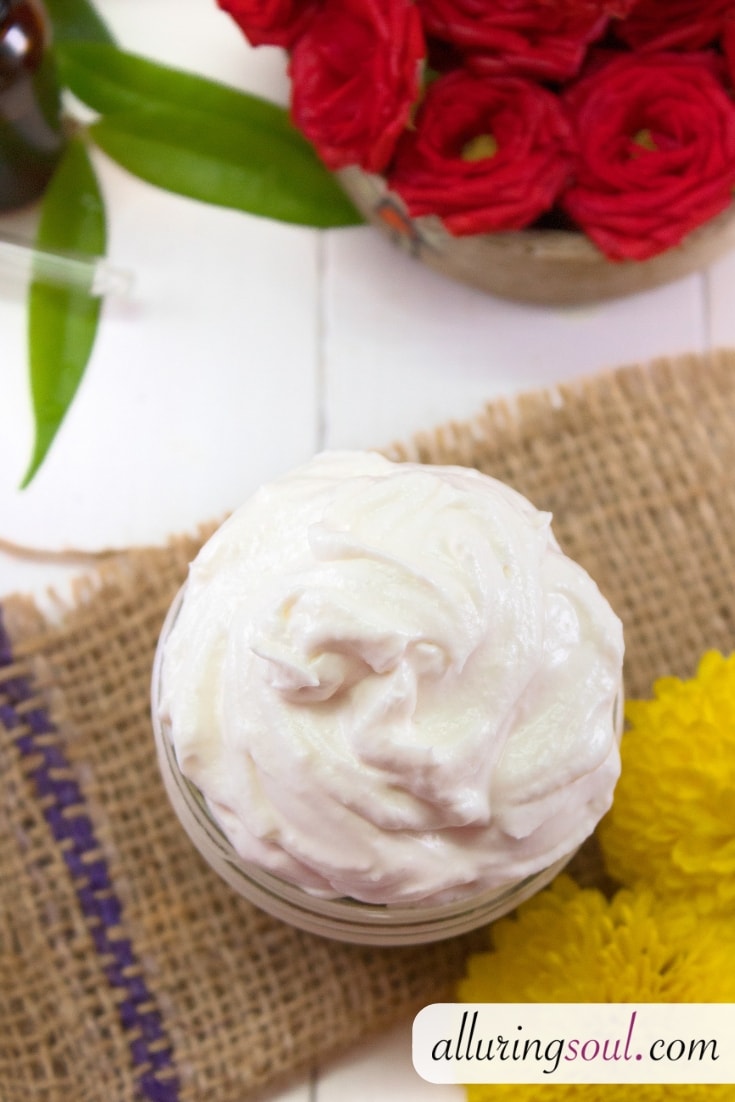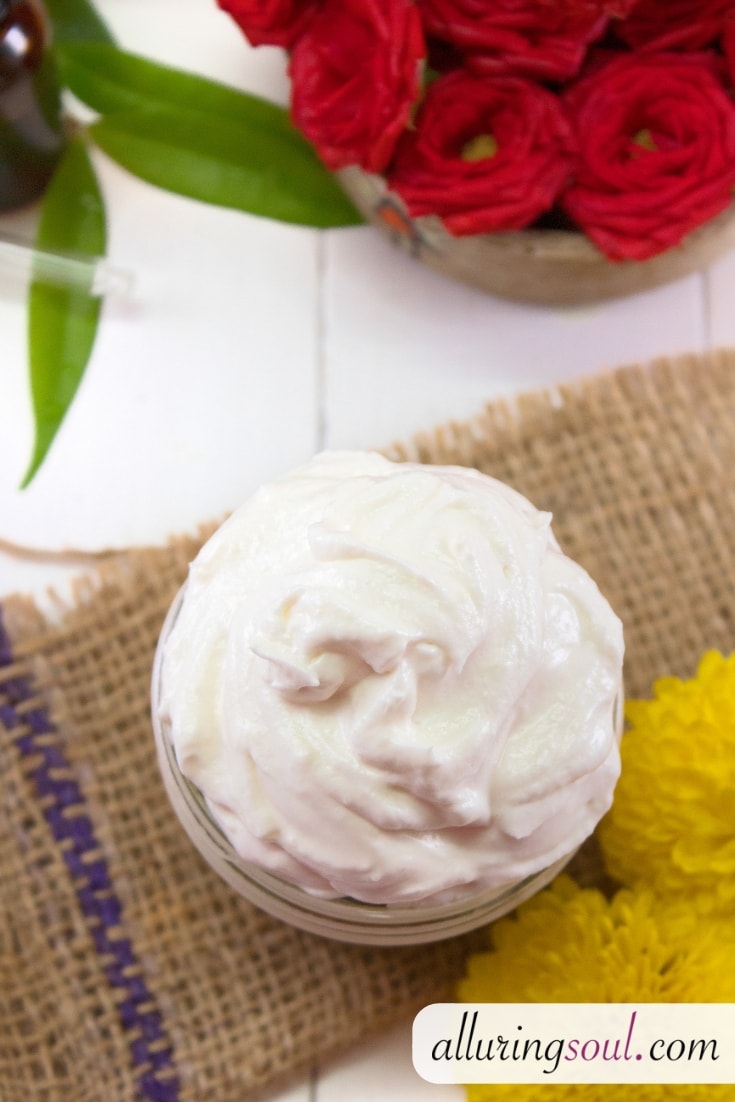 ---
Procedure to Make Hair Growth Stimulating Leave-In Conditioner or Cream
DIY Hair Growth Stimulating Leave-In Conditioner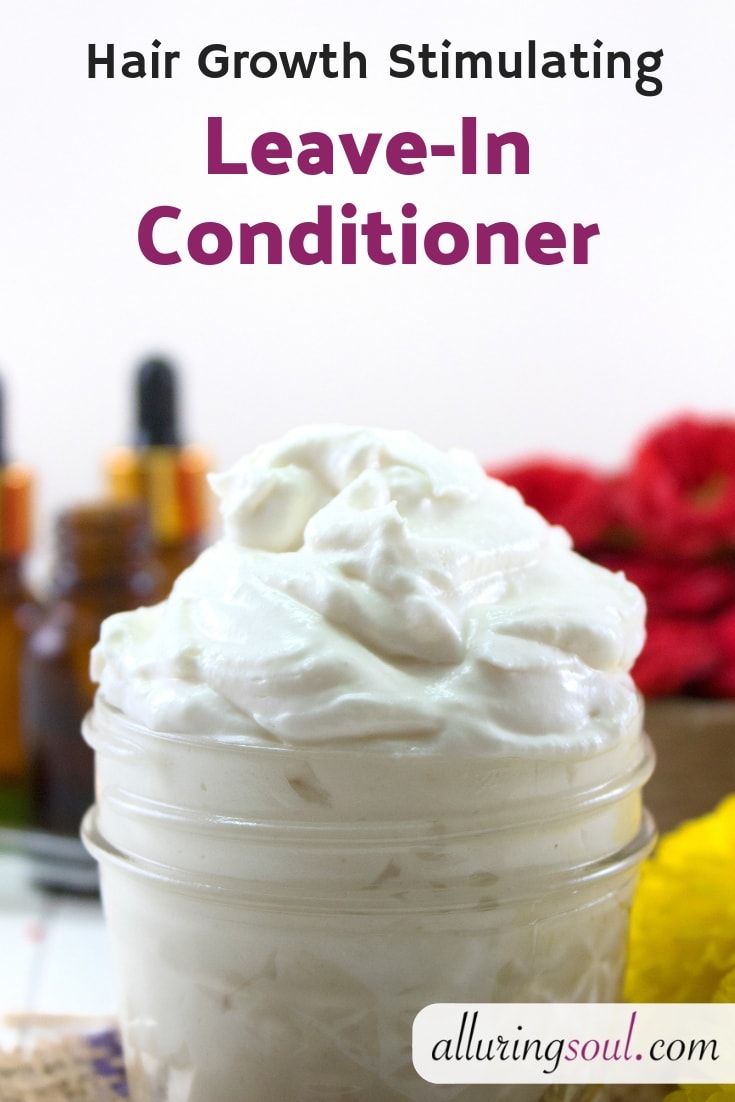 This leave-in conditioner will help you to get smooth and shiny hair which have hair growth stimulating factor to make your hair manageable and strong.
Recipe type:
Leave-In Hair Conditioner
Instructions
How to make
Make sure that your blender or immersion blender, bowl, and all utensils are very clean when you make this. If they're not fully sanitized, then your leave-in conditioner or hair cream can grow bacteria or mold. Clean everything with hot soapy water, then swab with rubbing alcohol or vinegar and let air dry.
Make a double boiler by adding a few inches of water in a large saucepan. Heat the pan on low flame. In a glass bowl, combine the coconut oil, shea butter, argan oil and place the glass bowl on top of a saucepan. Stir occasionally until everything is melted and combined.
Now, add vitamin E oil and mix all ingredients and let this mixture cool until it's room temperature. It should look creamy, thick and opaque, but don't let it get solid. Optional: You can place the blender in the fridge for about 20-30 minutes to speed up the process.
Now, if you are adding witch hazel then transfer it to a high-speed blender, close the lid (leaving the hole open) and start blending on high. Note: Your witch hazel hydrosol should be about the same temperature as the oil/wax mixture.
Slowly add the witch hazel hydrosol in a constant stream into the open hole of the food processor while it's blending the oil mixture on high. It will take about 3 to 5 minutes or more for everything to fully incorporate and blend until you get a creamy white mixture.
If you are not adding witch hazel, then, whip the mixture using your blender when the mixture is at room temperature for a couple of minutes until you get a creamy texture.
Now add essential oils into the creamy leave-in conditioner and mix well. Transfer to an airtight jar. Store in a clean and dry place.
How to apply
Just scoop a little hair conditioner or cream with your cleaned fingers and apply to your hair. You can leave it for overnight and wash the hair with shampoo or simply use it as a leave-in conditioner to control frizzy and dry hair.
Notes
1. You can use an immersion blender or a food processor instead of a blender.

2. If you are adding witch hazel to the leave-in conditioner, you can add a preservative to keep the conditioner for a longer period otherwise don't use any preservative(no water is added). It will keep for about 1-2 months (or longer), provided you keep it away from water and contamination. If you keep it in the fridge, it'll last longer.

3. You can use water instead of witch hazel hydrosol/aloe vera juice but using water, without a preservative, shortens the lifespan of products, so it's always best to use water-based products for short-term use.

4. It contains essential oils so do a patch test before applying it to hairs.

5. While shea butter is quite safe and can be beneficial for the skin and hair, you should avoid shea butter or shea butter products if you have tree nut allergies.


Free Recipe PDF
Try the leave-in conditioner and tell me how was it in the comments section below!