A smoothie for breakfast? Why not, when it is healthy. No No, don't think that it's healthy that means it's not delicious. I love smoothies and one of the best parts about a smoothie is that you can do anything with that. From light and fruity to rich and creamy, the variations are absolutely endless. Another great thing about them is that they're like dessert, but much healthier.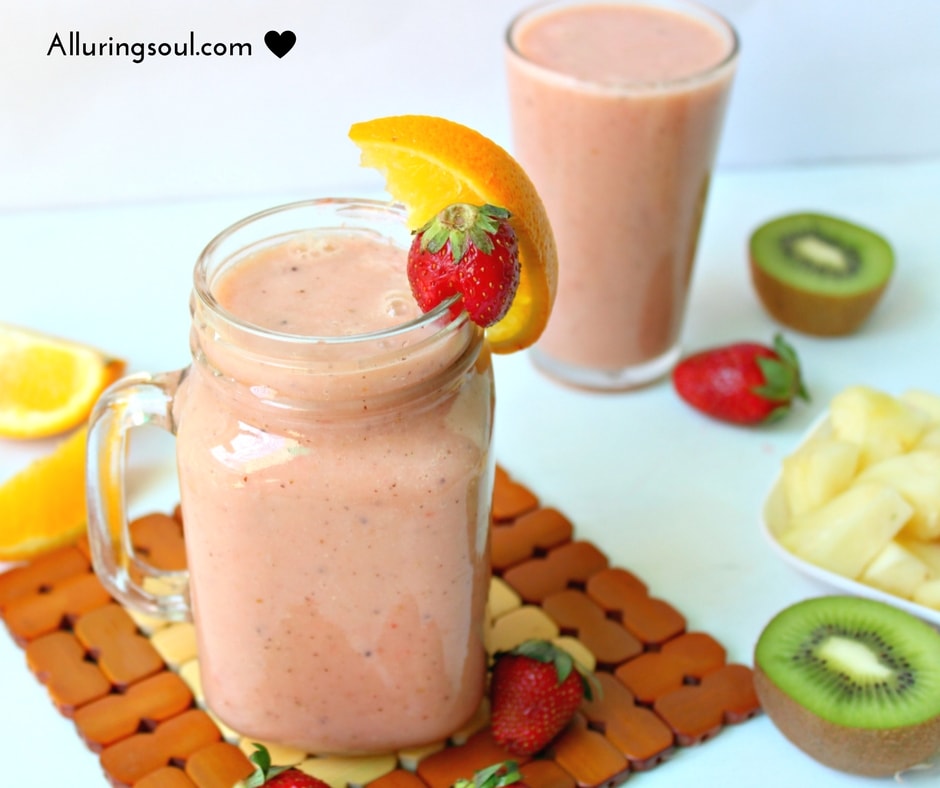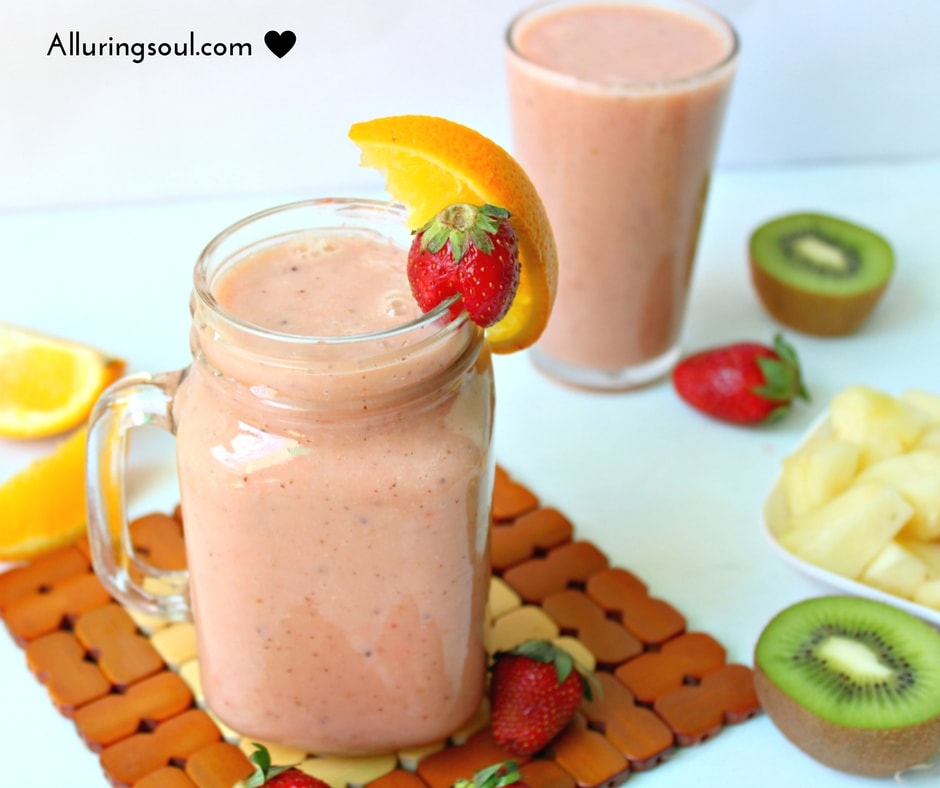 This smoothie consists of 5 basic ingredients you likely always keep on hand and it can be ready in no time. It has three of the best flavors, strawberry, pineapple, and kiwi all together in one decadent morning treat. All these fruits are packed with antioxidants and Vitamin C which is great for our health.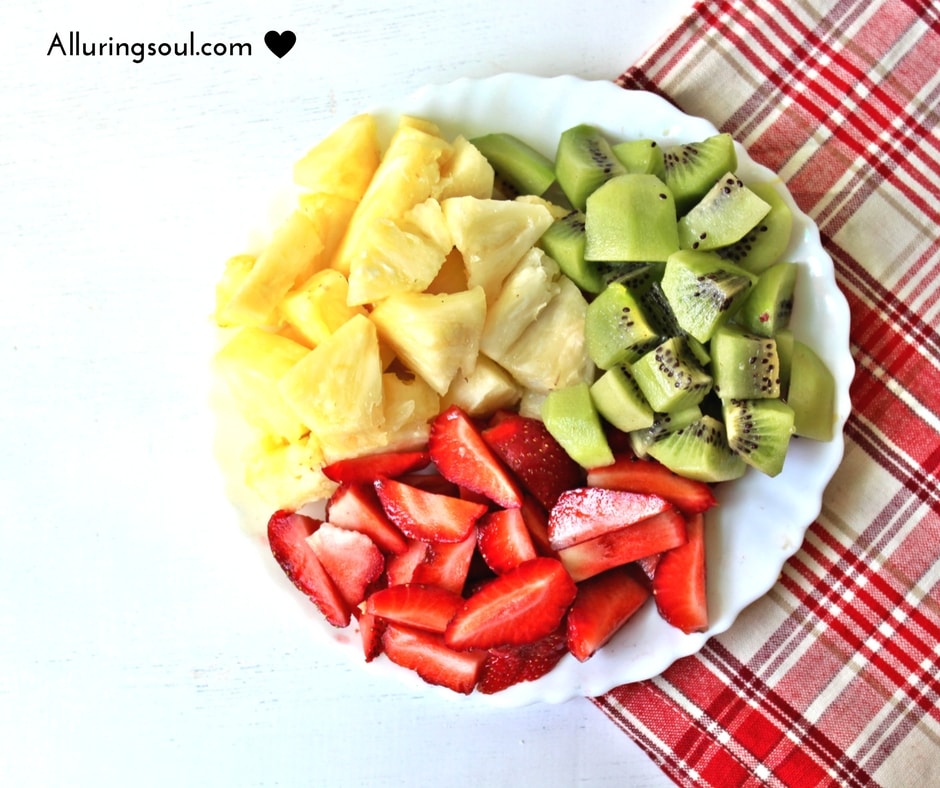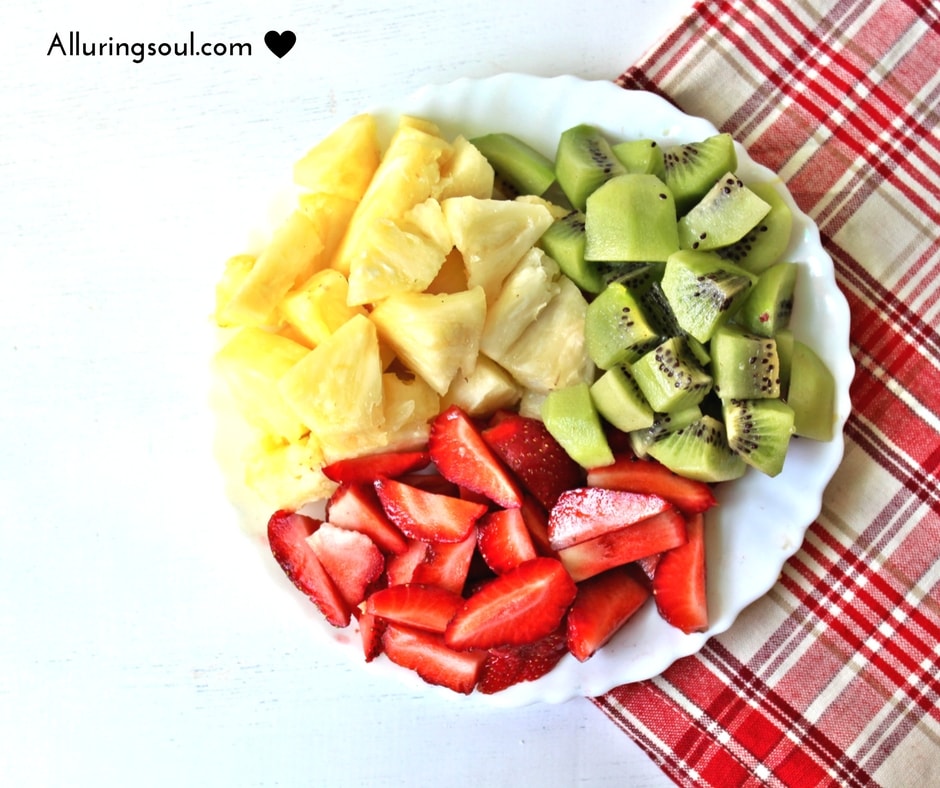 Vitamin C, also known as ascorbic acid, is necessary for the growth, development, and repair of all body tissues. It's involved in many body functions, including the formation of collagen, absorption of iron, the immune system, wound healing, fat burner and the maintenance of cartilage, bones, and teeth. Vitamin C affects cells on the inside and outside of the body. A study published in the American Journal of Clinical Nutrition examined links between nutrient intakes and skin aging. It found that higher vitamin C intakes were associated with a lower likelihood of a wrinkled appearance, dryness of the skin, and a better skin-aging appearance.(source)
So it should come as no surprise that the latest entry in my Smoothie lineup is this fat burner and immune booster smoothie. Just imagine throwing away all the sweets and candy and sticking to this healthy smoothie, you are giving life to your health. One thing more, it will also satisfy your craving for sugar as the natural sugar present in fruits will not harm your body. Don't you think its great?
Go ahead and give it a try in your daily or weekly routine and give the blessings of nature to your body. I have decided I will take it as my daily breakfast treat!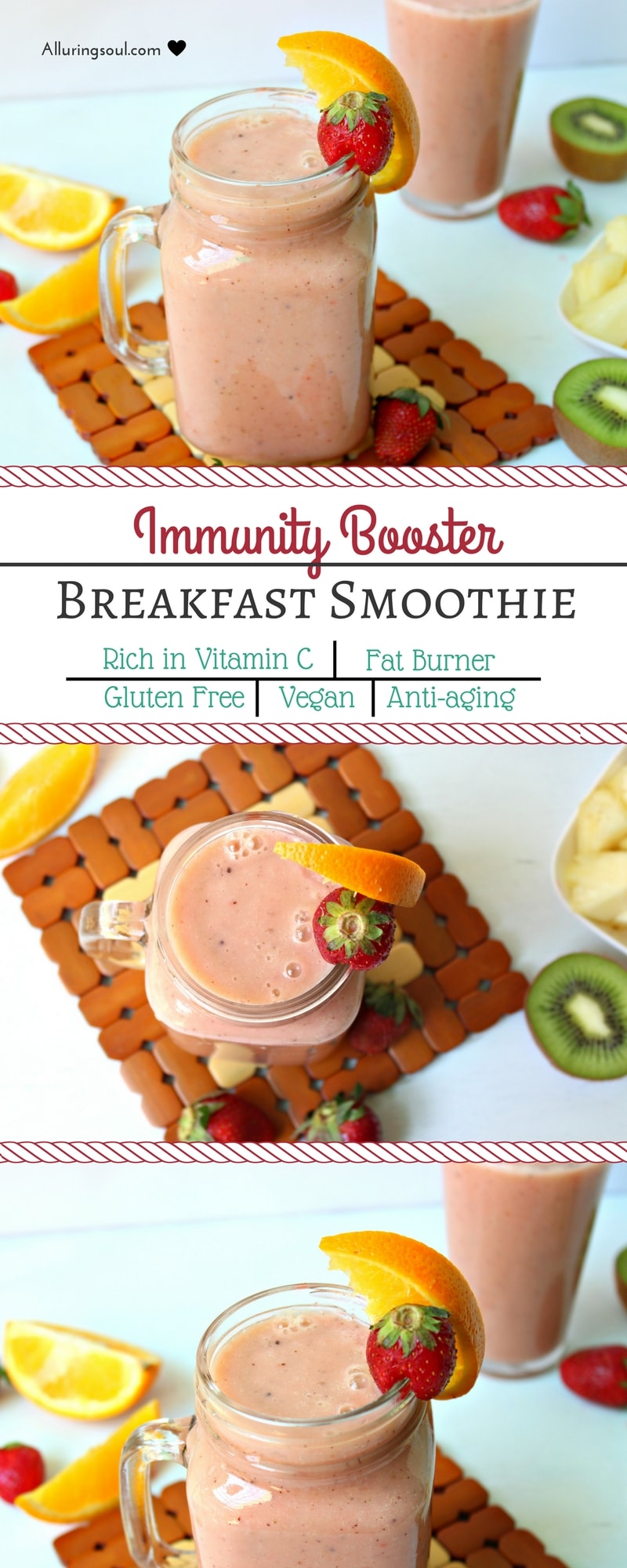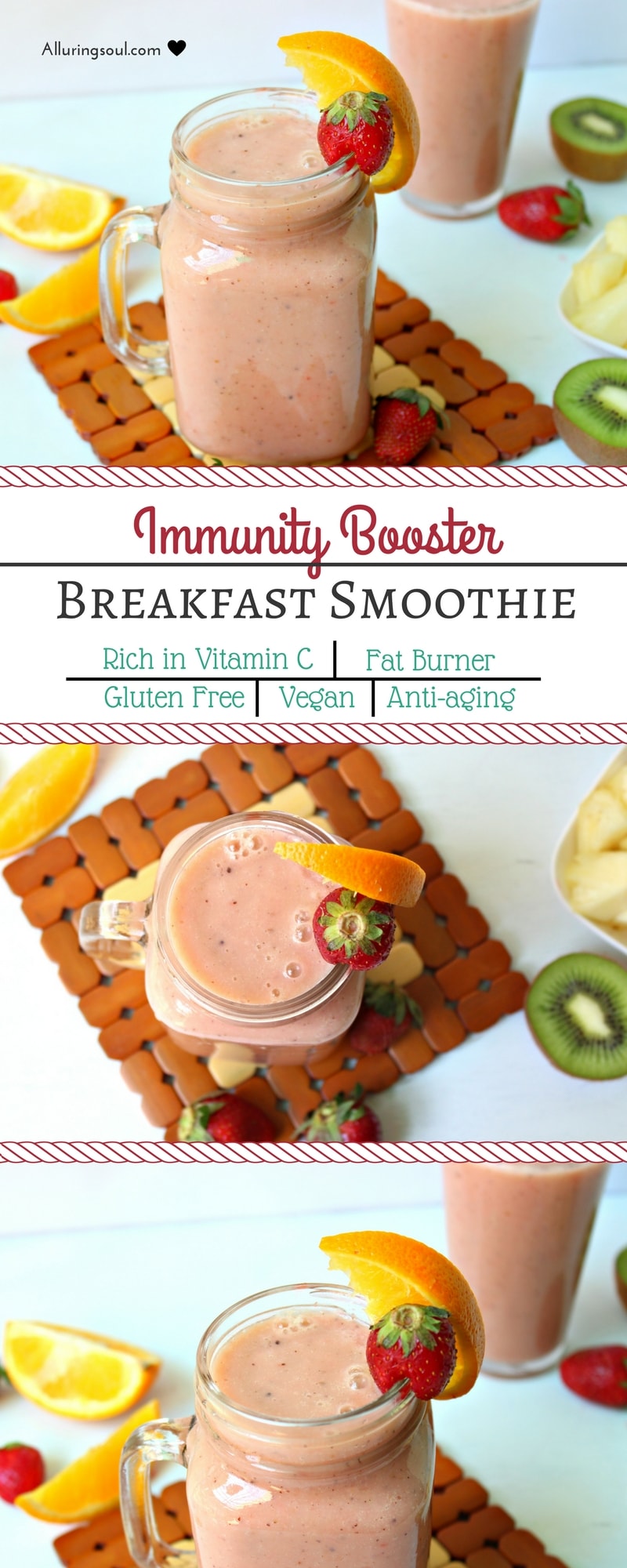 ---
Fat Burner And Immune Booster Breakfast Smoothie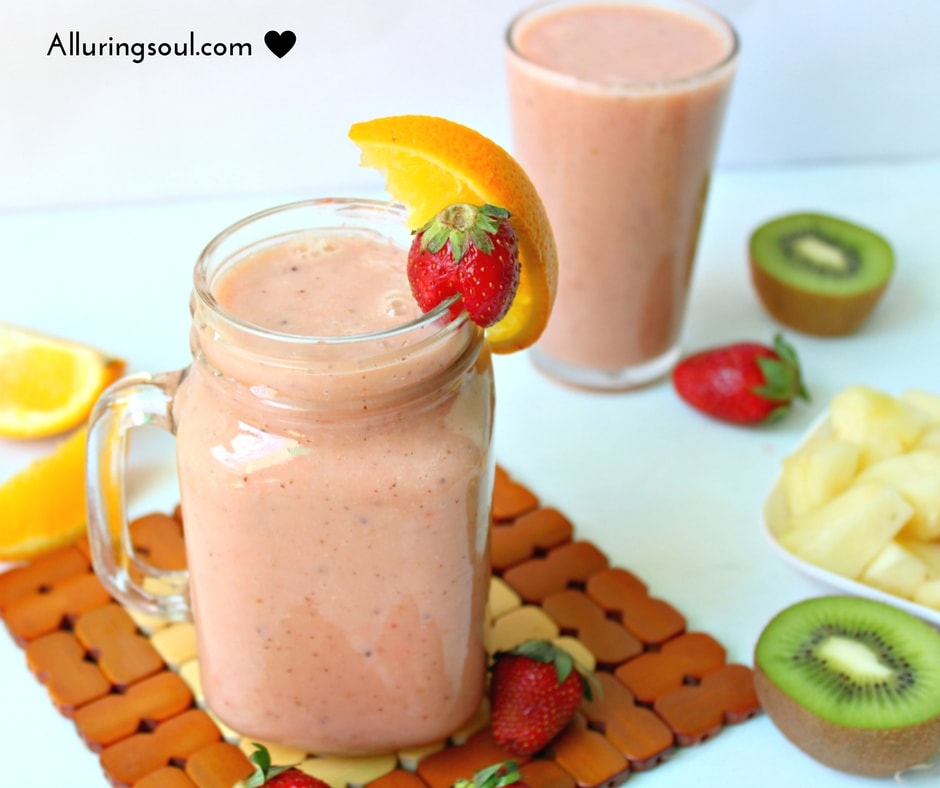 This Fat Burner And Immune Booster Breakfast Smoothie will be a good start for your day which is low in calories, gluten-free and rich in Vitamin C & antioxidants.
Ingredients
300 ml Orange Juice
120 g Low Fat Yogurt, frozen
1 cup Strawberries, frozen
½ cup Kiwi, frozen
1 cup Pineapple Chunks, frozen
a handful of Ice Cubes
Instructions
Blend all ingredients in a blender until smooth. Serve immediately.