Coffee is not just a word for some people. It has become a culture for some people and country to have it on a daily basis. I too love my black coffee, it's a word with magical power for me. It's a morning companion for me. Coffee has become the natural remedy for some of the health problems like it decreases the risk of cancer, removes stress and calms you and much more. By incorporating coffee into your skincare regime can solve your skin related problems too. It has many benefits which you can get by a simple application on your skin. One of the best ways to use it as a coffee scrub to remove the gunk off and make your skin healthy and nourished.
You may also like: Rose Sugar Scrub for smooth and flawless skin.
---
Why should I apply coffee scrub on my skin?
1) It smoothens and Brightens Skin
The main component of coffee is caffeine and it has many benefits for skin. Cosmetic companies are incorporating caffeine in their product to increase the effectiveness of their product on the skin. Caffeine may be harmful to health but for skin, it's a beauty booster. It smoothens your skin and makes even toned.
Read: 24 Kitchen Ingredients that helps you to lighten and brighten skin.
2) It exfoliates the dead skin cells
Caffeine has the power to remove dead skin cells and make skin free from dirt and dark spots. Sun, pollution, acne is the enemy for glowing skin and they leave us with their stubborn marks in the form of the suntan, dark spots, blackheads etc. It deeply exfoliates the skin pores and makes it nourished by providing necessary nutrients.
You will love: DIY exfoliating peppermint and lemon sugar scrub.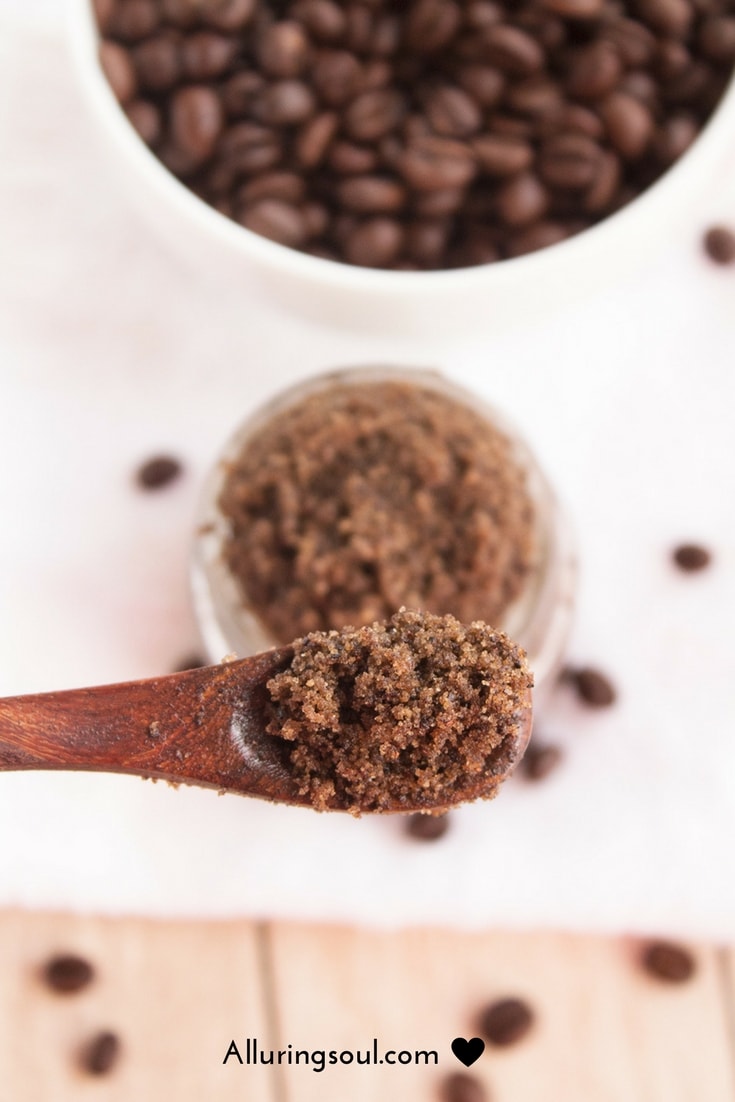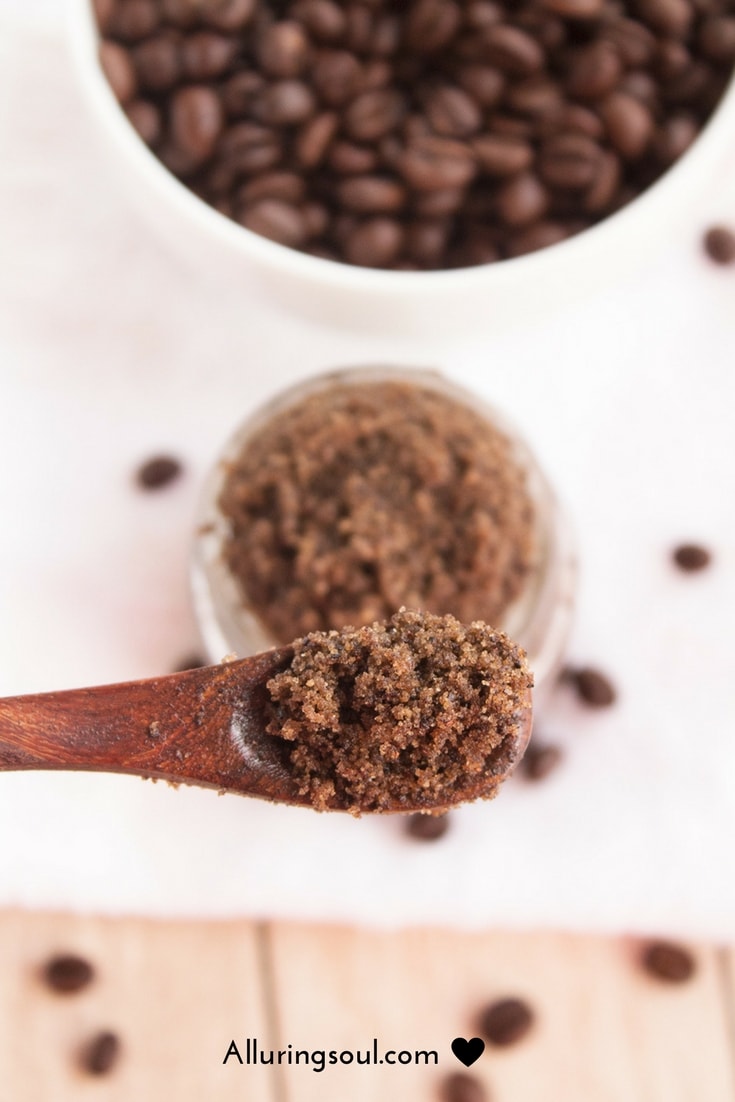 3) It removes cellulite
Another great benefit of caffeine is that it helps to remove cellulite on the skin. It dehydrates the fatty cells and in turn, water and fat disappear from the surface of the skin, thus minimizing the appearances of cellulite. Research at the University of Sao Paulo has proven that the application of skin cream containing caffeine reduced the size of cellulite fat cells by 17%.
4) It has the power of Antioxidants – Removes Wrinkles and Tightens Skin
Coffee has powerful antioxidants which give food to the skin. Free radicals are the responsible for skin damages, sun spots, premature skin aging, and wrinkles. Coffee removes the free radicals from the skin with the help of effective antioxidant and makes reduces the wrinkles and fine lines. Regular application of body scrub can tighten your skin and brighten your skin. For this reason, caffeine is widely used in anti-aging creams in conjunction with retinol.
Read: Banana face mask for acne, wrinkles and bright skin.
5) It has anti-inflammatory property
Caffeine possesses anti-inflammatory property which reduces inflammation and redness on the skin. Cosmetic industries are using caffeine as the main ingredient in their anti-inflammatory product. It removes the eye puffiness too but doesn't use this coffee scrub under eye treatment. Under eye, skin is very sensitive and application of scrub can be a bad option. Use instant coffee with milk or honey to reduce the eye puffiness.
You may love: DIY cream to remove razor bumps and ingrown hairs.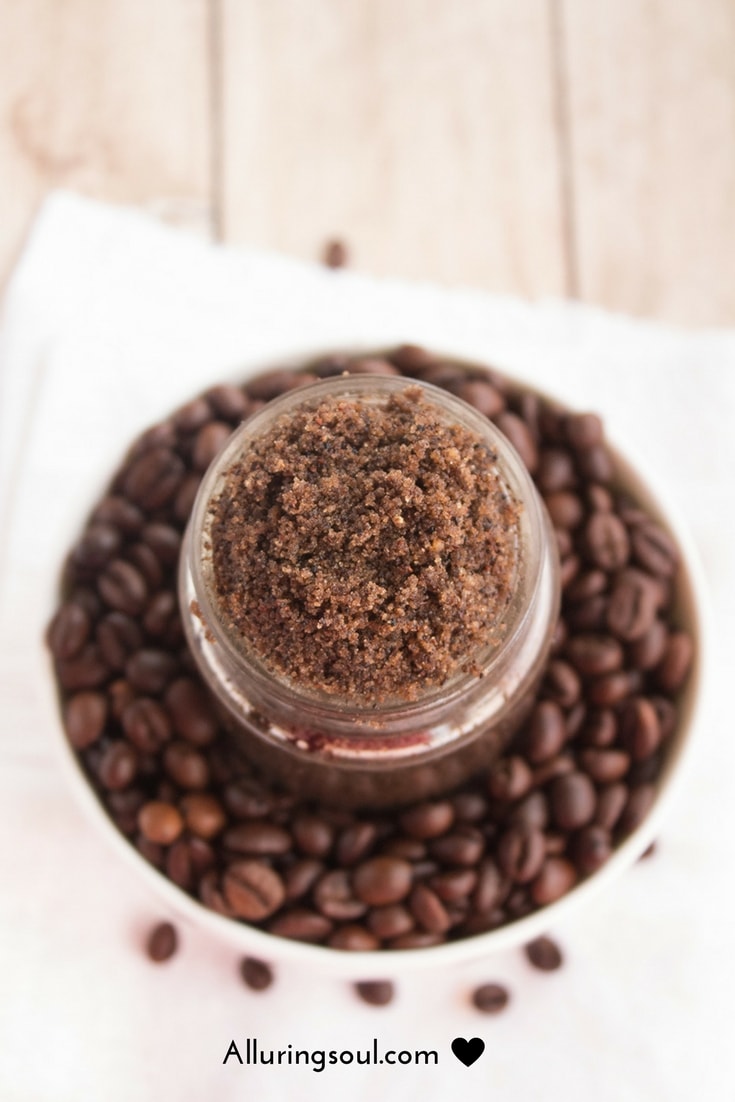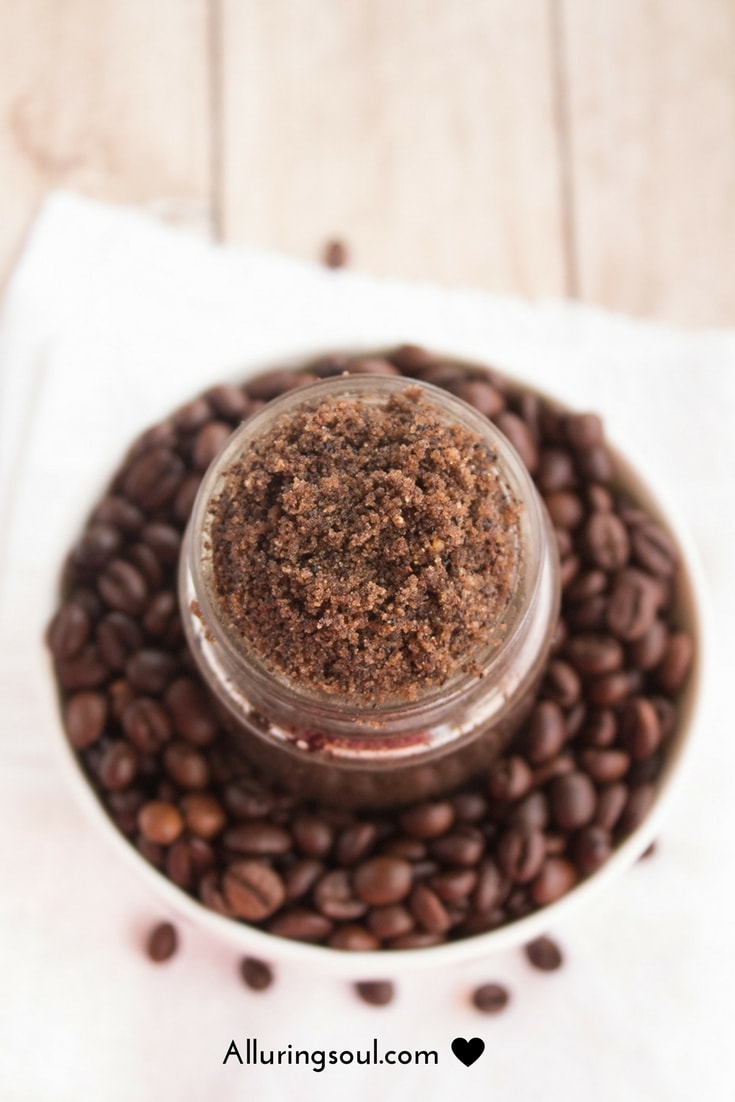 ---
You may also like: Orange sugar scrub for dark spots.
The skin has to be protected from sunburns, acne, aging and other damages. It is very easy to obtain flawless skin without spending a fortune with simple tips and some home remedies. To ensure that our skin remains flawless and glowing for a long period of time, we have to improve the dermis—the inner layer of the skin and this can be achieved with proper skin care.
You will love to read: Classic honey and sugar scrub for clear skin.
Go ahead and try this scrub. I am eager to listen to what you have to say after using this awesome scrub. Do let me know by commenting.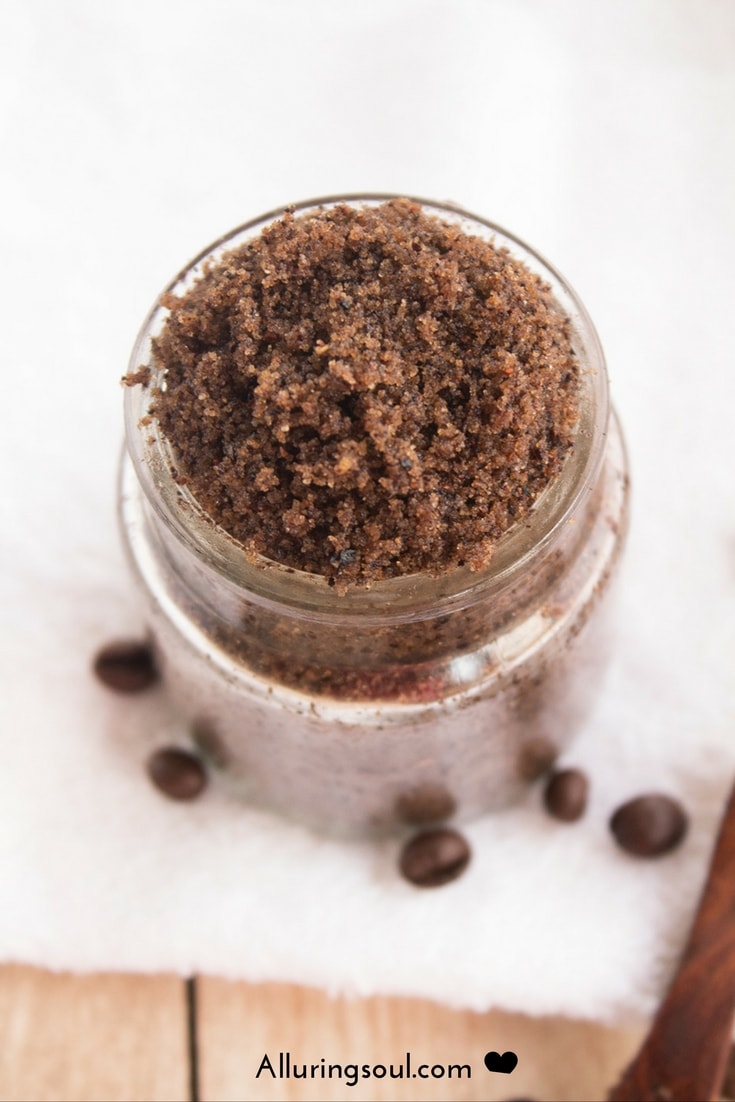 ---
How to make coffee scrub for smooth and bright skin
DIY Coffee Scrub for smooth and Bright Skin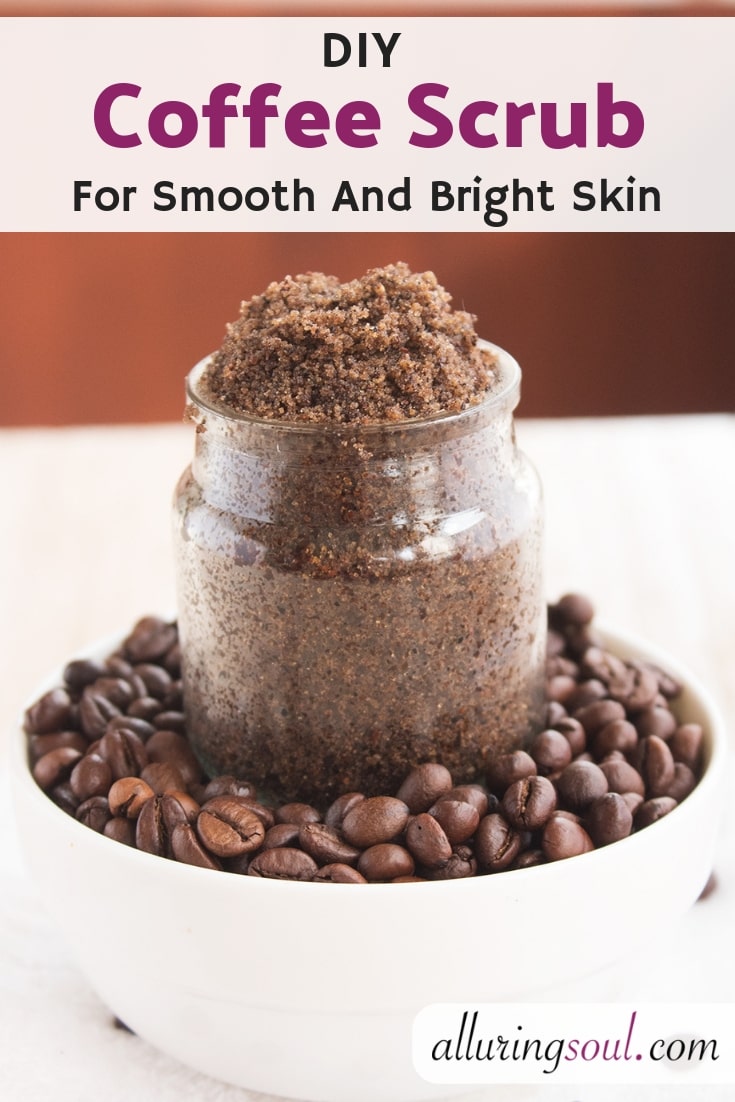 Coffee scrub exfoliates skin, removes wrinkle and dark spots, brightens and smoothens skin. Provide proper nourishment to your skin with this coffee scrub.
Recipe type:
Coffee Body Scrub
Ingredients
2 tablespoon coffee grounds
3 tablespoon coconut oil (Buy From Here)
1 tablespoon cane sugar or white sugar
Instructions
How To Make
Take a bowl and combine sugar and coffee ground.
Add Coconut Oil and
Mix it properly.
Store in an airtight jar for future use.
You can adjust the ratio according to your need.
How To Apply
Gently massage the mixture onto your body in a circular motion before going for the shower.
After your shower, pat your skin and apply moisturizer.
Massage the mixture in a circular direction for about 5 minutes in the targeted area.
Repeat it 2-3 times in a week for the desired result.
You can take a hot shower before applying the coffee scrub because hot water makes the skin susceptible for proper exfoliation as it opens up the skin pores and helps to absorb nutrition from coffee.