Fenugreek and onion flatbread is one of the favourite breakfast options of mine. I think this recipe is the easiest recipe to make a simple and flavourful flatbread. I like it most because it takes less time to prepare and a very good option for me to pack it as for a lunch too. I have never encountered such a delicious and healthy dish which satisfies my craving for spicy food. It's a proper food of Indian subcontinents and it will go with any condiments whether it is a pickle or any type of dips or plain yogurt.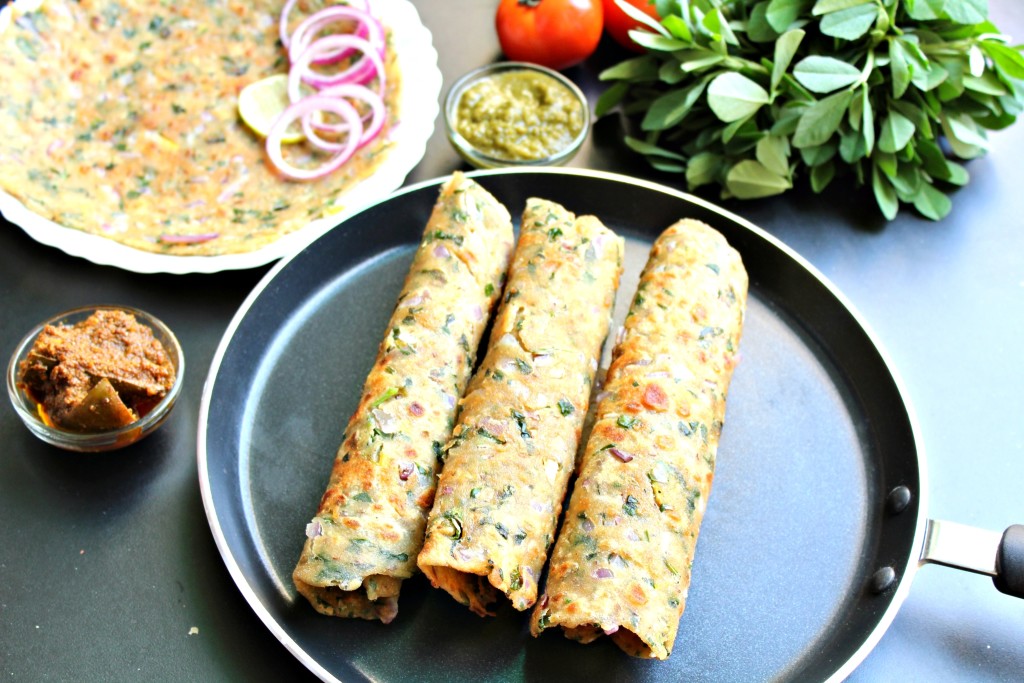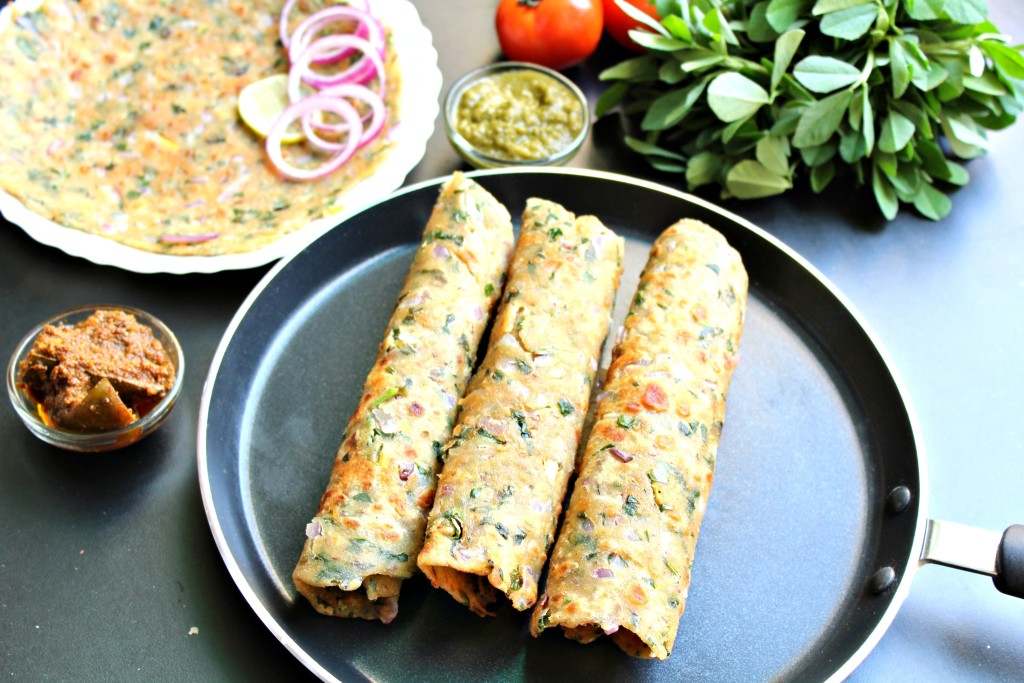 Since last year, I am on a diet and wanna lose some pounds but it was very difficult for me to maintain my diet because I am a very fussy eater and this fenugreek flatbread saved my life. The flatbread mixed with leafy vegetable and some spices makes my day. I take it as a breakfast on a daily basis and I was shocked that it never failed me. It doesn't let me put some extra pound.
Over the years, I have tried a lot of flatbread recipes. Flatbreads from many different cuisines, from blogs and cooking sites. They were either not healthy or took more time. But this recipe is my idea of a perfect spicy flatbread recipe which is healthy and will aid you to maintain weight if you make it without oil.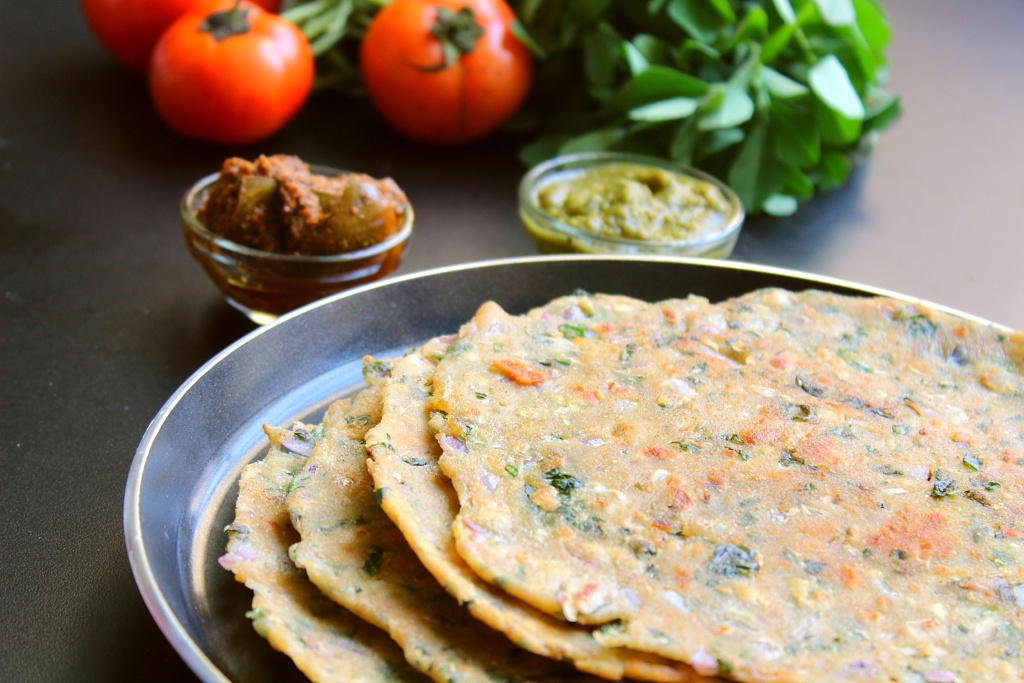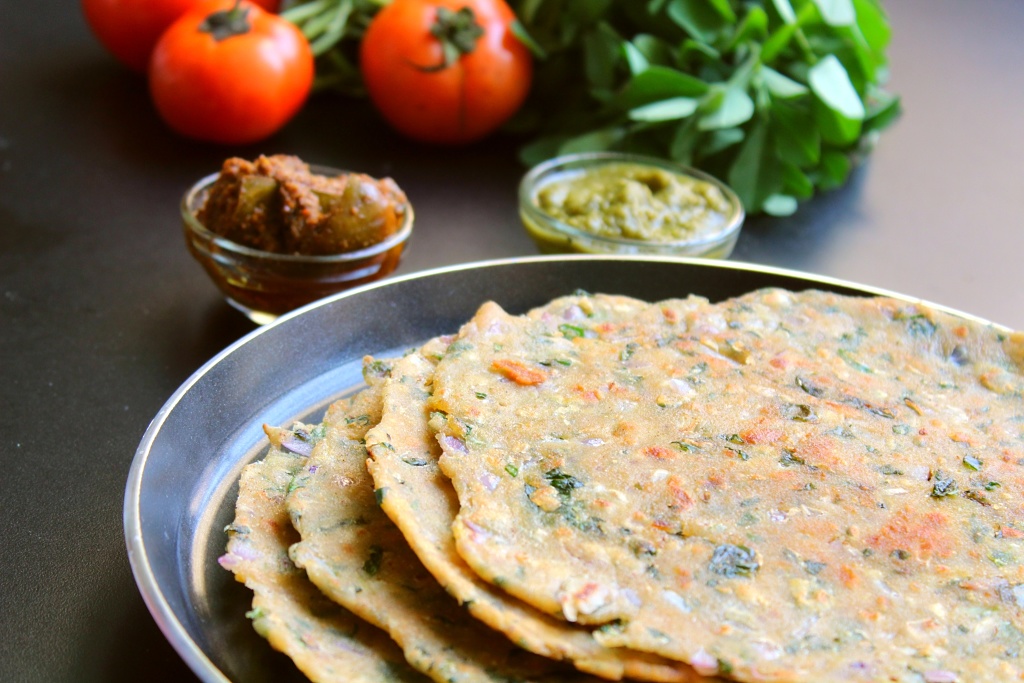 I have made this flatbread without using yeast yet it's soft and foldable too. I have used fenugreek, onion, ginger, celery seeds and of course whole wheat flour. You can also use plain flour (then you can't say it healthy). It's called healthy because fenugreek improves digestion and cholesterol, Reduces inflammation inside the body and the main benefit is it improves weight loss exercise performance. It is rich in Vitamin A, C, and calcium. Intake of Onion and ginger on regular basis improves our health as they have antioxidant and antimicrobial property and also they give the maximum amount of sulfur which is good for the immune system as well as for regulating blood sugar.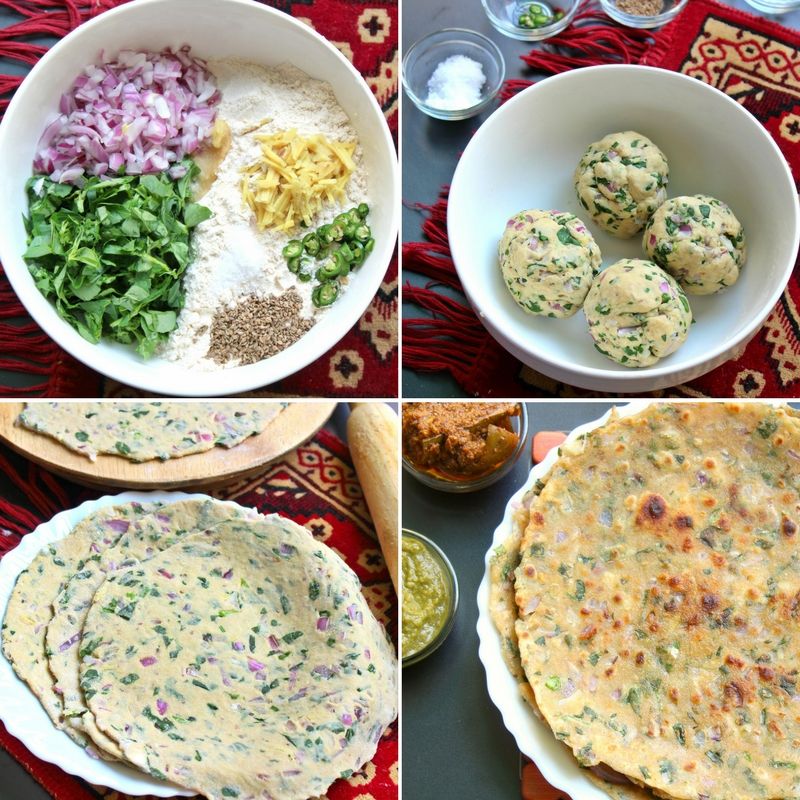 So come to the flatbread, it will give you maximum taste, the tastiest outcome with less effort. If you've never tried homemade bread before, this flatbread recipe is a great one to start with because it really is that easy.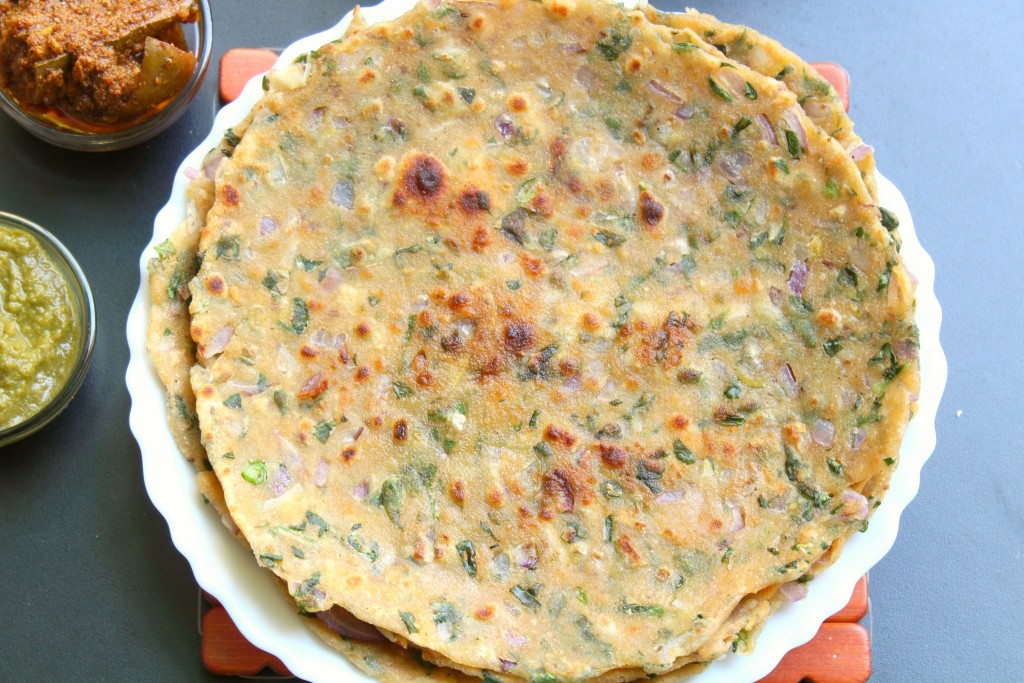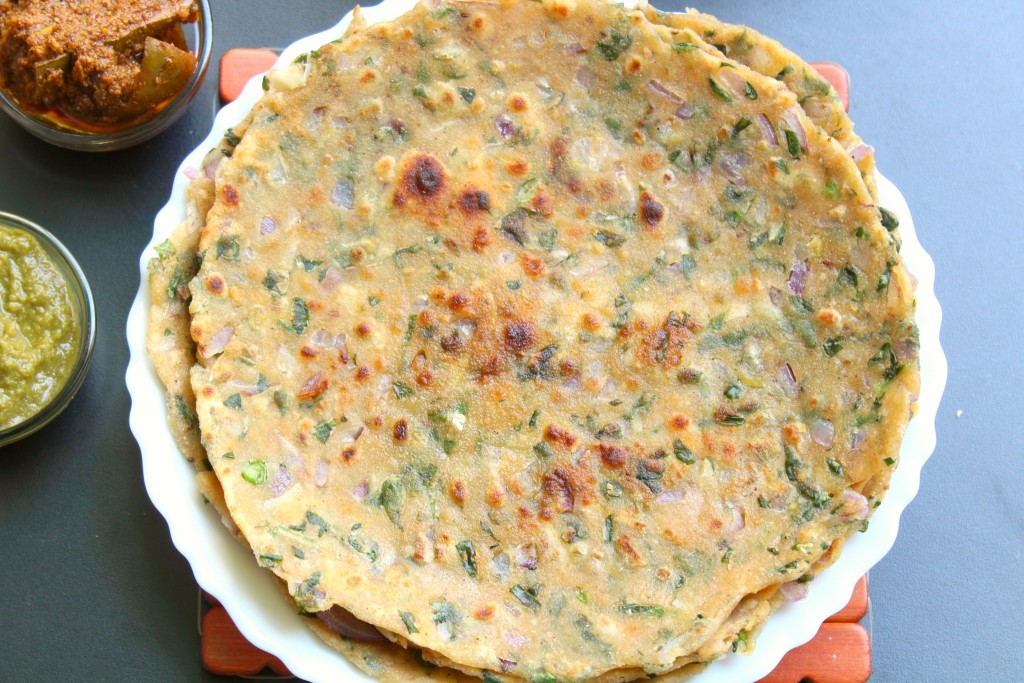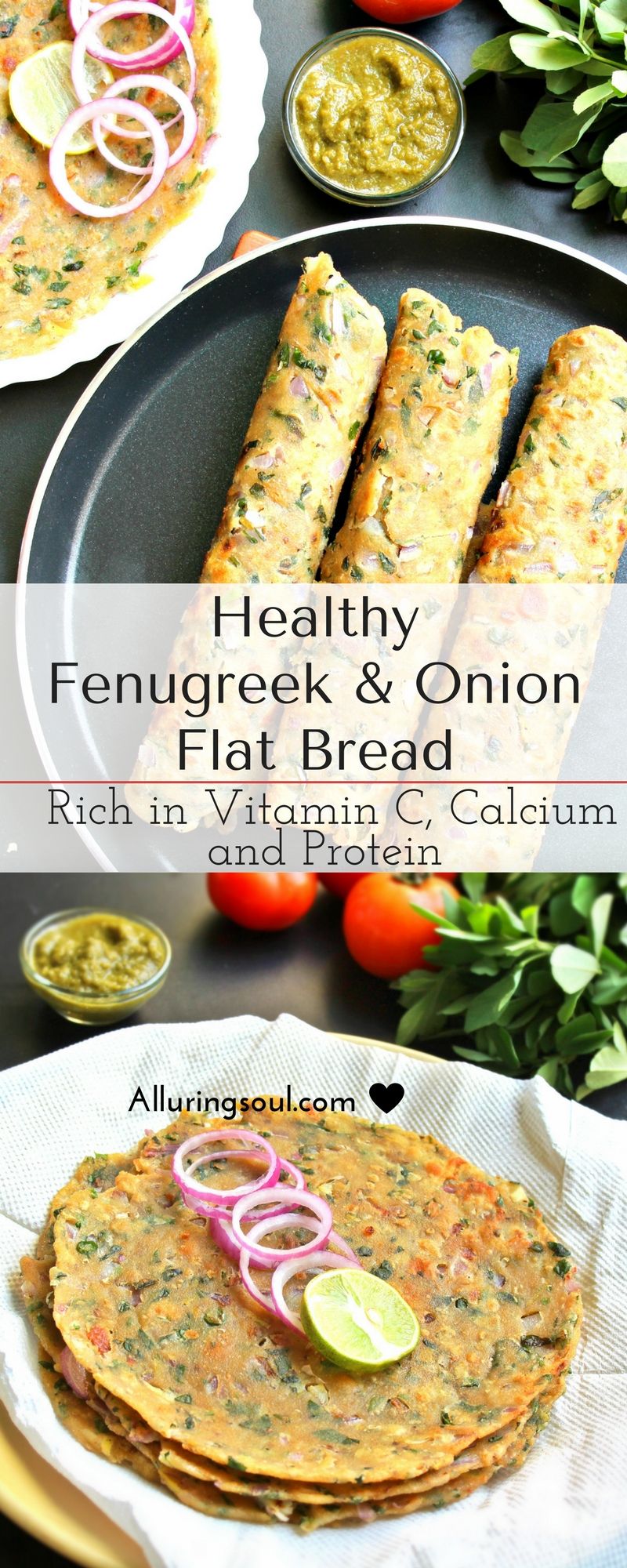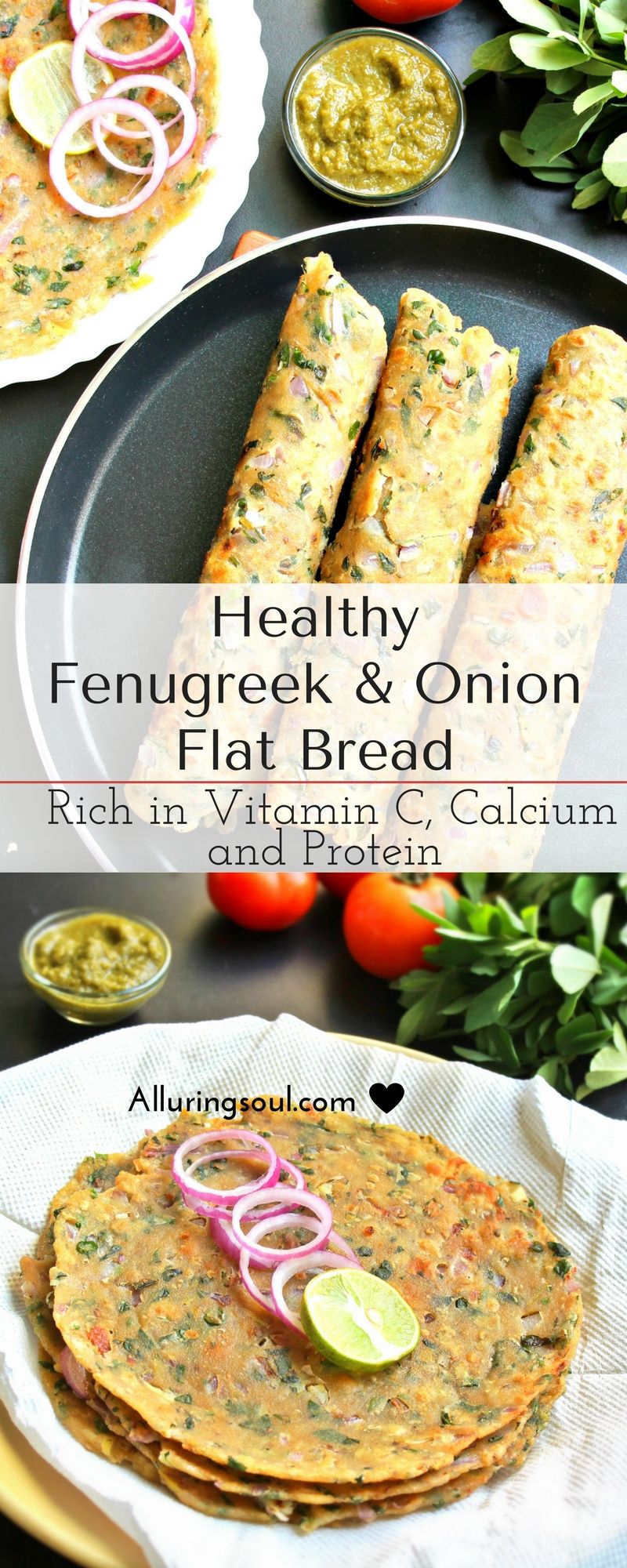 Easy And Healthy Fenugreek And Onion Flatbread - Rich in Vitamin C, Protein & Calcium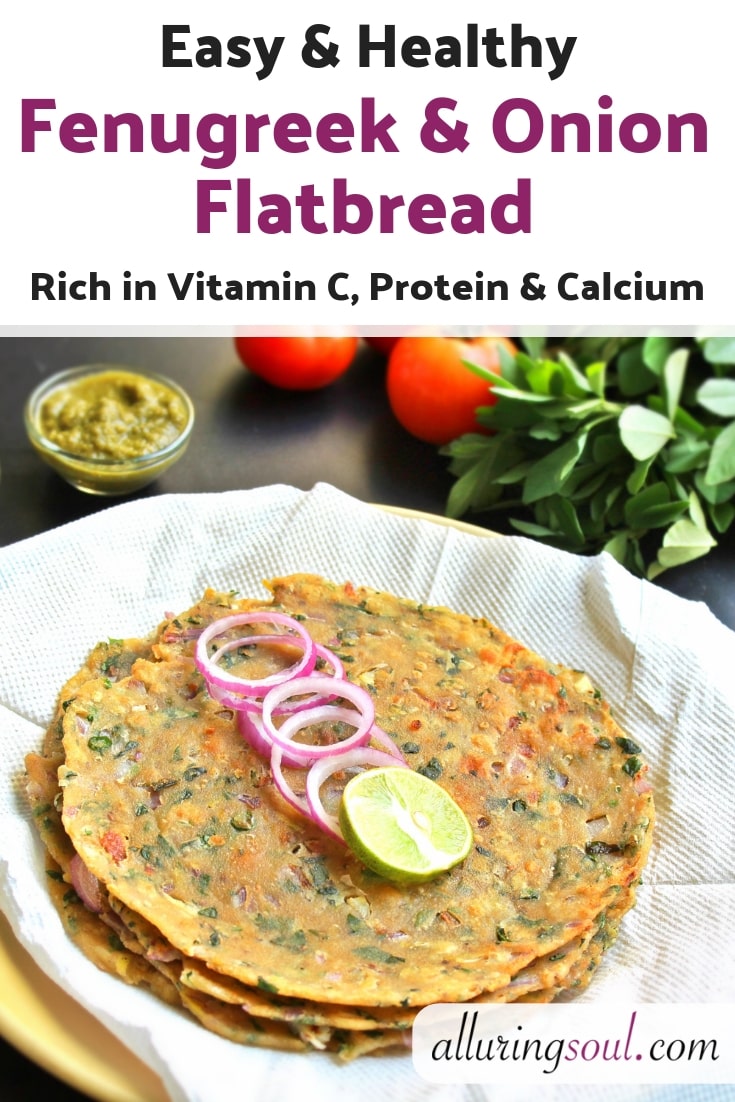 The dough for this recipe is insanely easy to make with only one or two minutes of kneading. You can knead the dough with your hand without using food processor. The bread is soft, healthy and pliable. It's perfect for stuffing anything and for wrap too. You can also eat it with any type of condiments. You don't have to prepare before for this recipe,ingredients are easily available at your home. You can use this dough for 3-4 days. I always make a dough in large batches because i used to eat it on daily basis.
Ingredients
2 cups/240gms whole wheat flour. ½ cup for dusting and adjusting dough
1 cup fresh and washed fenugreek leaves
1 medium sized red onion
½ teaspoon celery seeds
2 inches ginger root
½ tablespoon salt
2 green chillies
½ cup water
1 tablespoon clarified butter for kneading (optional)
1 tablespoon clarified butter for the cooking
Instructions
Combine flour, fenugreek leaves and other spices in a bowl.
Add some water and knead for 1-2 minutes. It doesn't need much kneading. Add extra flour if the dough is too sticky.
Dust bench top with flour, cut dough into 5 pieces, roll into balls, then roll out into large circles with medium thickness.
Heat a pan and put the stove over medium or lower heat if your pan base is thin.
Now, place one flatbread in the pan and cook it for 1-1.5 minutes. You will see some small bubbles on flatbread and then flip the bread and again cook it for 1-2 minutes. You will notice small brown spots on both the side of bread.
Now, spread few drops of clarified butter on both the side of bread with the help of spoon or brush and cook it for 1 minute by flipping it both the side and then take it out from pan.
Continue to cook remaining pieces.
Notes
1. You can use plain flour instead of whole wheat flour. But as it said this is healthy bread I will not recommend it for making bread.

2. You can skip taking clarified butter and cook it as normal bread. This can aid you to lose some pound followed on a healthy diet. It is rich in protein, calcium and vitamin C which are the great nutrients for a healthy diet. I prefer it to make without butter and eat with plain yogurt. You can sprinkle some salt and black pepper powder on yogurt. Believe me, it tastes awesome and diet conscious people will like the bread and yogurt combo.

3. Storing: Dough keeps in the refrigerator for around 4 days. Tip: Roll out the rounds, ready to cook. Just make sure you use baking paper or cling wrap to keep the pieces separated, flour will not suffice.

4. Dairy free: It will also work substituting the butter with olive oil or coconut oil and make it a dairy-free version.