(This post contains affiliate links. You can read my full disclosure here.)
Nowadays acne is one of the most common skin problems. The common reasons for developing acne breakouts can be hormonal changes, oily skin, stress, and an unhealthy diet. But this frustrating acne and scars that it leaves behind, can be treated easily with the help of rosehip oil. Rosehip oil contains antioxidants like vitamin A, vitamin C and essential fatty acids(omega-3 and omega-6 fatty acids) which are very effective in treating acne and scars. It provides necessary nutrition to your skin which makes it healthy and naturally glowing. Hence, in this post, I will be sharing some of the best ways that you can use rosehip oil for acne and scars.
---
Does Rosehip Oil Treat Acne And Scars?
Yes! Because there are many scientific findings that show the effectiveness of rosehip oil for acne and scars. Some of the findings are-
A Scientific research suggests that rosehip oil contains a substantial amount of unsaturated fatty acids like linoleic acid(omega-6 fatty acids), alpha-linolenic acid(omega-3 fatty acids) and oleic acids. It also contains a high level of antioxidants that work together with unsaturated fatty acids to protect skin against inflammation and oxidative stress (source)
Another Study was being done to determine the effect of rosehip oil on the improvement of post-surgical skin scars.
The trial was carried out in 108 patients undergoing cutaneous surgery procedures in the Dermatology Service of University Hospital of Gran Canaria Dr. Negrín (Spain). The patients were evaluated (in terms of erythema, atrophy, discoloration, tissue build up, scars) at 6 and 12 weeks.

 76 patients who got treated scars with pure Rosehip Oil twice a day and 32 patients with no treatment. A lesser degree of erythema was observed at 6 and 12 weeks in treated-patients compared with the non-treated group and decreased discoloration and atrophy at 12 weeks. This study demonstrates that Rosehip Oil is useful for cosmetic improvement. (Source)
---
Benefits Of Rosehip Oil For Acne And Scars
1. Rosehip Oil Is Rich In Linoleic Acid
One of the main cause of acne breakout is your skin is dehydrated from inside. When the skin lacks moisture then it produces more sebum(oil) to compensate for the loss of moisture. This excess sebum(oil) production results in clogging of pores which leads to acne breakouts. Rosehip oil contains linoleic acid which is an omega-6 fatty acid. This fatty acid effectively hydrates your dried skin cells which prevent overproduction of sebum by the skin.
The fatty acid composition of rosehip oil is
Linoleic acid = 47-50%
alpha-Linolenic acid = 33-40%
Palmitic acid = 3-5%
Stearic acid = 2-3%
Oleic acid and other = 4-20%
Scientific research suggests that acne patients have low levels of linoleic acid in their skin which increases the skin's sebum(oil) production (source).
2. Rosehip Oil Has Anti-Inflammatory And Antibacterial Properties
Rosehip oil contains powerful anti-inflammatory properties due to the high content of essential fatty acids( alpha-linolenic and linoleic acid). The essential fatty acids help reduce inflammation, redness, and irritation of your acne. It also has powerful antibacterial properties which kill acne-causing bacteria. This helps in healing acne as well as prevent further breakouts.
3. Rosehip Oil Is rich in vitamin A and vitamin C
It has vitamin A and vitamin C which are powerful antioxidants. These antioxidants prevent skin cell damage by eliminating harmful free radicals. This helps to reduce inflammation and treat acne.
If we talk about vitamin A specifically, it balances the sebum(oil) production in your skin. This prevents pores from getting clogged up by excess sebum(oil). It improves blood flow to the skin which provides oxygen and other nutrients to your skin cells. This helps in repairing damaged cells and improves your skin's appearance.
Scientific research suggests that topical retinoids(a class of compound found in vitamin A) are considered among the best treatments for acne (source)
While vitamin C boosts collagen production in your skin. This encourages healthy cell regeneration which helps in fading scars and makes your skin tone even. Collagen also improves the skin's elasticity and strength. This makes your skin firm and slows down skin aging.
Scientific research suggests that vitamin C is one of the most important antioxidants that induces the production of collagen and provides skin anti-aging effects (source).
---
5 Ways To Use Rosehip Oil For Acne And Scars
1. Rosehip Oil Face Serum For Acne And Scars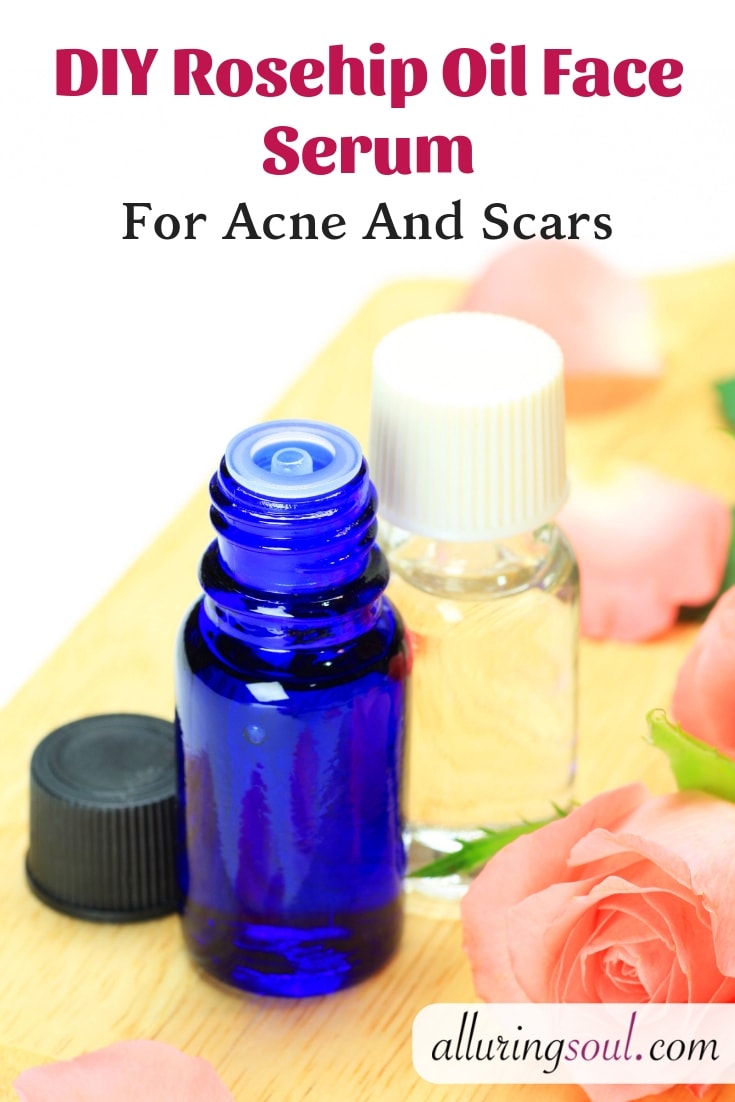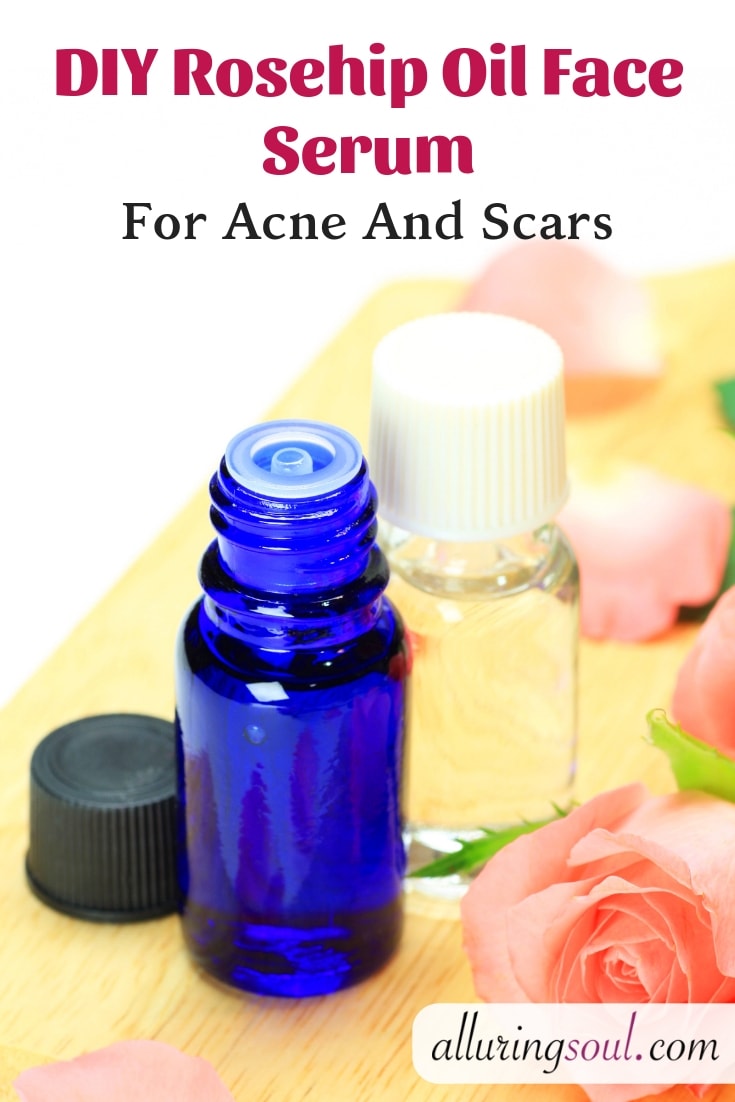 Ingredients
Using a funnel, pour rosehip oil into the dark-colored dropper bottle. Then carefully add essentials oils into it. Shake well to mix everything well. Apply 3-4 drops to your cleansed face daily, twice. Keep the bottle away from the direct light.
---
2. Rosehip Oil Night Cream For Acne & Scars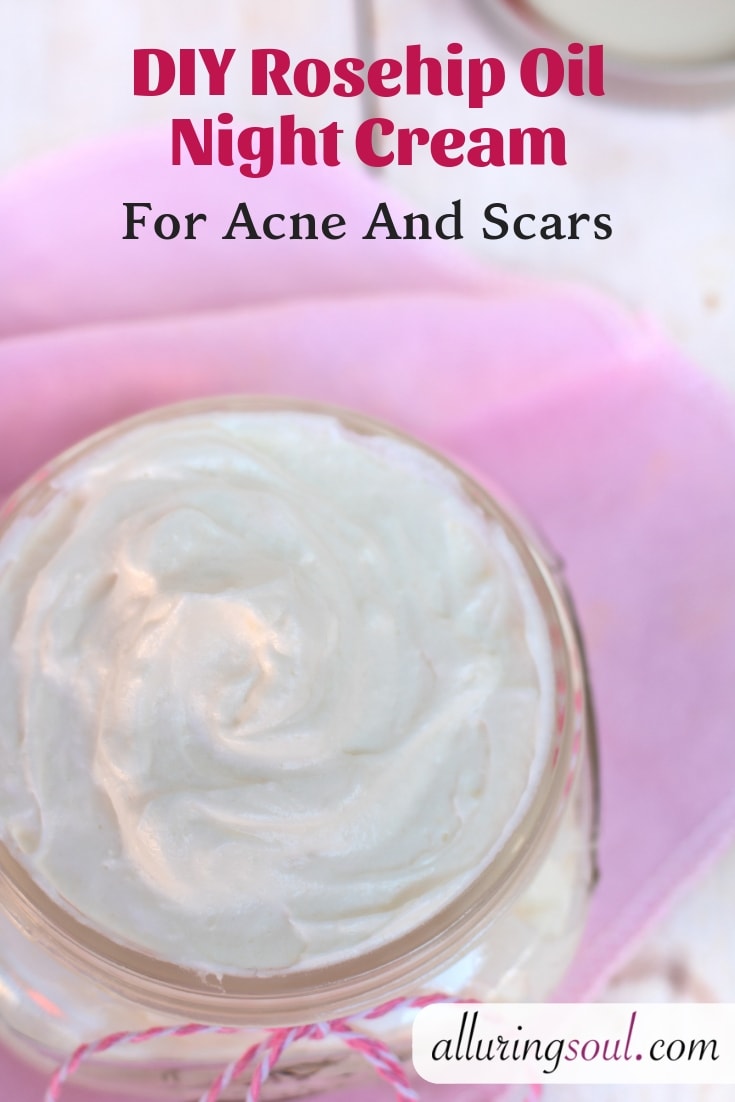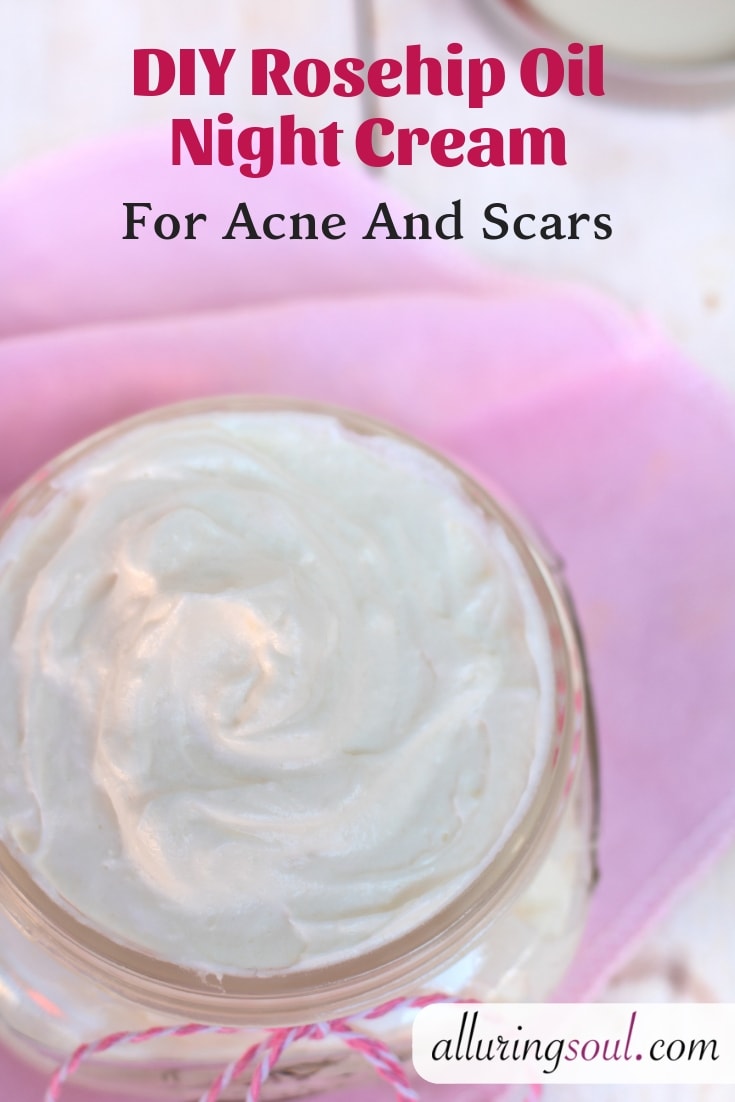 Ingredients
Steps
Melt the shea butter using a double boiler system. When the butter has melted, add rosehip oil and mix everything in the bowl. Let this mixture cool until its room temperature.
Now, add all essential oils in a bowl and whip the mixture on high speed until it gets fluffy and creamy. It will take 5-10 minutes or more to get fully incorporated.
Store it in an airtight glass container and keep it away from direct light. You can keep the cream up to 4-5 months.
Apply this cream on the cleansed face every night and always apply sunscreen before going out in the sun.
---
3. Oil Cleansing With Rosehip Oil For Acne & Scars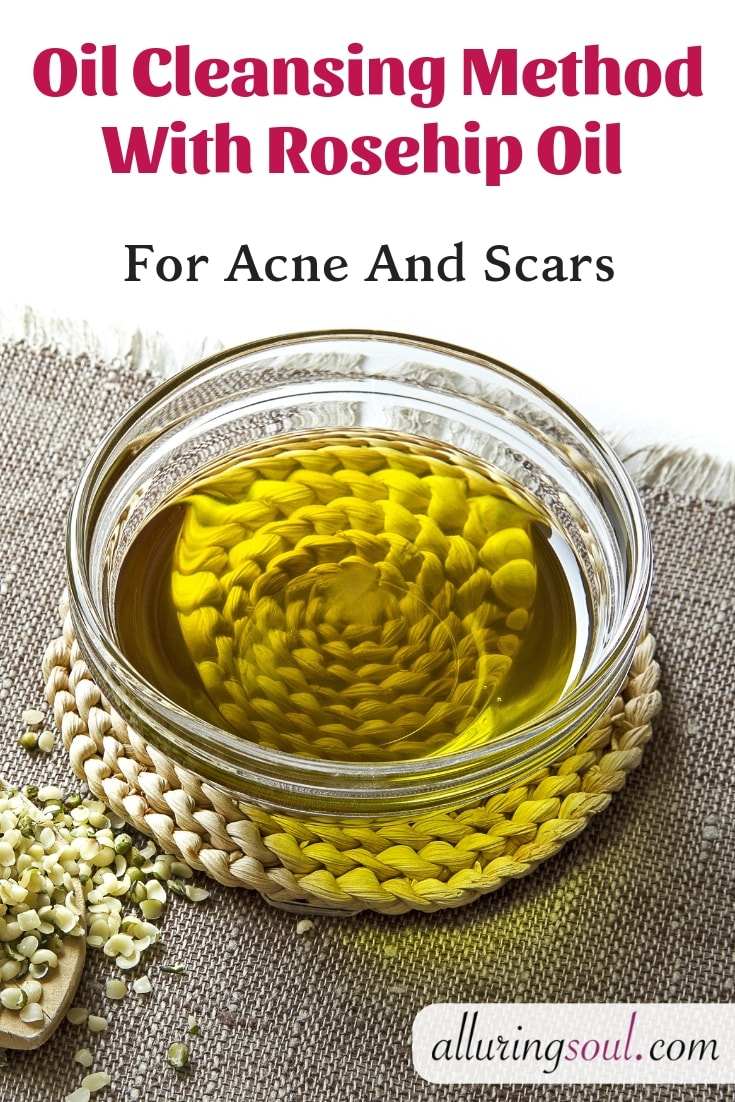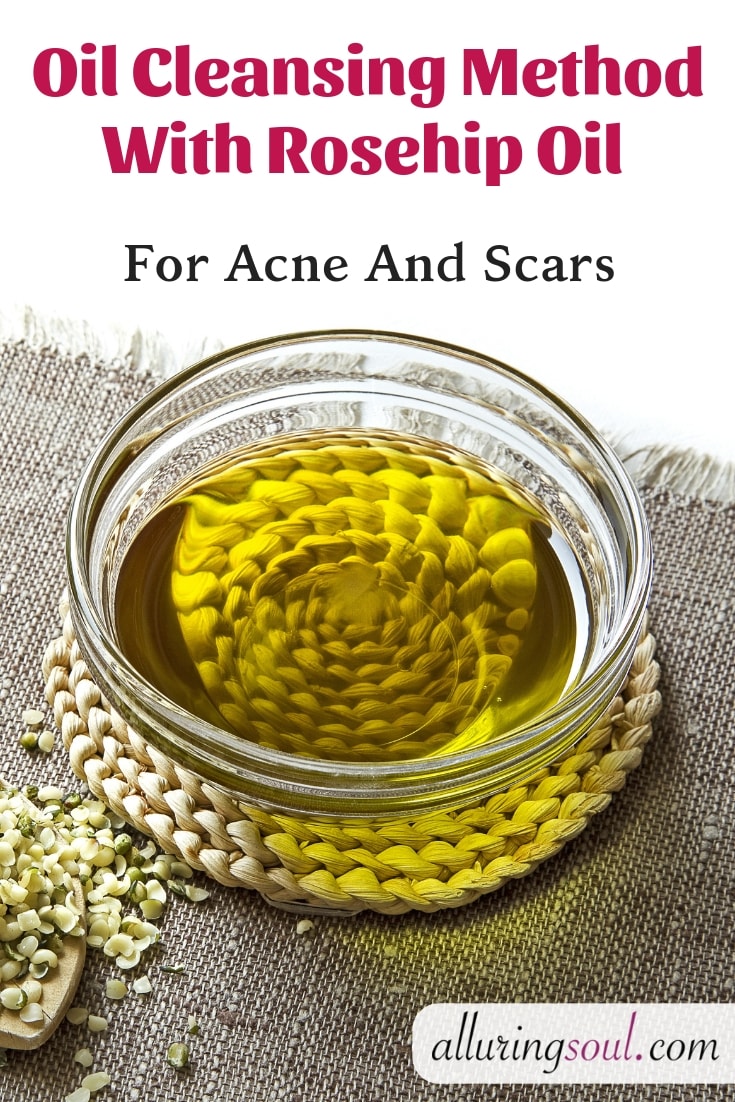 Ingredients
Steps
First, if you're wearing waterproof mascara, eyeliner or heavy foundation, you'll have to remove all of your makeup with makeup removing wipes before oil cleansing.
Once heavy makeup is removed, start cleansing your skin by applying the oil blend directly to your face (approximately 1 teaspoon), massaging the oil onto the surface of your skin. Be sure to focus on the areas where makeup and sweat linger most, such as your forehead and nose.
Massage the oil for at least 3-5 minutes to ensure the oil has penetrated your skin. The longer you leave the oil on your skin, the deeper your pores will be cleansed. I would recommend keeping the oil blend on the skin for at least 5-10 minutes to experience maximum cleansing benefits.
After massaging, wring a microfiber washcloth in warm water and dab your face with it. Repeat the dabbing twice more so that the oil treatment can penetrate deep. That's it! Oil cleanse your face at least once a day in the night to clear your acne forever.
If you feel any dryness after the oil cleansing then apply the serum or cream written in 1 and 2 recipes. Or, simply apply a few drops rosehip oil.
Dry and oily skin may benefit from oil cleansing regularly each night, while sensitive skin may only need to be cleaned once every few days.
---
4. Rosehip Oil Gel Moisturizer For Acne & Scars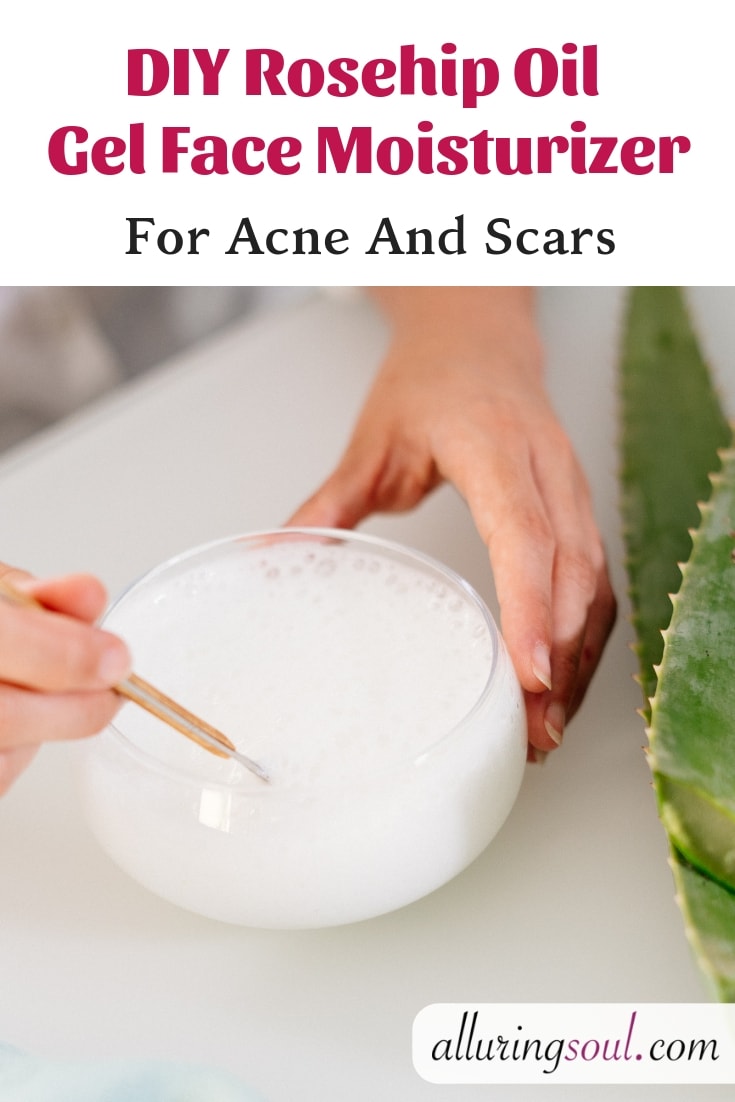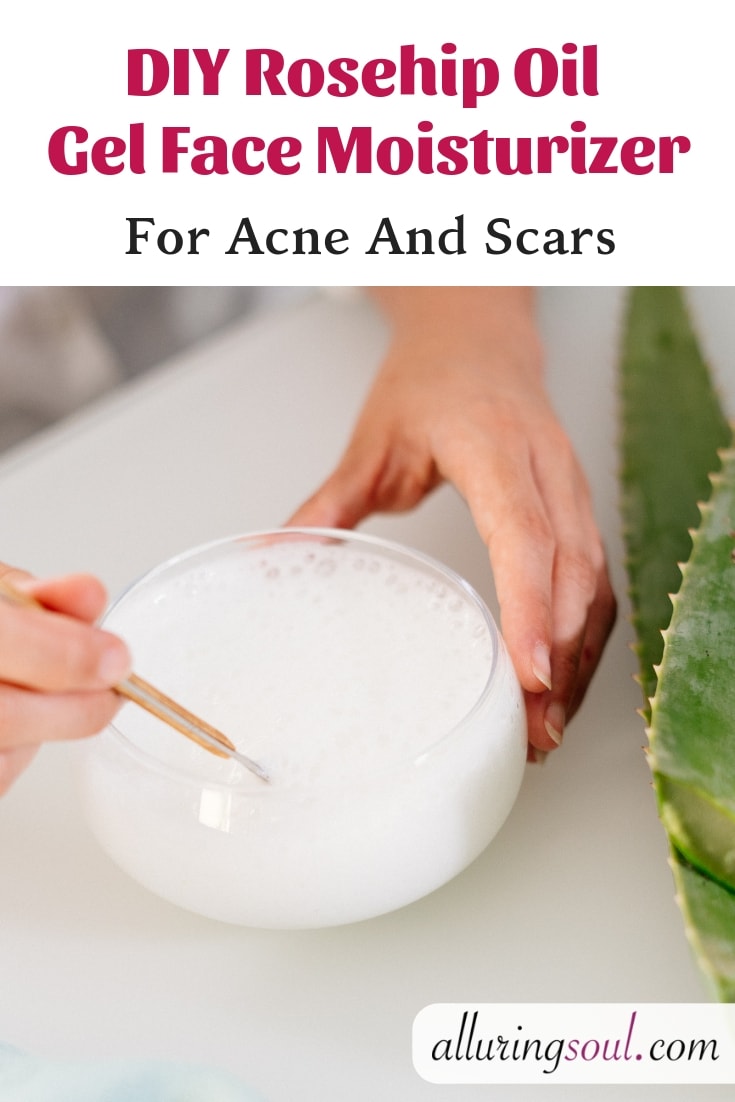 Ingredients
Mix everything in a bowl and store it in a glass container. Apply this on a cleansed face twice daily. Keep it away from direct light.
---
5. Rosehip Oil Face Gel Cleanser For Acne & Scars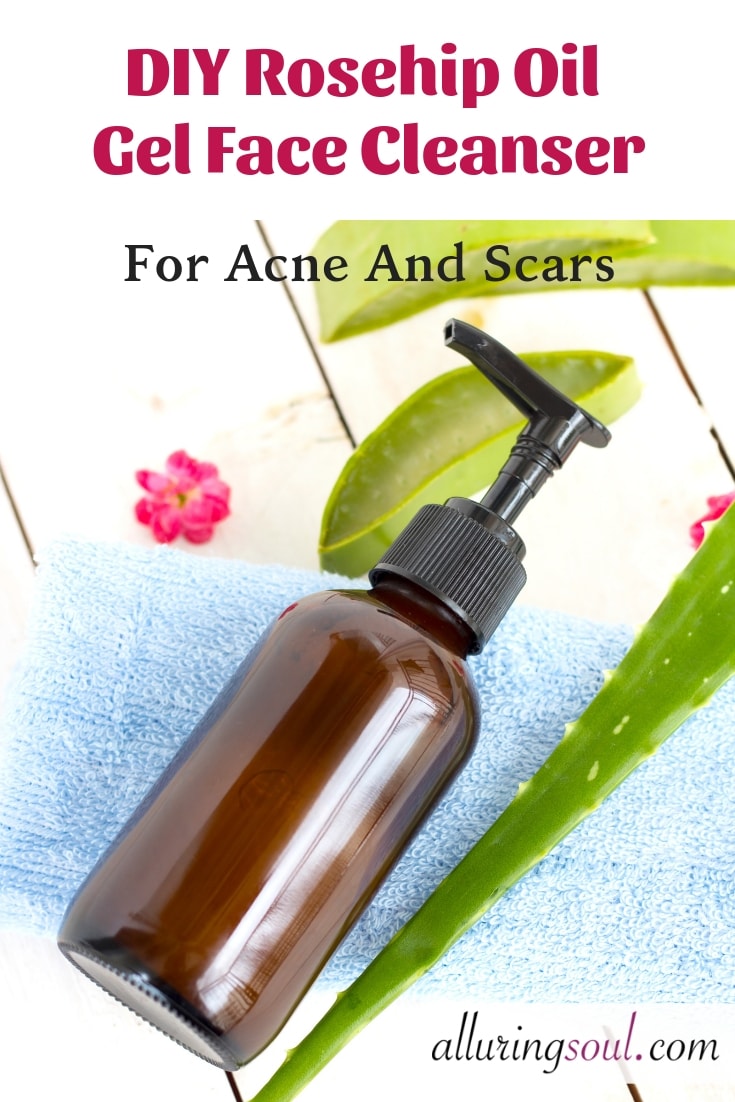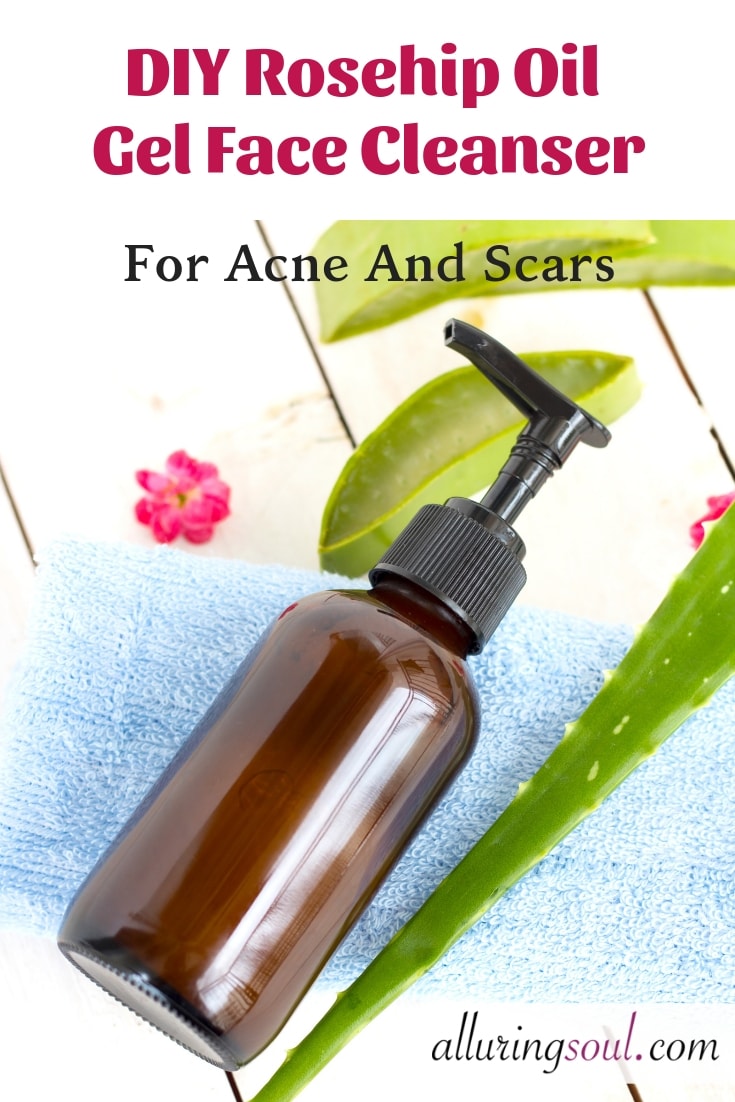 Ingredients
Mix everything in a bowl and store it in a glass container. Apply this on a wet face. Massage the cleanser for 2-3 minutes and then wipe it off with a warm microfiber washcloth. Then, apply moisturizer. Keep it away from direct light.
---
Precautions
Rosehip oil is generally safe for all skin types, but the allergic reaction is not uncommon. Before using rosehip oil for the first time, you should perform a patch test to make sure your skin can tolerate the oil.
Always do a patch test before applying any essential oils.
Additionally, pregnant women, infants, and young children should avoid certain essential oils. So, be sure to do your homework beforehand.
---