(This post contains affiliate links. You can read my full disclosure here.)
When you think of ice, what comes to your mind? Ice candy? Yummy and flavored crushed ice? Or your favorite drink with loads of ice? Though ice cubes are not very beneficial for the throat, they have various benefits for your skin. In a terrible hot weather during the summer months, ice cubes are such a relief. Ice does work wonders on the skin including painful sunburns, puffy eyes, and pesky zits. "Ice Facial" or "Skin Icing" is one of the most popular modern beauty rituals and it contributes to better-looking skin. Beauty experts have long used this therapy in spas and skin care treatments, thanks to its wide range of benefits. But when simple water is replaced with some powerful ingredients like carrot juice and green tea, it can be a wonder for the skin. Let's see how carrot and green tea face ice cubes can be great for skin.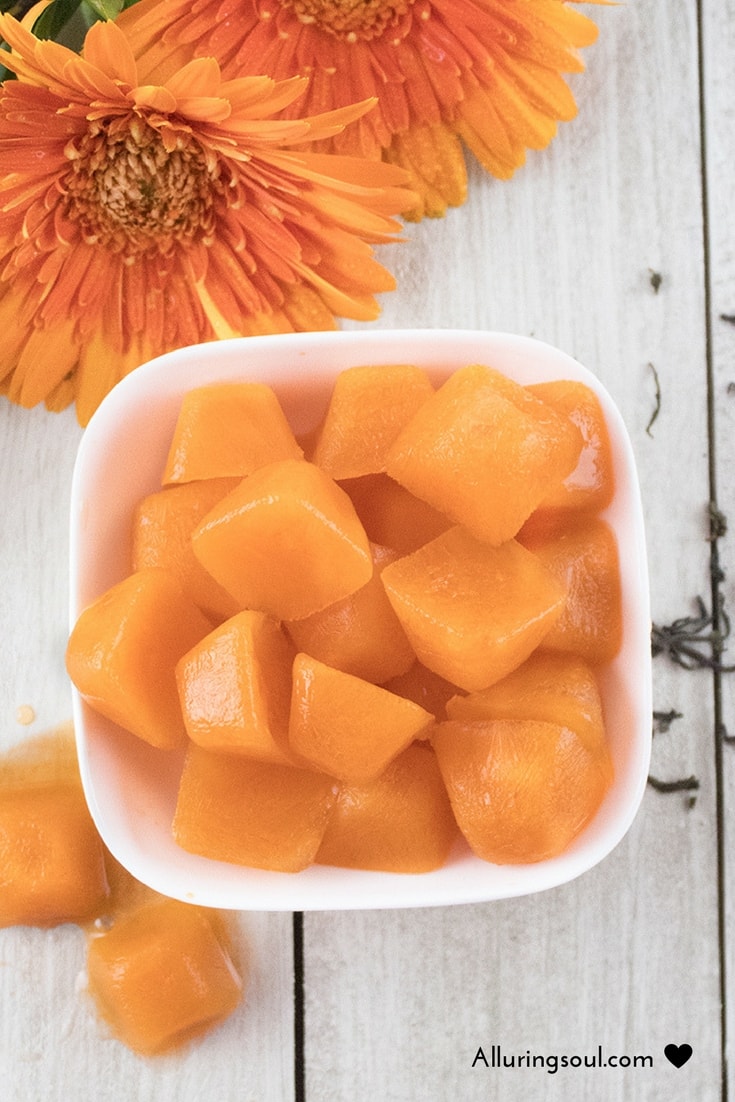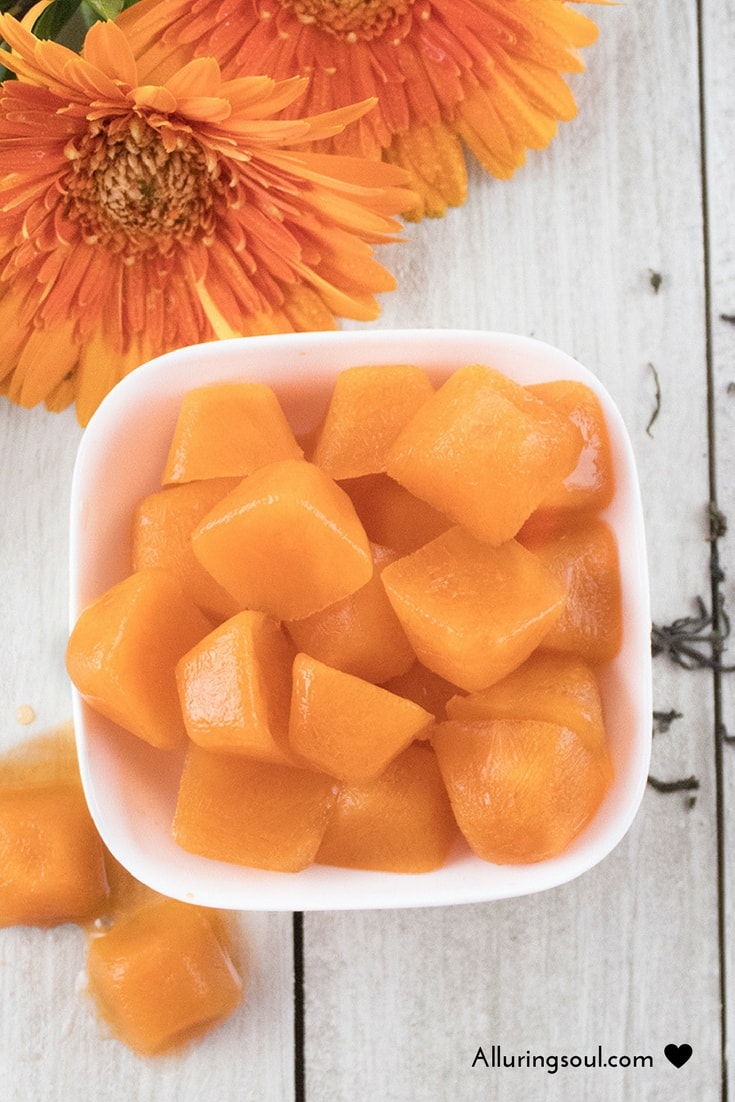 ---
Why should I apply Carrot and Green Tea Face Ice Cubes?
The benefits of ice cubes are many like
It cools our skin and eyes down and gives you relief from the heat.

Skin icing tightens skin and shrinks enlarged pores by unclogging the pores that look larger because of excess sebum.
It reduces swellings, and thus reduces the bags under your eyes.
One of the most popular uses of ice cubes is for shrinking acne. It can calm redness and swelling, especially if you have cystic acne. It can even relieve pain in the same way it numbs bruises.
It heals sunburnt skin and improves the texture of sunburnt area.
It controls the sebaceous gland to produce excess skin oil.
Ice cubes will give you a quick facial, tightening the skin and might limit the chances of wrinkles cropping up.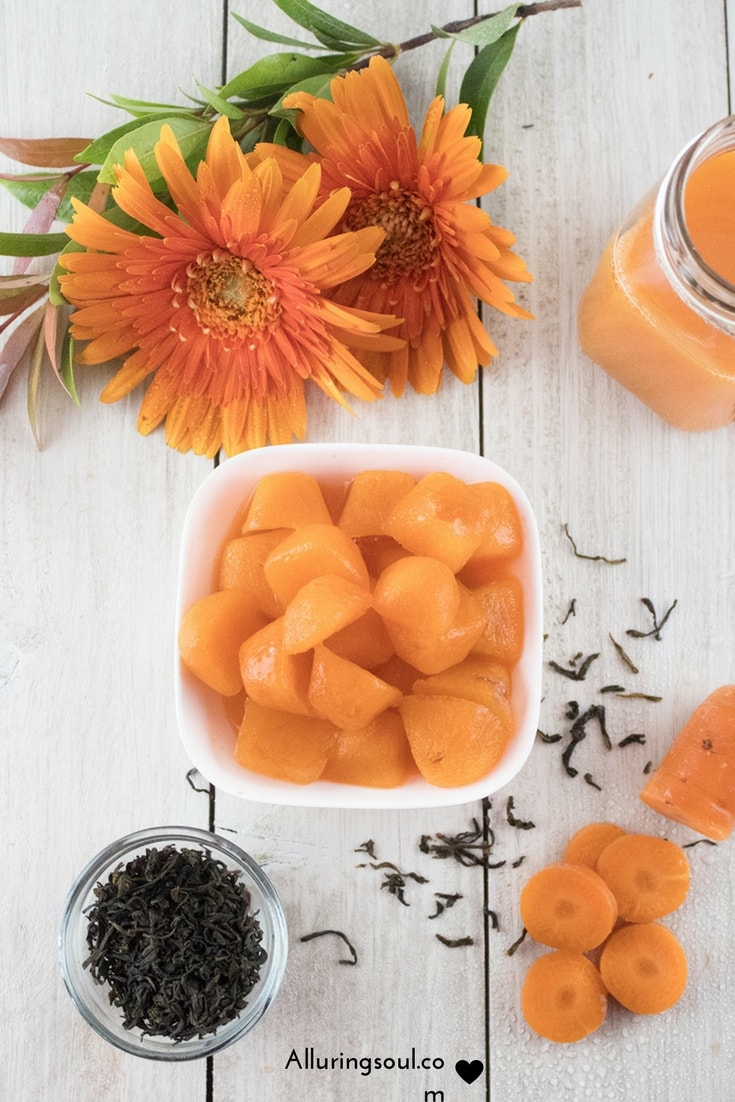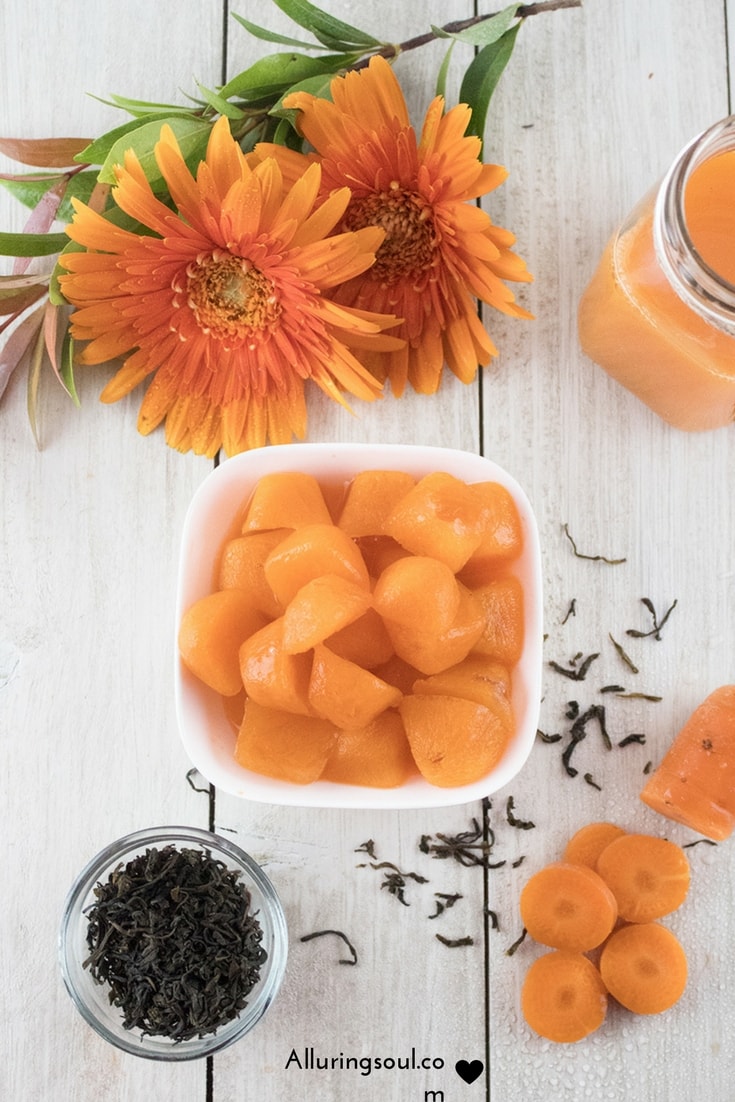 But, if these ice cubes are made up of really great and powerful ingredients, can do a lot for the skin. Carrot and green tea ice face cubes are made with of course green tea and carrot juice and also witch hazel, which can improve the quality of skin and reverses the skin damages. So, what are the benefits of these ingredients on the skin?
Carrot nourishes, tightens, and rejuvenates skin.Vitamin A  and K, present in carrot juice is an antioxidant that attacks free radicals and thereby prevents signs of aging like pigmentation, wrinkles, and uneven skin tone. It is helpful in repairing skin tissues. It also treats acne as it has antiseptic property. It is an efficient emollient, which helps lubricate the cells present in the surface layer of the skin by restoring their lost moisture. It not only hydrates the skin by balancing its natural oil content but also makes the dry and rough tissues softer. It reduces the appearance of brown spots and other types of sun damage help boost healthy collagen production which causes firmer skin and reduces inflammation and irritation, both of which cause a cascade of damage.
Green tea, when it comes to skin health, drinking and applying it on skin has been found to delay aging, protect the skin from UV rays, improve skin tone, and reduce acne. It is loaded with antioxidants which can fight inflammation and bacteria. Antioxidants present in green tea help prevent free radical damage and encourage healing of cells, which fight signs of premature aging like age spots, wrinkles, and sun damage. Green tea acts as an astringent which shrink pores and helps to reduce the production of sebum. It's antimicrobial, anti-inflammatory, antioxidant, and astringent properties help to fight both acne and blackheads when applied topically and also help shrink blood vessels around the delicate eye area, alleviating swelling and puffiness.
Witch Hazel has a strong antioxidant and astringent properties which are perfect for killing bacteria that live within skin's pores, stopping the cellular damage that can lead to skin cancer, preventing signs of aging, and speeding up healing. It's anti-inflammatory and antioxidant properties make it a great way to preserve skin's elasticity, saving your complexion, reducing dark circles, eye puffiness and helping you deal with the effects of environmental stress on your skin.
---
Procedure to make Carrot and Green Tea Face Ice Cubes
Ingredients
2 tablespoon alcohol-free witch hazel (Buy From Here)
2 cup fresh carrot juice
1 cup green tea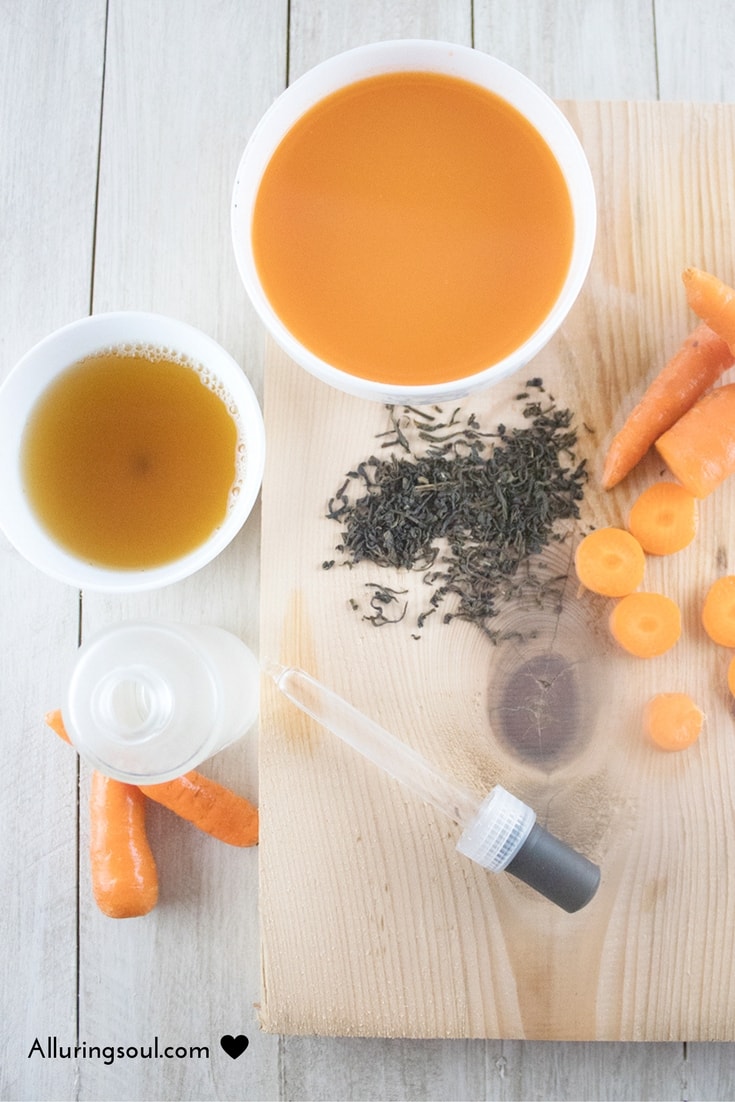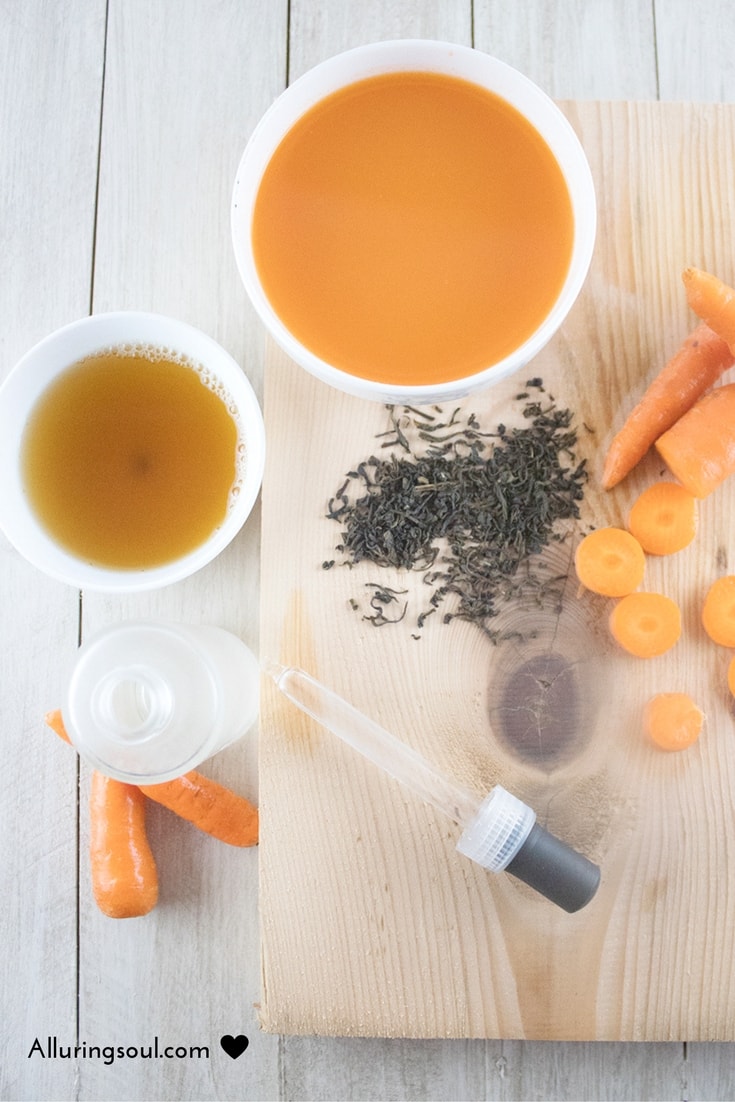 Directions
Wash the carrots and extract the juice from them with help of juicer.
If you don't have a juicer then simply cut the carrot into small chunks and put it into the blender.
Add some water to make a running paste and now extract the juice from the paste with the help of cheese/muslin cloth.
Now, brew green tea and mix it with carrot juice when it cools down.
Combine witch hazel with green tea and carrot juice and pour it into ice trays. It will hardly take 1 hour to convert it into ice.
How to apply
Wash your face and gently rub the cube over your face and neck. Apply a cube to dark circles and puffy eyes which will reduce swelling and excess fluid around the eyes. The ice cube massage will also help you with fine lines and improve circulation. You can let the juice sit on your face for 10-15 minutes before rinsing. Do this remedy daily to get the smooth and clear skin.
Note
Ice cubes are not just for acne, maybe your rosacea is flaring up, or maybe you had a bad allergic reaction. Whatever the case, ice cubes will bring down the inflammation for you.
Always make ice cube batch with fresh juice and green tea.
Do a patch test before applying it on your skin.
---