Do you have a favorite drink? I tend to drink a lot of water, but when I really have a craving for some cold drinks, then I go for iced green tea. It's super refreshing, and definitely a little more exciting than plain old water and more healthy than commercial cold drinks like "Colas". You can make iced green with any flavours but my new flavour is blueberry. Now, it has become my obsession.
Summer is on top of our head, so cool off with a glass of refreshing Iced Green Tea with Blueberry flavor which has a high content of antioxidant and other vitamins that make us healthy including bright and clear skin!
I will be the first to admit that I love a good sweet tea and I'm pretty stoked about the fact, this is sweetened only with honey (or maple syrup, if you prefer). I'm still not a huge fan of unsweetened tea, so I do truly love that this homemade iced green tea recipe is free from refined sugar and also it contains powerful ingredients which help a lot to improve our skin health. Let's take a look at what are the benefits of drinking blueberry iced green tea for our skin.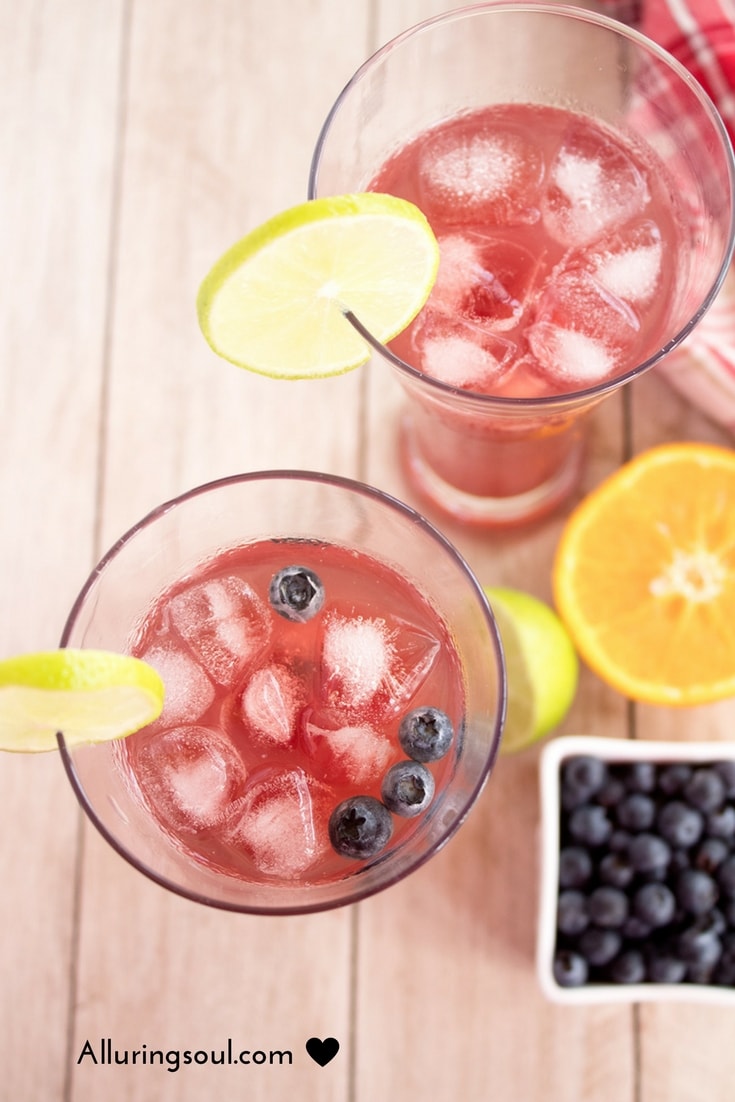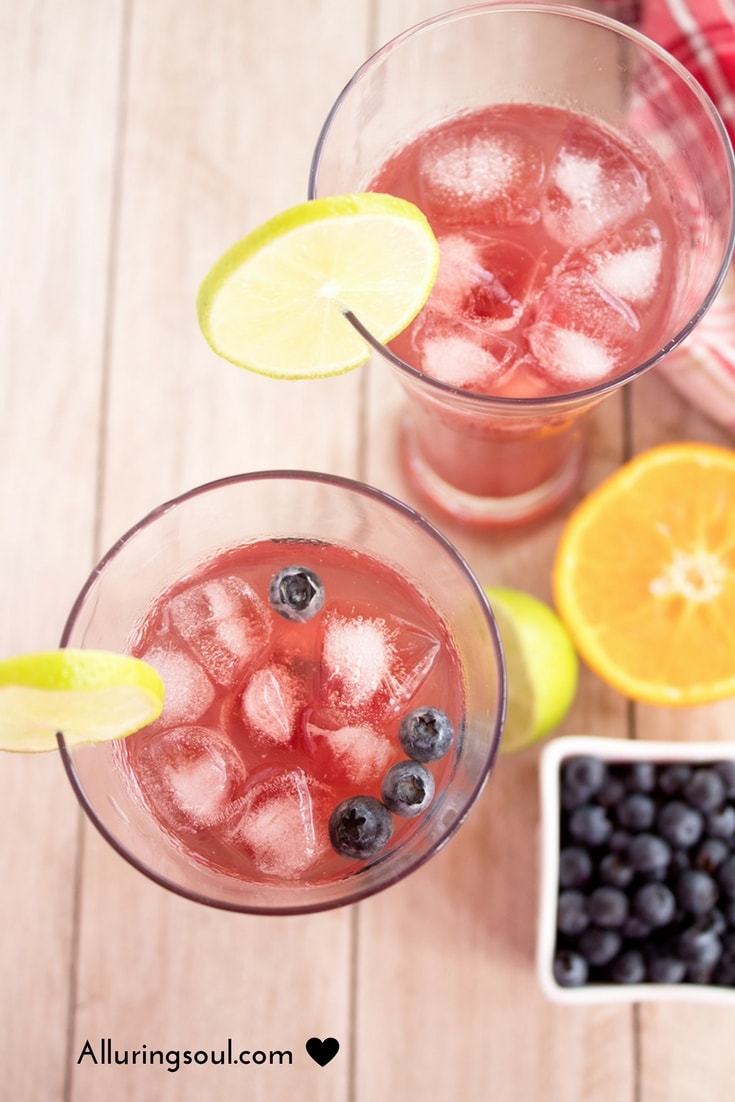 Blueberry helps in reversing the signs of aging. It is rich in antioxidants and antioxidants react with free radicals and prevent them from causing damage. A cup of wild blueberries has up to 13,427 antioxidants, including Vitamin A and C, as well as flavonoids. It helps to neutralize the free radicals, which prevents further damage. They are also helpful in strengthening blood vessels and healing broken capillaries. It is common knowledge that fiber is an integral part of a well-balanced diet. Blueberries, rich in fiber, not only keep your digestive system healthy but also help you get healthier skin.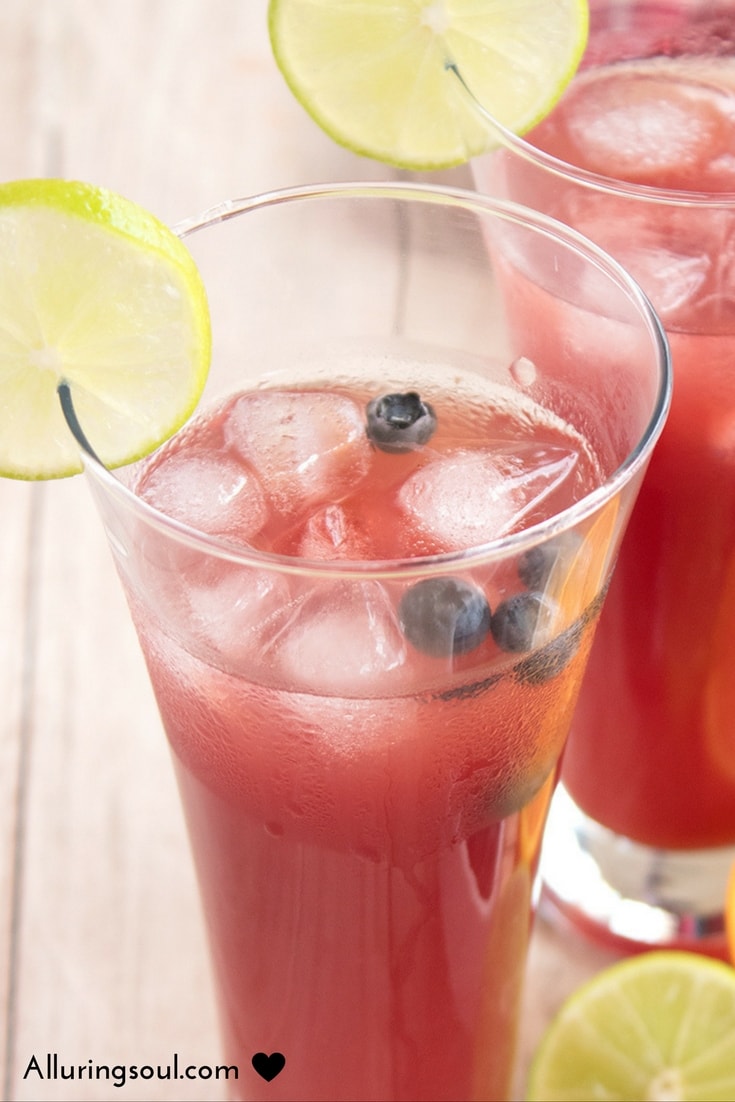 Green Tea is one of the healthiest things you can imbibe. It can increase your memory and concentration, boost energy levels, improve immunity, aids in weight loss and so much more. When it comes to skin health, drinking green tea has been found to delay aging, protect the skin from UV rays, improve skin tone, and reduce acne. It is loaded with antioxidants and other properties which can fight inflammation and bacteria.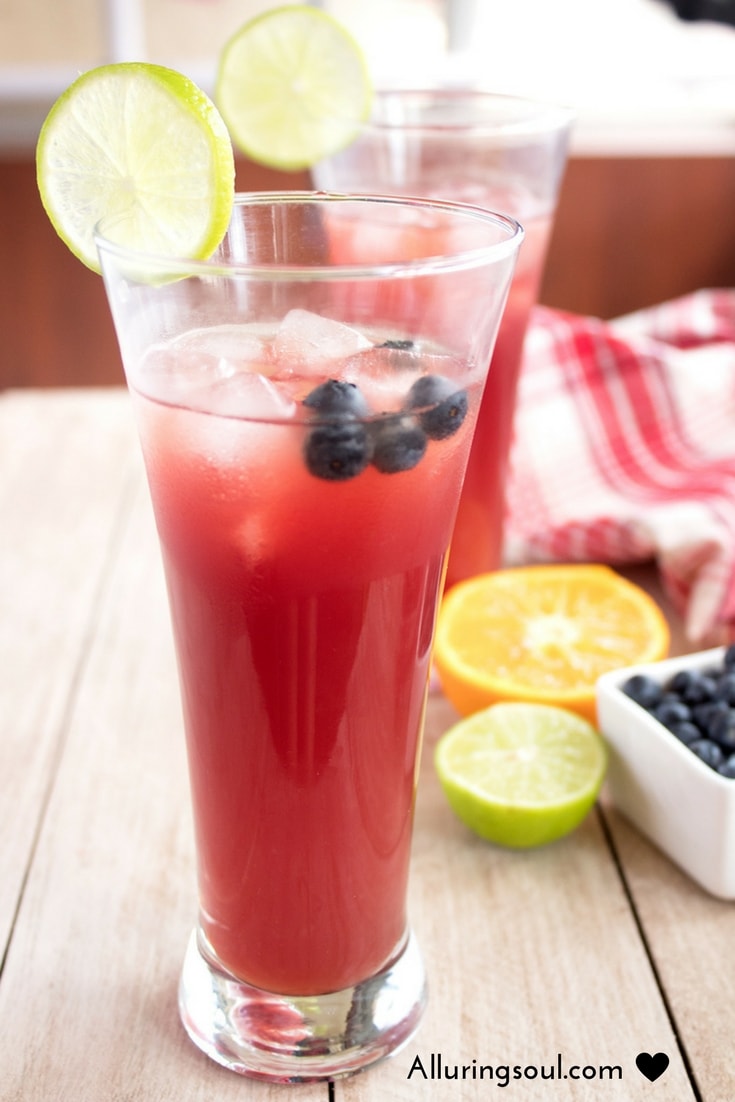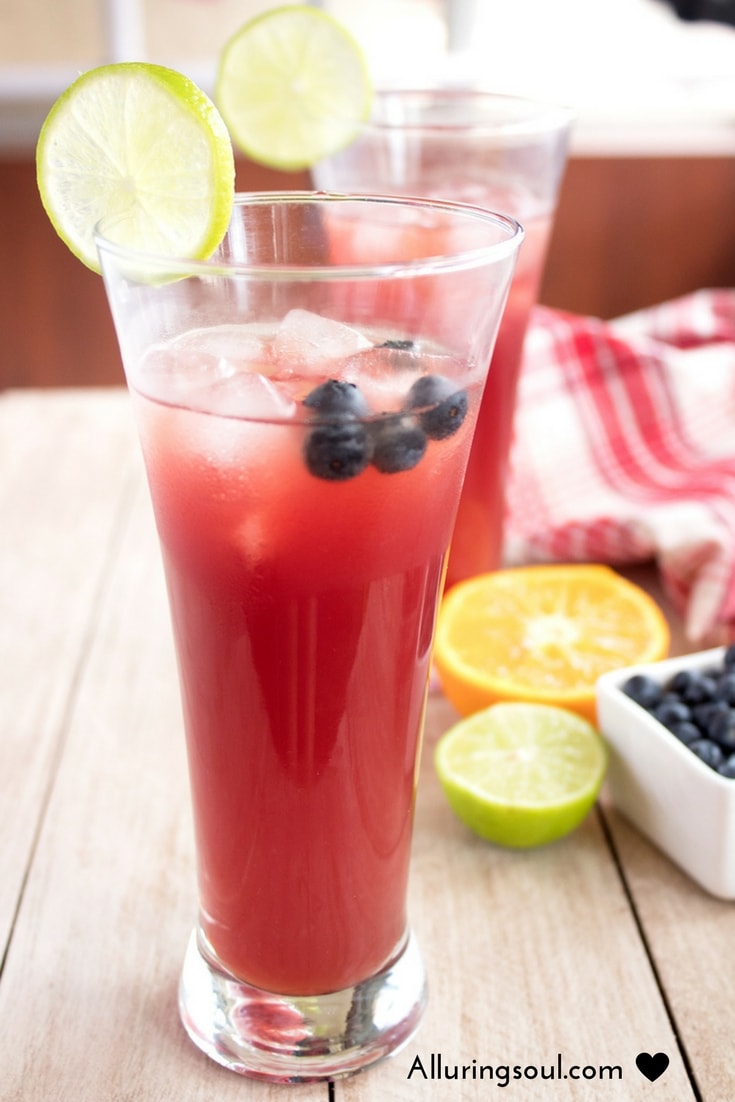 Orange and Lemon Juice is the excellent source of vitamin C and fulfills the daily requirement of vitamin C in just one serving. Vitamin C is an antioxidant which protects us from free radicals, which are the breeding ground for many diseases and conditions and also helps to loose weight by melting fats inside our bodies. Drinking orange juice regularly helps to improve skin complexion of the face by defeating the aging effects. It is good for other skin problems like acne and also helps to hydrate the skin. it has antibacterial and anti-inflammatory properties which keep our skin from within the body.
So, what are you waiting for, Try this refreshing and powerful blueberry iced green tea and give proper nourishment to yourself to get healthy skin.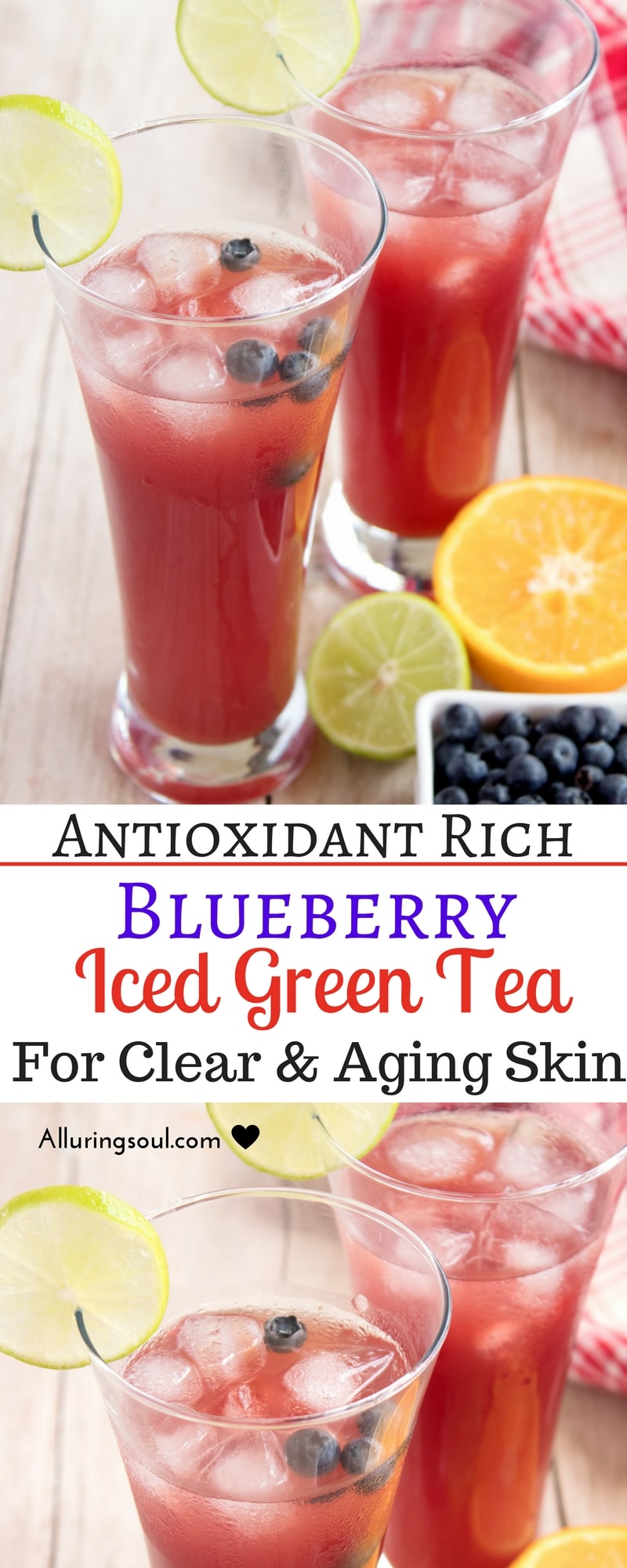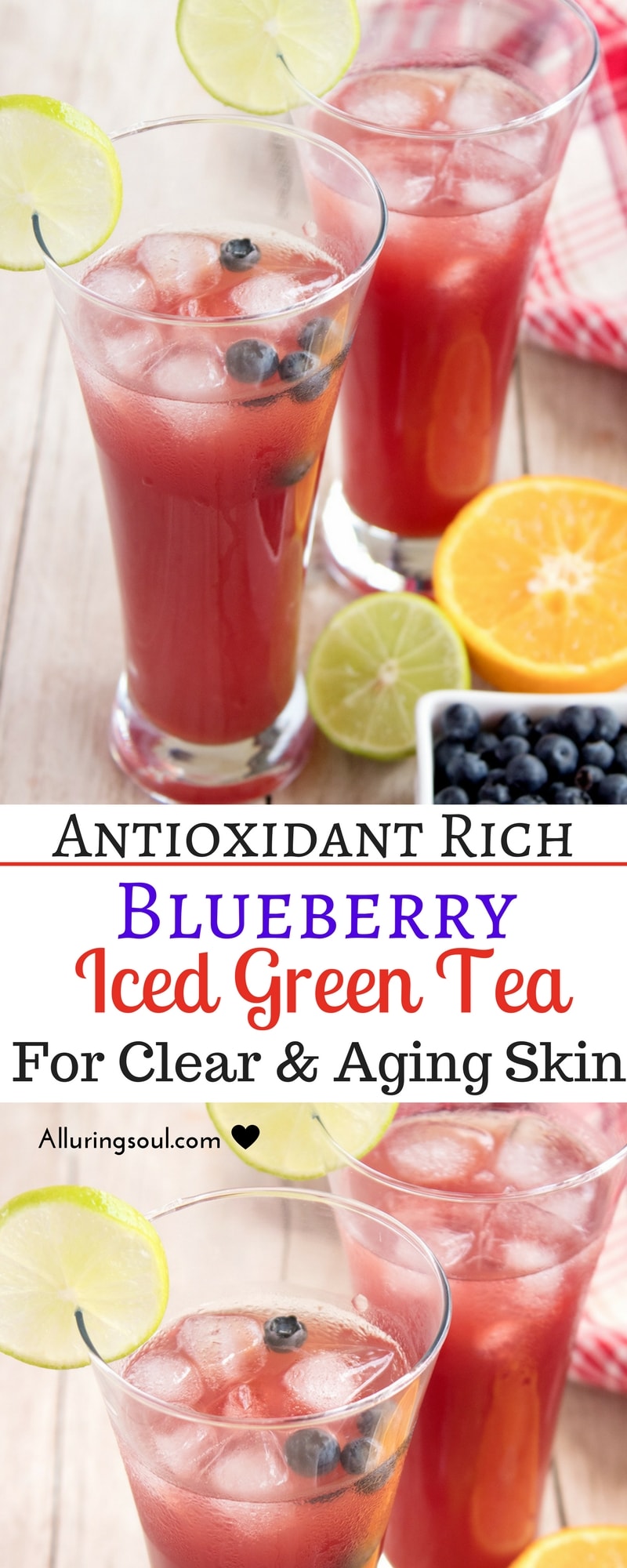 Antioxidant Rich Blueberry Iced Green Tea For Clear And Aging Skin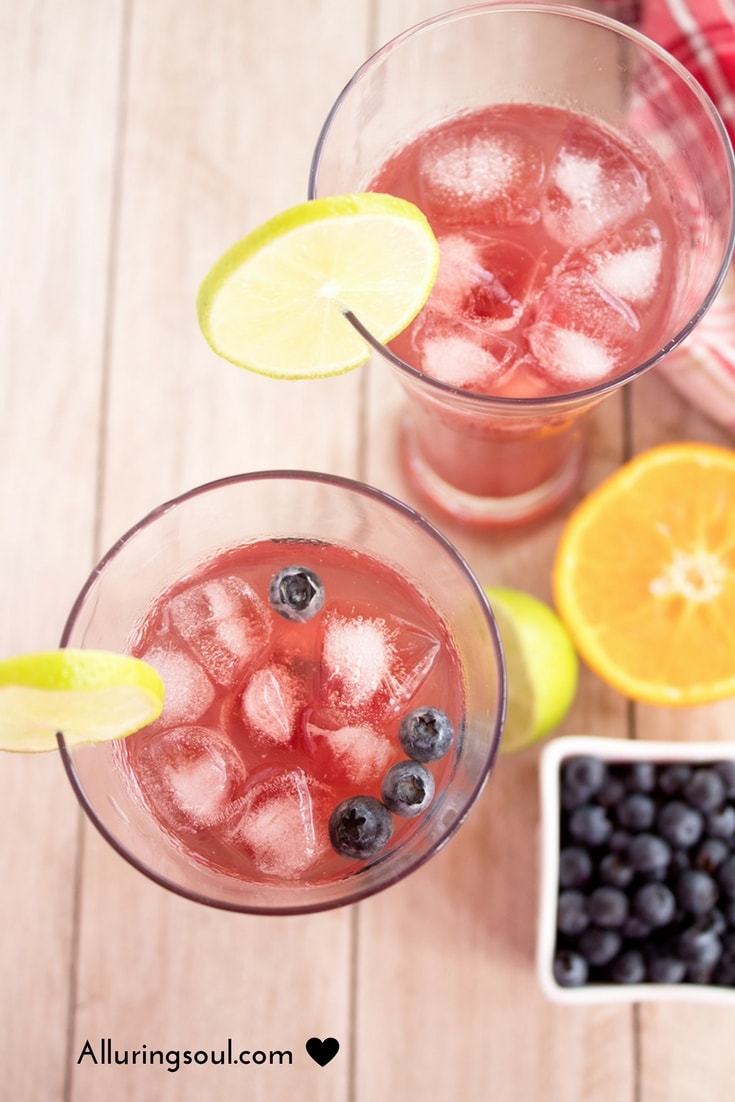 Give your body a proper dose of antioxidants and nutrients with blueberry iced green tea to get healthy skin and also burn fat with no guilt.
Ingredients
5 cups of water
4 green tea bags
1 cup fresh or frozen blueberries
1 cup fresh orange juice
3-5 tablespoon organic honey (depending on how sweet you like your tea)
3 tablespoons fresh lemon juice
Ice cubes, lemon slices for garnish
Instructions
Bring the water almost to boil in a large pot and turn off the heat.
Add the green tea bags into the large pot and cover it with a lid.
Let the tea bags steep for 5 minutes and then remove them.
Take out a cup of tea from the large pot and pour it into a blender, add the blueberries and blend them for a few seconds.
Pour the tea mixed with blueberries through a strainer into a large pitcher. Use a silicone spatula to push the mashed berries against the strainer to get all the juice.
Now, mix the remaining tea left in the large pot with blueberry mixed tea into the pitcher.
Pour honey and lemon juice into the pitcher and stir them until dissolved.
Chill in the refrigerator before serving.
Garnish with lemon slices.