(This post contains affiliate links. You can read my full disclosure here.)
You can start a blog in just 10 mins from scratch! Seriously, this post will guide you through that.
This is a complete guide on how to start a blog from scratch (this requires no knowledge of blogging or programming).  This is the post which I wanted when I started blogging.
Here you will find a step by step guide on
Register on Bluehost
Pick your domain name
Setting up a WordPress blog
So let's get started quickly with a fluff!
Steps To Start A Blog
1. Register on Bluehost
I have personally used Bluehost for hosting my website. They are great. They are the industry leaders and you can find millions of blogs running on Bluehost. They are also recommended hosting provider by WordPress.
Bluehost charges you just $3.95 per month (only when you register using my Bluehost like by clicking here) and also you will get a free domain name. Also, you can cancel at any time if you don't like their services and you will get your refund.
Click to open Bluehost in a separate window and follow along.
Click on the green "Get Started Now" button.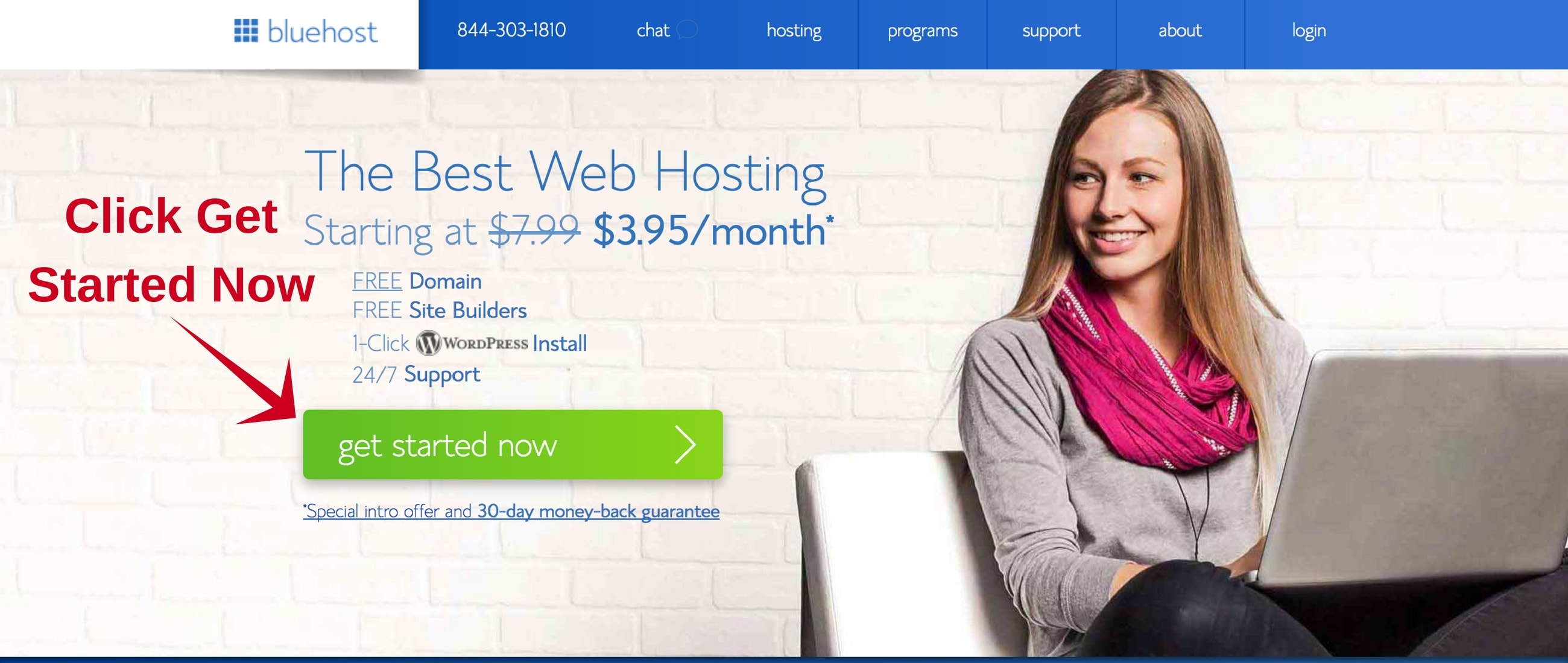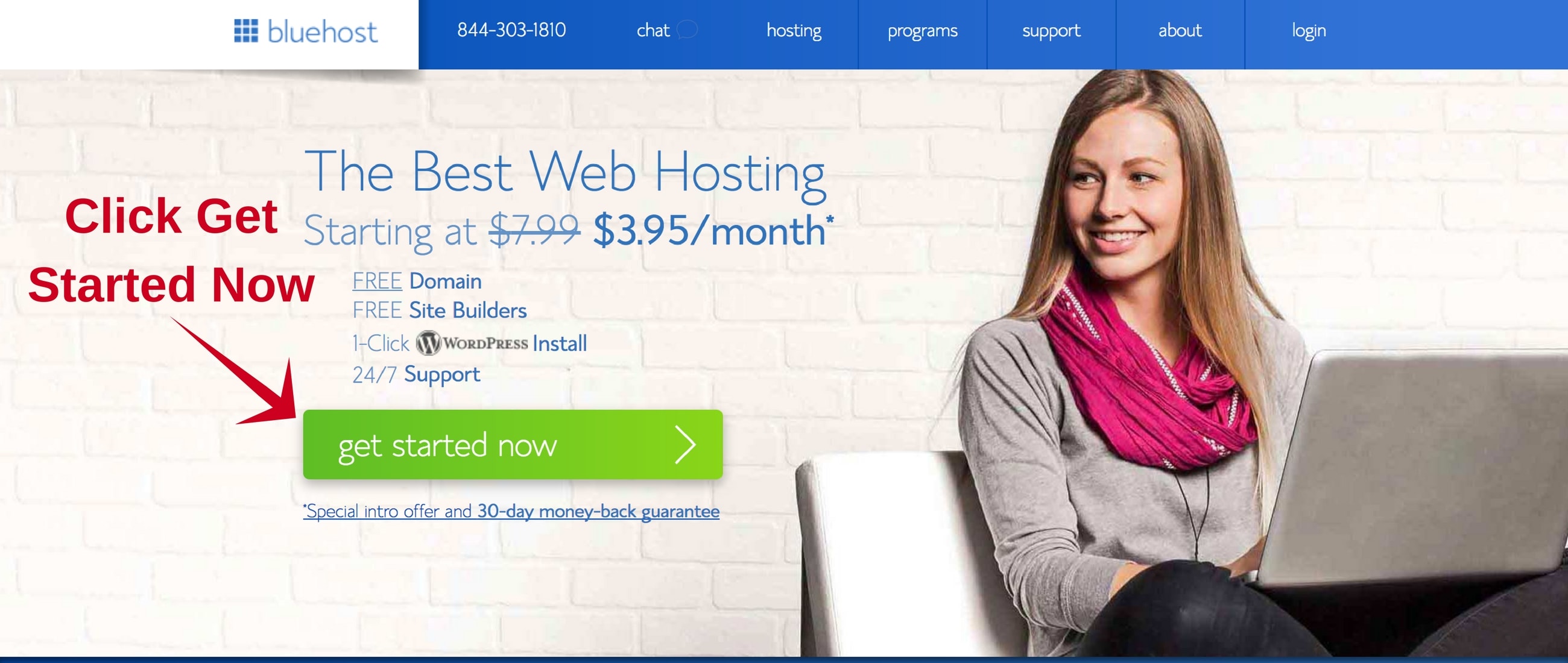 Select Plan
Now you need to select the plan. If you are just starting out then "Basic" plan is best for you. Click on "Select" button under "Basic"  plan.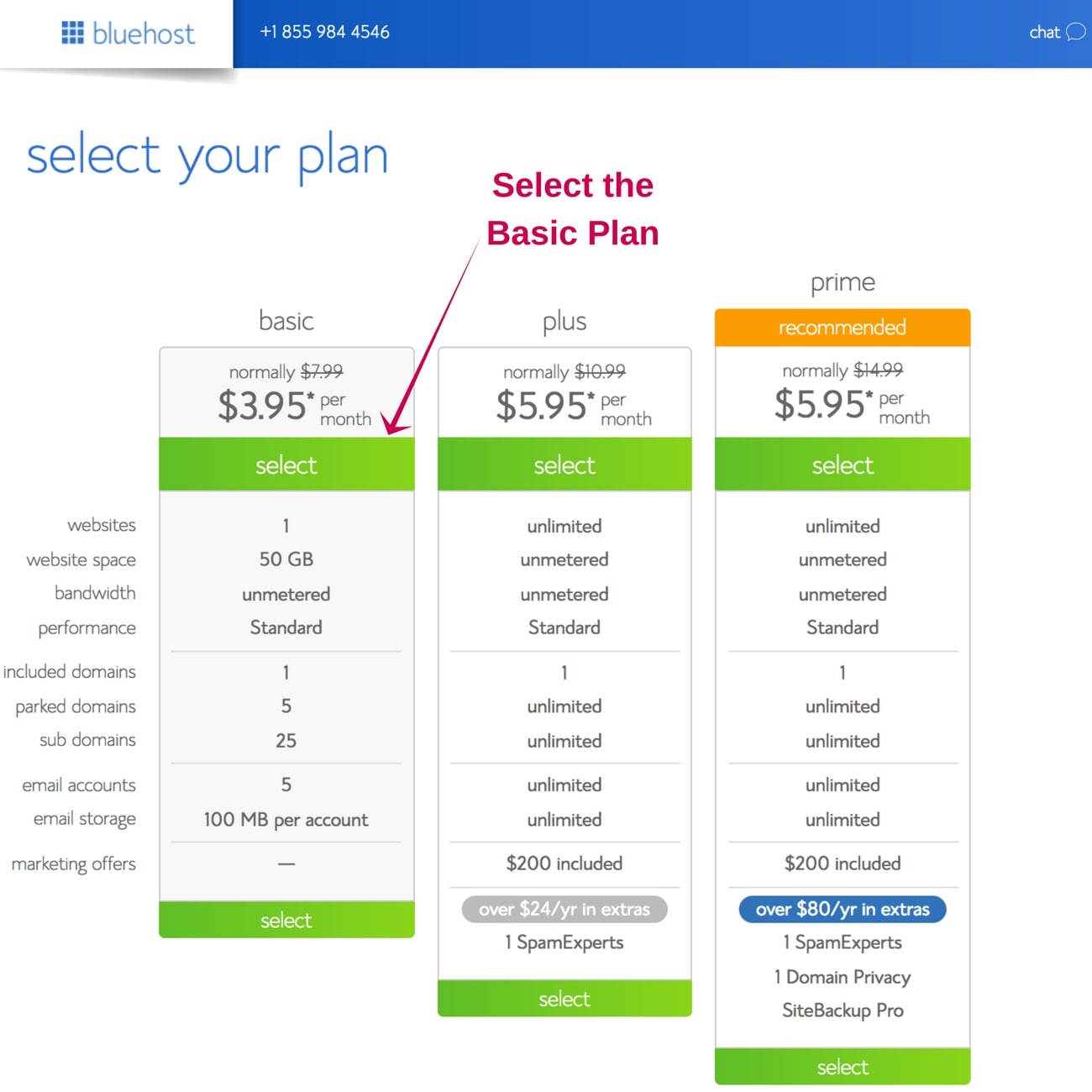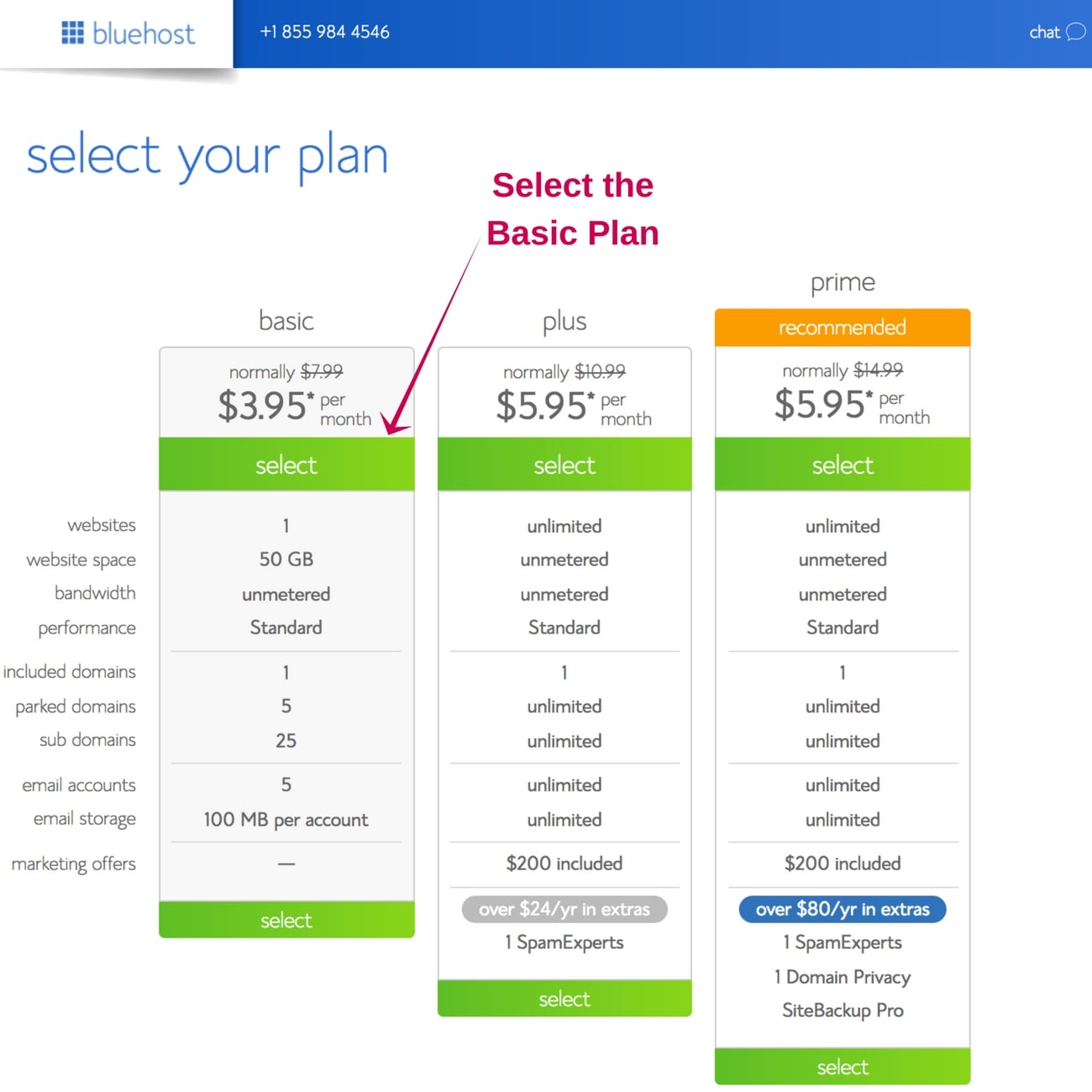 2. Pick a Domain Name
Domain name is the name of your blog. Like for me, it is alluringsoul.com. You can choose whatever you want it to be. I do have some recommendations on that.
a. Choose small domain names. Long domain names are though to remember. Like I chose alluringsoul.com. I think its small and much easily rememberable.
b. Try not to use special characters like "-" or "*" and also numbers in between your domain name. this makes your domain name tough to remember.
c. Choose .com always. This is important. There are a lot of advantages to it. You get ranking better in Google search results, you are seen as a commercial website thus making you look professional and authoritative. Plus it is easy to remember as most of the websites are .com in the world.
Now enter your domain name. Don't forget that you will get a free domain name. Once done, click "next".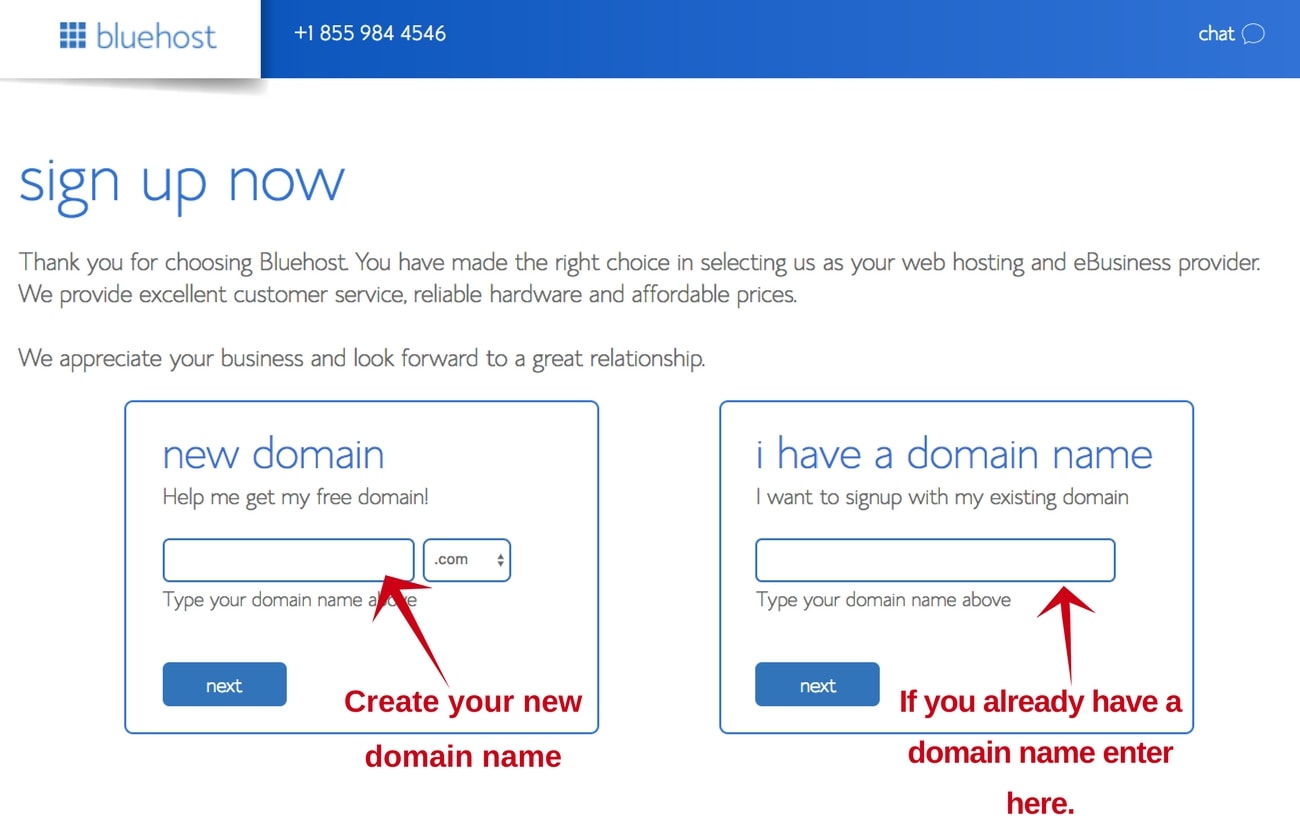 Enter your account info
Enter your personal information. This includes your account and contact information.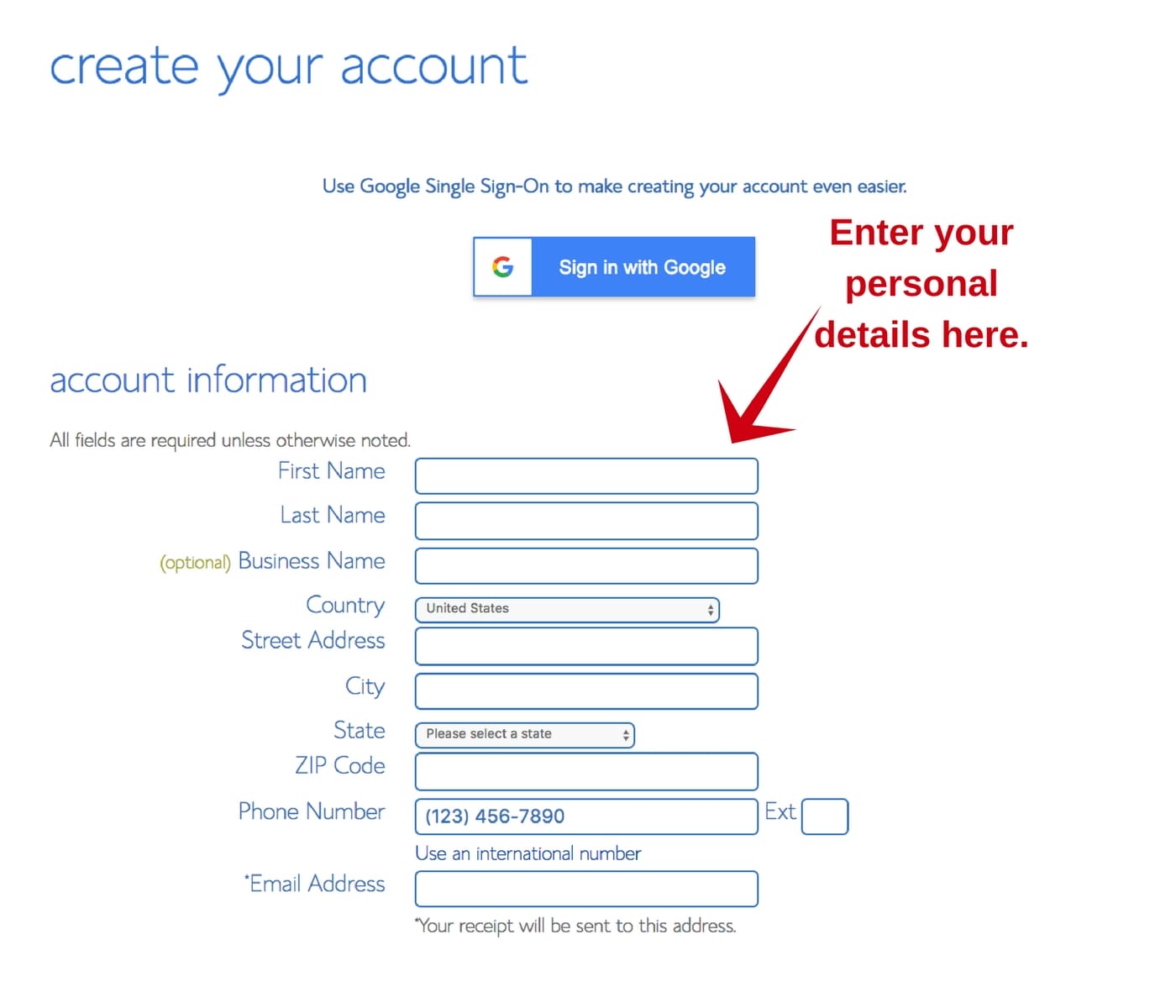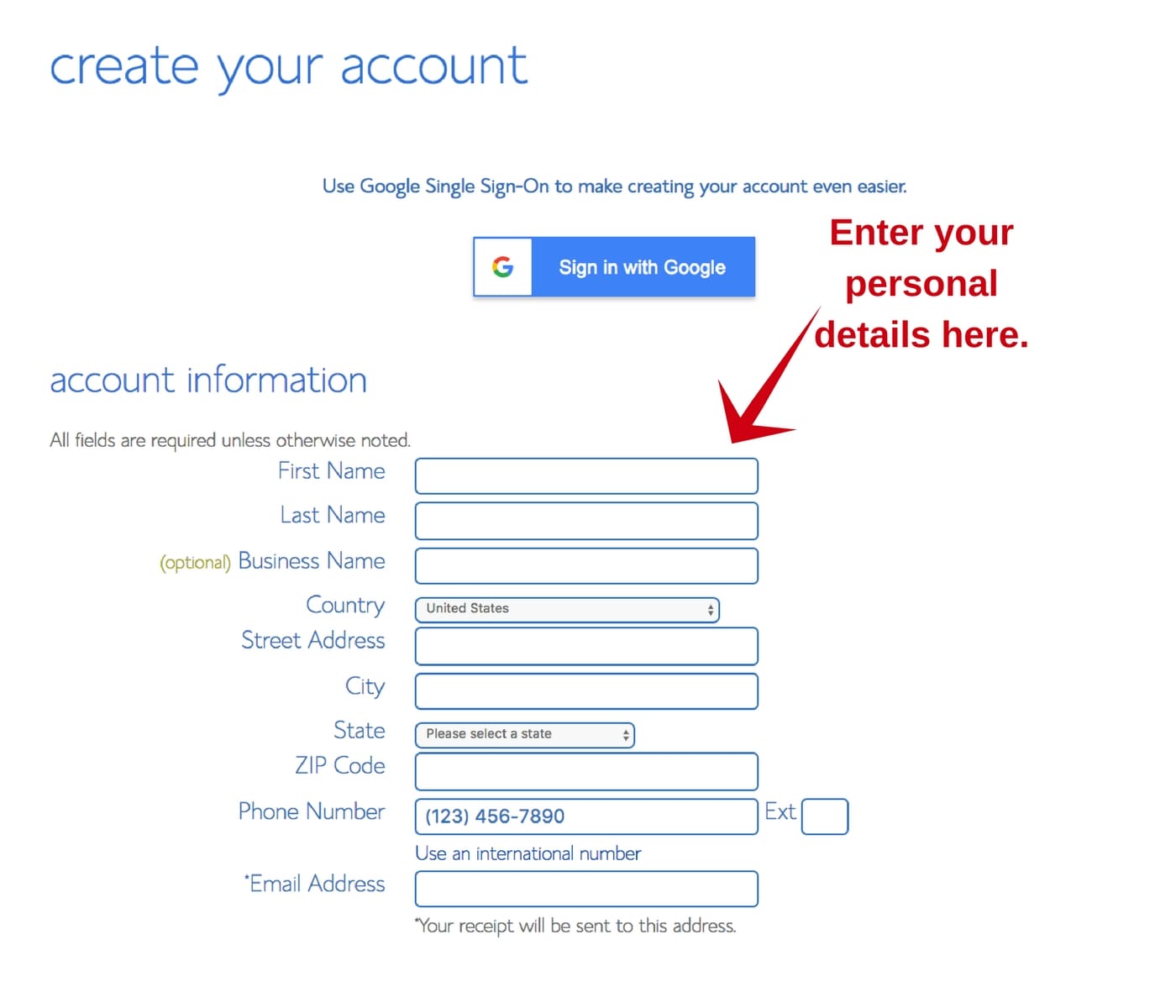 Next, in the package information section, you will be selecting the package you would like to buy.
You can select a 36 months package which gives you the cheapest monthly rate + a free domain name.
I will recommend that you uncheck "Domain Privacy", " Site Lock" and "Code Ground Basic" which are not necessary at startup.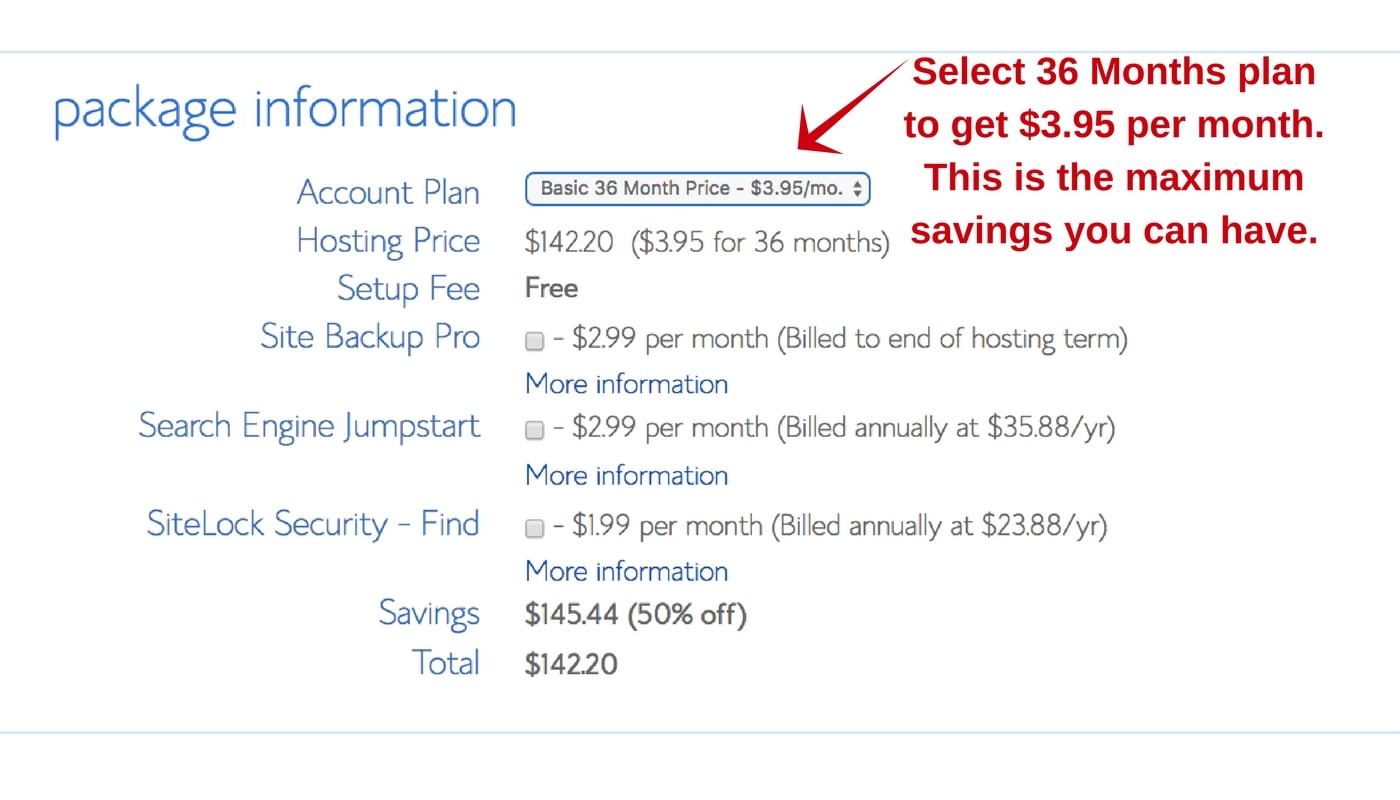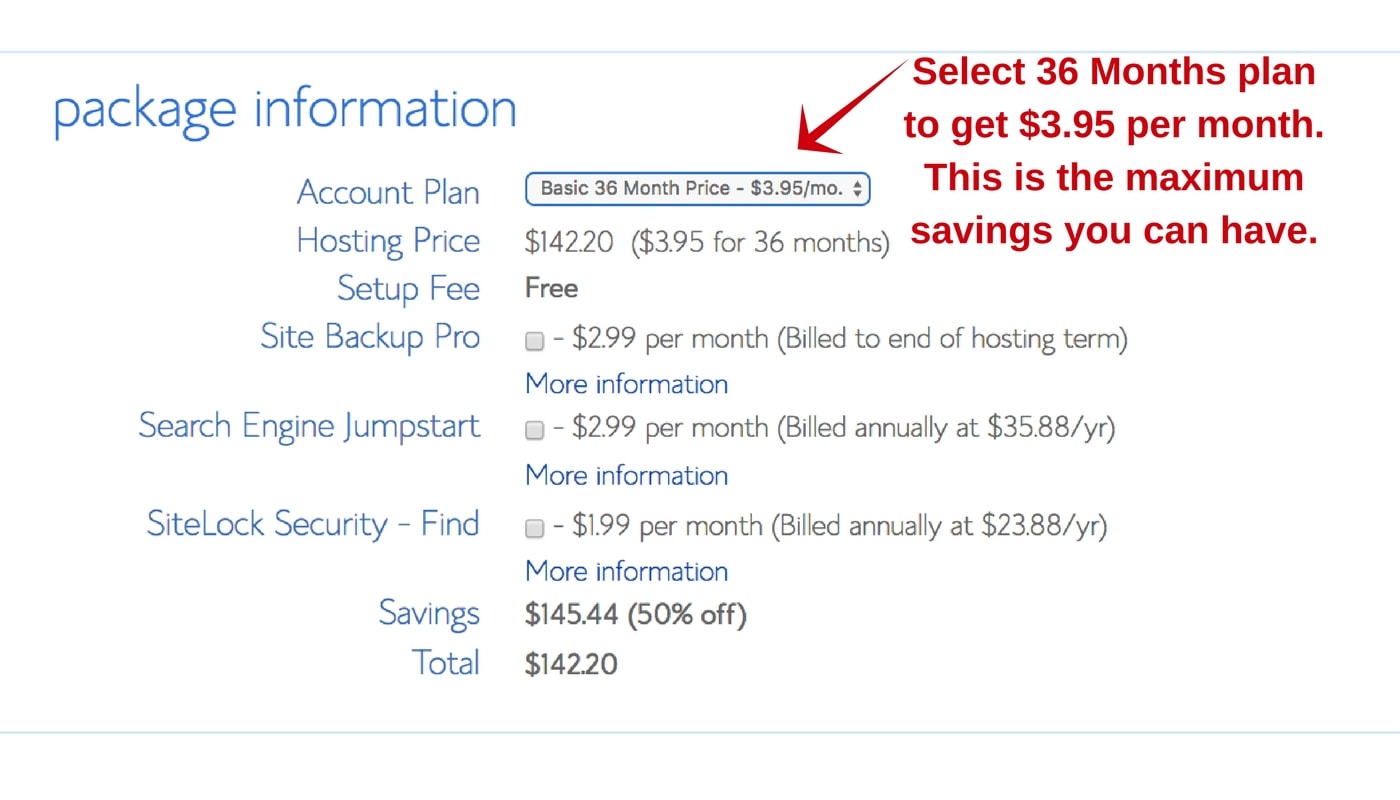 Enter your billing info
Next, enter your billing information. Agree to the terms of service and then click "submit" button.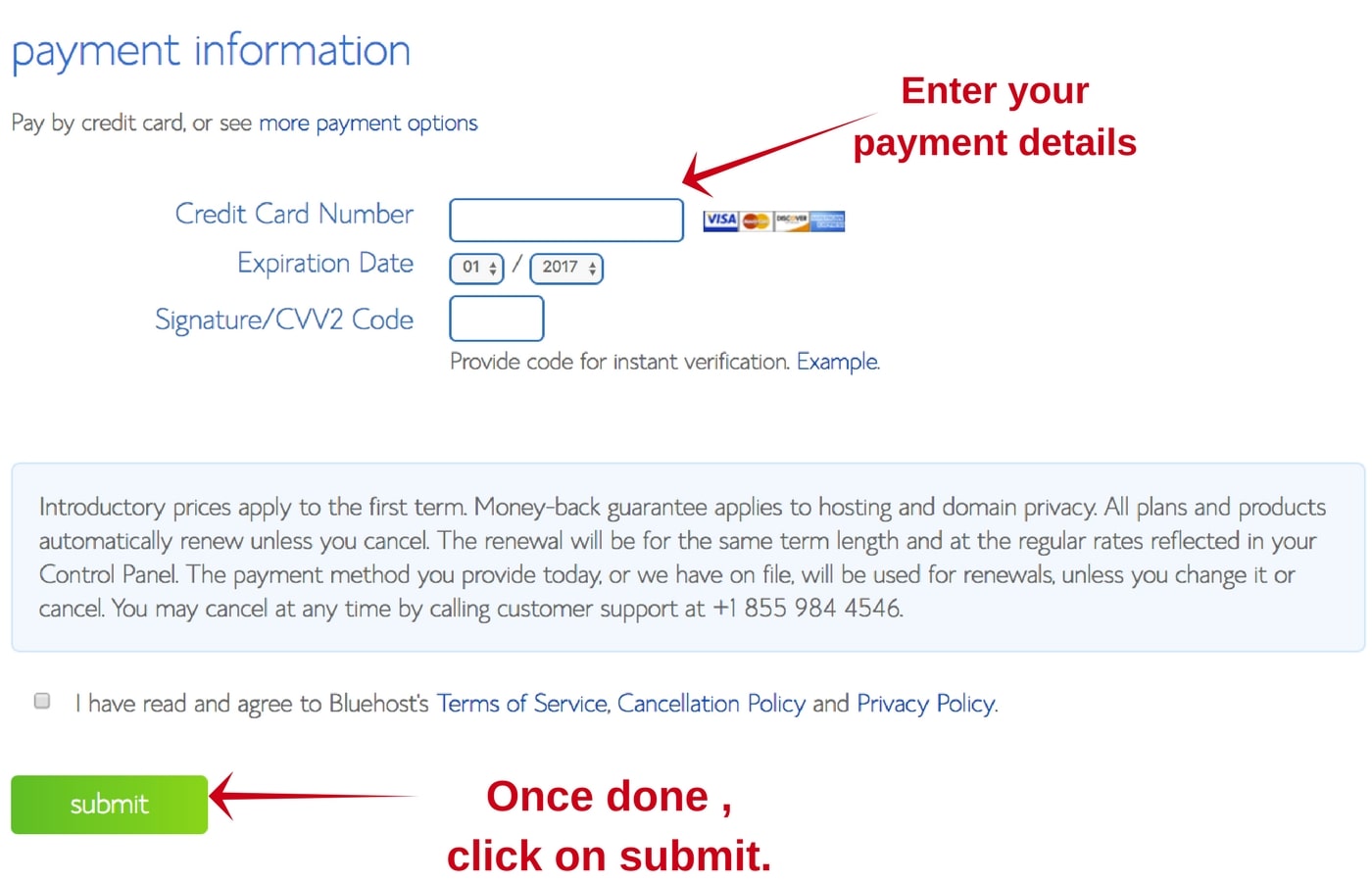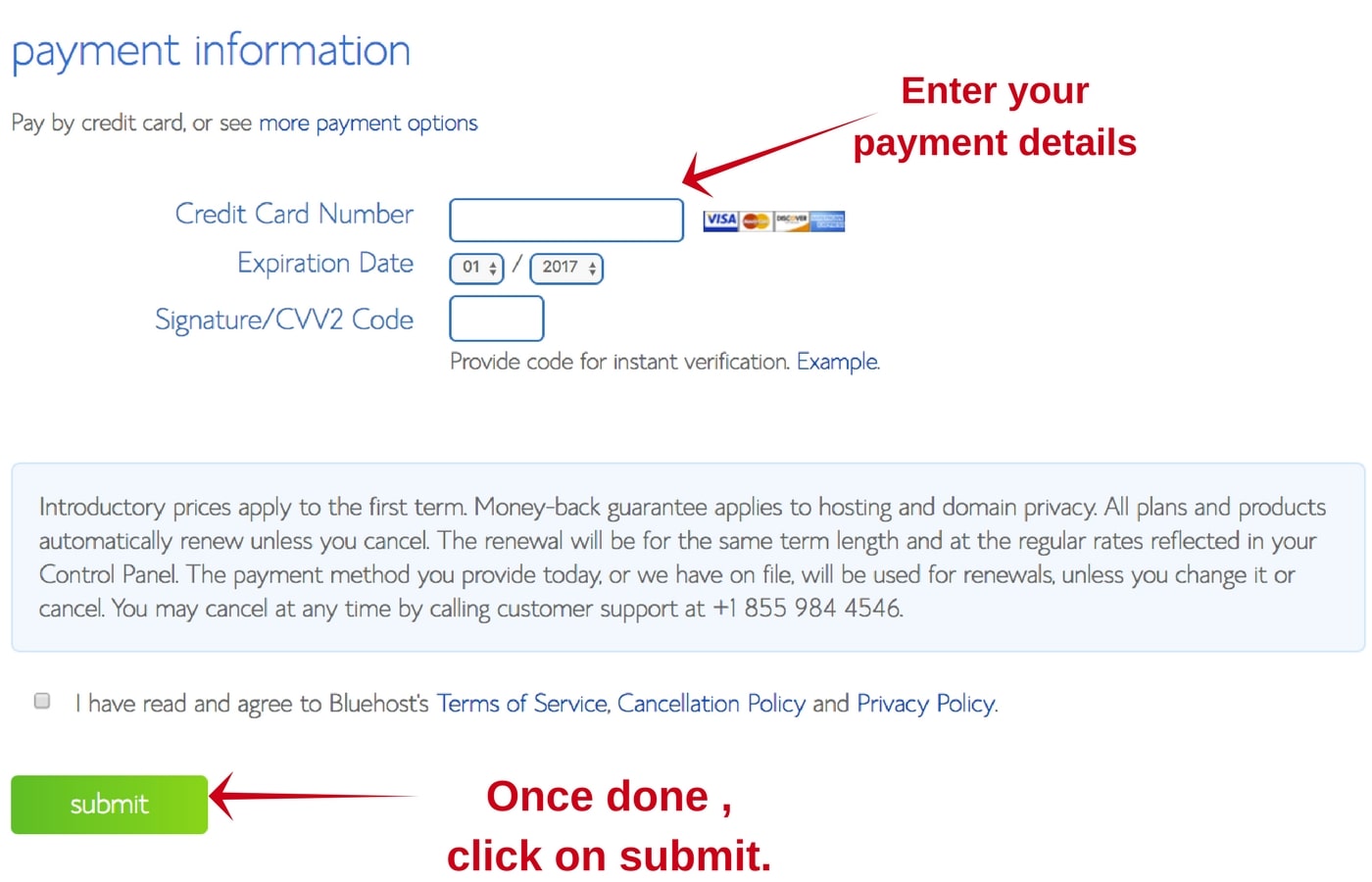 Choose your password
Now you need to create a password. Click on the "create your password" button. This password will allow you to login to Bluehost and get started.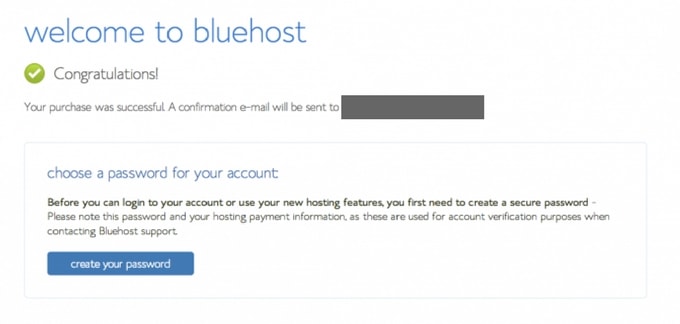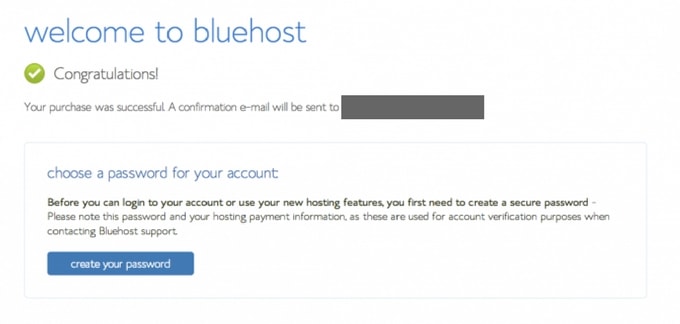 Your screen might be a little different but that fine. Bluehost keeps making changes to its website to provide a much better user experience to its customers.
3. Set up your WordPress blog
Now you are ready to start working on your WordPress blog. Just click the login button to get started with WordPress.

Select a  free theme to get started (You can change this anytime)
Select a free theme to get started. You can always change this anytime in the future.
Start building your site
Your site might be in a temporary domain if you created a new domain. This is fine and nothing to worry about. It usually takes 2-20 hours for your domain to start reflecting, so for the time being Bluehost provides you a temporary domain so that you can work on your site right away. Once the domain name is active, Bluehost will automatically change the temporary domain name to your domain name.
If you face any problem then you should call the Bluehost support instead of chatting with them as they are quite active on calls and can get your query resolved in a minute. Also, they have access to your account so they can fix the problem for you as well.
Next, click the start building button to start building your site.

Welcome to your blog admin control
Next screen will show you the admin control of your WordPress blog. This is where you will be able to make changes to your blog, create new and awesome posts and everything related to your blog.

I recommend skipping the blue buttons in the middle of the screen (Business and Personal) and instead click "I don't need help". You don't want any data on your blog and want to start fresh.
What's next?
Done starting a new blog! Next, you should work on increasing traffic to your blog. I have written an awesome blog post which provides you the exact steps to increase traffic to your blog. These are the exact steps I took to grow my blog from scratch, getting my first reader to 200,000 per month!