(This post contains affiliate links. You can read my full disclosure here.)
Looking in the mirror every morning at your dry and flaky skin is really frustrating. Isn't it?  Winter is a season when we all experience dry skin. It makes your skin look dull and unhealthy. But this coconut oil body lotion works great for dry skin. It contains two best carrier oils for skin i.e. coconut oil and argan oil. I have also used essential oils in this body lotion. Essential oils boost its effectiveness for dry skin. So, why not make this coconut oil body lotion at home and get rid of dry and flaky skin.
A recent study found that 46 percent of patients with a chronic skin disease like severy dry skin, eczema, psoriasis, who used coconut oil had an excellent response in treating their condition. Meanwhile, only 19 percent of those who used mineral oil to treat their condition had an excellent response. (Source)
Before getting to the recipe, let's take a look at what are the benefits of coconut oil body lotion for dry skin.
---
Benefits Of Coconut Oil Body Lotion
Coconut oil is a very effective moisturizing carrier oil. It is easily soaked into the skin. It contains a high amount of saturated fat which moisturizes your skin.  Saturated fat also prevents the moisture loss from your skin. Hence your skin becomes soft and smooth.
It has antibacterial and antifungal properties. They kill harmful bacteria and fungi living on your skin. Therefore gives you healthy skin.
Scientific research into the benefits of coconut oil for skin and face care has shown that it contains antioxidant, antibacterial, antifungal, and anti-inflammatory properties. For example, research published in the Natural Medicine Journal said that coconut oil contains medium-chain fatty acids which have an antimicrobial effect. The main fatty acid is lauric acid which plays a vital role in killing off various bacterial and fungal infections on the skin. (Source)
Coconut oil contains vitamin E which is a powerful antioxidant. Vitamin E neutralizes free radicals. Free radicals damage your skin cells. This leads to the appearance of fine lines and wrinkles. Hence, coconut oil helps to remove wrinkles as well. It also boosts collagen and promotes healthy regeneration of skin cells. This improves the elasticity and firmness of your skin. Ultimately fades fine lines and wrinkles.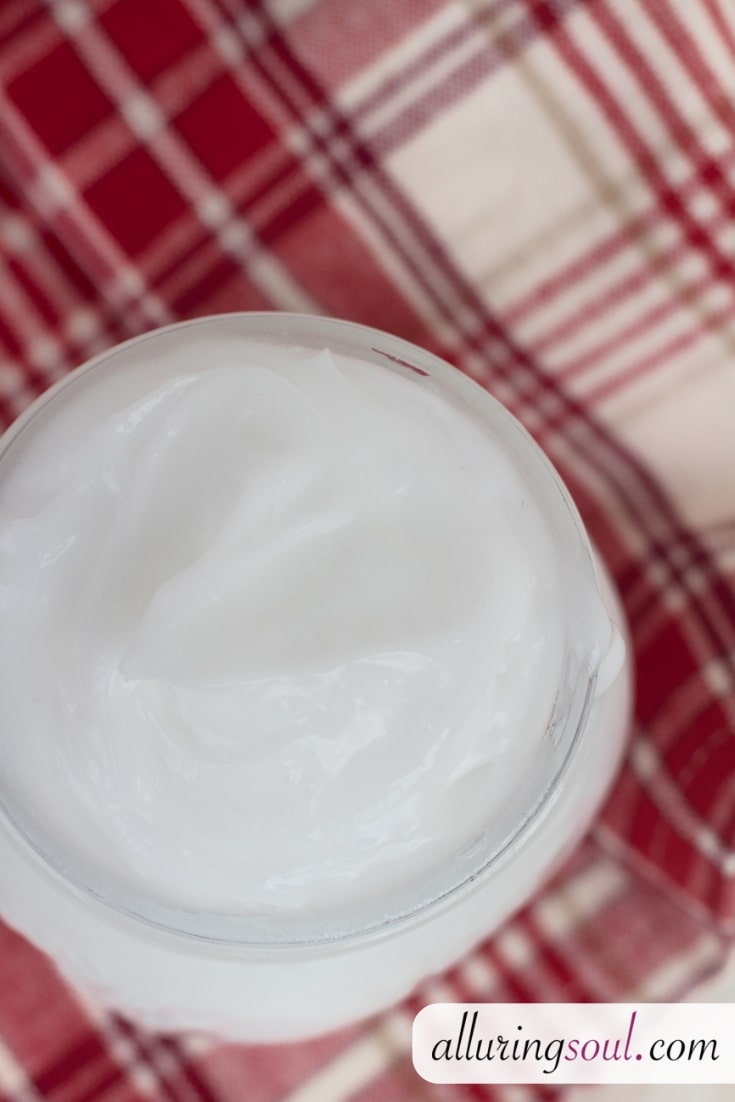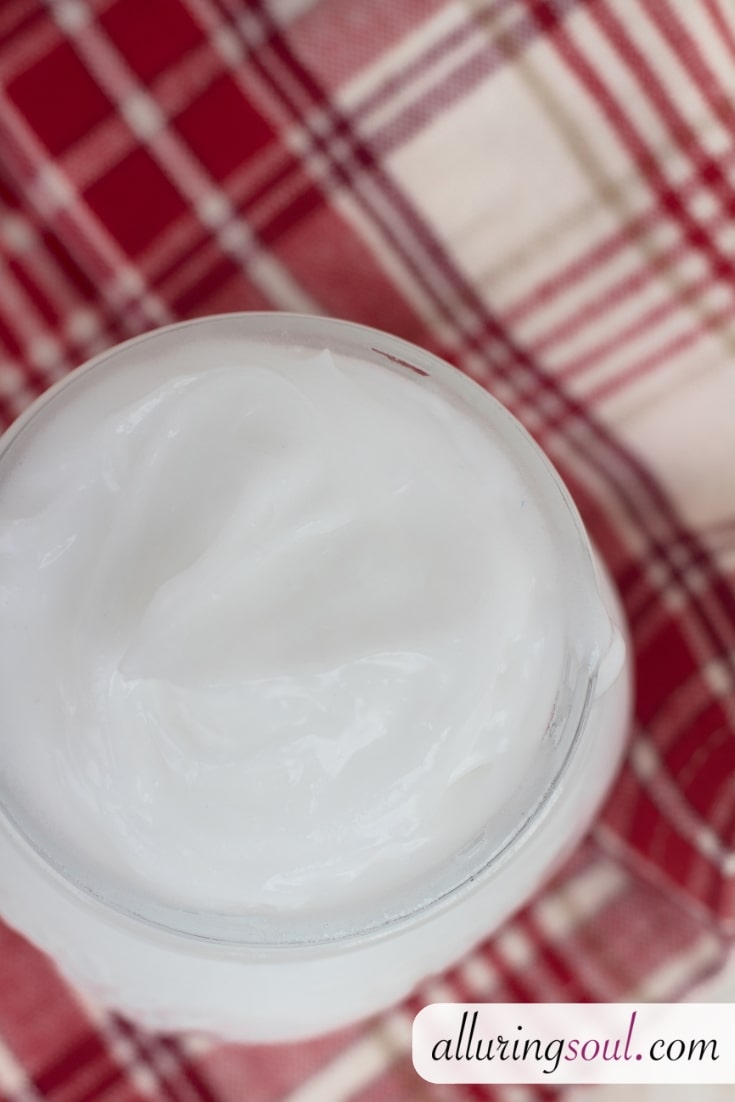 Argan oil has the perfect balance of oleic acid and linoleic acid. Oleic acid and linoleic acid together soothe your dry skin. Oleic acid easily penetrates your skin to replenish the lost moisture. It also locks the moisture into your skin. It has powerful antioxidant properties. They protect your skin from harmful free radicals. It also gives a natural glow to your skin.
Vitamin E oil works great for dry or chapped skin. It has powerful moisturizing properties that make your dry, chapped skin soft and smooth. It also helps soothe irritation and itching.
Rose essential oil restores your dry skin back to life. It moisturizes your skin as well as reduce irritation. It has antibacterial properties that keep your skin healthy. Rose essential oil helps open up your skin pores. This makes it easier for the skin to absorb all the nutrients of this coconut oil body lotion.
---
Procedure To Make Coconut Oil Body Lotion
Natural Coconut Oil Body Lotion For Dry Skin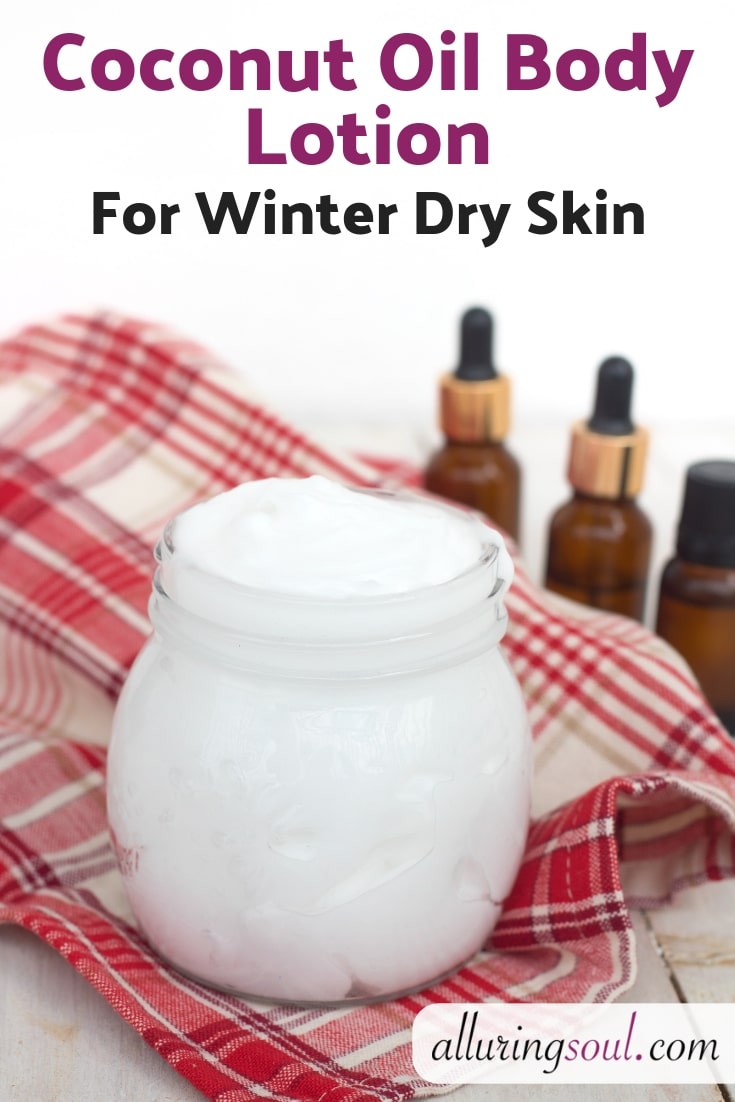 Coconut oil body lotion helps to make dry and rough skin moisturized and smooth. The perfect body lotion for winter dry skin.
Recipe type:
Coconut Oil Body Lotion
Instructions
How To Make
Put all the ingredients in a mixing bowl and whip them for 5-7 minutes.
The mixture will become creamy and fluffy.
Store it in a glass container, away from direct light.
How To Apply
Apply this coconut oil body lotion whenever needed.
Notes
1. Sterilize all your beauty packaging containers, jars, glass jars, and bottles.

2. Try to Patch Test your recipe before using it liberally, simply rub a little on your neck behind the ear and leave for 24 hours. If there is no reaction after this time you are good to go.
---