Using harsh chemicals on your hands rips off all the natural oil and moisture from them. It makes your hand dry, rough and unhealthy. That's why you should opt for all natural cream just like this calendula hand salve for your dry, rough hands. It deeply moisturizes and hydrates your dry skin. It also helps retain moisture in the skin. Ultimately makes your skin soft and supple.
This calendula hand salve contains some of the best natural ingredients for treating dry skin. It contains calendula oil, beeswax, lavender, and helichrysum essential oil. This hand cream also helps your skin get rid of germs, bacteria to give you healthy skin.  So why not use this calendula hand salve and get soft and supple skin.
Now before heading to the recipe let's discuss the benefits of calendula hand salve for dry skin.
---
Benefits Of Calendula Hand Salve
Calendula Oil
Calendula oil is a great moisturizer for dry and chapped skin. It helps hydrate your dry skin. This way it helps smooth your rough hand skin. It has antibacterial and antifungal properties. It also helps skin cells regeneration. These are the attributes of calendula oil that helps in faster wound healing.
Avocado Oil
Avocado oil is rich in fatty acids and is excellent for moisturizing the skin. In addition to vitamin E, avocado oil contains potassium, lecithin, and many other nutrients that can nourish and moisturize the skin.
Shea Butter
The main components of shea butter include oleic acid, stearic acid, linoleic acid, etc. It gets absorbed quickly into the skin as it melts at body temperature. Its moisturizing and healing properties prove beneficial for many skin issues. It also has anti-inflammatory and antimicrobial properties (to a certain extent) that can be utilized to treat many ailments.
It also contains vitamins A and E, which keep the skin in optimal health.  Vitamin E also soothes dry skin and improves the skin's elasticity, making this butter a good anti-aging agent.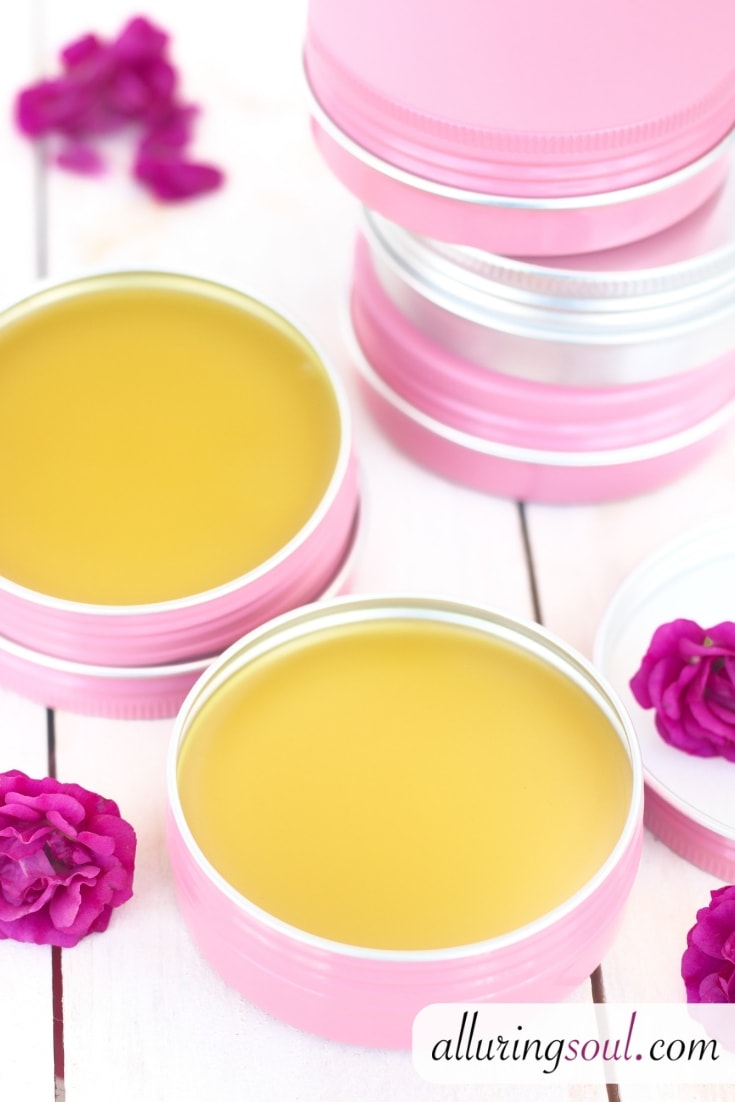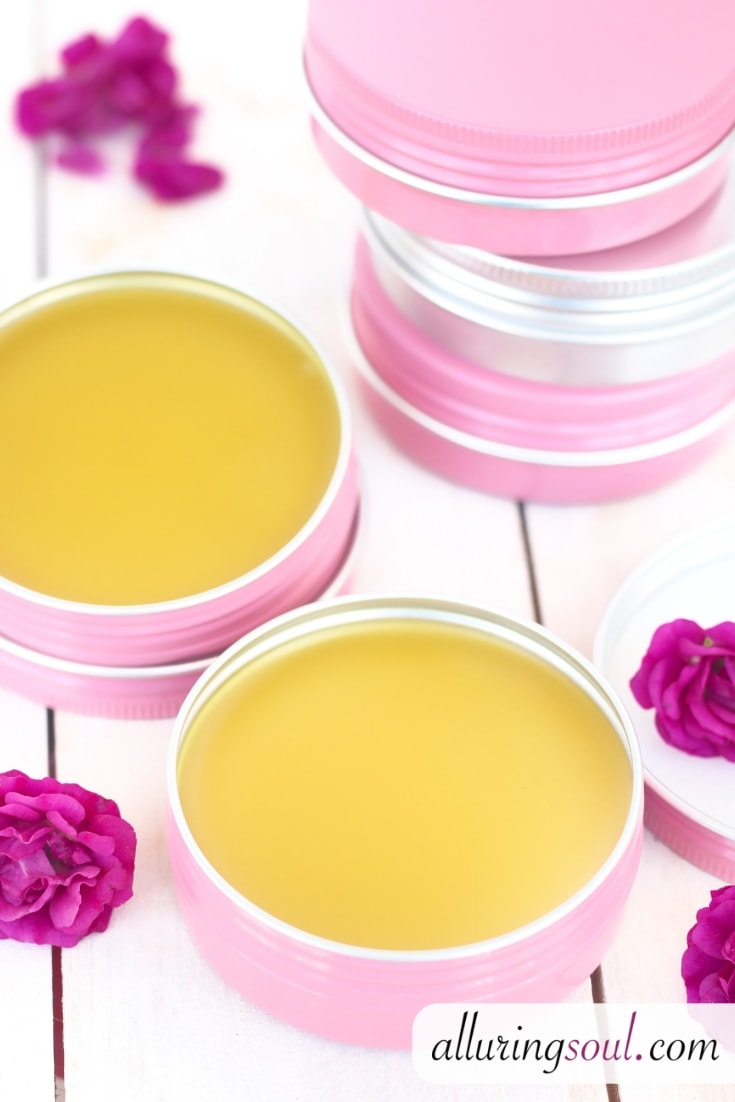 Beeswax
Beeswax is also a great moisturizer for dry skin. It hydrates your dry skin cells. It has emollient properties that keep the moisture locked in your skin. This helps to soften your dry and chapped skin. It has antibacterial properties which kill harmful bacteria infecting your skin. Therefore it works to keep your skin healthy.
Lavender Essential Oil
Lavender essential oil is very soothing for dry skin. It helps replenish lost moisture in your skin. Hence heals dry skin. It has powerful antioxidant properties which destroy harmful free radicals. This prevents skin cells from getting damaged by those free radicals. Hence improves your skin health.
Helichrysum Essential Oil
Helichrysum essential oil is very hydrating for your skin. It has emollient properties which make your dry, rough skin soft and smooth. It also helps relieve itching. It is well known for its wound healing and scar removal properties. It can help you heal wounds quickly by promoting skin cell regeneration. It also has antibacterial and antifungal properties. This will keep your hands free from harmful germs, bacteria, and fungi.
---
Procedure For Calendula Hand Salve
DIY Healing Calendula Hand Salve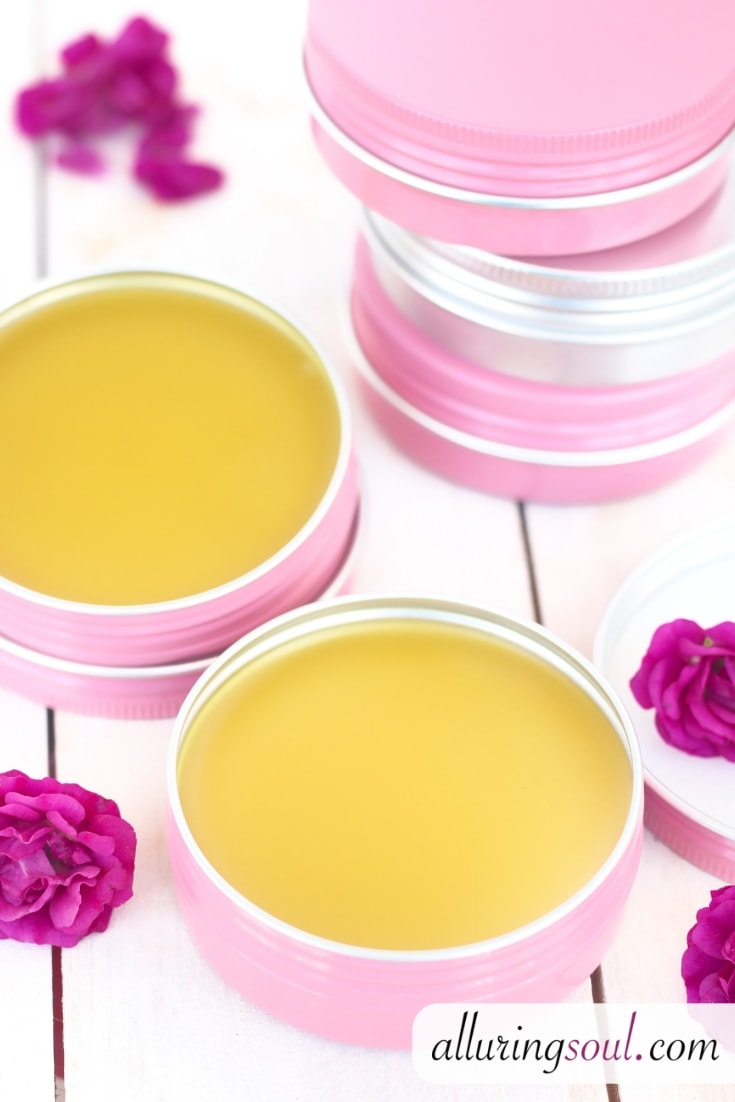 Get your dry hands nourished with this calendula hand salve. It moisturizes skin deeply, rejuvenate skin and makes skin soft.
Instructions
How To Make
Put beeswax and shea butter in a glass bowl.
Using a double boiler system, melt beeswax and shea butter and then add avocado oil, and calendula oil in the bowl.
As soon as everything becomes a liquid give it a quick stir, remove from heat, and immediately add essential oils in the mixture, mix well and pour it into your container.
Allow your calendula hand salve to set for about 10 minutes and you will notice your liquid turning into a solid.
Once your salve turns into a solid form, grab a little chunk and rub it all over your dry, cracked hands.
Your hands will instantly be moisturized and looking better than ever!
Notes
1. It contains essential oils so do a patch test before applying it.

2. You can store this cream for 4-6 months(depends on the weather) and keep it away from direct sunlight.