While we pamper our face by applying face masks, creams, and whatnot, it's the eye area that is ignored. No matter how great your skin is, eye bags and dark circles can make you look tired and ruin the whole look. To take care of your eye problems here is an effective and natural solution: DIY green tea under eye cream for wrinkles and dark circles.
This under eye cream will rejuvenate the skin around your eyes and reduce dark circles. Read on to find out the benefits of green tea and all the other ingredients that go into this eye cream and also how to make it.
---
Benefits Of Green Tea Under Eye Cream
Green Tea And Extract
Green tea and its extract is rich in vitamins, antioxidants and has anti-inflammatory properties. Green tea helps to reduce skin irritation, redness, and de-puffs the inflamed skin. It also helps to minimize wrinkles and lightens dark circles. It has anti-bacterial properties which help to reduce acne and unclogs blocked pores. (source, source, source)
---
Glycerine
It acts as a humectant, which allows the skin to retain moisture and increases skin hydration. It helps to relieve skin dryness, wrinkles, and can soften skin.
---
Rosewater
Rosewater has antioxidant properties, which helps in the regeneration of new cells. It helps in reducing the appearance of crow's feet and fine lines. It also hydrates your skin, unclogs blocked pores, and makes under-eye skin soft and plumpy. It soothes the skin and reduces puffiness.
---
Kokum Butter
Kokum butter is an excellent emollient and therefore, keeps the under-eye skin soft and moisturized. It is rich in vitamin E which protects the skin from oxidative damage. It may aid in cell regeneration, and thus reduce fine lines and wrinkles around the eyes. It can also soothe skin inflammations. Hence it will help in treating dark circles and puffy eyes.
---
Rosehip Oil
Rosehip oil is rich in antioxidant properties, which prevents sagging of the skin under the eyes (source). 
An extract derived from rosehip known as methanolic that works against skin pigmentation. Hence it can help reduce under-eye dark circles. (source) Rosehip oil has fatty acids and vitamin A which moisturize the under-eye skin to make it soft and supple.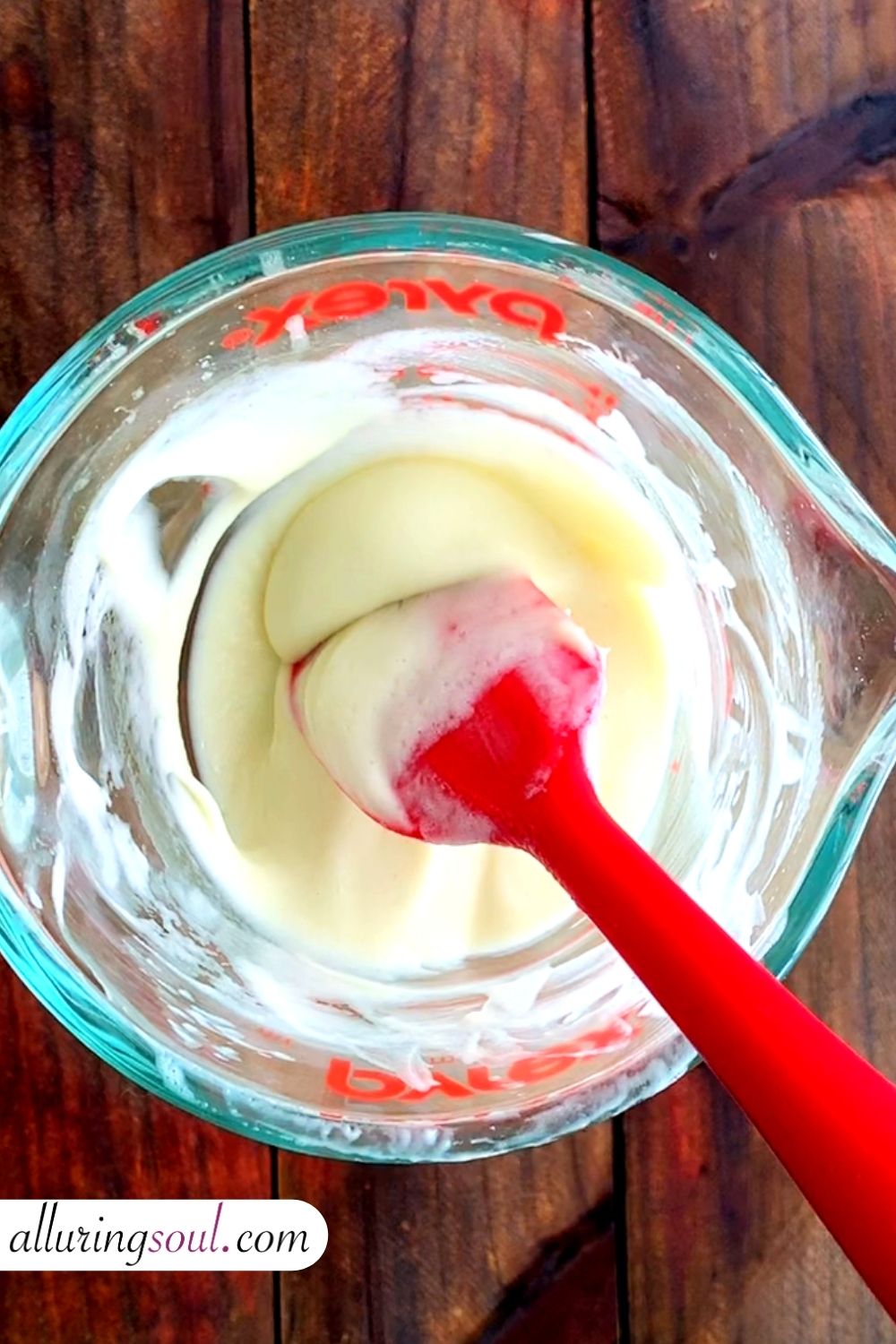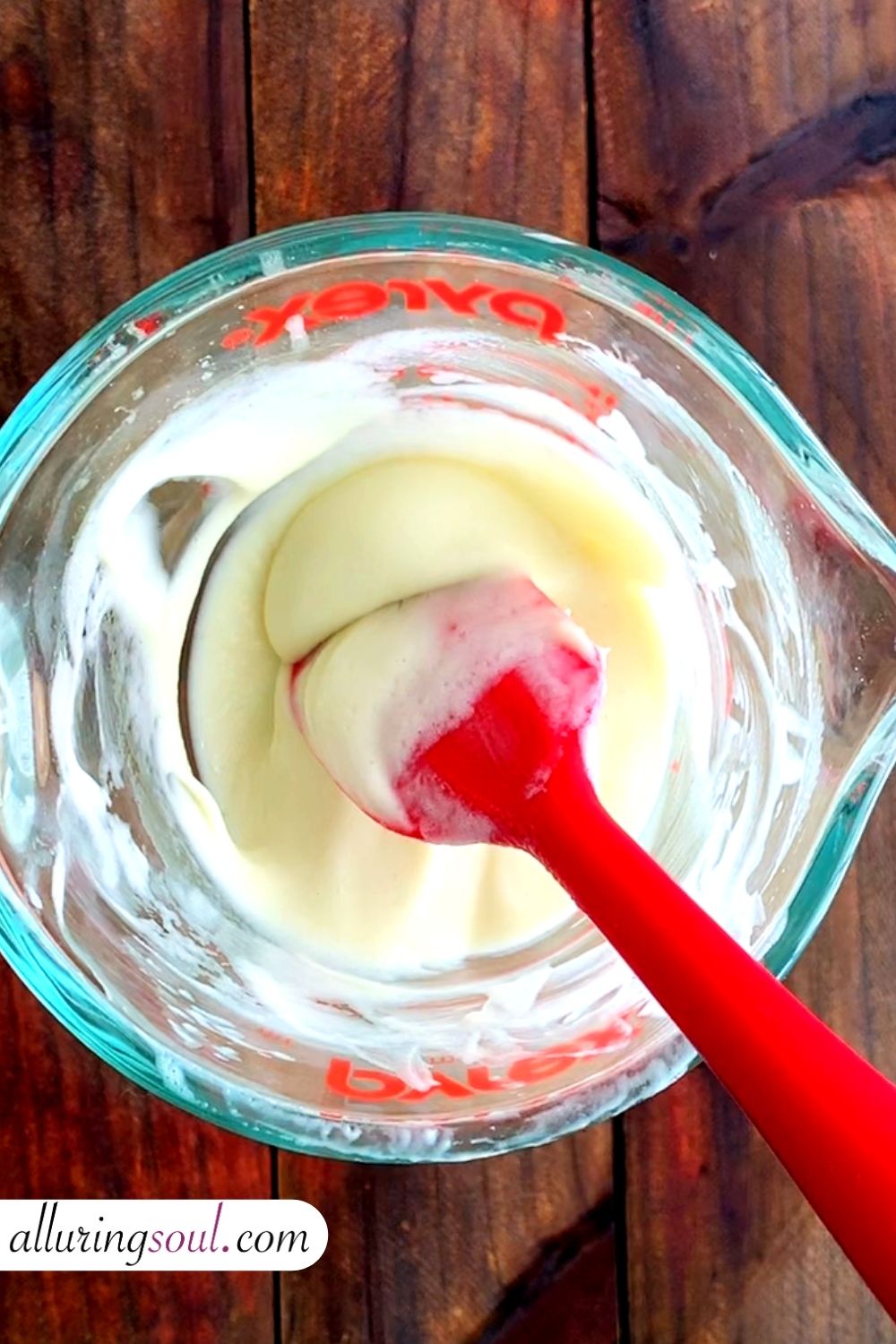 ---
Hemp Seed Oil
It plumps the look of your skin and helps to tighten your skin's appearance. It has antibacterial and anti-inflammatory properties which help to de-puff the inflamed under-eye areas.
The hemp seed oil contains essential fatty acids that deeply moisturize the skin. Hence keeping the sensitive under-eye area nourished. It has emollient properties that make the skin soft, smooth, and improve the overall complexion. 
---
Vitamin E Oil
Too much exposure to UV rays can lead to wrinkles around the eyes. Vitamin E oil has photoprotective and anti photoaging properties. This means that it protects the skin from the adverse effects of UV radiation. This oil also nourishes and moisturizes your under-eye skin, making it smooth and soft. 
---
Emulsifying Wax
Emulsifying wax is extracted from plant oils. At room temperature, emulsifying wax is solid and it is basically odorless but it does have a slight waxy smell.
It is used to combine water and oil together for making skin care products like facial creams, body lotions, moisturizers, and other skincare products.
---
Frankincense Essential Oil
Frankincense essential oil is one of the best essential oils for reducing fine lines and wrinkles. It is full of powerful antioxidants that neutralize damage-causing free radicals. Hence it keeps the under-eye area firm and youthful. It also boosts collagen production in the skin.
---
Procedure For DIY Green Tea Under Eye Cream
DIY Green Tea Under Eye Cream For Wrinkles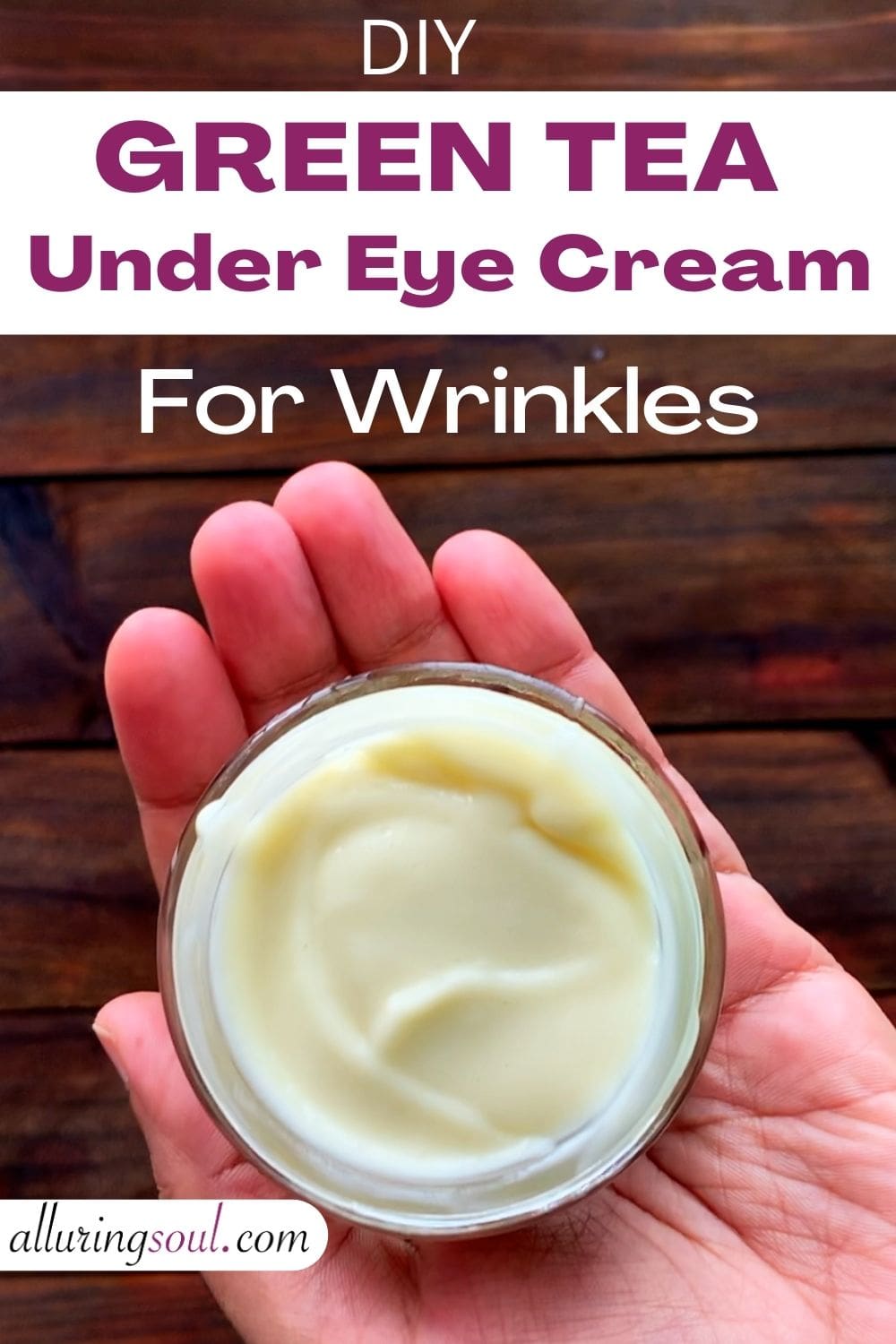 Green tea under eye cream has anti-inflammatory and anti-aging benefits. It de-puffs eye bags, minimizes wrinkles, lightens dark circles, and hydrates skin.
Recipe type:
Green Tea Under Eye Cream
Ingredients
Water Phase Ingredients
Oil Phase Ingredients
Cool Down Ingredients
Total Weight = 50grams
Instructions
How To Brew Green Tea
Take a container and add ⅓ cup of distilled water and 2 tablespoons of green tea.
Bring them to boil over low heat for 1 minute and then keep it aside until it comes at room temperature. Then, strain the tea using a strainer. Your herbal green tea is ready!
How To Make Green Tea Under Eye Cream
Prepare a double-boiler system by adding about 1 inch of water in a wide, flat-bottomed sauté pan. Put the pan on the stove and set the stove on low heat.
Weigh the water phase ingredients into a small heat-resistant glass measuring cup. Cover the container with aluminum foil to avoid evaporation of water content.
Weigh the oil phase ingredients into a second heat-resistant glass measuring cup.
Place both measuring cups in your prepared double boiler system to melt everything through.
After about 20–30 minutes the oil part should be completely melted and the water part should be warmed.
Remove the double boiler pan from the heat, remove the foil and pour the oil part into the water part.
Mix the water and oil mixture with a spoon vigorously to combine them. Stir the spoon for 5-10 seconds. Then, remove the mixture container from the double boiler pan.
Now, immediately grab your immersion blender (or milk frother for smaller quantities) and begin blending the lotion.
Blend for about a minute, leave to cool for ten minutes.
After 10 minutes, blend for another minute or two, and repeat this blend-cool-blend cycle until the glass measuring cup is barely warm to the touch and the lotion is thick and creamy.
When the lotion is cool it's time to incorporate cool-down phase ingredients.
Weigh down the liquid germall plus preservative, vitamin e oil, essential oil, and green tea extract and add them into the cream.
Mix everything well and store it in an airtight jar.
Apply green tea under eye cream twice on cleansed skin. Do not apply it on eyelids as it can irritate your eyes.
Notes
1. Always purchase water-soluble green tea extract. It comes in powder and in liquid form. I recommend using liquid green tea extract for making creams and moisturizers.

2. Because preservative is typically present at a very low amount, you'll need to use an accurate scale—preferably one accurate to 0.01g.

3. Because this cream contains water, you must include a broad-spectrum preservative to ward off microbial growth. This is non-optional.

4. You can use any broad-spectrum preservatives according to their recommended usage rate.

5. Always do a patch test before applying the product to your skin.
Conclusion
Under-eye circles, wrinkles, and puffiness is usually caused by inadequate sleep, sun exposure, allergies, or it might be hereditary. Whatever the cause, you can get rid of under-eye problems by making some dietary and lifestyle changes along with applying an under-eye cream regularly.
We recommend using a homemade cream since it is free of harsh chemicals. So whip up a batch of this DIY green tea under eye cream and use it daily to get rid of dark circles, wrinkles, and under-eye bags.
---