If you are struggling with dry or frizzy curly hairs, hair balm can be an effective solution to your hair problems. A perfect deep conditioning hair balm would help you to get soft and moisturized hairs. A hair balm helps to
get rid of frizzy hair.
condition dry hair deeply.
moisturize and makes hair soft.
define curls.
Hair balm does not only work superficial but also reaches deep into hair shafts. Yet, it does not affect the scalp to any degree. So, why not make an effective hair balm at home which is very easy to make. It is alcohol-free which means it does not make your hair crunchy and brittle.
Now, let's take a look at the benefits of ingredients used in making DIY deep conditioning hair balm.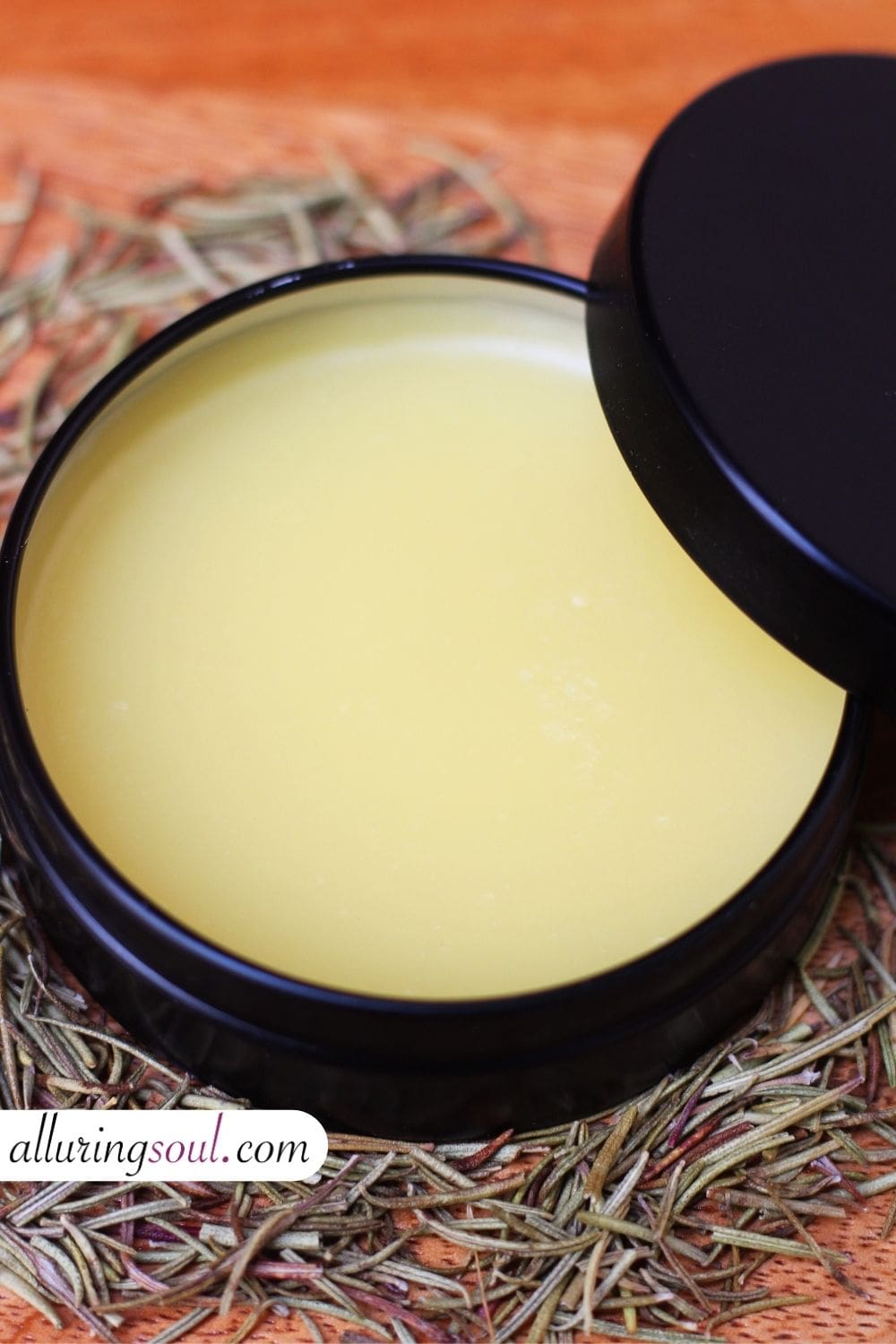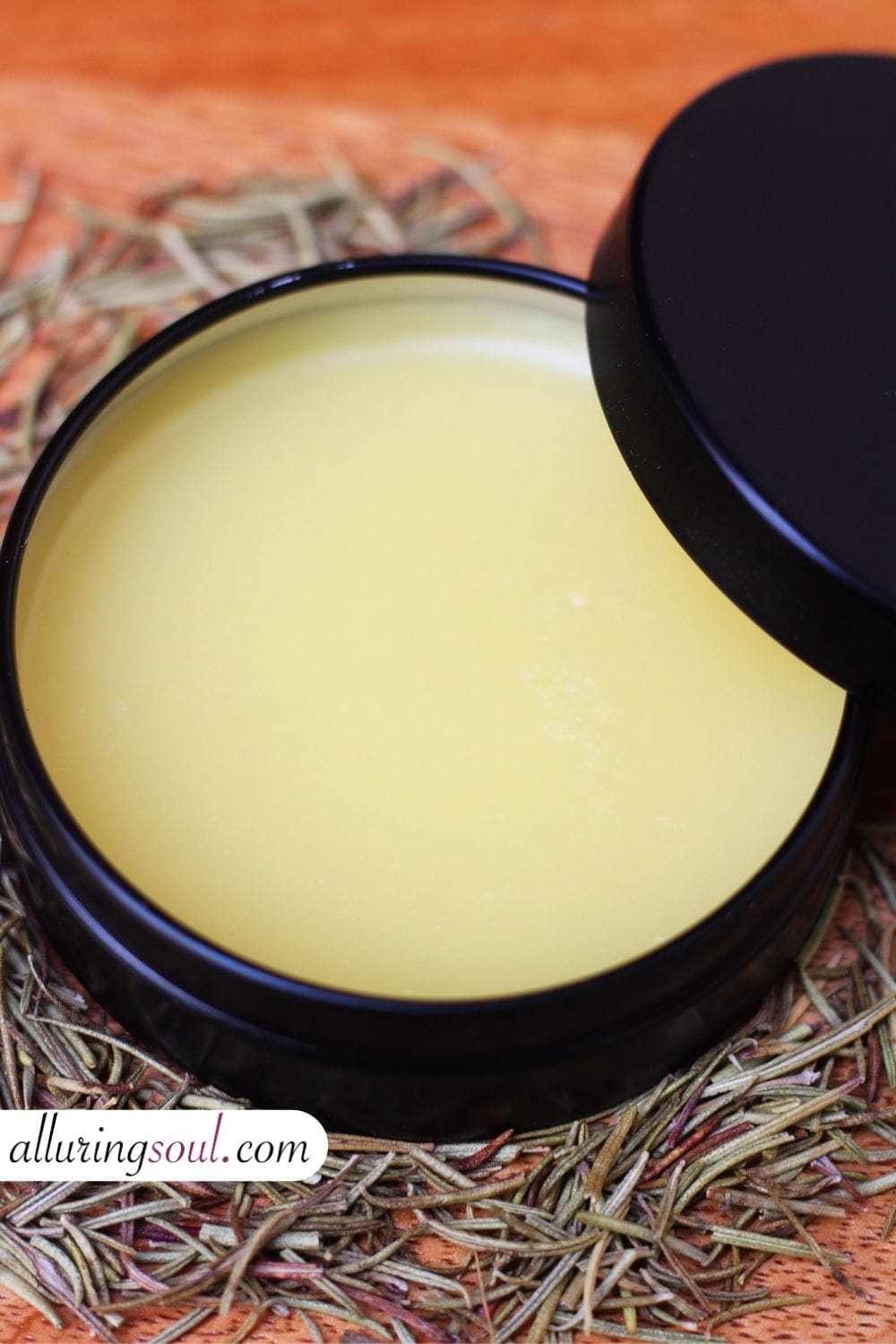 ---
Benefits Of DIY Deep Conditioning Hair Balm
This deep conditioning hair balm is made with super effective oils and butter which makes hair soft, moisturized, and frizzy-less. Let's take a look at what are the benefits of ingredients used in hair balm and how they can provide nourishment to your hair.
BTMS – 50
BTMS – 50 is a plant-based emulsifier that is derived from natural oil called rapeseed oil. It is also a conditioning agent that conditions hair like no other emulsifier available. This is the best emulsifier for making hair care products. It also helps to thicken the product while giving a conditioning effect on the hair.
---
Cetyl Alcohol
Cetyl alcohol is derived from vegetable oils, which are used as a thickener in creams and lotions. It has mild emollient and moisturizing properties without the feeling of tackiness. It also makes hair conditioner products more slippery and easy to spread.
Note: It does not contain any kind of alcohol.
---
Beeswax
Beeswax attracts moisture and allows your hair to absorb essential water molecules, keeping your hair hydrated. It helps to smooth down the flyaways and keeps hair manageable.
---
Shea Butter
Shea butter is rich in different types of fatty acids and they are great for hair products to coat, condition, and protect the hair shaft. It is rich in vitamin A and E that makes it a superfood for dry and damaged hair. It is also great for dry, itchy, and irritated scalp. It moisturizes and conditions the scalp and makes it healthy for hair growth.
---
Coconut Oil
Coconut oil is rich in antioxidants and provides essential nutrients to your hair. Vitamin E and Vitamin K are found in coconut oil to help repair and build healthy tissues. When you apply coconut oil to the scalp and hair, it reduces inflammation and repairs damages done to hairs by chemical-filled hair products.
---
Argan Oil
Argan oil is known for its moisturizing and healing properties. It helps to repair dry, frizzy hair and conditions damaged hair deeply. Due to its high content of vitamin E, it nourishes the scalp and hair. It is a very light oil that gets easily absorbed by the skin without any greasy effect.
---
Jojoba Oil
Jojoba oil has moisturizing and anti-inflammatory properties. It is rich in vitamin E which helps to nourish hair strands. It moisturizes hair deeply without making hair greasy. It gets absorbed by the skin easily and makes hair soft and manageable.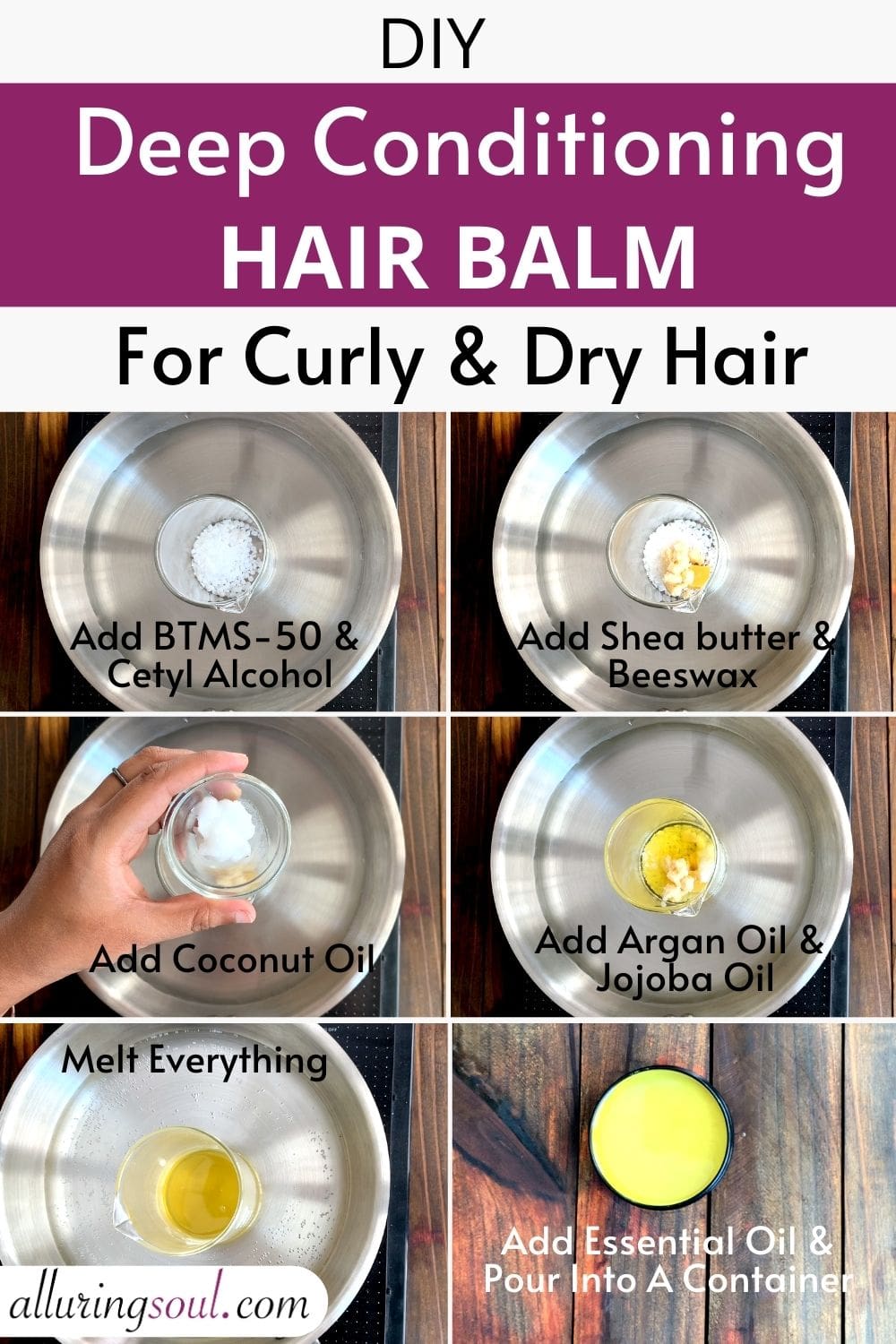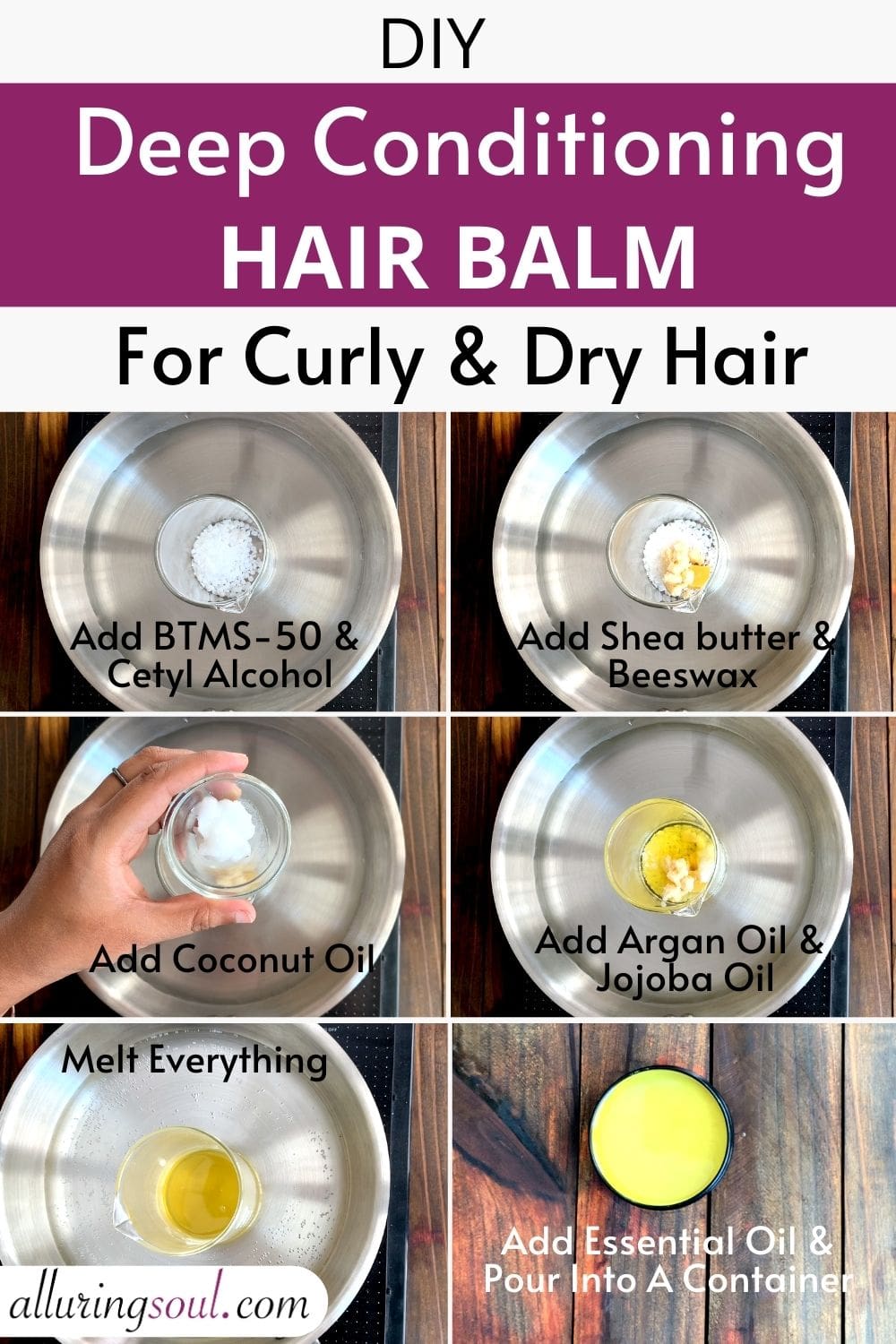 ---
Procedure For DIY Deep Conditioning Hair Balm
DIY Deep Conditioning Hair Balm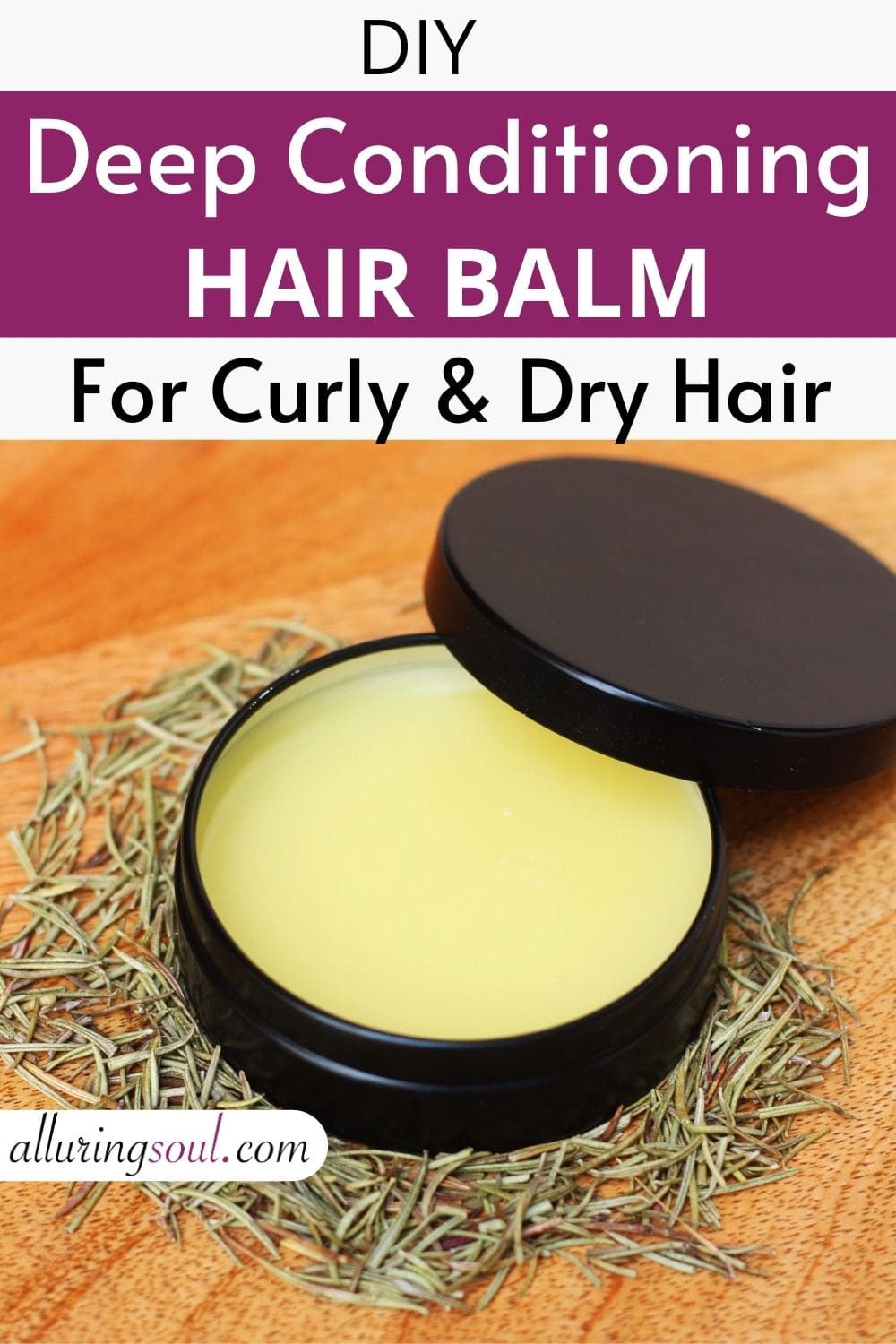 Deep conditioning hair balm moisturizes dry and frizzy hair without making hair greasy. It also defines curls and makes hair shiny, soft, and manageable.
Recipe type:
Hair Conditioner Balm
Ingredients
Total = 60 grams
Instructions
Make sure that your container and all utensils are very clean when you make this. Clean everything with hot soapy water, then swab with rubbing alcohol and let air dry.
Make a double boiler by adding a few inches of water in a large flat-bottom pan. Heat the pan on a low flame.
In a heat-safe glass container, combine the BTMS-50, cetyl alcohol and place the glass container in the prepared flat-bottom pan containing water.
Then, add beeswax and shea butter into the glass container.
Now, add coconut oil, argan oil, and jojoba oil into the container.
Stir occasionally until everything is melted and combined.
Now, remove the glass container from the pan and add rosemary essential oil (if you are adding any essential oil). Mix well.
Immediately pour the oil mixture into a glass or tin container and let this mixture cool until it's room temperature.
To use, take out a tiny amount of deep conditioning hair balm and apply it with your fingers through the ends of your hair to tame frizz. It also defines your curls and provides a soft hold without making hair greasy.
Notes
1. Always do a patch test before applying any essential oil products.

2. You can use different oils according to your needs but don't replace BTMS-50 and cetyl alcohol. It will reduce the conditioning effect of hair balm.

3. Cetyl alcohol does not contain any type of harmful alcohol. It is derived from vegetable oil and it will not make your hair dry and crunchy.