Wrinkles around the eyes are the worst thing when you start to age. It jeopardizes the entire beauty of our face. Most of the women anxiously spend hours in the parlor and making a hole in their pocket. The fact is that the wrinkles around the eyes can be treated with simple home remedies, taken care from the age of late 20's by spending much less time than you commit at the salon. One of the best ways to treat wrinkles and puffy eyes are making homemade under eye cream. You've heard the promises that eye creams reduce or even erase the signs of aging like fine lines, wrinkles, and dark circles. But aren't eye creams just more expensive moisturizers in a smaller package? You can also make that under eye cream which is cheaper, effective as well as free from harsh chemicals.
A question which is usually asked to most of the dermatologists is What about all those "super restorative total eye concentrates" and patented "anti-aging eye serums" that claim to reduce puffiness, tighten draping skin and lighten dark circles?  Dr. Glaser, who last year reviewed anti-aging products for the journal Facial Plastic Surgery Clinics of North America, said: "These kinds of products probably have very limited utility for bags under the eyes". (Source). So, this is the reason why the branded eye product is not fulfilling your requirements.
Caffeine is considered as the most powerful component to treat wrinkles and build up the collagen which makes a firmer skin. Coffee is the great source of caffeine which is many brands are using in their anti-aging product. So, when caffeine is mixed with another powerful ingredient like essential oils, it can be the best treatment to reverse the signs of aging and to get healthy skin too. Let's take a look at what are the benefits of coffee and frankincense under eye cream.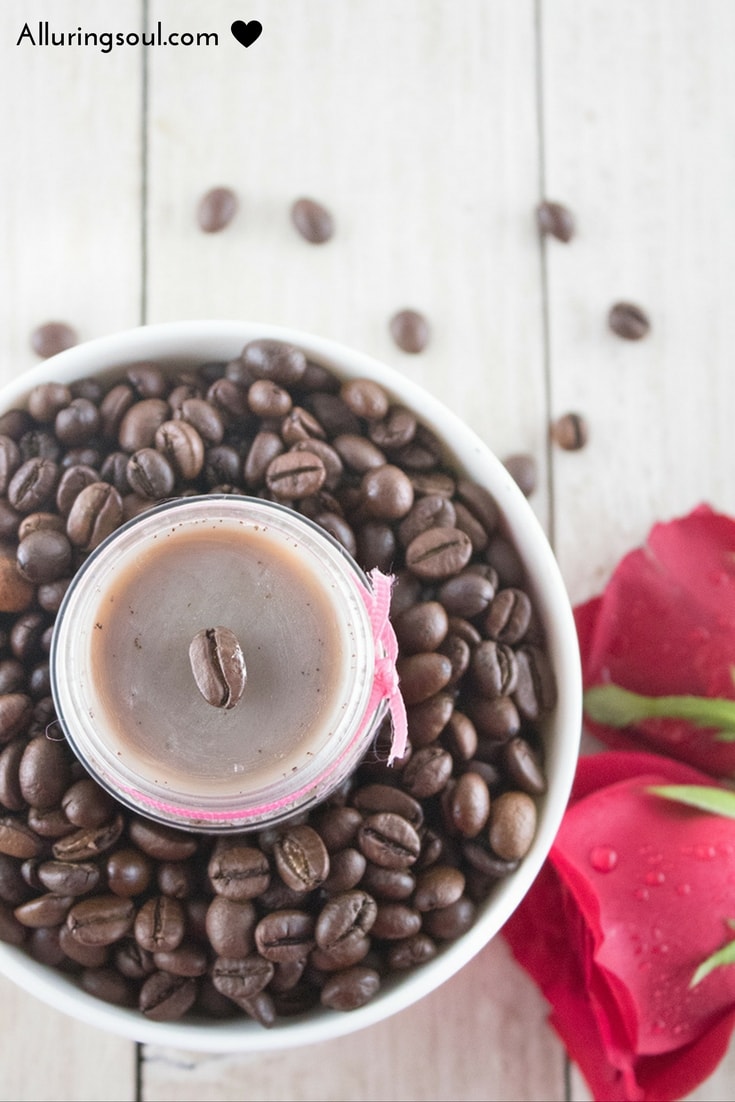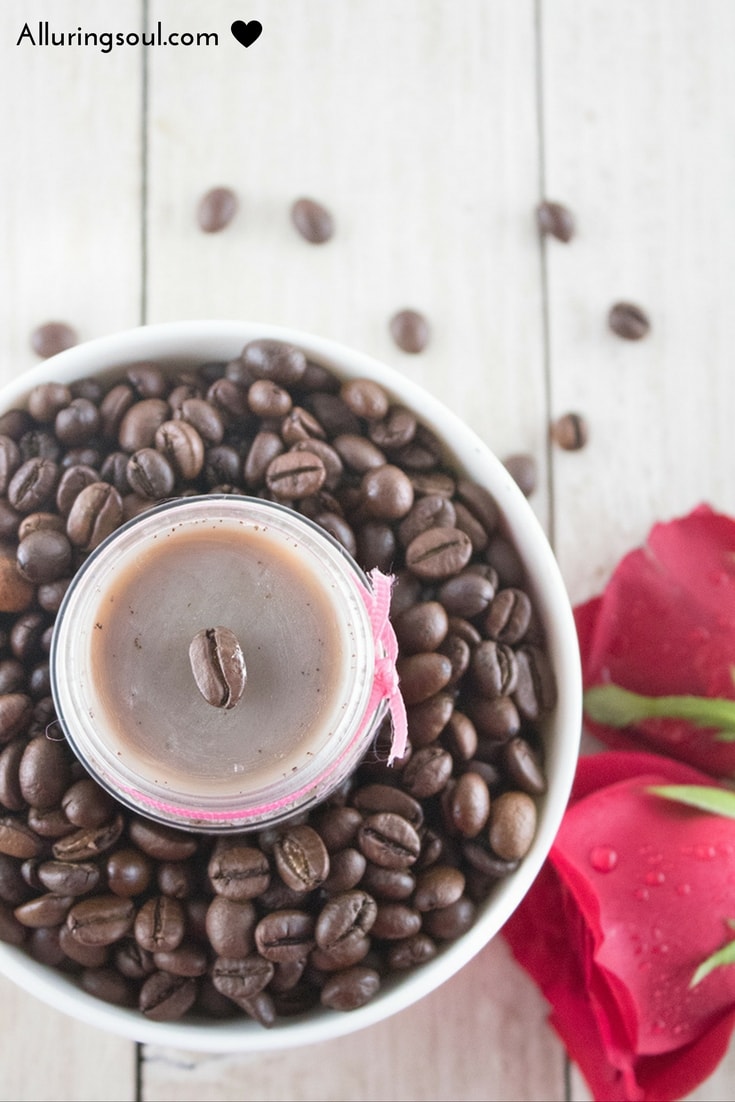 ---
How is coffee and frankincense under eye cream is beneficial?
It is made up of many powerful ingredients including essential oils which are good for the skin and provide proper nourishment to the skin. Let's take a look at what are the ingredients and how are they beneficial.
Coffee has powerful antioxidants which give food to the skin. Free radicals are the responsible for skin damages, sun spots, premature skin aging, and wrinkles. Coffee removes the free radicals from the skin with the help of effective antioxidant and makes reduces the wrinkles and fine lines. Regular application of coffee can tighten your skin and brighten your skin. For this reason, caffeine is widely used in anti-aging creams in conjunction with retinol. Caffeine possesses anti-inflammatory property which reduces inflammation and redness on the skin. It removes the eye puffiness and dark circles too.
Frankincense essential oil is very effective for aging skin. Ketonic alcohol(olibanol) is the main component which makes frankincense oil great for dry and mature skin. It helps in regeneration of skin cells and makes them healthy due to its powerful astringent property. It removes acne and acne scars, slows signs of aging and keeps skin hydrated.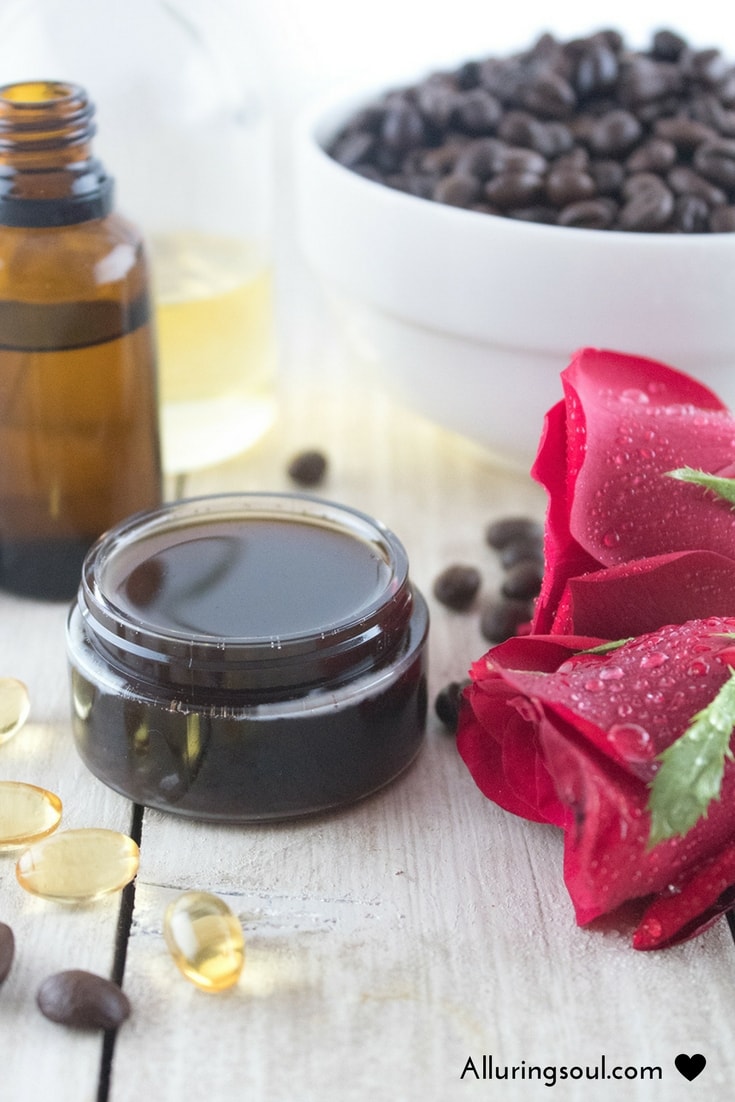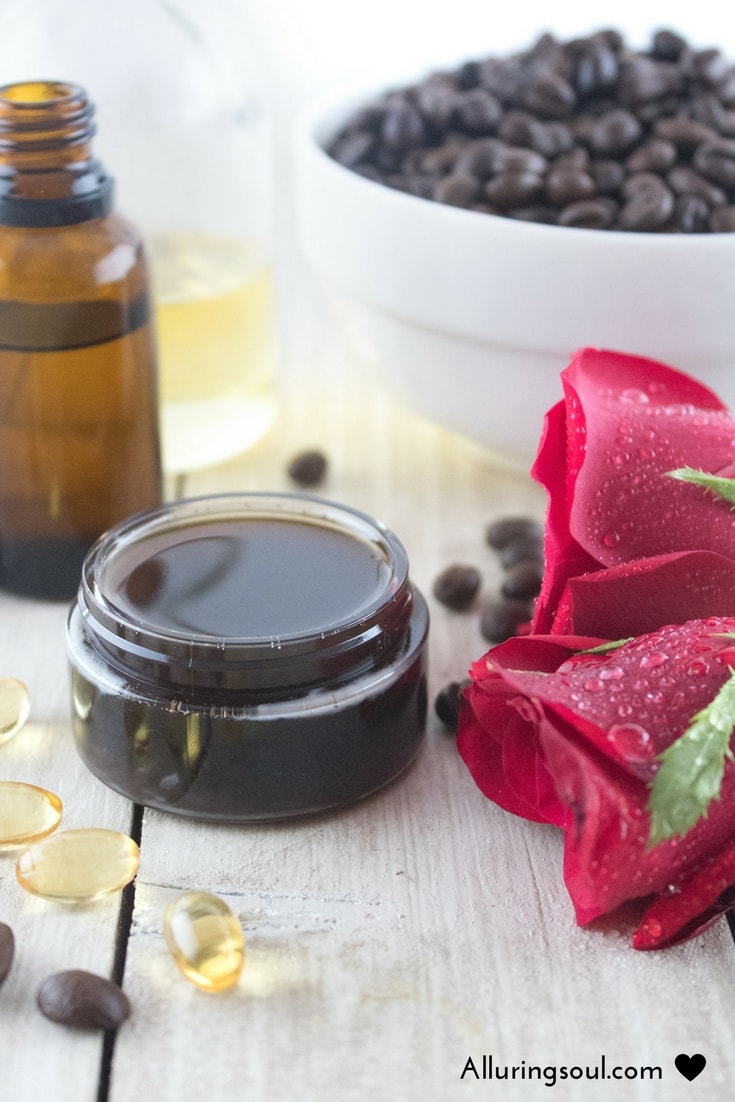 Chamomile essential oil is incredibly high in azulene, which is an anti-inflammatory compound known to be incredibly useful in skin healing and reducing inflamed skin areas. It has also anti-irritant property to calm the irritated skin. It treats eye bags and dark circles due to its regenerative property
Rosehip seed oil deeply penetrates into the skin and it is super light and non-greasy. It good for oily skin too. It is high in vitamin A and antioxidant which makes it essential for mature skin. It removes the age spots and discolourations made by sun rays. It has a high content of vitamin C and lycopene which removes wrinkles and scars due to its regenerative property. It is also great for acne and helps to treat eye puffiness.
Shea Butter has shown to be a superb moisturizer, with exceptional healing properties for the skin. It is an all natural healing Vitamin A cream and Vitamin A is very important for many skin conditions including wrinkles, acne, blemishes, and eczema. Additionally, It gets deeply absorbed by the skin and hydrates the skin. Vitamin A is considered an antioxidant and antioxidants protect skin by limiting the production of free radicals, which can damage skin cells. Shea butter can do a lot for the health and appearance of your skin, including reducing the signs of aging. Shea butter has several derivatives of cinnamic acid that exhibit anti-inflammatory properties too.
Vitamin E oil helps fight the effect of free radicals that cause signs of aging like wrinkles, age spots, and dark circles. It's an antioxidant which is a food for a hydrated and nourished skin.
Almond Oil has emollient properties that help your skin to balance water loss; it can also relieve irritation and inflammation. It's a good source of vitamin K, which reduces discoloration under the eyes. It also contains retinol which moisturizes delicate under-eye skin, leaving it soft and smooth and free from fine lines around eye area.


---
Procedure For Coffee & Frankincense Under Eye Cream
DIY Coffee And Frankincense Under Eye Cream For Wrinkles & Puffy Eyes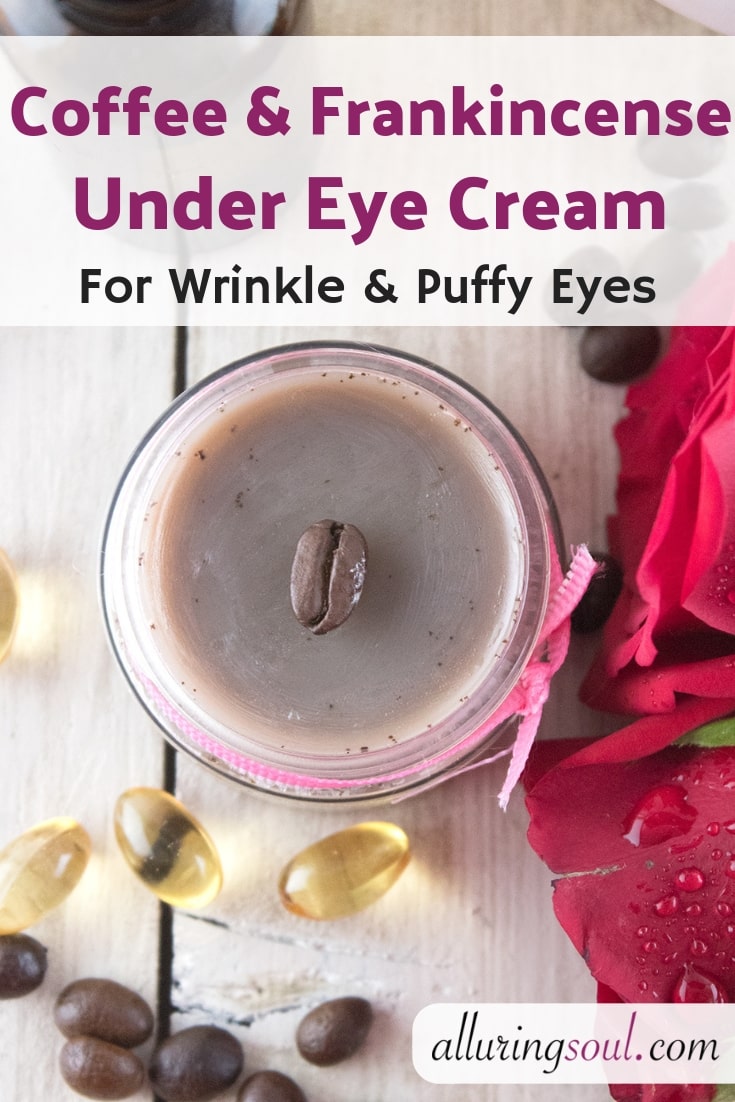 Coffee and frankincense under eye cream helps your skin to be nourished, free from wrinkles and helps to remove dark circle and eye bags.
Recipe type:
Under Eye Cream
Ingredients
For Coffee Infused Oil
For Eye Cream
Instructions
To Make Coffee Infused Oil
The first step is the longest, infuse some sweet almond oil with ground coffee. You can also use olive oil or coconut oil, it depends upon you.
Now, add ground coffee to a jar, then just enough sweet almond oil to cover the coffee grounds.
Close the jar tightly and let it sit in your cupboard for 4-5 days or a week to infuse.
Using a cheesecloth, strain the infused oil into another jar or a clean bowl. Squeeze as much of the oil out as you can.
You can keep this coffee infused oil for a year in an airtight jar.
To Make Under Eye Cream
Make a double boiler and add beeswax and shea butter in the bowl. Stir occasionally until everything is melted and combined.
When the oils and butter get melted remove it from heat
Now, add coffee-infused oil, rosehip oil, essential oil and vitamin E oil into the bowl and mix well.
Store it in an airtight glass jar at room temperature or keep it in a fridge to get thicken.
How To Apply
Under eye cream will absorb better if you place it on a clean surface. Take care to wash your face with a cleanser before you apply eye cream. Do this whether you are using it as a night cream, a day cream, or both. This under eye cream is oil-based and can be a bit heavy for day wear, but that is up to you!
After washing and drying your face, apply any serums or toners that you use. The under eye cream should be the last thing that you apply in your skincare routine.
Now, pat the cream onto the area under your eye.
Do not rub, as you could tear the gentle skin. You only have to gently massage the eye area with your fingertips slowly.
Allow your skin to absorb the cream. If you feel that your eye cream stings your eyes, you might be applying it too close to bedtime. Try putting it on earlier in the evening so it has time to absorb. Always avoid the eyelids.
Notes
1. You can keep this under eye cream for about 2-3 months. Do not let the water to get inside as well as keep it away from direct sunlight. Water can introduce bacteria that can spoil the mixture.

2. Keep in mind that DIY coffee and frankincense under eye cream take some time to thicken. I've had products like this take a day or two to thicken at room temps and up to several hours to thicken fully in the fridge.

Precautions

1. It contains essential oils so do a patch test before applying it to face.

2. If you are new to making DIY recipes, please note that beeswax is extremely difficult to remove from metal utensils and pots. Though not impossible, it is a big pain! I will recommend you to use glass utensil to melt beeswax or shea butter.

3. While shea butter is quite safe and can be beneficial for the skin, you should avoid shea butter or shea butter products if you have tree nut allergies.