Cocoa butter and aloe vera have rich moisturizing properties which make them well suited as the primary ingredients in any body lotion. Cocoa butter has a high content of fatty acids that help to repair dry and damaged skin and aloe vera, lavender essential oil help to replenish the lost moisture into the deeper layer of skin. Now, let's see how to make moisturizing body lotion with cocoa butter, vitamin E, lavender oil, and aloe vera.
---
Benefits Of DIY Body Lotion With Cocoa Butter, Vitamin E, And Lavender Oil
Aloe Vera
Aloe vera has antibacterial and anti-inflammatory properties that keep your entire skin healthy. It helps to repair dry and dull skin and makes skin soft. It helps to provide necessary nutrients to the skin and improves skin elasticity. It is rich in vitamin A, E, and K which are powerful antioxidants and has anti-aging benefits. (Source)
Its antifungal and antiviral properties help to soothe dry, irritated, and itchy skin caused by dry skin and eczema.
---
Grapeseed Oil
Grapeseed oil has antibacterial and anti-inflammatory properties that prevent acne and clogged pores. It is rich in antioxidants like vitamin E and C which help to improve skin elasticity and keep skin moisturized.
It contains polyphenols and has natural astringent properties that help to slow down the premature skin aging process resulting in firmer-looking skin.
---
Cocoa Butter
It is high in antioxidants, which help fight off free-radical damage, which can cause wrinkles, dark spots, and dull skin.  It is high in fatty acids and hydrates the skin deeply, making it a wonderful moisturizer for dry skin.
Cocoa butter is rich in vitamin E and has soothing properties. It repairs dry and chapped skin and also heals irritated and red skin caused by sensitive skin, eczema, and psoriasis.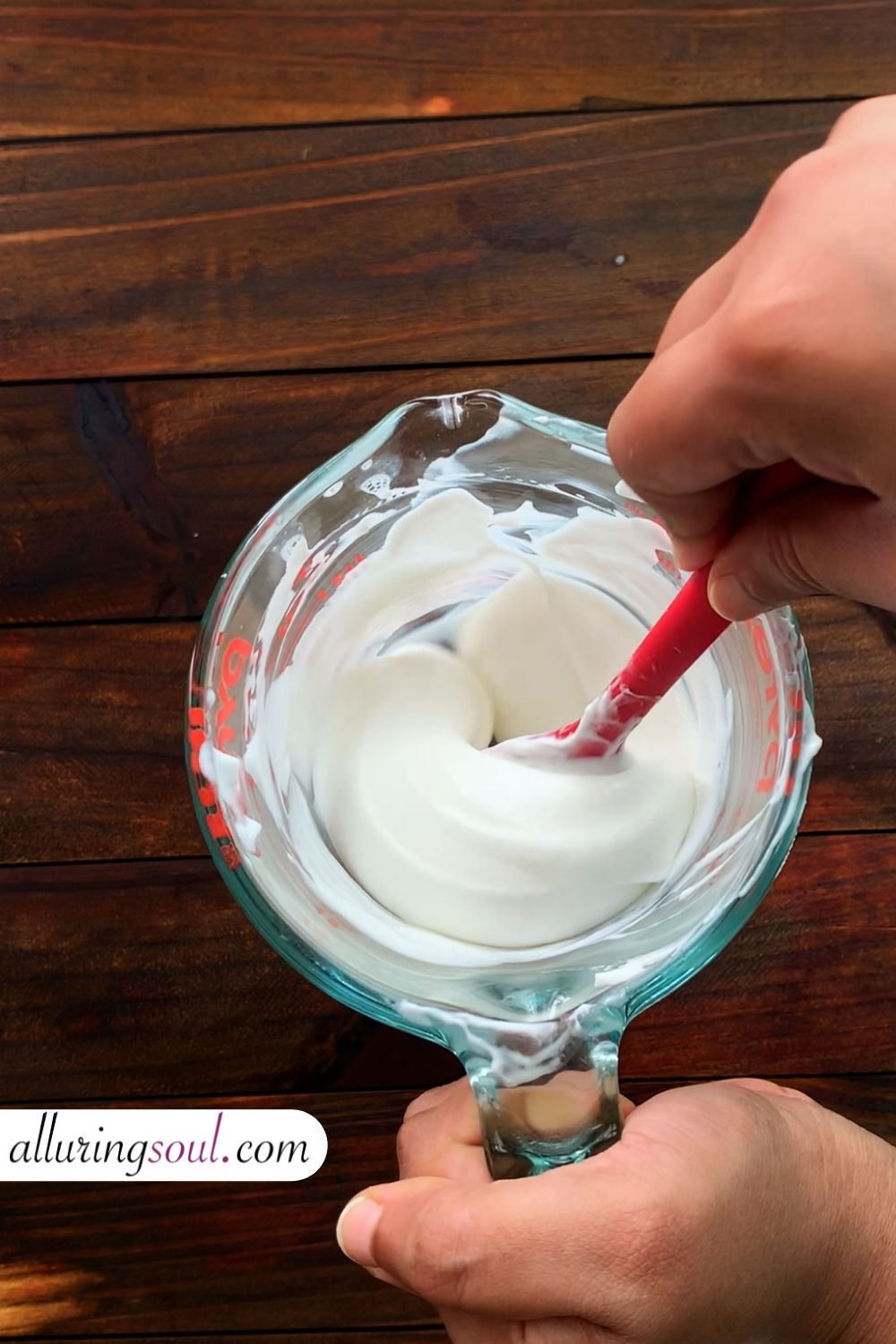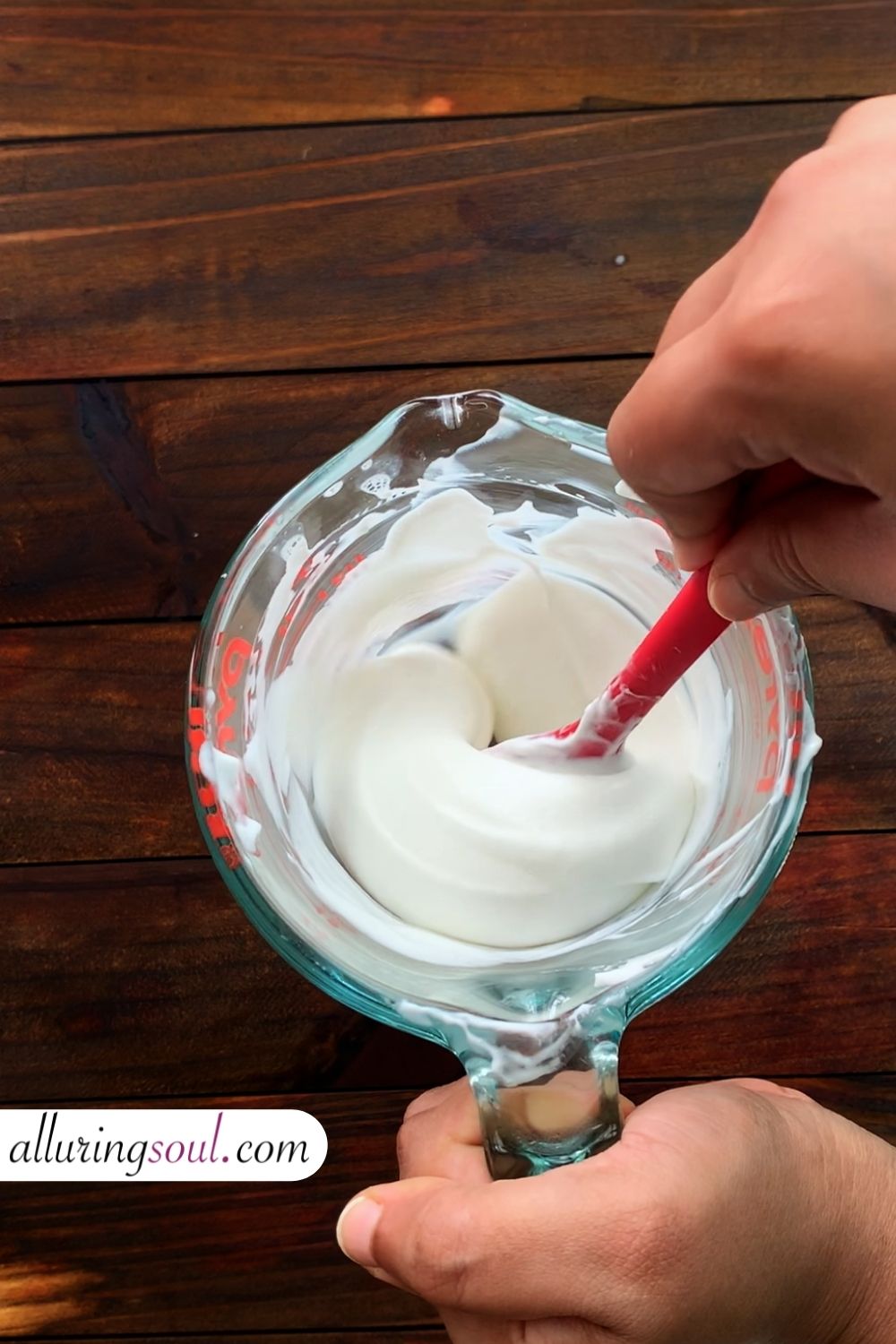 ---
Vitamin E Oil
It is an antioxidant that repairs and builds tissue, which is essential for healthy skin. It is also used as a moisturizer to prevent or treat dry, flaking skin. It may alleviate the itching and flaking of skin associated with eczema, or atopic dermatitis. (Source)
---
Lavender Essential Oil
It is very effective in soothing dry skin. It helps moisturize as well as hydrate your skin. This makes your skin soft and smooth. It has anti-inflammatory and antibacterial properties that help reduce swelling, redness, and irritation and also help prevent any skin infection.
---
Emulsifying Wax NF
It is an emulsifying ingredient that helps to combine water and oil together. It is extracted from the fatty acids of plant oils. It is a common ingredient for making skincare products like lotions and creams.
---
Recipe For DIY Body Lotion With Cocoa Butter, Vitamin E, And Lavender Oil
DIY Body Lotion With Cocoa Butter, Vitamin E, And Lavender Oil
The DIY body lotion is made with cocoa butter, vitamin E oil, grapeseed oil, aloe vera, and lavender essential oil. It helps to nourish and repair dry skin, has anti-aging benefits, and makes skin soft and moisturized.
Ingredients
Water Phase
Oil Phase
Cool Down Phase
Total = 250 grams
Instructions
Prepare a double-boiler system by adding about 1 inch of water in a wide, flat-bottomed sauté pan. Put the pan on the stove and set the stove on low heat.
Weigh the water phase ingredients into a small heat-resistant glass measuring cup. Cover the container with aluminum foil to avoid evaporation of water content.
Weigh the oil phase ingredients into a second heat-resistant glass measuring cup.
Place both measuring cups in your prepared double boiler system to melt everything through.
After about 20–30 minutes the oil part should be completely melted and the water part should be warmed.
Remove the double boiler pan from the heat, remove the foil and pour the oil part into the water part.
Mix the water and oil mixture with a spoon vigorously to combine them. Stir the spoon for 10 seconds. Then, remove the mixture container from the double boiler pan.
Now, immediately grab your immersion blender (or milk frother for smaller quantities) and begin blending the lotion.
Blend for about a minute, leave to cool for ten minutes.
After 10 minutes, blend for another minute or two, and repeat this blend-cool-blend cycle until the glass measuring cup is barely warm to the touch and the lotion is thick and creamy.
When the lotion is cool it's time to incorporate cool-down phase ingredients.
Weigh down the liquid germall plus preservative, vitamin e oil, and essential oil and add them into the cream.
Mix everything well and store it in an airtight jar. Apply it whenever needed.
Notes
1. Be sure to do a patch test to make sure your skin does not have an adverse reaction to the oils. The inner forearm is a great place to do a test since the skin is delicate, similar to facial skin.

2. Additionally, pregnant women, infants, and young children should avoid certain essential oils. so be sure to do your homework beforehand.
---